Customizable upholstery furniture at the click of a button becomes a reality today with the launch of Palette, a tech-forward online platform from One Kings Lane that allows shoppers to create furniture with their choice of patterns and colors.
While the back-end technology for Palette was developed in-house with parent company Bed Bath and Beyond's Innovation team, OKL partnered with the first print-on-demand furniture brand Cloth and Company (helmed by Meganne Wecker of Skyline Furniture), to develop the customizable fabric options and the state-of-the-art digital printing technology. "This is the gamification of upholstery," a One Kings Lane representative told Business of Home.
Courtesy of One Kings Lane
Here's how it works: Customers choose from 15 frame options, including headboards, chairs, settees, ottomans, and pillows. Next, there are eight fabric patterns to choose from, including a chinoiserie motif, stripes, gingham checks, and florals. (Some of the patterns are part of OKL's collaboration with The Shade Store; others were selected based on the company's analytics about patterns their customers are looking for.)
The next part—the most fun part—involves choosing a color combination. Each pattern comes with several suggested color combinations, but there's also a Picker Palette that allows customers to create their own color combinations within each pattern. Customers then adjust the scale of the pattern—small, medium or large—and customize details like leg styles and finishes, optional nail-head trim, and more.
The technology that powers the platform is immense. As customers choose each option, real-time renderings of their selections are displayed on the screen. (In total, there are 300,000 possible combinations of frames, patterns and colors.)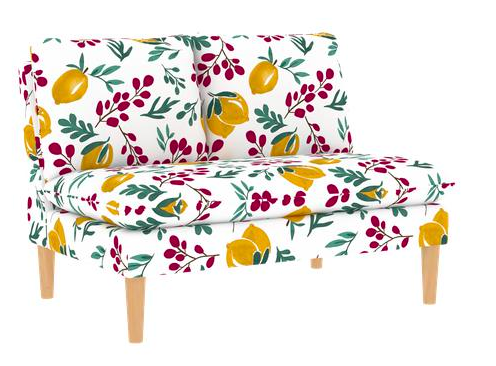 Courtesy of One Kings Lane.
Personalization capabilities like this are essentially unmatched and Palette plans to capitalize on the "click-to-ship" method that it's introducing to the home and design industries. In addition to complimentary shipping within three weeks, Palette promises short lead times and accessible price points.
"The decision to build this platform has been inspired by our customers' desire to bring their unique personal style point of view into their homes. Given all of the feedback we've heard from our customers, it was a natural step for us to develop Palette as a way to make upholstery customization easier and more accessible than ever before," said Debbie Propst, president of One Kings Lane. "We know that consumers truly value the ability to participate in the designing of their own products, and we are thrilled to now be able to expand audiences with this unique new level of customization."
Palette is available online starting today, and OKL will also bring the customization experience in-store with kiosks at the flagship store that is set to open later this month in New York City.