International Market Centers (IMC) today announced the launch of Atlanta NEXT, a multistage investment plan that will begin with improvements to the home category at AmericasMart in downtown Atlanta. The first phase of the plan will kick off this summer with a complete renovation of the lobby of Building 1, where the bulk of the Mart's home and furniture showrooms are located.
The ambitious plan, which will eventually encompass the entire 7.2-million-square-foot campus, will also include remerchandising of the home-decor and open-daily resources, as well as improvements to the Mart's coordination with the Atlanta Decorative Arts Center (ADAC), which IMC acquired in August 2018.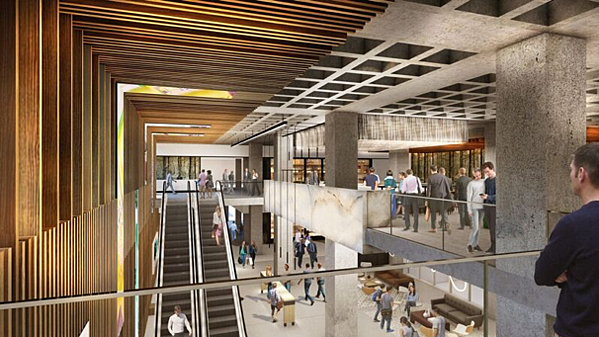 The renovations to the Building 1 lobby will begin shortly after the annual Atlanta International Gift & Home Furnishings Market wraps up this week, with the majority of the work scheduled to be completed by winter 2020. Designed by architecture and design firm ASD | Sky, the new two-story lobby will include lounge, meeting and work areas; a newly configured registration spot; new showroom spaces; and a redesigned entrance. The renovations will also feature amenities like a new restaurant and grab-and-go cafe.
The hope, according to a release from IMC, is that the renovations to AmericasMart in tandem with the company's purchase of ADAC will create a better opportunity to present "the Southeast's dual-venue, comprehensive design destination." ADAC general manager Katie Miner adds, "All of the exciting renovations that are underway at AmericasMart are part of our larger effort to enhance every aspect of a designer's experience when they visit ADAC and AmericasMart. We are excited about showing our combined audiences why Atlanta is the ultimate design destination."
Atlanta's designer community seems to support the move. Local designer Tish Mills Kirk has had an office in ADAC for 12 years and thinks that AmericasMart's renovations will just add even more resources to the designers' disposal. Before, she says, ADAC often seemed best fit for designers working on residential projects, while AmericasMart was a good fit for retailers. But lately, she's noticed a number of rising similarities between the two design centers, especially in their programming. "As a designer, I feel more welcome downtown at the Mart than I ever have," she tells BOH. When it comes to working together, "we're all family. Why don't we just show ourselves as family?"