The onset of the coronavirus has sparked a sweeping re-evaluation of many aspects of life and business, from the necessity of the modern office to the way product comes to market. A group of design professionals are hoping to use this collective inflection point to change the way the industry, and the world, sees the city of High Point. Enter High Point x Design (HPxD), an initiative that launches today with the mission to create the framework for year-round showroom activations throughout the city.
The idea is far from new—there has long been talk of turning the town into a seasonless design destination. In recent years, several well-funded projects—including the new minor league baseball stadium (opened in 2019), and the $30 million mixed-use Congdon Yards development (currently in progress)—have reignited the conversation about where the furniture industry fits into the city.
"These big initiatives are great, but I felt like they looked at the rest of Market and thought that could never change," says John Muldoon, owner of the local live/work development Cohab Space, who back in March initiated conversations about what would become HPxD with industry colleagues like Oly Studio global director of sales Frank Leyon and Tim Branscome, founder of curated exhibition space Mill Collective. Muldoon's ideas about year-round activations resonated with many like-minded industry leaders, and a group began meeting weekly to discuss uniting a consortium of brands that would be open to interior designers, retail buyers—and, notably, consumers. Many of the conversations explored how to navigate the visibly posted prices a consumer-facing showroom would require, as well as who could buy, how, and what that would mean for existing industry stakeholders.
The 14 founding showroom members include 214 Modern Vintage, BoBo Intriguing Objects, Branch Home, Cohab Space, Mill Collective, Mr. Brown London, Oly Studio, Randall Tysinger Antiques, Red Egg, Schwung Home, South + English, Splashworks, The Royals Project, and Verellen. As early conversations unfolded, photographer Ron Royals, marketer Kathy Devereux, Designers Today editor in chief Jane Dagmi, and designer Gary Inman also helped shape the project.
For Stacey Osiecki, who joined BoBo Intriguing Objects as the company's president of sales last year, the move toward a full-year vendor presence in High Point is just the next evolution of an ever-changing business. "Before the market crash, designers were not welcome in High Point—think about how far we've come," she says. "Our world is changing fast. Trade shows will always be part of our business, but the year-round model, especially in this climate, is more and more important."
Muldoon moved to High Point in 1998, and for the past two and a half years has been developing Cohab Space, a former hosiery plant that will eventually encompass creative studios and exhibition spaces, in addition to a ground-floor showroom for his furniture brands, including Clubcu and Blaxsand. "I've always been of the opinion that if you have enough brands committed to being open more consistently throughout the year, we'd be able to build interest around design—essentially, building a bigger funnel. High Point is a town oriented around the trade, and I don't ever see that changing, but we want to find a way to make the trade flourish."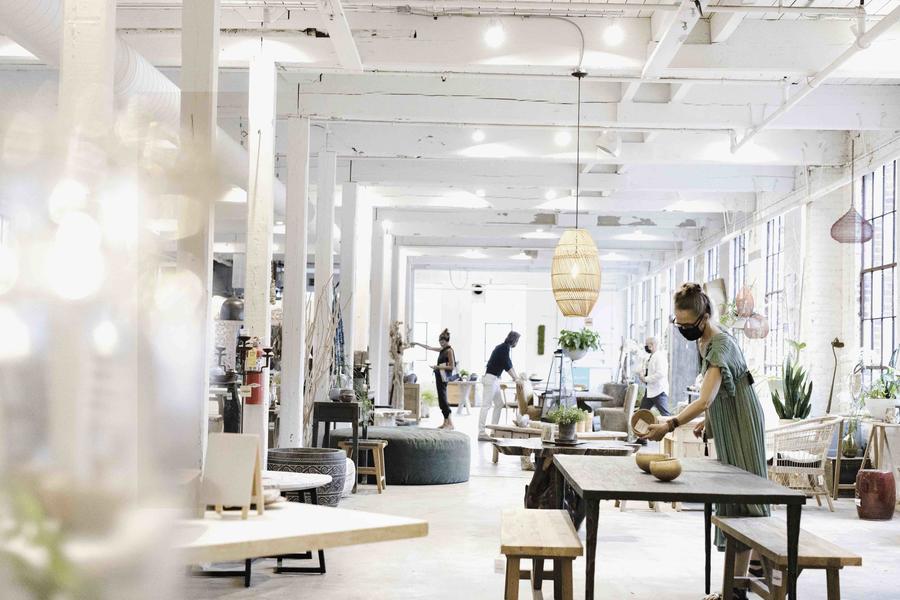 The initiative hinges on achieving a critical mass of participants, then making it accessible and easy to understand who's open when. Guidelines for members include participation in calendared events, a willingness to introduce regular showroom hours over time, and a commitment to maintaining preferred pricing structures for trade customers, interior designers, and retail accounts. The partner businesses acknowledge that staffing up immediately to open every day may not be realistic for everyone, but are laying the groundwork for a future where there might be enough demand to make doing so worthwhile. Though change will come in a series of phased steps as members make the necessary changes to their businesses, they have eyed September as a target date for all partners to be open either by appointment or with regular opening hours.
In the meantime, HPxD's founding members have taken pains to ensure that while each business has the freedom to set their policies, all partners are preserving special trade pricing. Though they expect some pushback from stakeholders who are resistant to change, they have worked hard to preserve existing industry partnerships with designers and retailers. "It's so tricky to change the way it's always been, but I think the internet and online sales have already started to burst that bubble," says Carole Gregg, who moved from San Francisco to High Point to open accent furniture showroom Red Egg nearly two decades ago. "My interior design clients say they get shopped on Wayfair all the time, so that kind of competition already exists. Of course people are going to say, 'We don't like you opening to the public,' but if we're selling at the same MSRP that everyone else is selling at to consumers—and we're still offering our designers and retailers their appropriate trade discounts—I don't really see how this is a threat to anyone's way of doing business."
High Point Market Authority president Tom Conley and chairman Dudley Moore Jr. have been at the table throughout the formative conversations. While HPMA's mission is to drive attendance to the city's Spring and Fall Markets, Conley also recognizes that a robust year-round offering would serve to amplify the twice-annual event. "As always, our goal is to move the Market forward," he says. "High Point x Design asks us all to reconsider traditional paradigms, which will be good for the Market, the world of design and the city. I've watched the HPxD initiative with keen interest from day one. It's great to see innovation percolate at the showroom level. It's a sign of vitality."
HPxD brings additional value to the town in an unprecedented time, on the heels of the first Market to be canceled since World War II. "As always, our mission is to bring people to High Point twice a year, but very frankly, in this time of COVID, if people will come to High Point at any time during the year, that's a win for the showroom and for the community," Conley told BOH. "We see this initiative as a great way to encourage designers who live in closer proximity to see more exhibitors in the time they devote to High Point Market because they are able to come other times of the year. I also hope it gives designers who have trepidation about coming to Market the opportunity to test-drive the showroom experience here."
Another factor that has shaped the initiative: Increasingly, it is designers, not major retailers, that make up the majority of a brand's buyers, yet brands have been locked into a market schedule that caters to the retailer's seasonal needs. The HPxD member brands see opening year-round as a crucial way to adapt the existing model to meet the needs of what, for many showrooms, is a changing customer demographic.
"When High Point Market was almost exclusively retail-focused, big chains made big purchases a couple times a year for the season," explains Tom Van Dessel, founder of home decor brand Splashworks. "That's not how a designer buys—they have a client and a project, and they need furniture when the client needs it. They want to purchase when they have a project."
At one meeting, Van Dessel coined the phrase "flagship showrooms" for how the founding members think of their High Point outposts. "We have these gorgeous spaces filled with stories and product," says Dagmi. "For the brands, it's not about getting a ton of people through the doors—it's about visibility. Little by little, I hope people who aren't in the trade will [be exposed to these spaces and] come to understand what beautiful products and professional designers can do for them, and how living beautifully can help them."
To understand how the flagship model works, think of a Nike store: You can buy Nike sneakers at various retailers (and often at discounted prices), but only a Nike-branded flagship offers the complete brand experience, complete with a basketball half-court and custom sneaker bar. It's a model that resonated with Tom Verellen, whose stand-alone upholstery showroom in High Point has long been an immersive touchstone of the brand's experience. As his sales team began showcasing the space on Zoom calls—and after several drop-in visits during the pop-up market that took place in June—Verellen saw an opportunity to use the space more than just twice a year.
"We've always taken a different approach, and people come to us for our interpretation of the showroom each Market," he says. "We knock their socks off every time—and if we do it year-round, designers can bring end users and experience the whole atmosphere. It's all natural light; you can burn a candle, put your feet up, and relax. It's a no-pressure environment—we just want customers to have an amazing time."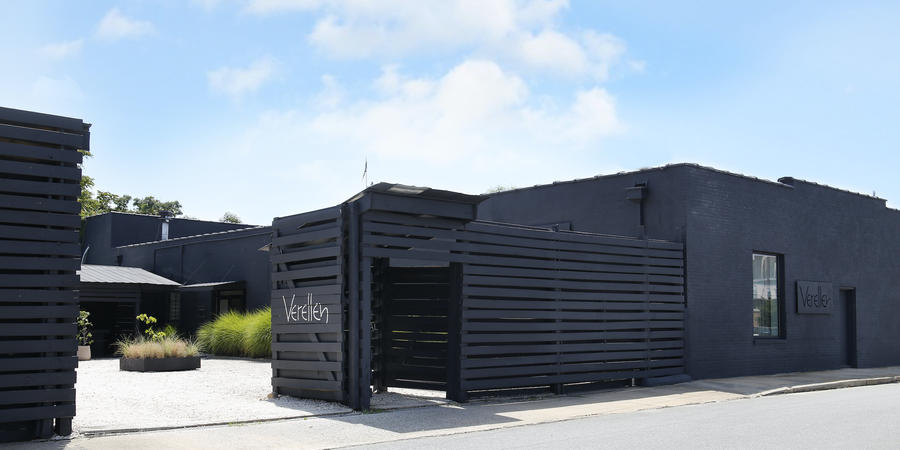 As his team began to take appointments in recent months, Verellen saw how the stress-free environment, out of the frenetic drumbeat of a market, has shaped customers' relationships with the product. "Last week, we had a designer and their client jet in," he says. "They had the entire 20,000-square-foot space together and they didn't have to worry—we gave them space to take it all in. It opens their minds to a look and feel. And then they flew home." With the factory only 10 minutes away, Verellen also sees the potential to offer tours for clients who want an inside look at how the pieces come together.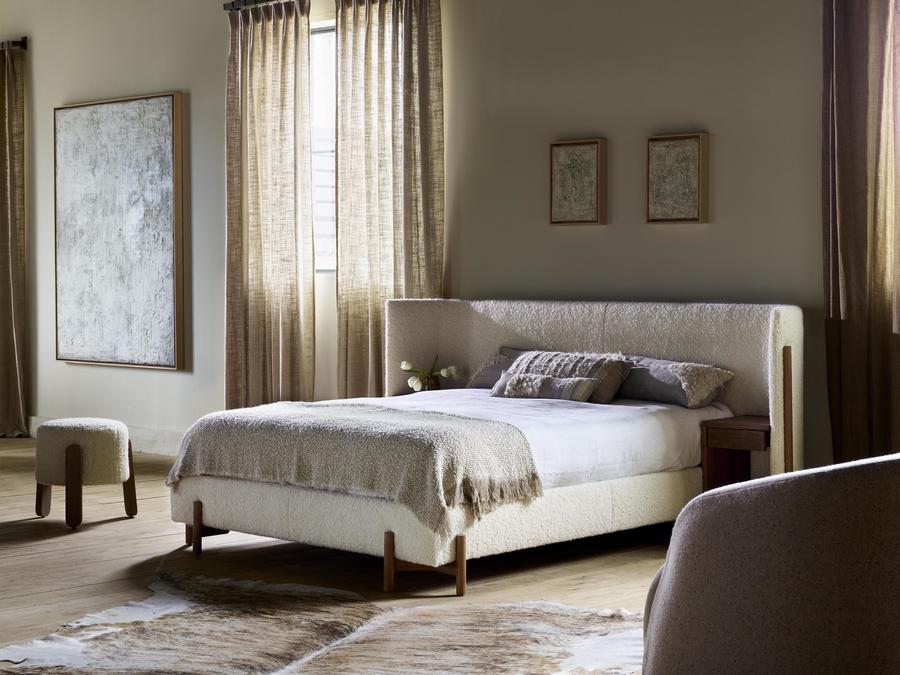 At Red Egg, Gregg has long been open the entire year by appointment—even if there weren't many visitors off-market. "When I tell designers to give me a call if they're coming to town, they scratch their heads and say, 'But why would I come to town?'" she says. "If we can gather [enough] showrooms who are willing to be open year-round, whether by appointment or on certain days of the week, it will give our interior designer clients an opportunity to come as they need product, based on their current job flow."
And while the group talked at length about how to protect their relationships with designers and retailer partners, Gregg also points to the fact that retail and trade pricing have existed side by side in certain markets for decades. "Twenty years ago in San Francisco, I had a showroom in the Design District in the same building as Century and Baker," she recalls. "It was open every day and everything was priced retail. Anyone could walk into that design center and [shop] if they wanted to, at whatever level they were qualified to purchase at."
Both Dagmi and Inman, who joined the conversation to represent the interior designer's perspective, are hopeful that designers will see the shift as a positive one. "Designers are key to the success of the renaissance of this community," says Dagmi. "This group is meeting designers where they are, in their comfort zone, at their convenience, whenever their need for sourcing arises, making it easy and safe for them to come to town, alone or with clients. We are already seeing it happen. Digital tours just aren't enough for designers, especially when cultivating new relationships."
Inman, who has long coordinated the High Point Market Authority's Style Spotters initiative, is already seeing the opportunities of the new model. "I'm a trade show junkie, but I think in having to isolate ourselves, we've had to reinvent the way we access design resources," he says. With much of his work in Richmond, Virginia, and Washington, D.C., Inman says that making the four-hour drive to High Point is an appealing resource with enough showrooms to visit—perhaps even with a client in tow, something he would never consider during Market.
High Point x Design's preliminary website, which went live today, will soon be replaced by a more robust site that includes a city guide-like map and information on member showrooms, as well as profiles of regional designers. The aim is to create awareness of the entire design trade, and to encourage design enthusiasts to partner with a design professional. "Even when I have a retail customer come into my showroom, they're lost," says Muldoon. "They're like, 'Wow, this is great—but how do I do it?' So we're building a database and being a connector for that consumer."
Increasingly, it is designers, not major retailers, that make up the majority of a brand's buyers, yet brands have been locked into a market schedule that caters to the retailer's seasonal needs.
Muldoon was inspired by the annual fairs that activate European design districts like Clerkenwell in London, and Eindhoven in the Netherlands. He visited both during their design week events, then returned later to experience the normal day-to-day activity, and was inspired by the amount of year-round creativity both districts were able to foster. However, in both places, the design districts were robust communities of brands and makers long before the launch of the design week events that bring tens of thousands of additional visitors. One way to reverse-engineer that kind of success, Muldoon hopes, is to cultivate an environment that inspires young creatives to plant roots.
"Because of the cost of living, setting up a business, and accessing a buying audience here, High Point has a really interesting opportunity to attract young creatives," he says. "The fact that you can buy a house for $120,000, rent a 10,000-square-foot warehouse for $2,500, and there are 74,000 buyers coming twice a year—people always think you have to be in Brooklyn if you're creative, but they've been priced out."
More than just artisans and creatives, HPxD's members want to bring design enthusiasts to town—a move that's in step with the city's initiatives to develop other year-round attractions. "If we're a hub for design tourism, designers are the stars of that," says Dagmi. "There's so much talent and style here on a daily basis, and the interest in designers keeps increasing."
"I've always loved the Milan Furniture Fair and how the last day is open to the public," says Gregg. "It is so crowded with people who are interested in trends in home furnishings and having the first look at new designs—and I can see that High Point has that unique ability to inspire design enthusiasts as well. I think that we could become a regional tourist destination for people who want to see how furniture is made and see some new designs that aren't in the marketplace yet."
But more immediately, she sees HPxD as a lifeline to some of the brands that make High Point Market so special. "This happens to be a time when, for some businesses, if we don't come up with a new model, they're going to shut their doors," she says. "If we want these great, small, unique resources to stay in business, they can't be hidden."
Find out more about High Point x Design here. Participating in HPxD is by invitation only; interested showrooms can learn more here.
Homepage photo: Cohab Space | Ron Royals