In phone calls, texts, DMs, Zoom cocktail hours, Facebook groups and socially distanced backyard chats, designers everywhere are asking each other a version of the same question: Are you placing orders?
Right now, two things are happening. One is that the fallout from COVID-19 has caused clients to get antsy. Whether it's from stay-at-home orders, economic uncertainty or sheer anxiety, projects are getting paused or canceled. As a result, designers who still have clients in a buying mood are feeling even more protective, and asking tough questions of their suppliers.
For the design industry's makers and manufacturers, the scrutiny couldn't come at a more complicated time. The same disruptions causing clients' legs to get wobbly are also throwing wrenches into the works for brands. Factories and workshops have been shut down or stripped to a socially distanced skeleton crew. Supply chains are being tested by unpredictable disruption. New orders have slowed, squeezing cash flow. Marketing in the midst of a global health crisis is a dicey proposition.
On one side of the equation, the buyers are wary. On the other, sellers are stressed. Taken together, it's an industry-wide game of chicken. So with millions of dollars in the balance, designers continue to nervously ask each other the same question: Are you placing orders?
BAD MEMORIES
For some designers, the present moment carries bad associations. The recent collapse of companies like Dessin Fournir and J. Robert Scott left many holding the receipts on orders that never arrived. And, to a firm, those who made it through the 2008 financial crisis can recall the painful experience of working with a vendor that was slowly sliding out of business.
"You'd keep getting notice that it was back-ordered, back-ordered and back-ordered," recalls Shea Soucie of Chicago-based firm Soucie Horner. "We didn't feel the repercussions of [the Recession] to a strong degree until 2010, but in that time frame you did see places go out of business. There were fabric orders that never arrived."
Jamie Drake, a veteran designer and co-principal of Manhattan firm Drake/Anderson, can recall the impact of economic crises on the design industry from even farther back. In 1987, he had an order that kept getting delayed by a well-known company suffering in the wake of the Black Monday financial crisis. "Eventually, though the order did end up getting delivered, it cost us the client," says Drake, laughing ruefully. "It was so late, and the client was one of those who didn't have a flexible and loving mind."
If our clients are going to trust us financially, we have to know who's going to stay in business.
Shea Soucie
Whether three decades ago or last month, the lesson is the same: Even if the client is legally on the hook for orders that disappear, designers are likely to pay the price—either by making up for the lost product, or by losing the job. "To the consumer, we're the person they're buying the product from," says Soucie. "If that fabric doesn't show up, you're taking a beating."
Perhaps a byproduct of the rapid acceleration of the coronavirus—or maybe a side effect of the speed of the information age—anxiety about the financial health of vendors in the design industry has arrived almost overnight. "I've been surprised at the speed at which designers are focusing on the issue," says Peter Sallick, CEO of Waterworks and president of the Design Leadership Network. "Part of what's fueling that reaction is the memory of the risk they found [in the 2008 Recession]. … The most fundamental thing is: I don't want to lose my client's money. It's really that simple."
'OPEN' IS RELATIVE
As the seriousness of COVID-19 became clear, Soucie was all about communication. She and her associates spent the early days of the pandemic reaching out to their active clients—checking in and letting them know the firm was up and running. Thankfully, most wanted to keep going with their projects. But after a reassuring week spent taking the temperature of her clientele, Soucie had a revelation.
"I sat up in bed at 3 a.m. on Sunday, thinking: Oh, God, if our clients are going to trust us financially, we have to know who's going to stay in business," she says. "On any given day in our industry, you deal with everyone from small artisan makers to the showrooms that have the lion's share of the fabric lines and huge website distribution."
The next day, Soucie, her partner Martin Horner and the firm's business manager began looking at the vendors that Soucie Horner purchased from last year—all in, the list had 700 names on it. Her team quickly began sorting through the makers, trying to suss out who could be relied on in the days ahead. Local vendors were prioritized. Brands with complicated shipping logistics were out.
"We started to apply a new matrix: 'If I hand you a check, can you show me a picture of it, and can it be here in 10 days?'" says Soucie. "It was no longer, 'Is it in stock?' Now it's, 'Is your warehouse open?'"
Soucie's concerns reflect a complicated reality for makers and manufacturers. The COVID-19 crisis, almost overnight, created arbitrary winners and losers. Companies based near outbreak hotspots face tough restrictions, while others have been able to keep manufacturing with little-to-no disruption. Small makers can often fly under the radar, while bigger brands have to shut down. With little rhyme or reason, some are "essential," and others aren't. Most have some stock on hand, but face unique challenges in producing new goods—or getting what they have out the door. Being able to produce and ship can often be down to a line-by-line basis, or even SKU by SKU. These days, "open for business" is relative.
Carol Gregg, founder of North Carolina–based furniture company Red Egg, has managed to avoid the effects of a statewide shutdown of nonessential businesses. Her wood pieces are produced by a network of artisans at small local workshops who can all effectively work from home. "Woodworkers are notoriously socially isolated anyway," says Gregg, laughing. "They're all hunkered down, so I won't have any disruptions there."
For Red Egg's rattan pieces, however, there are complications. Gregg imports the furniture from a factory in the Philippines, then finishes locally. She has a decent amount of stock in storage at the moment, but is warning designers that there may be some delays on new orders. The issue isn't overseas production—the factory is open—but the complicated chain of logistics required to ship rattan across the globe.
"The ocean carriers and the docks—we don't know what's going to happen there," says Gregg. "We've had dock closures intermittently because of COVID. … The factory can go ahead, but someone at the port can say, 'No containers for a week.'"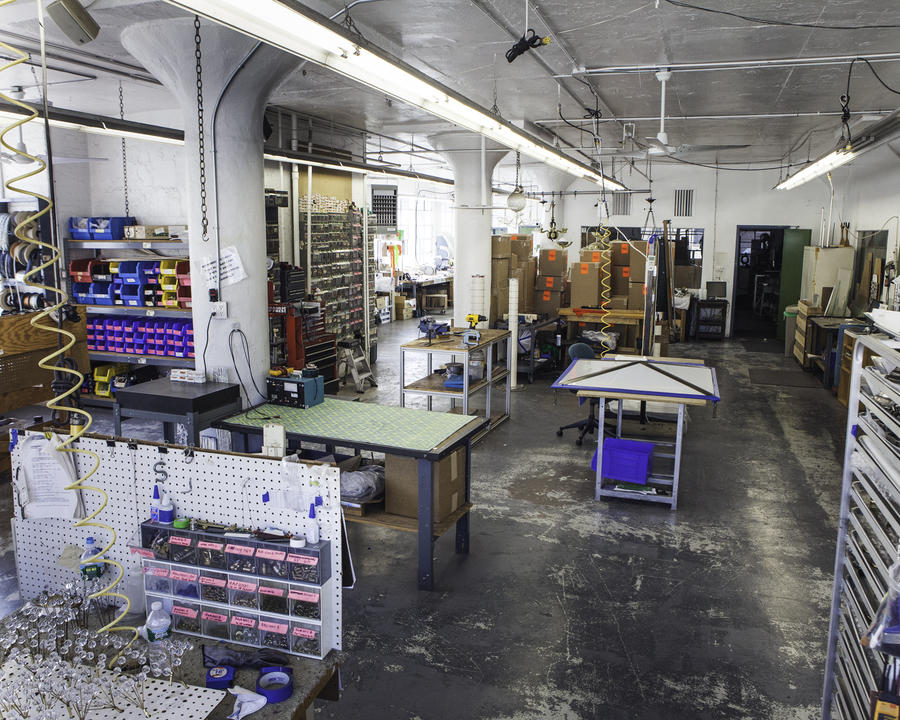 Courtesy of Remains Lighting
For David Calligeros, the founder of Brooklyn-based lighting maker Remains Lighting, the challenge isn't raw materials—most of his suppliers also ship to military and medical producers and have been deemed exempt from New York's shutdown. (There was a close call with some Italian glass, but Calligeros was able to get it shipped to the States via Russia. "It arrived sooner than it would have normally!" he marvels.)
Instead, the company's hurdle has been to keep making. With his small factory closed in March by New York's stay-at-home orders, Calligeros has been coming into the facility himself to run CNC machines, alternating shifts with an employee who ships orders for the antique pieces his company also sells. Recently, however, he was able to obtain a waiver from the state allowing him to reopen the factory as long as he maintained social distancing and safety measures. "We're not going to open up showrooms, but we'll be running production on a modest scale," he says. "We have 10 bathrooms for 12 people and can be very safe here."
In New York, the safety concern is not only for the production environment, but also for the commute. Calligeros has been assembling COVID kits consisting of masks and gloves for his workers. Legal permission to reopen or no, he wants to make sure he can responsibly ask his workers to brave the subway.
Getting production back up, he says, is an essential component of keeping conversations going with designers—he's now able to offer a clear timeline to an order's completion. "It comes down to being able to give our clients a sense that they can trust their orders are going to get processed when they put them in," says Calligeros. "Otherwise, what's your business proposition: Give me your money and maybe I'll ship the stuff to you at some unspecified date in the future?"
Though ramping up production capabilities will take some time, he recognizes that, in New York, he's one of the lucky ones. "There are plenty of people who don't know when they can reopen, and it's totally debilitating."
TOUGH QUESTIONS
Both Calligeros and Gregg run relatively small operations and are in frequent touch with their clients, which goes a long way toward assuaging designers' concerns. But absent a direct line of communication, many designers are forced to play a guessing game, piecing together bits of information and wayward gossip in an attempt to suss out which vendors can be relied upon.
"You have to use common sense and you have to read a lot, like never before, about what's going on in our industry," says Soucie. "Larger companies have a lot of fixed costs like showroom rents and salaries—they're not going to have a lot of choices [in where to cut back]."
On the other hand, larger companies have more resources at their disposal. "We've come out of very good years," says Drake. "Those companies that were big and vibrant, with fresh product on a regular basis, you feel confident they have the money socked away—or they have the support of their business partners and lenders and they'll make it through all right."
Large or small, the new table stake for any brand is transparency. Companies that don't pick up the phone, or aren't willing to send detailed updates about the state of their operations, are rapidly falling out of favor with designers. Now more than ever, vendors have to be willing to field tough questions.
"Designers have every right to ask about the state of your company right now," says Sallick. "We've had customers at Waterworks ask us for some form of official response, and we're prepared to provide that. … A big place where this is coming up is in the larger development projects. There's more financial sophistication and money and stake. I think it's fair."
If designers won't put down a deposit because they suspect that a vendor isn't financially stable, pretty soon the designer's suspicions will start to come true.
Another red flag for designers? Desperation. New York–based designer Jennifer Cohler Mason has noticed an uptick in brands going on promotion recently, offering deals that would have been unthinkable mere months ago. "Companies are breaking out sales—not just floor sample sales, but big percentages off of future orders," she says. "That, to me, speaks volumes, and makes me a bit more cautious to order."
Drake has had similar experiences. "[A vendor] was trying to entice us to place an order, and they were saying, 'If you do this within three days, we'll guarantee delivery by September 1.' I don't think anyone can guarantee anything right now, and it felt like a desperate plea for cash flow." He declined to make the purchase.
Though designers' concerns are entirely reasonable, for makers they present unique marketing challenges. In a time when it's difficult enough to signal that you're open for business (and being safe), how does a company also solicit orders (without seeming needy about it)?
Many are ramping up individual outreach ("Customer service has never been better," observes Soucie). Some are quietly adjusting terms, allowing designers to put down a smaller up-front deposit. Others still are leaning into the anxieties of the moment. New Jersey–based wallcovering company Phillip Jeffries has rolled out a set of initiatives that encompasses a laundry list of designer worries: For those who can't receive orders at the moment, free storage for 60 days; for those who lose orders if a competitor goes belly up, free shipping and a discount on comparable product.
Philip Bershad, president of Phillip Jeffries, is hopeful that the plan will resonate with designers who are dealing with an uncertain world—and, perhaps just as important, signal to the marketplace that his company is up and running.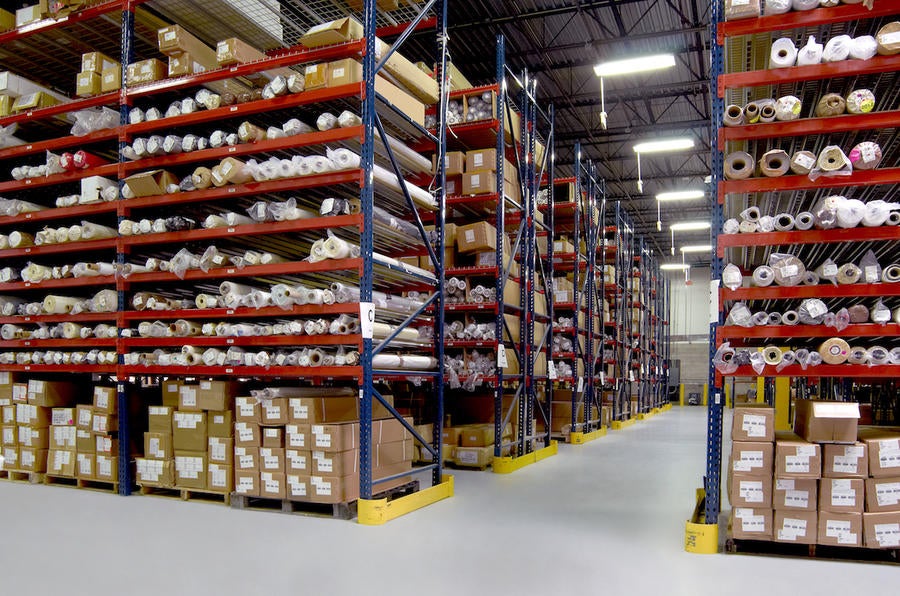 Courtesy of Phillip Jeffries
A FRAGILE ECOSYSTEM
One looming danger of the present moment is that designers' hesitation about the financial health of brands in the industry runs the risk of becoming a self-fulfilling prophecy. Ryan Hughes, founder of Atlanta multiline showroom R Hughes, puts it frankly: "Yes—if designers don't place orders, these companies will go out of business."
Many makers in the industry subsist hand to mouth, relying on cash deposits to fuel production. If designers won't put down a deposit because they suspect that a vendor isn't financially stable, pretty soon the designer's suspicions will start to come true.
"You think that clients are focused on having gorgeous interiors and having fabulous relationships with designers, but underneath that lies the whole sense of the integrity of the system," says Sallick. "Can I get the product? If that's disrupted, it puts a lot of pressure on the more visible part of it that we see. … The integrity of the design ecosystem is dependent on the confidence designers have in placing orders."
However, for all of the delicacy of the present moment, the interior design industry has a built-in firewall: its relationships. Designers tend to be deeply involved with the companies they work with, and a worldwide health crisis has only deepened the bonds. "Even the newest account managers on my team are having profound conversations with clients, because everyone's got this sense of shared purpose—or shared misery," says Calligeros.
As designers contemplate where to purchase, external signifiers like the size of the company, the resiliency of its supply chain, lead times and availability will all matter, deeply. If a business can't deliver, it's toast. But strong relationships, built over decades of working closely in a symbiotic industry, are allowing designers and makers to have frank conversations, give each other the benefit of the doubt, and stay connected in a way that more arms-length industries might struggle with.
A sense of shared responsibility is also encouraging designers to occasionally take a chance to keep unique artisans in business. Soucie was recently considering putting in an order with a custom glass company in California, knowing there were risks of delays. "That craft is already so small that if you don't continue to give them business, it's not coming back. We have to continue to use these people—I'm not going to be able to buy this stuff off the shelf," she says. "Now's not the time to hunker down. As a community, we should be linking arms."
After discussing the dangers with the client, Soucie made a deposit. The answer to the question of the moment—Are you placing orders?—was, for the time being, yes.
Homepage photo: The Phillip Jeffries warehouse in New Jersey | Courtesy of Phillip Jeffries