Design Leadership Network founder Peter Sallick is often asked what exactly his organization is, but he finds it easier to list all of the things it is not. "We are not a conference, though we produce a conference. We're not a social club, but we are quite social. We're not a media company, though we produce content. We're not a travel company, though we travel," he told a group of 350 members and sponsors assembled in London for the organization's 14th-annual summit last week.
Sallick founded the membership-based organization for designers, architects and landscape architects 15 years ago to provide educational programs, experiences and resources for the principals of leading high-end residential and hospitality firms. "We are a dynamic, high-energy community, and I hope that's something you'll take away from this experience and feel as strongly about it as I do," he said in London.
A feeling of community was in full force throughout last week's summit, which mixed speakers and small-group seminars with dazzling events and access to the city's architectural wonders.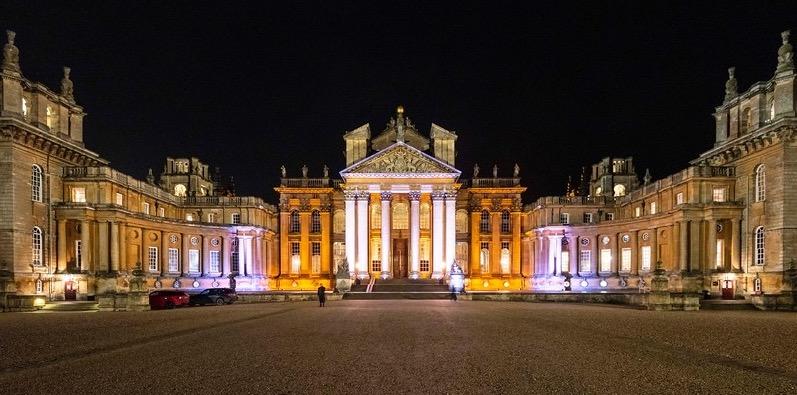 Grant Pritchard Photography
The festivities kicked off with a pre-summit banquet at the opulent 18th-century Blenheim Palace in Oxfordshire, the home of the Duke and Duchess of Marlborough and the birthplace of Winston Churchill. It was a fitting start to a week filled with star turns. Cocktails at Kensington Palace were followed by traveling dinners at exclusive venues like the members-only clubs 5 Hertford Street and the Garrick Club; The Charterhouse, a 14th-century Carthusian monastery; the historic Chiswick House; and the Sir John Soane's Museum. A Thames river cruise delivered attendees to a private tour of the Queen's House, an early-17th-century royal residence and the first major commission for landmark British architect Inigo Jones.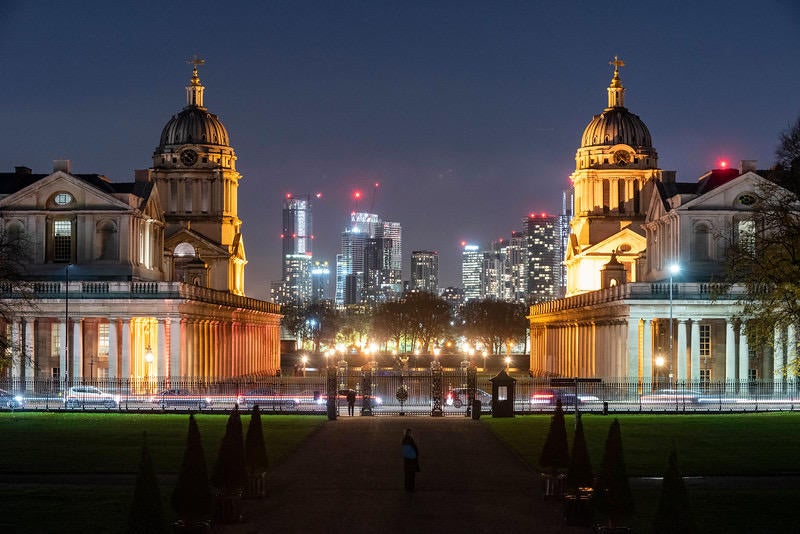 Grant Pritchard Photography
The summit culminated in an awards dinner under the recently restored murals by Sir James Thornhill in the Painted Hall at the Old Royal Naval College, where Thomas A. Kligerman was presented with the sixth-annual Design Leadership Award. In a speech celebrating the architect, past award recipient Suzanne Tucker highlighted the his love of books, curiosity, generosity and support of educational initiatives in the design world and beyond—notably his work as president and on the board of the Soane Foundation, the Ike Kligerman Barkley Traveling Fellowship, and recent involvement in New York's Billion Oyster Project. "I think of the people who've gotten it—my former boss [Robert A.M.] Stern, Nina Campbell—it's an amazing group to be included with," Kligerman tells BOH of receiving the award. "Listening to Suzanne's introduction was incredible, but it felt like she was talking about somebody else—I didn't realize I do that much. But I do try to go beyond just my daily job of designing houses. It's important to pitch in, and this only makes me want to do more, to redouble my efforts to do something good, and especially to teach."
In his speech, Kligerman spoke on the importance of mentoring: "I suspect that everyone in this room remembers when they were taught or guided by a generous person—someone older, more important or established. Someone we looked up to. And we can probably remember how that one encounter, even if it was brief, set us on a new path—maybe the one that led us here tonight," he said. "I think that generosity of spirit is a great part—in fact, the greatest part—of being a leader."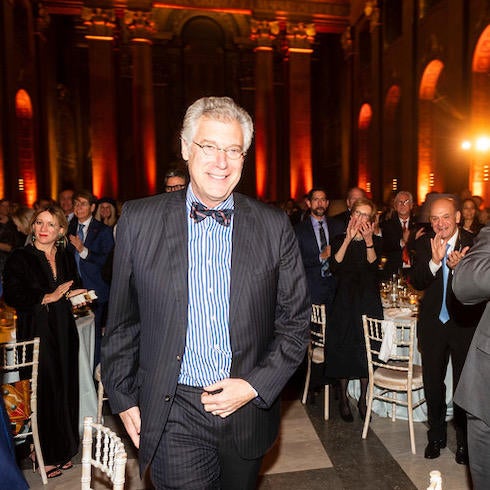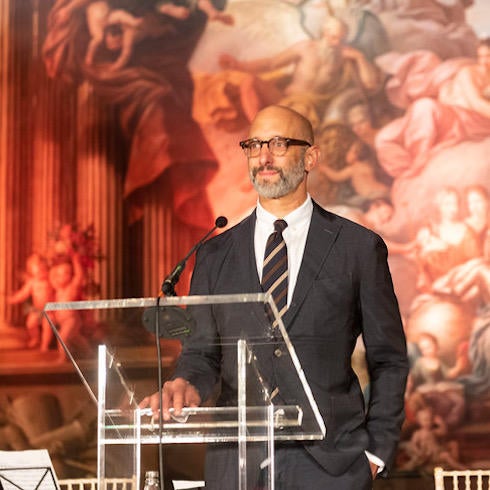 In his opening remarks, Sallick announced several major new initiatives for DLN, such as members-only access to business insights from leading DLN designers (current report topics include creating better contracts and business management); discounts and VIP access from more than 50 partners; a travel guide of globetrotting recommendations (think: a curated list of favorite hotels, off-the-beaten-track restaurants, and can't-miss museum collections) from fellow design-minded members; and a new book project, Travel by Design, which will be edited by Michael Boodro, DLN advisor and Dering Hall chairman of editorial and strategic initiatives. Sallick also announced the location of the organization's 2020 summit: Mexico City.
The summit's programming included powerful insights from creatives, thought leaders and designers. BOH was in attendance to take note of design's role in self-betterment, infusing business with purpose, and giving historical properties modern relevance. Here are some of the top takeaways.
Design makes for better business
Pauline Brown, the former chairman of LVMH North America, spoke on the power of aesthetics—both the designed environment and the designed experience, touching all five senses—which is the subject of her forthcoming book.
On designing businesses to satisfy the senses: "One thing everybody needs … [is] to feel alive, need to connect with people and surround themselves with things that give them purpose and meaning. So many businesses fail to do that. Companies [should] think of their product or service as more meaningful: What will people take from it, and what would encourage them to come back? Not just [asking if] people are satisfied with the finished project, but how do they feel about the process they went through? Would they want to go back and go through the process again, and not just have the finished product?"
On how to shift the conversation: "You're practitioners, but I think you need to start thinking of yourselves as educators—about what you do, how things get done, why they're important, and how they make people feel. One of the frustrations I hear from the design community is around the cost structure. Even with people who are not cost-sensitive, you [feel like you have to] convince them that you're worth it. But if the conversation can start to shift from cost to value, I think the question won't come up as much."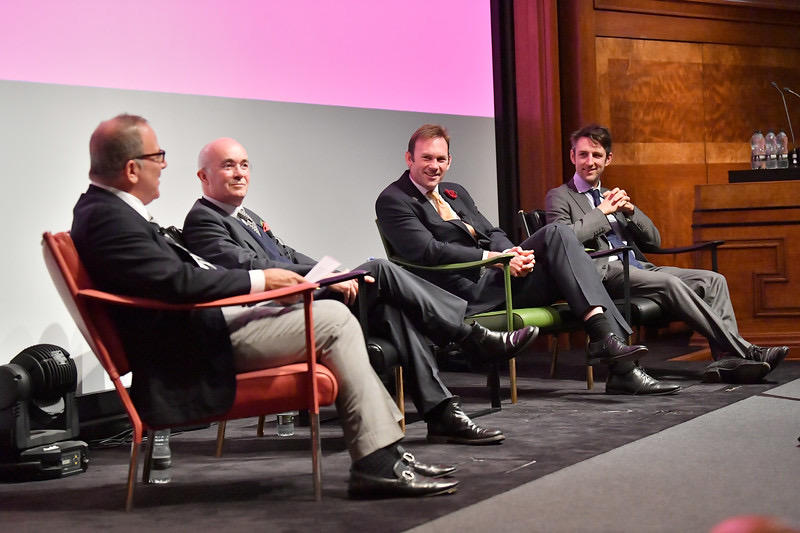 Grant Pritchard Photography
Living with history
James Reginato, writer at large at Vanity Fair, sat down with a lord and two earls—three men who oversee historic family homes (including one dating back to the 1100s)—to talk about living with history and the never-ending renovations these properties require. One, Nicholas Ashley-Cooper, the 12th Earl of Shaftesbury, talked about restoring his family's long-unoccupied estate and making a 17th-century property relevant today.
On the allure of an old house: When Cooper returned to the United Kingdom in 2005 after a stint in New York, the family's estate—St. Giles House, built in 1650—was on the verge of collapse. "We started this crazy mission in 2011 to put it back together with the goal of moving in again," he said of working with his wife to rebuild and restore the property. "It'd been 50 years since anyone had lived there, but we had this naïve, romantic idea that it'd be great to live in this great falling-down house."
On how to renovate thoughtfully: After three years of renovations, the dining room posed a significant challenge—and led to a breakthrough that shaped the rest of the property. The room had been badly damaged by dry rot, but the exposed brick offered an evocative look at the structure of the building that lay underneath. "We started to question why we were so slavishly going back to a period in history," he recalled. Instead of re-creating what came before, Cooper and his wife have thoughtfully put their own stamp on the building. "We're not so beholden to history that it doesn't feel like it's ours, but letting that history have a voice."
On putting the house to work: The home is now open as a venue—a way to share the space, but also to fund its preservation. "This house needed to earn its way and have a means to support itself," said Cooper. "What people love about these houses is the history—the age, the scuffs. We've tried to do that restoration work really sensitively, focused on the right things to be luxurious, but let people interact and appreciate it."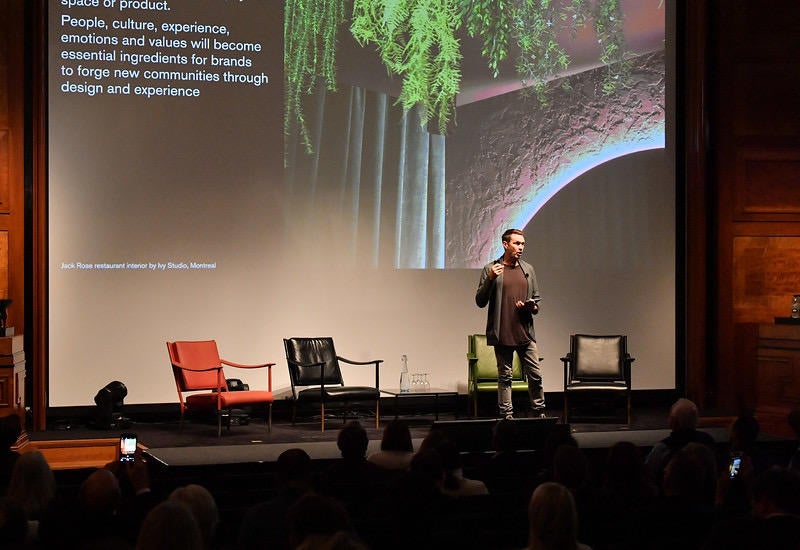 Grant Pritchard Photography
The future is now
Chris Sanderson, co-founder of the trend forecasting consultancy The Future Laboratory electrified the room with a look at how to reorient design for the next generation. "Our 21st-century consumer is coming into maturity, and it's not enough to have an understanding of how they think and behave differently," he told the group. "We also need to recognize how so much of the work we did to get set up in the 20th century may no longer be a fit."

On one of the biggest challenges we face: "In the coming decade, design will deliver more than a simple physical space or product. People, culture, emotions and values will become essential ingredients for brands to forge new communities through design and experience."
On the transformation economy: "It's not just redesigning a product or creating a new building, it's the process of changing the way people behave. The 21st-century consumer is looking for brands and services that will help them on their journey to become happier, healthier and wealthier. It's no longer enough to provide an experience, it's about self-betterment."
Homepage photo: DLN members dining in Kensington Palace | Grant Pritchard Photography