Designers are one step closer to a one-stop online shopping destination after today's announcement by Chairish, Inc.—parent company of online home furnishings platforms Chairish and DECASO—that it has acquired Dering Hall. The move positions the company as one of the largest digital platforms for high-end home products in the country, with nearly half a million items between Chairish, DECASO and Dering Hall, and brings tremendous opportunities for growth in the contemporary category.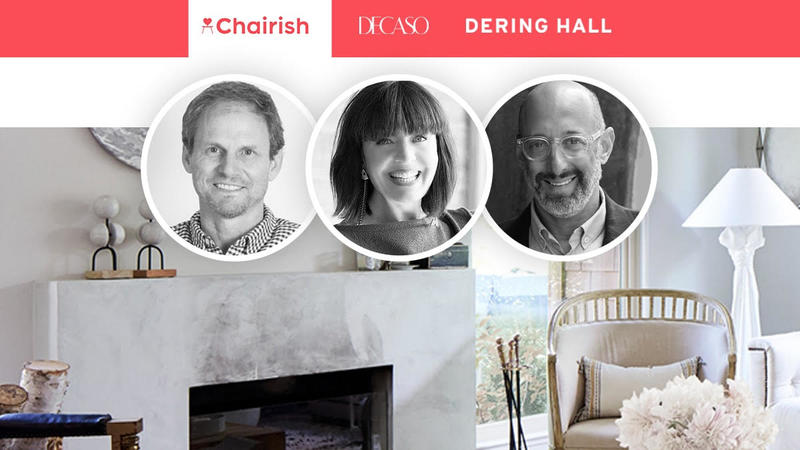 Starting today, the homepages of all three brands will feature tabs that take shoppers to the other two sites—a cross-pollination that foreshadows more integration to come. When Chairish cofounders Anna and Gregg Brockway and Dering Hall cofounder Peter Sallick sat down exclusively with Business of Home last week, they explained that they see the acquisition as an important way to address the fragmented market. "One interesting thing we've heard from designers is the desire to be able to find [products] all together versus having to [shop at many] different places," Anna tells Business of Home. "I think the whole will be greater than the sum of its parts when joined together because of the practicality of it."
And the whole is certainly impressive: The combined reach of the three platforms totals 2.5 million monthly visitors and a community of more than 20,000 verified design professionals, who will be able to shop the network's 450,000 products. "Furnishings is the fastest growing ecommerce category in the U.S., but only 10 percent of [that shopping] is done online," says Anna. "[We've been asking ourselves], How do we participate in this market in a way that fosters its long-term health and sustainability, and builds the community as well?"
"There's no shortage of demand for exciting and interesting home furnishings—that's not the problem," Sallick tells BOH. "The problem is the people can't find what they want. This is true for designers and consumers, and of consumers looking to hire designers. A combination of the storytelling and the accessibility to these giant product assortments is a big step forward."
Dering Hall's mission, platform and team remain in place, with cofounder Peter Sallick becoming a strategic advisor on Charish, Inc.'s executive team. "We designed Dering Hall to be the definitive directory and sourcing tool for the very best in interior design," Sallick told BOH in 2015. The site's mission has long been to connect the high-end home design market to the trade and consumers through product and portfolio search, while driving growth via an editorial platform. "We serve as a facilitator for designers searching for product and consumers in search of design talent," said Michael Boodro (the former Elle Decor editor in chief who became the site's chairman of editorial and strategic initiatives in 2017). "We already have a steady audience that is always growing because of our ability to share our content on other websites. But we are working every day to make the site a richer, more rewarding and broader experience so that we can effectively drive opportunities to designers and brands."
The online marketplace launched in 2011, inspired by Sallick's co-founder, designer Steven Gambrel's need for an easier way to search for home furnishings. The duo got the site off the ground with more than 100 designer partners (early adopters included the likes of Rose Uniacke, John Derian and Will Wick), then grew the platform with a $1.4 million seed round in 2013 and another $2.5 million round in 2015 from the likes of Lerer Ventures, Softbank Capital and Hearst Corporation.

When you're an independent business operating in a silo, you only know what you know. Our shared perspectives on what people are looking for can help to inform the industry on trends.
—Anna Brockway
Though Dering Hall has long been able to deliver results for clients with its seller dashboard, the Chairish acquisition compounds the opportunities to provide data to vendors, backed by Chairish's operational scale and powerful tech tools. "With stronger technology, management and marketing, we will able to do things for these companies that you won't see as a user, but that will create opportunities for them behind the scenes," Sallick tells BOH. "What I often see is that you can build things at a beta, early stage relatively easily and inexpensively, but ultimately that's a small piece of what's required to build something meaningful and sustainable. We're tracking to play at a very different level than most people are able to play."
"When you're an independent business operating in a silo, you only know what you know," adds Anna. "Our shared perspectives on what people are looking for can help to inform the industry on trends. Taking our data and making it actionable is a powerful way to support people who are working with us."
Translating that support system to Dering Hall will be one of the company's core focuses in the coming 12 to 18 months, she says. "One of the nice things in having invested in our technology platform [is that] we were able to repurpose it with DECASO, and now we're able to apply select parts of that technology platform to Dering Hall. We're always building upon that investment to help bring the marketplace together, connect people and maximize our relationship with the trade community."
Chairish began in 2013, the brainchild of husband-and-wife cofounders Anna (a former fashion marketing executive) and Gregg (former cofounder ofHotwire and TripIt) Brockway. Though the site was ostensibly an online resource for vintage furniture, it had deep tech roots thanks to the duo's backgrounds in brand-building. "A vertical, curated marketplace built around a great mobile experience makes it dramatically simpler to buy and sell home decor," Gregg told BOH in 2014, when the brand announced its second round of funding. (Since the launch, they have raised more than $30 million from Azure Capital, O'Reilly Alpha Tech Ventures and other institutional investors.)
In 2016, the Chairish team debuted DECASO (short for A Decorative Arts Society), which applied the Chairish ethos and tech platform to vetted antiques dealers. Even then, the goal was to simplify the shopping experience, creating a curated platform for designers and consumers.
The two platforms have continued to grow: Last February, Chairish added showroom samples to its inventory; in March, both brands launched an augmented reality app and revealed a revamped trade program that include perks like hidden trade pricing, 48-hour hold requests and dedicated trade support for sourcing and fulfillment. ("Designers are VIP customers at Chairish and DECASO," Anna told BOH at the time.) DECASO made headlines last year with several designer-friendly updates of its own, including an authenticity policy banning fakes and an updated return policy.
The Chairish and DECASO sites have also begun experimenting with their own content creation. "We've been focused on how to use our inventory to tell stories," says Anna. "Oddly, there's just not enough of it right now. I personally am homesick for it, as somebody who loves this category and has always dug into that kind of stuff. I'm excited for that part."

I am such a believer that for the design industry to move forward, we need to envision a world in which there is more collaboration, more scale and the capacity to get things done in more sophisticated ways. —Peter Sallick
For the founders of both brands, adding Dering Hall's network and assortment of brands and products to the mix feels like a natural pairing of like-minded entrepreneurs. "The high-end component of the design industry is at an inflection point," says Anna. "It's clear that technology is here to stay and is going to powerfully shape the industry—it's just a question of how. We felt that Chairish and Dering Hall were complementary in terms of our inventory types. We've been focused on vintage, one-of-a-kind and antiques, while they focused on contemporary design, showrooms and designers. We're both companies that believe strongly in integration and the idea of focusing on the premium segment of the market, so the idea of putting all of those together to create one network of sites made sense."
Sallick is clearly on the same page as his new partners. "I am such a believer that for the design industry to move forward, we need to envision a world in which there is more collaboration, more scale and the capacity to get things done in more sophisticated ways," he says. "I'm putting my money where my mouth is. I believe in [tools] that are bigger and more powerful making a difference in this market."

Correction: January 22, 2019
An earlier version of this story misstated Chairish, Inc.'s size relative to its competitors following the acquisition of Dering Hall.