Kyle Bunting has a roving intellect and infectious enthusiasm. During a recent interview about his Austin, Texas–based decorative hide rug company, the conversation ranged from the intricacies of sourcing leather to the real estate market in San Francisco. So it wasn't entirely surprising that, when an album by the British rock band Radiohead came up, Bunting shared an (enthusiastic) opinion that seemed to reflect his own strategic approach.
A little background: In 2007 the band, at the apex of its popularity, cut ties with its record label and released its seventh album, In Rainbows, by posting it online and asking fans to pay whatever they thought it was worth—even $0. It was a radical and risky move at a time when people still spent money on music. It also separated the casual fans from those who were inspired enough to pay for a product they connected with.
"I loved that!" Bunting said. "I paid full price for it."
Bunting is in the midst of a risky business maneuver of his own. He's not giving his product away, but this spring, after nearly 20 years of representation through a variety of showrooms—large corporate multilines, independents, and a hybrid partnership with Edelman Leather—Bunting cut the cord completely. He pulled out of all of his agreements and waited, with some anticipation, for orders to start trickling in.
+ + +
Bunting started his business in 2001 in San Francisco. Having just left a career in television, he was casting around for the next opportunity when he rediscovered some hide rugs his father had made in the 1970s. Cut into striking decorative patterns, they blended the classic appeal of the material with a modern sensibility. Bunting began making his own, wondering whether there might be a contemporary market for his father's innovation. As it turned out, there was.
Over the next decade, Bunting essentially single-handedly created a new category of high-end floorcovering. Often customized, his hide creations could be monochromatic and simple, or wildly colorful and inventive, ranging from intricate florals to re-creations of abstract art. Using a surprisingly high-tech process (it involves digital modeling and an inventory algorithm), Bunting's factory can produce hundreds of pieces a month. Though he says he began noticing similar products appear on the market around 2010, Bunting has built a significant competitive advantage of quality and scale. "You could replicate what we do if you wanted to do a few of these a month," he says. "But if you want to do a hundred, or five hundred, it's a whole different ballgame."
In the early days, like any maker of high-end home goods, Bunting was reaching customers—almost exclusively designers—through showrooms. His first representation was with Stefan Lawrence in Los Angeles, then De Sousa Hughes in San Francisco, before eventually moving on to the larger corporate multilines like David Sutherland and Holly Hunt, the usual suspects for a compelling brand on the rise.
By 2005, Bunting had a network of large and small players stretched across the country. Business was booming, and he moved operations to his native Texas in search of cheaper labor, eventually settling in Austin. At the outset, the majority of business came through representation, with only a small slice—roughly 20 percent—coming to the company directly. However, over time, the balance began to reverse.
Bunting attributes the shift to a number of factors. For one, a product like Bunting's, which often requires heavy customization, can become ensnared in the bureaucracy of a showroom. "The customer experience is kind of painful," says Bunting of shopping highly personalized brands like his in a showroom. "It's a little bit broken: Buying is complicated and expensive, you're not sure where it's made, and custom is cumbersome. Designers and their clients get overwhelmed and the lead times are longer."
For another, Bunting thinks corporate multilines introducing their own products into the mix created an unhealthy competition with the rest of their stock. Which gets at the heart of the issue: There's a delicate balance inherent to the maker/multiline relationship. Multiline showrooms create compelling spaces and develop important relationships with designers—but designers are ultimately there to buy the product. So who owns the customer?
That's not a strategy for growth, that's a throttled market.
Kyle Bunting
"One thing all brands can relate to is the first time they hear a multiline showroom owner or manager refer to the people who are buying the product as 'their customer,'" says Bunting. "It's almost like the lifting of a veil—that's what's really going on here. [Multiline showrooms] control the market and the relationships, and the contract is: They present what I have and try to get a limited audience to buy my product. That's not a strategy for growth, that's a throttled market."
Nearing a decade of representation, Bunting's numbers were telling a clear story. "I remember in 2013, we did more business in Austin [on our own] than David Sutherland did in Dallas," says Bunting. "It's not a knock on David, it's just that the market had shifted and designers wanted to be working directly with makers." He estimates that by 2015, he was doing half of his business direct.
Looking for a new model, Bunting pulled out of his major showroom contracts and made a deal with Edelman Leather. This time around, instead of a classic representative model, he set up a more direct partnership. However, Bunting says the change of scenery did nothing to alter the fundamental fact: More and more of his business was coming through direct sales. After two and a half years with Edelman, 60 percent of Bunting's business was coming through his own relationships.
Bunting and Edelman Leather parted ways, and the Texas rugmaker cleared up any remaining relationships with independent showrooms in the spring of this year. Bunting was officially on his own.
+ + +
Going independent wasn't quite like jumping into the deep end of the pool. Bunting had already built up an infrastructure to work directly with designers and deliver quotes and samples quickly. The most significant change was reorienting his sales staff to fill in the gaps where showrooms used to be. Bunting says it's taken a little effort, but there haven't been any bumps in the road.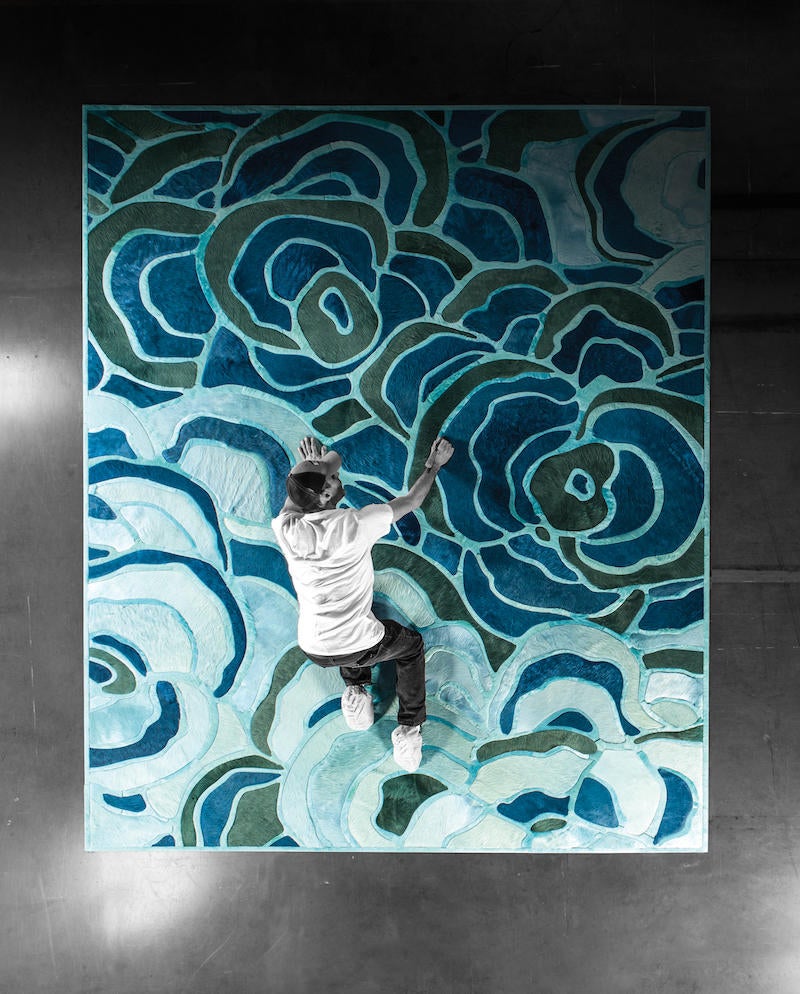 "One of the things we realized was that internal representatives who were more connected and more passionate about the product were just as viable [as showrooms] to work a region and develop relationships with designers," says Bunting. "If someone here can pick up the phone and talk to the 200 people in the Southeast region who are really meaningful to the business, [clients] usually say, 'Cool, that sounds better!'"
So how have things unfolded, financially? Did the orders come flooding in, or has the company hit a dry patch? Bunting says he's had a stellar quarter, with his highest-ever orders.
Interestingly, Bunting's net revenue hasn't radically jumped, largely because the savings on showroom commissions have been gobbled up by the development of a beefed-up infrastructure. Bunting has increased his staff (from 22 to 25) and is investing in better sampling and packaging assets. He advises that any company interested in pursuing an independent model should expect a similar result.
"You're probably going to invest most of that [savings on commissions] in maintaining and managing the demand on the business to sustain where you're at," says Bunting. "But once you've made the transition, you're going to stand back and look and say, 'Now I'm controlling the sales message, I'm controlling the relationship with customers, I have one group of directly manageable people who are wildly enthusiastic about the product and now we're starting to grow.'"
Just as important, Bunting is enjoying a boost in morale, a clear sense of purpose, and an uncluttered runway—his goals are exponential, not incremental. "We're closing more business, we're touching more customers, and because we're involved in the relationship with the customer, we're able to more efficiently finish the job," he says. Clearly, going independent has worked for him. But could it work for others? Is Bunting an outlier or a canary in a coal mine?
+ + +
Back to Radiohead. The band's risky 2007 experiment worked. Though some people opted to pay nothing, many thousands, like Bunting, paid full price. Wired reported that the band had made £3 million (more than $3.5 million) overnight, and that digital sales for In Rainbows were more profitable than all sales of Radiohead's prior album. The band had cut out the middleman, gone direct to fans, and cashed in big. Many critics hailed the move as a new era in music distribution and the death knell for major labels.
However, many argued that, far from heralding a new movement, Radiohead was the last of a dying breed. The band had only been in a position to cash in because they had benefited from 15 years of major label marketing. Far from pioneering a new movement, Radiohead was turning around and disrupting the model that built it. Could the same be said of Bunting?
Though he's critical of multiline showrooms, Bunting is clear-eyed about the impact that representation has had on his career. "I appreciated it, I loved [multiline partners], it was a great experience, I couldn't have grown my business without them," he says. He also acknowledges the privilege of his position in the market: "If I was a small textile brand or a small lighting brand and I didn't have the brand equity that I've established, this would be a much harder decision."
If you hit a home run and the market loves your product, you start printing money.
Kyle Bunting
Still, Bunting isn't shy about proselytizing for a push for greater independence. The internet has leveled the playing field, he contends, and if he were starting business in 2019 instead of 2001, he'd forgo showrooms entirely and focus on social media and digital spend. "There are so many other ways to expose the market to what you do. You can use video and all these other assets to help a customer get the sizzle, then deliver them the steak when you ship the sample."
Those that take the plunge can exercise greater control over their messaging and customer experience, and the potential for reward is far greater, he argues. "You're only going to expand gross margin slightly in the beginning," says Bunting. "But over the longer haul, you should be able to expand it wider. And even if you can't, at least you have elasticity in pricing. If you hit a home run and the market loves your product, you start printing money."
It's a tantalizing prospect, and it's hard not to get swept up in Bunting's enthusiasm. But his enthusiasm may be precisely why going independent has gone so well for his brand. Not every maker has the entrepreneurial spirit or the business know-how to carve out their own path. Many artisans are happy to focus on the creative side and hand off the logistics, sales and distribution—even if it means missing out on growth opportunities.
Nor do many brands enjoy Bunting's unique competitive advantage—not everyone can invent a category. Designers who are looking for a decorative hide rug will find Bunting, wherever he may be. Designers looking for a floral print in cotton have options, and may end up picking what's most convenient, not what's most independent.
+ + +
Bunting isn't the only one to doubt the future of the multiline model. After retiring earlier this year, David Webster, the founder of the venerated Boston independent showroom, told Business of Home that his stepping down was partially inspired by a bleak outlook: "What's the sense of my coming in and knocking myself out for all of this when there's no future to it?" He advised his close associates not to follow in his footsteps. Elsewhere, Donghia has closed showrooms and laid off staff. Others are struggling, and brands are starting to ask tougher questions of showroom managers.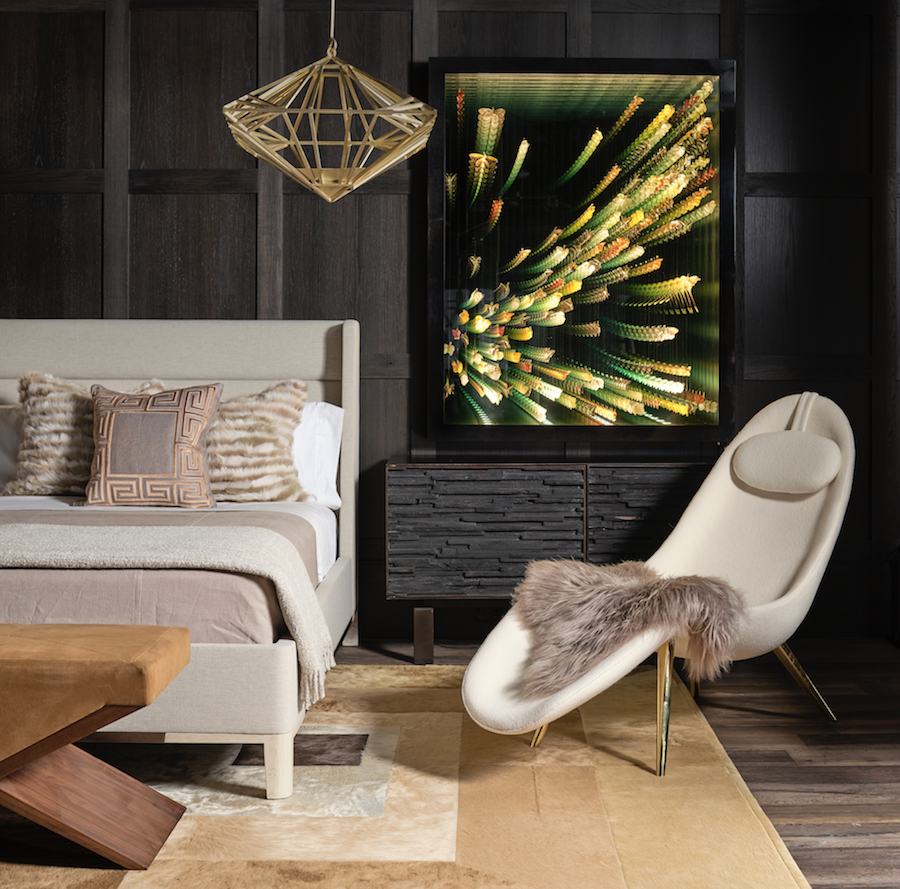 Still, there are many players in the space getting it right. Ryan Hughes, founder of Atlanta showroom R. Hughes, has seen strong growth in recent years. He attributes it to a focus on developing his own brand and great relationships with local designers. "Multiline showrooms in today's world are getting a bad rap," he says. "But it's because people aren't doing it well, they're not curated properly, and people are just taking every line that knocks on the door."
Like Bunting, Hughes sees the relationship between showroom and maker as essential. "When a brand is trying to compete with you, you lose the sense of partnership," says Hughes. "But that's very rare." In most cases, he's working with small-scale artisans or brands who simply have no interest in establishing the infrastructure or the relationships necessary to sell in his market. And if a brand chooses to strike it out alone? There are other fish in the sea. "It can happen, but that's just the reality of the business," says Hughes. "I never enter a relationship with fear about brands leaving."
Dennis Hunt, the owner of Ainsworth-Noah, another Atlanta multiline, has also seen growth in his showroom. He attributes it partially to a remodel he underwent in order to freshen up the space's interior, and partially to the close-knit Southeastern design community. Another crucial selling point? A longtime staff. Hunt tells BOH that all of his employees have at least 12 years' experience working for the showroom.
Indeed, the same quality that made the multiline model frustrating for Bunting—the involvement of a third party—may be a welcome intervention for some. For many brands, a good showroom rep is more likely to help a sale along than it bog it down. "When the designer comes in, they like to have an advocate, and the same is true for manufacturers who appreciate someone local," says Hunt. "The manufacturer isn't in Atlanta, Georgia. We're in Atlanta, Georgia."
Though they acknowledge the market is changing, both Hunt and Hughes aren't concerned about a mass exodus of brands. They're thinking in less dramatic terms than Bunting, making small adjustments, investing in better designs, smarter contracts and better service, and trying to curate a more focused product selection. The model isn't broken for them, it just needs fine-tuning.
+ + +
Of course, change comes fast. It's possible that the next generation of makers will think more like Bunting, and the multiline model will fade away. Or maybe going independent will prove to be too treacherous for all but the most entrepreneurially minded, and multilines will always be a safe harbor. For now, showroom managers will keep tweaking, and Bunting will happily pursue the solo route. As for Radiohead? They're on a record label again—an independent one.