David Webster's showroom was a New England institution. One of the cornerstones of the Boston Design Center for decades, the multi-line independent showroom served as the first stop for many designers looking to do business in Beantown. Webster, a former graphic designer, opened up shop in 1991, originally selling predominantly fabrics out of a 2,600-square-foot location. Recently, he announced his retirement and the closing of his (now 25,000-square-foot) store. BOH chatted with Webster about the evolution of his business, why Boston isn't just a "brown furniture town," and the real reason multi-line showrooms are struggling. (Hint: It's not the internet.)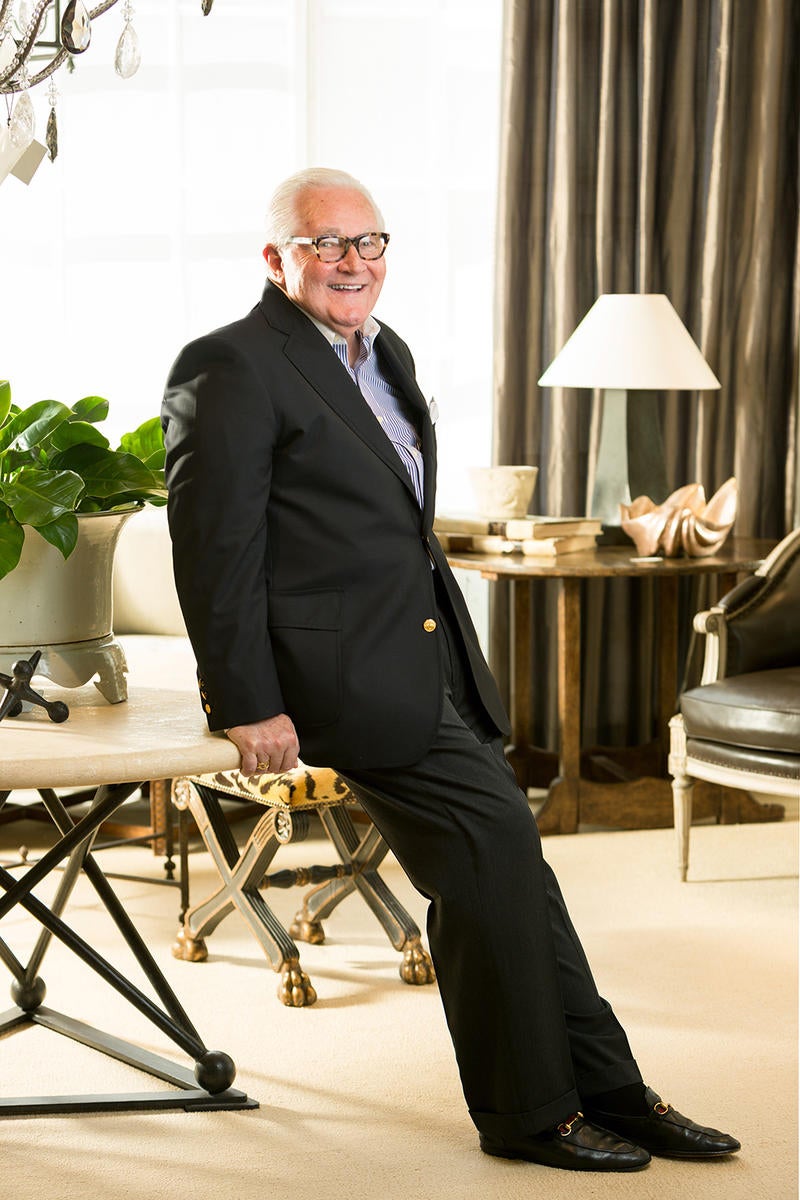 Courtesy of Webster & Company
When you first started, did you have a grand vision for what the showroom would become?
Not at all. I was just going to be a little atelier, wearing an apron and working on decorative finishes. But I quickly learned something about myself: Once I got going, I just couldn't stop.
What kind of stuff was selling when you opened the showroom?
The English look in decorating was very prominent. Every window in sight was swagged and jaboted. Over time, America became more interested in a contemporary lifestyle, and we went with the flow on that. I loved putting Holly Hunt in front of the Bostonians and saying, "Here, this is where I think it's going. This is the way I think you should be [living]." They ate it up.
How did you find new sources in the early days?
I had to go out and beat the sidewalks and get into every trade situation that I could. At the time, nobody in Boston was going to Westweek in Los Angeles, for instance. I was going out there for 10 years, walking down Melrose in my blue blazer and a briefcase while everybody else was driving around in Maseratis. I was knocking on doors in brown loafers and saying, "I like your product, and I'd like to rep you in Boston."
That's amazing. How did they react?
Most people that I approached in California said, "Boston? No, no, no, we'd never do that." We had this reputation as a brown furniture town, and that people didn't buy furniture, they inherited it. So it was a tough sell. But I just was persistent: I went consistently for about 10 years in a row, and I would always go in person, because I felt that that was really important to say, I'm still here, I'm not going away.
What defines the Boston look?
Boston is becoming more and more contemporary. We're in a great growth spurt in Boston right now, where all these high-rise condominium towers are going up, which of course is just screaming out for rooms filled with Holly Hunt furniture. Everyone keeps saying it'll swing back to traditional eventually, but I haven't seen that happen. Still, there's something about New Englanders—there's always a little bit hearth and home, if you will. It will come through, even if it's in a contemporary environment.

I was going out to L.A. for 10 years, walking down Melrose in my blue blazer and a briefcase while everybody else was driving around in Maseratis.
—David Webster
What was your secret to arranging the showroom?
It was all very simple. We made sure to have lots of space, lots of air around the pieces of furniture on the floor and an interesting mix of accessories. I can't really explain it—it's just taste. But people would say, "My god, you're a better decorator than most of the decorators who come in here. Why don't you be a decorator?" And I said, no, I would never want to do that. I don't want to deal with any of that.
How did the business side change over the years?
This is a [business] model that is totally broken, and it's never going to be able to be repaired, in my opinion. As the years have gone on, the rents have just been out of sight. Real estate itself has gotten so expensive. You can't blame landlords for wanting to charge more money, but the numbers just don't work.
Is there a way that showrooms can change and adapt?
The only showrooms that are really making it are those who do manufacturing—a little fabric, wallpaper or furniture line. A perfect example would be Kneedler Fauchère in Los Angeles; they have a furniture line [Gregorius Pineo] that's very successful. If the showroom has another line for making some money and adding to the pot, it really helps them stay in business. Otherwise, the rent and payroll costs are out of control. This business, you're really spoon-feeding customers all the way. You need smart people working for you, and to pay them well—and those costs add up.
Did the internet hurt your business?
There's always a certain percentile at the top of the pyramid that is going to want to have the highest-quality items that money can buy. That will always be there. One of our clients was dealing with one of the richest men in the world. He needed someone to work on his house in California, and ended up bringing a design team from Rhode Island. He really liked one of my manufacturers, but he didn't want to have their product; he wanted his own stuff, so they had to hire a furniture designer to design the piece, and then my manufacturer produced it. We loved it because it was so opulent, like one of the Louis. That kind of thing is never going to be on the internet.
Did you ever get showroomed?
What I more found was young designers coming into my showroom and saying, "This showroom is so great, it's so beautiful, blah, blah, blah." And then I'd see them come in with their client and they'd just wander around, the designer would point out certain things, the client would have big wide eyes, and then they'd leave. I came to the conclusion that my showroom was often being used just as a place to show and tell. At these high rents, I couldn't afford to stay open and keep staff that would be writing up quotations and giving out tear sheets on stuff that would never turn into an order. The conventional wisdom used to be that 40 percent of your quotations turn into orders. That used to be true, but not so much anymore.
When did you decide to move on?
The big thing is that I was having a health problem. I could have gone on for a little bit longer—my lease wasn't really up until this coming September—but my doctor felt I should probably call it quits. And then the more I thought about it, the more I thought, "It's time." What's the sense of my coming in knocking myself out for all of this when there's no future to it?

What's the sense of my coming in knocking myself out for all of this when there
'
s no future to it?
—David Webster
Did you ever consider selling the showroom to a partner?
There were some key people who work for me that I would have been willing to turn the business over to, but I strongly recommended they not do it.
Where do you think the industry in general is headed?
I'm really concerned. I don't think design centers are going to be able to survive. Most design centers, they're only doing well if they're dealing with manufacturers directly, because those businesses have room in their budget to pay the rent. If you're not paying out a 25 percent commission, [it's a lot easier to pay the] rent.
I see four or five, maybe six, manufacturers that will be able to remain players in the game. It will be very boring. The wonderful thing about independent and multi-line showrooms was that they added such a wonderful mix to everything. Every independent and multi-line showroom had a different look and feel.
When you look back on the arc of your career, what stands out to you?
Creatively, it was wonderful for my soul. It really was. That's probably the thing that I'm bringing away from all of this—that, and also some of the wonderful relationships I built through the years with designers and manufacturers, some of whom are in the big cocktail party in the sky.