Designers across the country are rethinking the equation when it comes to their fees. Thinking about making a big change of your own? BOH uncovers why the most important ingredient might not be how you charge, but rather how you talk about it with your clients.
In polite society, talking about money is tacky. Yet in a designer's very first conversation with a client, "How much is this going to cost me?" is immediately on the table. Explaining your terms and outlining your vision in the same breath are essential ingredients of closing the deal.
If a homeowner interviews three prospective designers, they are likely to be regaled with three different ways of billing for the same job—which all have unique ways of communicating the value of hiring a designer. With no industry-wide best practices at play, it's easy to see why clients don't understand how the process works and aren't sure which designer or billing method to trust.
"I often wish we would do what real estate agents did—get together and fix our fees," designer Christopher Kennedy told me ruefully as we discussed the ins and outs of how he charges clients at his Palm Springs, California–based firm. "No one questions Realtors making 6 percent. On a $1 million house, the Realtor is making more than some designers out there."
When I started reporting this story, I was looking for a silver bullet: the mythical "right" way to charge for interior design. If I talked to enough designers about what works and what doesn't, their collective wisdom was bound to coalesce around a single solution—right? But as my complicated diagram of who bills how (plus when and why) grew thornier, I began to think I might be searching for a solution in the wrong places.
A residential design firm is a business, but the work is nuanced and personal—the well-trodden adage about successful designers being part therapist persists for a reason—and the notion of establishing trust with clients was a recurring feature of my conversations. No matter how a designer charged, the bedrock of the relationship's success was more deeply rooted in their confidence than in the finer points of their contract.
In a 2001 study featured in the book Trust in Cyber-Societies, D. Harrison McKnight and Norman L. Chervany established a working definition of trust in order to create continuity in research on the subject. Their findings concluded that trust consists of four elements: benevolence, integrity, competence and predictability. What does that mean in the interior design realm? To fully commit, a client must believe that their designer is kind, honest, capable and likely to follow through.
Building that trust, then, isn't so much about billing a certain way—it's about finding a methodology that works best for your firm, and then having the confidence in your work and your worth to explain it to would-be clients.
It's not the answer anyone wants. ("I want you to tell me how to charge," a designer once said to me.) If you're still unsure whether you'll come out ahead with a flat fee versus an hourly rate, or if relying on product sales is the best path forward—well, join the club. I now firmly believe that there's no one right answer—but I hope the stories here help you find yours.  
VALUE YOUR TIME
Four years ago, South Florida–based designer Nicole White got a bill that transformed her business: an hourly invoice from her divorce lawyer, itemized down to the second. Every call and email was there—and she wasn't offended to see it.
"I said, 'This is genius,'" she recalls. She'd always assumed that clients would recoil at seeing so many line items in an hourly bill. But looking at it, she says, "It just made sense."
Until then, White had been charging a flat fee for her design work—but when she did the math, she realized that she was effectively working for free. "I joke now that I used to run a charity," she says. One project in particular sticks out: More than a decade ago, she took on a 5,000-square-foot home—her first project of that size—and the client negotiated her fee down to $5,000.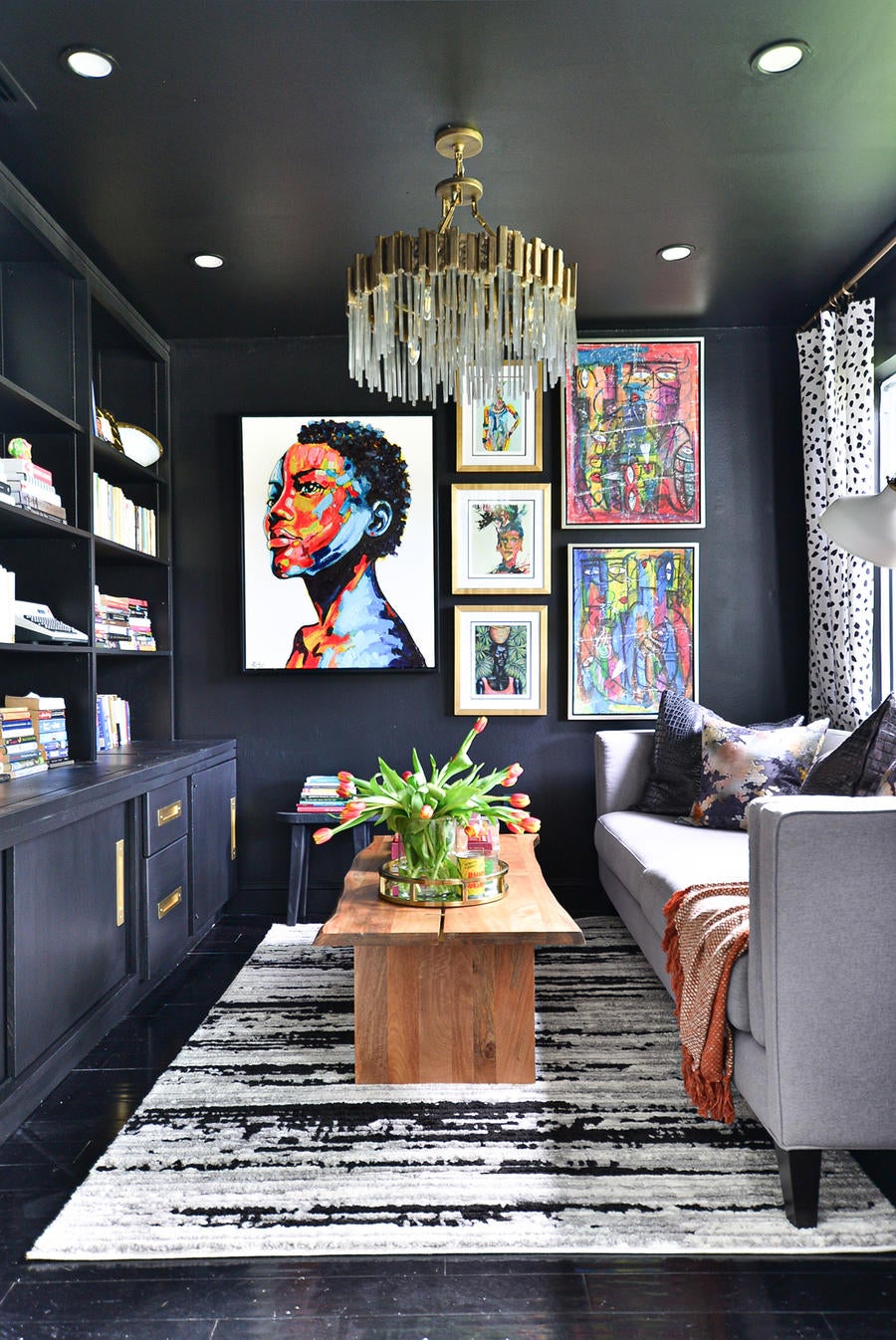 "In this industry, we're so afraid to charge," says White. These days, she has wised up—and advises designers that if they've been in business for more than a year, even their consultation should have a fee attached. "I hear designers say, 'I could just do it for free, and hopefully I'll land the gig.' But what if you have to take 10 meetings for free before you land a gig? Here's my view on consultations: You must be able to pay a bill, have lunch and cover your gas." White's current fee is $350 for a two-hour consultation—a number that will go up. "I increase my fees annually, because each year I've gained more knowledge and our projects have gotten bigger," she says.
As with her lawyer, the bulk of White's revenue now comes from hourly billing. She charges a percentage markup on product, but it's not a make-or-break part of the firm's bottom line. "I know designers who rely 100 percent on markup—that's their profit," she says. "We're doing a few projects now where it's going to be a chunk of the project in addition to the design fees, but it isn't the core for me."
White's approach to markup comes with a built-in guarantee for her clients. "I decided to say, 'Listen, there are going to be some items in your project that are to-the-trade, which we will purchase at cost and mark up—but your cost will always be below retail.'" She declines to give a specific percentage in her contract, or on her invoice. "That's the gray area," she says. "How do you say 10, 20 or 30 percent when each vendor is going to give you a different margin?"
Tacking on a percentage means there's always the chance of getting shopped. "That's a conversation you have to have up front," says White. "If clients are actively out there shopping behind a designer's back to get a better deal, the designer entered into that relationship with zero trust. I say, 'Listen, there's a chance you may find this on sale cheaper. But why are you hiring me to spend my time shopping for you, only to go spend your time looking on Wayfair?'"
While hourly fees and a flat markup have worked for Seattle-based designer Charlie Hellstern, her firm takes a different approach to its invoices. "We're open about the way we charge, and we tell our clients that if they want to see any documentation, they are welcome to at any time," she says. The firm charges the same percentage on top of cost for all product, whether sourced from a retail store or completely bespoke. For Hellstern, who launched her company three years ago after more than 13 years at Seattle design practice Olson Kundig, it's easy to explain: "It's run through our books," she says. "We're still paying all of the taxes using that markup. They're paying for the service."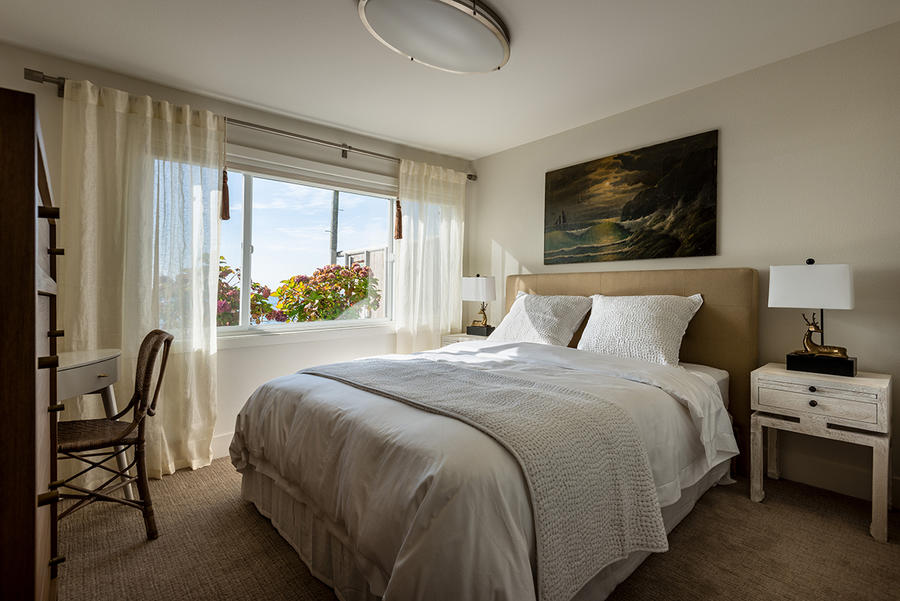 Hellstern's studio director, Karen Lawson, says the firm's key to financial success is its straightforward approach. "I don't ever want any murkiness around money—people are embarrassed enough to talk about it already," she says. "Where we've settled, billing hourly, feels the most fair. We present our fees to clients and that's it."
Unlike many who bill cost-plus, Hellstern says most of the firm's revenue comes from hourly fees: "We make a little bit from furniture, but it's not our big money." At the same time, those hourly fees eventually max out. "The reality is that there are only so many hours," adds Lawson. "You have to work out what you need to make a good living at a reasonable rate. You can't work a gazillion hours—but sometimes earning enough and loving what you do is all you need."
KNOW YOUR WORTH
New Jersey–based designer Michael Maher has long preferred pay-as-you-go hourly billing—a lesson he learned the hard way. "Flat fee gets tricky, because clients think about your time differently—they'll think nothing of calling you five times a week," he says. "Hourly is cleaner: If you want me on-site to meet with plumbers for six hours on Monday, you know what you're getting."
Maher bills separately for the construction and design phases of the project; for clients working on their primary residences, who often want to execute the project in stages rather than all at once, he bills for the design up front and the execution as the project progresses. Either way, most of the profit comes from placing product in projects. "The revenue is in the cost-plus," he says. "It scares people if you say, 'My fee is $200,000.' But with cost-plus, the invoice goes out to the client with the markup already in. You come out in the same place, but I think it's easier for clients to swallow that way."
A key to making that model work? Honesty. "I just tell them that's where I make my money," says Maher. His clients may see only the final price, but he's also open to helping them land a good deal. "You're not going to retire on the sale of furniture for one house, so you can still get them a bargain," he adds. "I'm not opposed to clients shopping for things on their own. It's their home. If they're on holiday and they found a beautiful something in a shop in London, let's use it—I don't need to make money on that."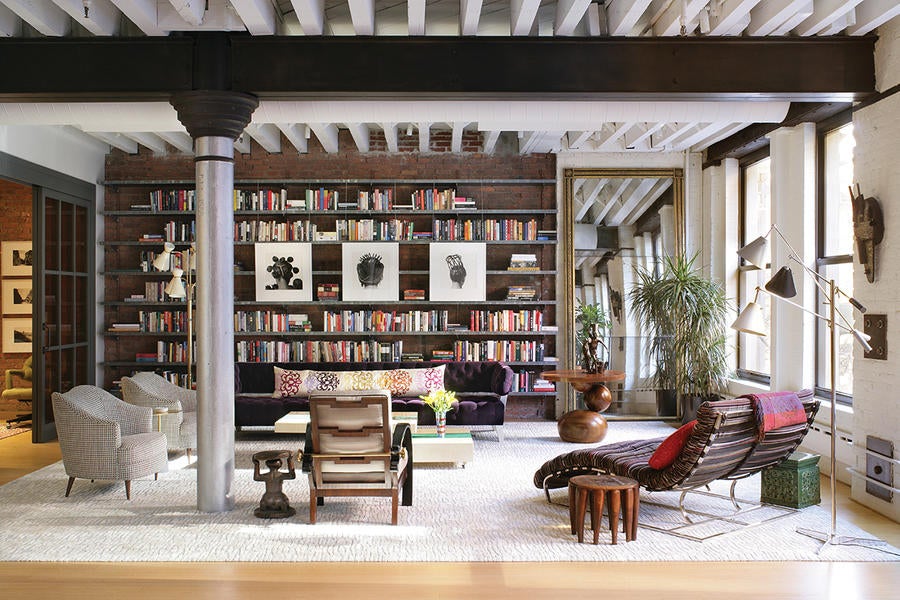 In some ways, the size of a business doesn't change the equation. As Nicole Hollis's San Francisco firm has swelled to 85 employees, their residential pricing model—hourly fees and a consistent product markup—has remained the same. "We have a standard structure and we don't deviate from it," says Lewis Heathcote, the firm's CEO (and Hollis's husband). "We establish from the beginning that this is how we charge. We put in allowances per piece, per room, and we present that budget as a comprehensive draft for approval. That includes our markup, sales tax, estimated freight, shipping—everything. And once that's established, we shop within that budget."
The firm uses flat fees for commercial projects, which make up one-third of its work, because the parameters of contract work are so much clearer. "It's not an appealing model for residential work, because then the conversation becomes, 'The client called and asked us to change something, but that's not included in our fixed fee. Is it a one-off? Is it two hours of work or 20 hours? Are we going to have to send them an at-service?' Suddenly, it changes the dynamic so that you're always the bad-news guy saying, 'This is a change from the original scope.'"
In the 15 years since Aimee Wertepny founded her Chicago-based design firm Project Interiors, which has grown to a team of six, she has sought to set reasonable expectations with clients. "The anticipation of an open-ended invoice at the end of the month can be brutal—like my winter gas bill when I was in college, that sense of, 'Oh, God, what's it going to be?'" she says. "At the same time, you don't go into the Crate & Barrel store and ask to see the original invoice. You buy it and you're fine with it."
Though Wertepny has explored charging a flat fee or by square foot, she has settled on hourly billing as the best path. "Presenting a large number up front allows the client to be all-in or to say, 'Whoa, that's not for me.' But we've had clients spend double that amount based on us saying, 'This is what we charge. We think we're going to spend this amount of time on your project—1,200 to 1,600 hours—so you can expect to spend X with us over the next year and a half as we build your dream home.' And then we take a deposit."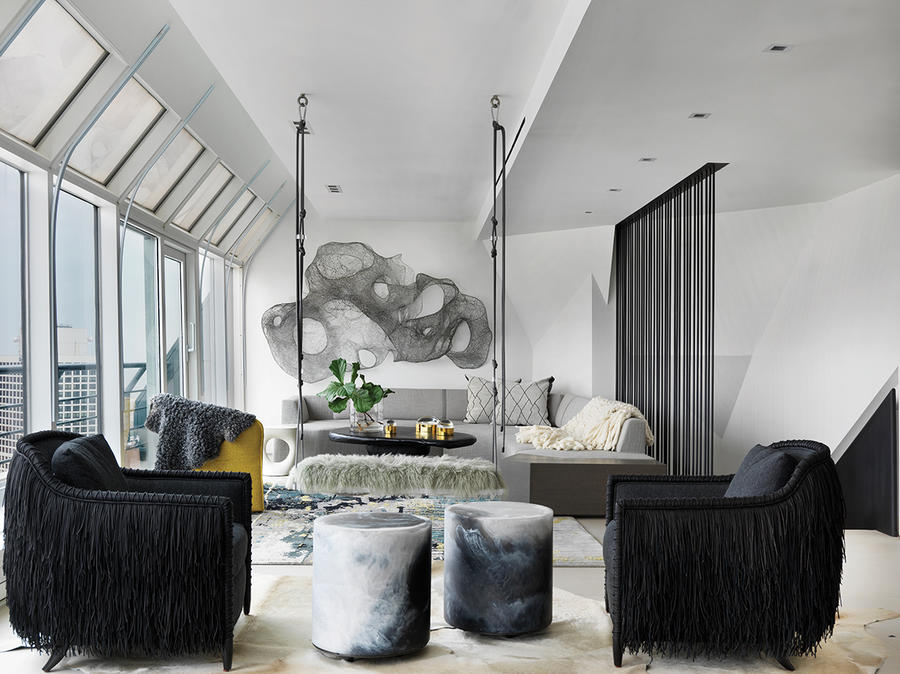 One shift the firm has made in recent years is from charging for blocks of time—say, 40-hour or 80-hour packages—to billing a flat fee and sending an invoice to "reload" once billable hours have chipped away at that figure. They've also put together a high-low sheet to help clients understand what a room could cost, both in furnishings and design fees. Though the projects are anonymous, they are linked to photos in the firm's portfolio. "Potential clients can look at a photo and see that [former clients] spent $150,000 on furniture and custom fretwork," she says. "It's been helpful to show that you could spend $8,000 on a dining room if you want, but the high could be $30,000—or you could spend $50,000 on just the chandelier. We try to give our clients some sort of baseline, and those numbers bring a dose of reality."
Storytelling can be an important tool to overcome sticker shock. "It doesn't matter who the client is or how much money they are advertised as possessing—every client believes in value and wants to know how much things cost," says Heathcote. "We understand that design can be very expensive. We have to explain, 'This piece is a collectors item,' or, 'It's not just a chandelier, it's also sculpture,' and take them to visit the artist. Once they get the backstory, they understand the value of it—they're investing in something."
One thing Wertepny is clear on: "We're not in business to save our clients money," she says. On average, her standard markup is 30 percent, though that pricing gets complicated when sourcing from showrooms that only give designers a 10 percent discount, pushing the client's payment over the retail price. "We're in the business as professionals, helping clients to spend wisely and steering them in the right direction. Our philosophy is that our clients see the value in our sensibilities—in not being divas but liking nice things and being able to say, 'Here's where you save, spend and splurge, and here's where we're going to go custom.'"
WHATS IN A NAME?
Chicago-based Martin Horner's firm, Soucie Horner Ltd., strives to make budgeting and billing as precise as possible. For years, the company told clients that the design fee—the sum of its hourly billings—was a percentage of the furniture budget. But when the company looked back at time billed, there was no consistent number to point to. "The design fee was ranging anywhere from 17 to 50 percent of the furniture budget, because it depends on the client," says Horner. "We decided not to do that anymore, because when you tell a client the design fee is going to be 20 percent, but it comes in as 30 percent—well, that's a big swing."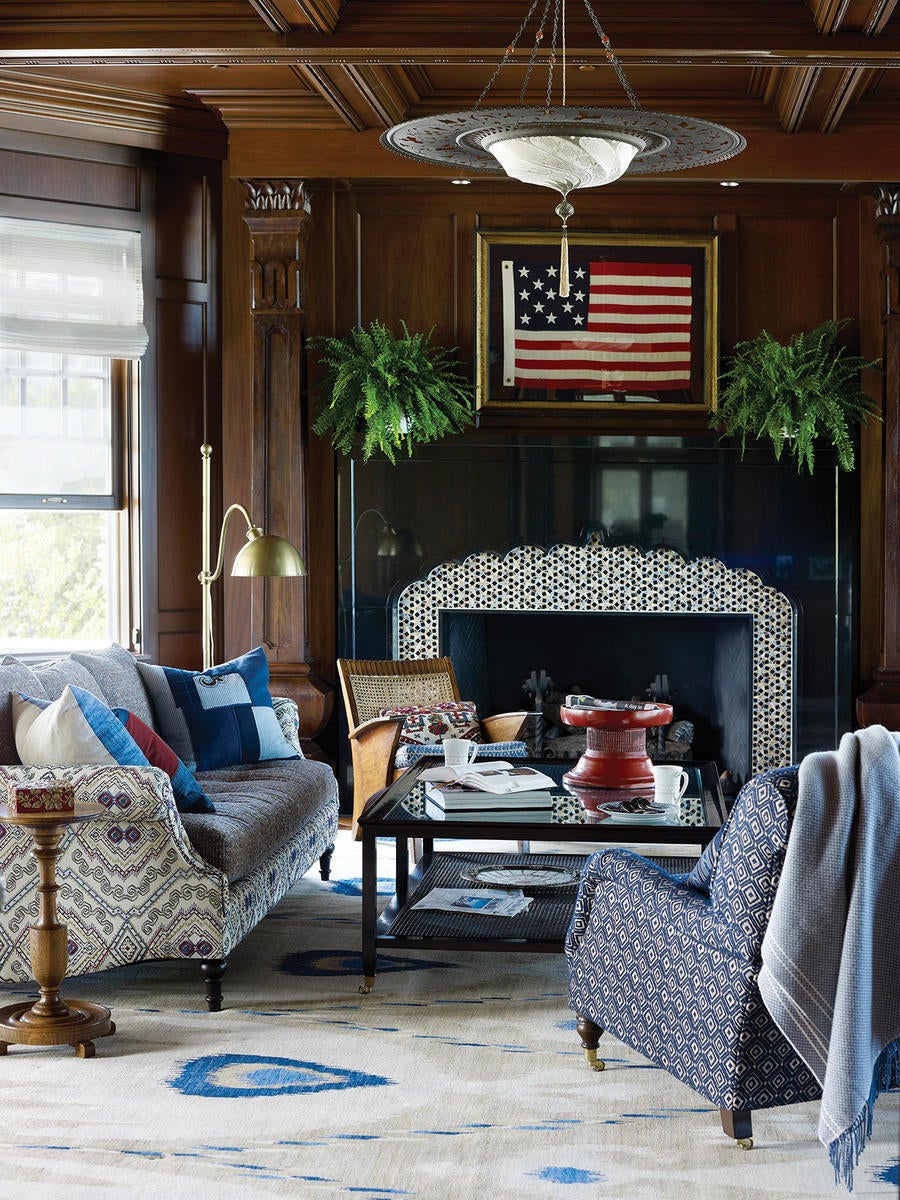 Courtesy of Soucie Horner Ltd.
Now, Soucie Horner's projection is based on the number of items on the furniture budget: "We say, 'Okay, you have 200 items. On average, it takes an hour and a half per item—to find it, write it up, procure it and put it through our system," explains Horner. "It's a formula, and we give them that range, a projection on the furniture budget. And then at every meeting, we update our budgets with real numbers, so they're seeing the delta, plus or minus where we're trending. Then we bill actual."
Where the firm still felt pushback was on procurement: "When we were doing the procurement and expediting component, people were complaining about seeing a charge on their bill for 15 minutes for ordering a lampshade," he explains. The company had always charged a markup on wholesale prices, never to exceed retail. To counteract the negativity around hourly billing for order management, they raised their markup by 5 percent. "We now tell them, 'Once it's designed, you give us a check, there's no more design fee. Procurement is included in our markup,'" says Horner. Clients stopped complaining—and after an internal review, Horner found that the move was better for the firm too.
Even more powerful was a slight shift in semantics: Soucie Horner doesn't charge "markup." Instead, it applies a "purchasing fee."
"When people hear 'markup,' they hear, 'I'm paying more,'" says Horner. "When they hear 'purchasing fee,' it feels different. We explain that the hourly fee is for design services and the purchasing fee covers expediting, errors and omissions, and profitability."
One thing Horner would be glad to see go away? Blind markup. "I want those days to be over," he says of the bill-what-you-can-get-for-it mindset. "Our clients get our invoices with our proposals. We are totally truthful."
The firm's profitability undoubtedly comes from the purchasing fee—something Horner is transparent about with his clients. "The purchasing fee is like going to the store: You don't go to the store and buy things at cost," he says. "There are margins in the product to cover brick-and-mortars, insurance, and all of the things that go with it. That's how we explain it, fully up front. We deal with high-net-worth people who are highly functioning and running companies. These are CEOs who look at numbers all day, so when you present your fees in the same way that they run their businesses, they totally get it."
For those who balk at the firm's purchasing fee, Soucie Horner has built in an option that lets clients manage procurement themselves. "We have a consulting fee, which is a higher version of our hourly rates, and then we don't charge the purchasing fee, but the client is responsible for it," says Horner. Several clients have taken them up on the service—but none have finished a project that way. "Every time we present that, they think they want to do that, but they never ever actually want to do it. In reality, that's why they're hiring a designer—they don't want to be managing all of this."

White: Gloribell LeBron. Maher: Michael Stahl. All photos courtesy of designers

Wertepny: Maria Ponce. Stringer: Jorge Gera. Khandwala: Jacob Snavely. All photos courtesy of designers
SPLIT THE DIFFERENCE
Like Horner, Christopher Kennedy hates the word "markup."
"I want to banish it from the design industry lexicon, because it makes us sound like we're capriciously adding this surcharge for no reason," he says. "Yes, I make money on product. I don't think I could run my business without making money on product unless I tripled our fees. But I also have two people at my firm who, all they do is order things. It's a service we provide that takes an incredible amount of time, effort and coordination."
About two years ago, Kennedy embarked on a radically transparent way of profiting from product: "We split our difference," he explains. Whether the firm gets a trade discount or a deeper wholesale discount, Kennedy bills the client for the midpoint between his price and the retail price. "When you shift the dialogue with a client from, 'I'm adding my fee,' to 'I'm splitting my discount with you,' it makes everything so much easier," he says. The margins make the extra math worth it: "Compared to a standard markup, you're actually selling for more. So you've raised your profit, your client is thanking you, and they're getting a great deal."
Depending on the client, Kennedy bills a flat fee or hourly for his design work. But one place he's insistent on billing hourly is project management. "I think a lot of designers lose money there, because implementation takes so much time—everything from site visits to electrical walk-throughs," he says. "I spend hours placing cabinet hardware, because the details are the heart and soul of a project. But they also take a lot of time." When designing second homes (as Kennedy often does), the lift can be much higher: Clients don't live there, or even nearby in many cases, which can leave the designer responsible for coordinating property access and overseeing contractors and installers—valuable time that will go unseen by a flat fee.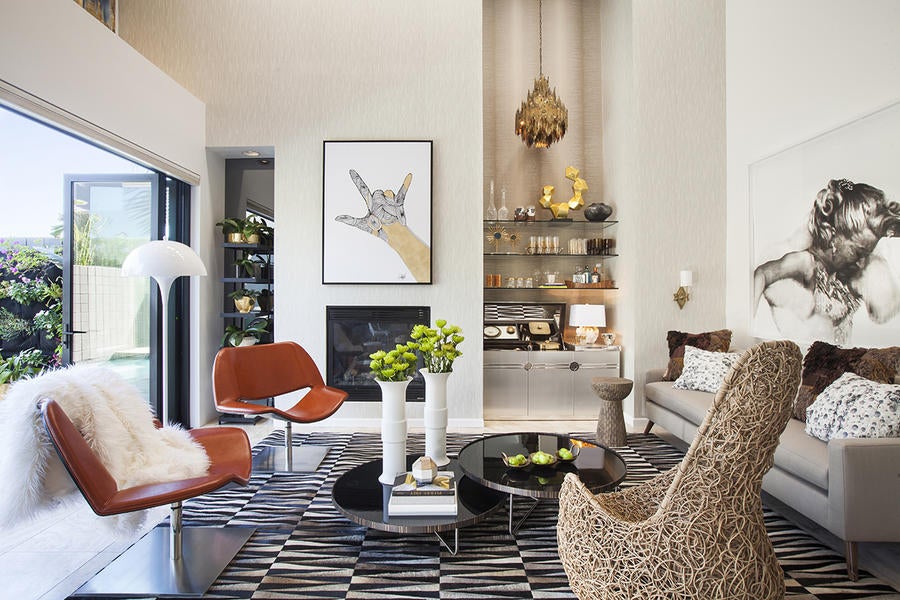 Courtesy of Christopher Kennedy
One of the pitfalls of billing hourly is that a firm is on the hook to track its hours. Almost across the board, designers who bill this way admitted that some of the work they do inevitably falls through the cracks and never makes its way to a client invoice. Though he hasn't implemented it yet, Kennedy is mulling the idea of adding three billable hours per month to his contract. "It's like a monthly retainer for being on our books—for being in our brains and in our hearts," he says. "The idea is that every month I'd be billing for three hours that I don't have to explain: all of the texts, phone calls from contractors and clients. We're not always charging for all of the little things, but the time you spend responding really adds up."
And though he's found a pricing model that works for his firm, Kennedy says that a chance meeting with a three young designers from Philadelphia got him thinking about the philosophical ramifications of changing the way he charges. "They've been in business for three years and didn't come into it the traditional way, with the markup model and a sense that designers are gatekeepers [to product]," he says. "As I reflect more, there's really no reason why a client should buy something for less through a designer than they can get it for online. I'd like to sell everything at the IMAP price—and then add a 10 percent purchasing fee. My client can go online and buy something on Perigold, but right now, we're selling for less and doing all the work."
Wherever he lands, there's one thing he knows for sure: "Our clients, they love spending money," says Kennedy. "They are going to purchase furniture somewhere, and someone is going to make money selling them that furniture. It might as well be you!"
A SURE THING
Three years ago, Tom Stringer's Chicago firm made a major change of its own: from billing hourly to giving their clients the option to pay a flat design fee. "We always start with a budget that includes design fees, and that's a range," he explains. "We explain that if they are interested in fixed fees, we're happy to do it, but the fees get fixed at the high end of the range because we're assuming all of the risk." Yet in the first year of offering the flat fee, something surprising happened—in every single one of the new contracts they signed, clients chose to pay more for the fixed payment.
It was a watershed moment for Stringer about what makes his client tick. "No matter how big the project, or even if there's an unlimited budget, the client really just wants to know what it's going to cost," he says. They also value the consistency of a steady monthly payment—the ability to effectively put the design fee on autopay for 20 months and not have to think about it. "Clients don't necessarily understand how wildly monthly charges can vary depending on project phase—why this month might be $30,000 after last month was $3,000," adds Stringer. Flat fees smooth out the ups and downs into a predictable recurring charge that, for many clients, seems to be worth paying more for. An added bonus? "My CFO loves it, too, because we know what our cash flow is," says Stringer.
Though the firm still tracks its hours internally, the transition to fixed-fee billing means clients no longer see the daily operations of a design firm doled out in 15-minute increments—a phenomenon Stringer says sometimes led them to feel nickel-and-dimed.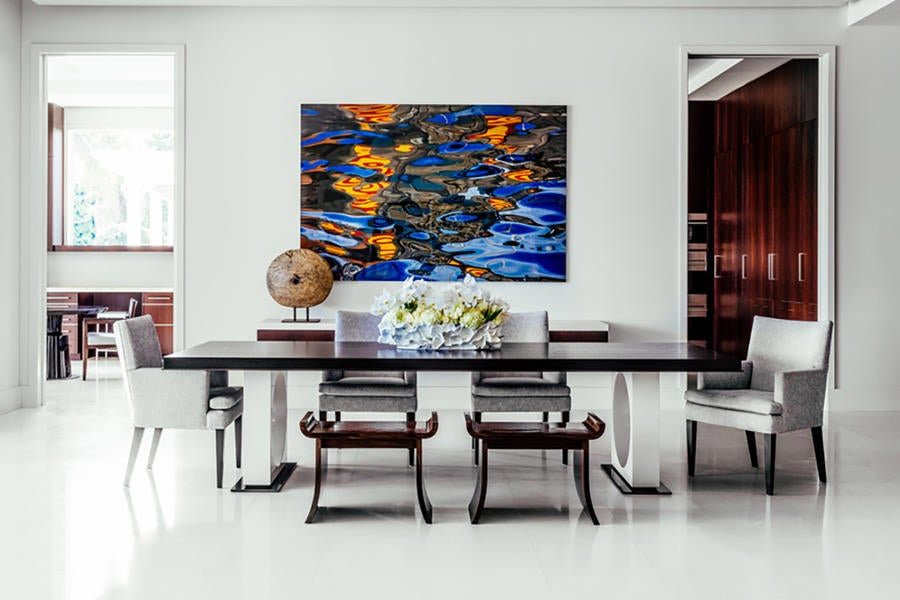 One thing that hasn't changed in the transition away from hourly fees is the firm's markup, which has held steady at 35 percent for 25 years. Clients see the firm's final price in every proposal, but Stringer says they'll provide backup invoices upon client request. "It's still a relative value compared to retail, and not one we've ever been willing to compromise on," says Stringer. "Fees pay for the office and salaries, but markup is our profit margin. Any client who wants to tamper with my profit margin isn't going to be a client."
A caveat to that 35 percent fee is products like antiques or art, where the firm might be getting only a 10 or 15 percent discount from the gallerist or dealer; in that case, they charge the gallery's listed price and take the difference. The same goes for products purchased at retail. ("If I get 10 percent off at Pottery Barn for a blanket for a kid, they shouldn't be penalized for us finding it versus them buying it off the street," he says.)
A frank approach to money management has been key to maintaining client enthusiasm. "We try to predict fee and merchandise costs so clients can be ready," says Stringer. "To me, the only time we get into conflict with clients, it's over money—and it's because the money wasn't ready. When a client has to scramble to make funds available or sell a stock they hadn't anticipated, that's when they get grumpy. Whether you need $1 million or $50,000, it's easier when you have a few months' lead time."
Though Kennedy generally bills hourly, providing clients with an estimated total design fee range, he often starts by talking about the physical scope of the project. "I estimate the cost by square foot in qualifying stages—I can say, 'The completed Christopher Kennedy look is about $50 per square foot.' I think, as a business owner, you should be able to answer the question 'What does it cost to do a whole house?' with confidence. It saves a lot of time. And if you know the average price per square foot offhand, it makes the conversation very easy and lets a potential client extrapolate the math if you're not comfortable saying, 'This house is going to be $250,000 to furnish.'"
He finds that what designers often misunderstand as criticism is just a quest for clarity. "We undervalue ourselves so much, we can stutter and get hung up on a dollar amount," he says. "We think they're judging our fees, but really they just want the information so that they can budget their project accordingly. Our clients can afford us, they just want to know."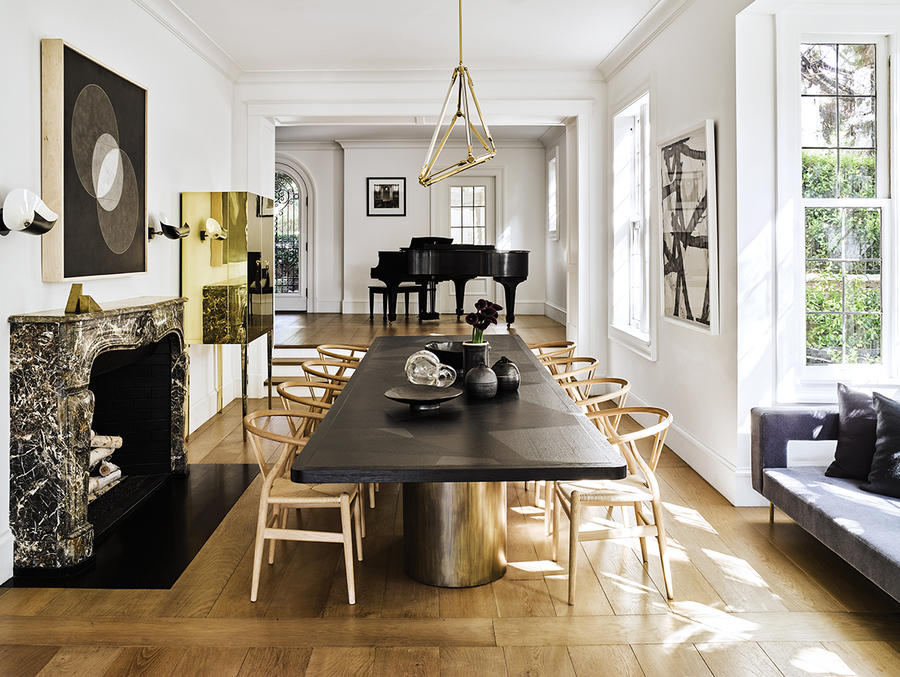 Courtesy of Nicole Hollis
Heathcote makes a point of explaining to clients that yes, the firm's work is creative—but that half of what makes the project successful is the firm's effective implementation of the creative vision. "We hear all the time, 'I met with this designer, they have great taste, they do beautiful mood boards and I loved shopping with them—but they couldn't actually get the project done,'" he says. "A great designer who's not a good project manager, that house isn't ever going to get finished. We focus on trying to create something unique with our clients, to work with them to create something beautiful, but the proof has to be in the pudding. Turning a concept into a home, that's the true test."
UP FOR NEGOTIATION
No matter how designers determine their fees, some clients just want to negotiate. When Kennedy lowered his rate by $10 an hour for a client several years ago, the hit in morale wasn't worth the revenue the job brought in. "Later, I heard an architect say, 'If you have nine clients paying the full rate and the 10th asks for a discount, which clients are going to get better service?' That really stayed with me. Now I'd ask a client, 'Do you really want to be on the B-list?'"
For Kennedy, the opportunity cost of taking on a project that's not a good fit is too great. "As small business owners, we all need continuous cash flow," he says. "But every job I've taken for the quick dollar has done more harm than good. When you're spending all that time on it, it doesn't allow the right job to come in."
Maher once accepted a client's request for a flat fee based on the hourly estimate he had given. "Lo and behold, the job has gone on eight months longer than any other job," he says. "It's a little gray to go back and say I want more money."
"Being burned on the flat-fee side helped me to be more authoritative about my hourly rate," says White. "When I see designers crying online about an old client being upset because they've raised their rates in the past five years—are you kidding me? Ask that client if they got an annual increase those years. Three percent is standard in corporate. What about a raise? You get a raise, I get a raise. Next question."
For Heathcote, declining requests to customize a contract comes down to efficiency. "Honestly, we just say, 'No, we keep it standard across the line,'" he says. "It helps us keep things transparent. If we have negotiated on every project and then all of these people meet at a cocktail party, [they would be upset]. This is what we feel we should charge, and we feel we're worth it. We understand if not everyone wants to pay that, but I don't spend time negotiating."
Wertepny has learned to walk away from clients who want to change the way her firm works. "Often it is attorneys who take the cake—I think it's in their DNA. They always want to negotiate different terms," she says. "Any time we've agreed to [bill differently] for a client, it has always been a skeptic."
In order to make sure he doesn't sign a contract with a client he may not be able to come to terms with, Stringer's consultation is gratis—but to make his time worth it, it's also where he insists on hammering out a budget. "It's my investment in our future together," says Stringer. "The bedrock of a client relationship starts with budgets and contracts. If we can't land on a budget or they want to redline our contract, I say it isn't going to work. You've got to be fearless enough to understand that if a client doesn't want to do business with you on your terms, they're not your client."
STEP AWAY FROM THE CALCULATOR
"In my entire work history, I've always come across clients complaining about bills and bargaining with designers," says New York–based Aamir Khandwala. "It could be your richest client or one with a smaller budget, it doesn't matter. They all have the same issue."
After 14 years working alongside Robert Couturier, Khandwala launched his own firm in 2015. For his first year in business, he worked with occasional part-time help. The burden of managing every part of the design process forced him to reevaluate how to streamline his services—and the way he charged for them. "It made me think, 'How do I want to work? How do I want to charge? How do I want to make my business more efficient so that I'm not spending all this time on meaningless conversations that just lead to more stress and sleepless nights?'"
His efforts to simplify with his own firm took a radical turn: Khandwala began billing hourly for his time; now, instead of adding markup of any kind, he passes along his invoices to his clients, discounts and all. "It's not an extremely profitable way, but it is a very efficient way," he admits. "Markup is really where the profit is—especially if your clients are purchasing $1 million in goods and you're charging 30 percent. But I don't have this enormous paper trail tracking every trim, pillow and lampshade. My billing is simple: I just send my hours to my bookkeeper."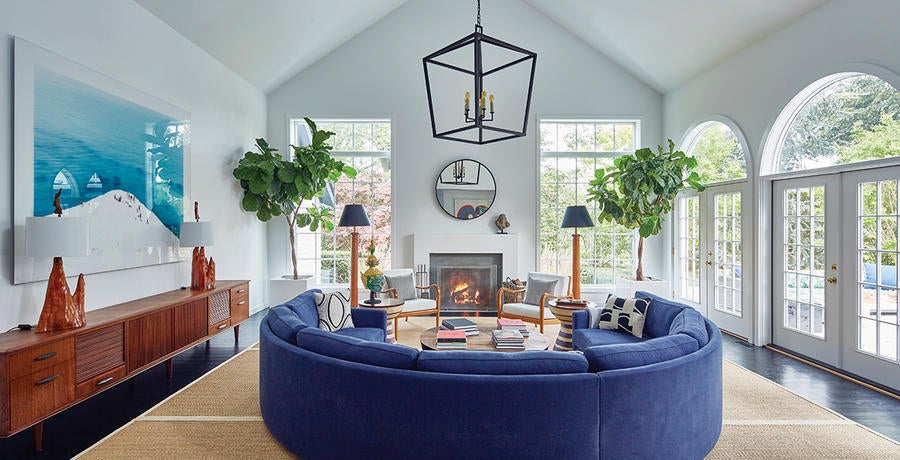 The efficiencies may come with the cost of lost profits—but there are enormous gains too. The consistency of monthly billing eases any cash flow concerns. And perhaps more importantly, Khandwala no longer has to justify his value—or at the very least, his markup—to clients. "What I've gained is enormous trust from my clients," he says. "By taking away all of the stress of billing, the explaining and the bargaining is all gone. The clients see the bills from the vendors. I think we're in a day and age where there should be no secrets."
After a year in business for himself, Khandwala began adding a creative fee at the outset of a project. It's a stand-in for the profit margin that product markup allows—and one that, he's discovered, his clients find far more palatable. "I've never had a single question on one of my bills," he says. "Transparency and the trust of my clients are very important to me. My clients are well-to-do people, well-known in New York. And when my billionaire client sits down with me and says, 'Aamir, this way of working is efficient and I'm relieved that I don't have to go through the hassles I went through with my previous decorators,' that means a lot to me. And that's how I know it's working."
No matter where they stand, Lawson encourages designers to keep it simple. In online forums, the questions she sees designers asking about billing often seem like the byproduct of an overwrought system. "I sometimes think people complicate their business," she says. "Make it straightforward. Your time is valuable: Your clients are hiring you because you have a skill, and that skill is worth something. That's it! It's not more complicated than that."
Sometimes, it just comes down to conviction. After getting talked down by that one flat-fee client, White has become much firmer in communicating the value she brings. "I think we have to push back in this industry and say, 'This is a business.' You do not go to your hairstylist and negotiate the price of the cut or the conditioner. It's preposterous that we're embarrassed to make money as designers."
In more than two decades of running his firm, Maher has developed a network of repeat clients, but he's not sure that the model that has worked so well for them his clients would suit a young designer today. "Younger clients are more in tune with searching things out and getting things cheaper, so their designers need to find a way to bill to take that into account," he cautions. "I tell young designers, 'They can't find what's in your head somewhere else cheaper, and that's what they're paying for.'"
Illustration: Mitch Blunt