In the wake of Uber, disruption became the hot new business model. Anything that can be disrupted, has been—from taxis to bedding to dog walking. The design industry too has received its fair share of shakeups, with companies like Casper, Wayfair and Amazon offering to ship (often free of charge) right to customers' front doors. In a world of online shoppers, many of the most buzzed-about home brands that have launched in the past few years, whether it's Parachute, Joybird, The Inside, Clare or Snowe, have chosen to go direct to consumer, eschewing the traditional retail model altogether (or hold off on brick-and-mortar until they have enough of a following to open their own storefronts, cutting out the need to wholesale).
While these companies have undeniably and irrevocably altered the home industry, there are still people starting companies who have no interest in disrupting anything at all. For two recently launched brands, South + English and Atelier Purcell, the path that most appealed to them was tried-and-true—a good old-fashioned to-the-trade showroom line.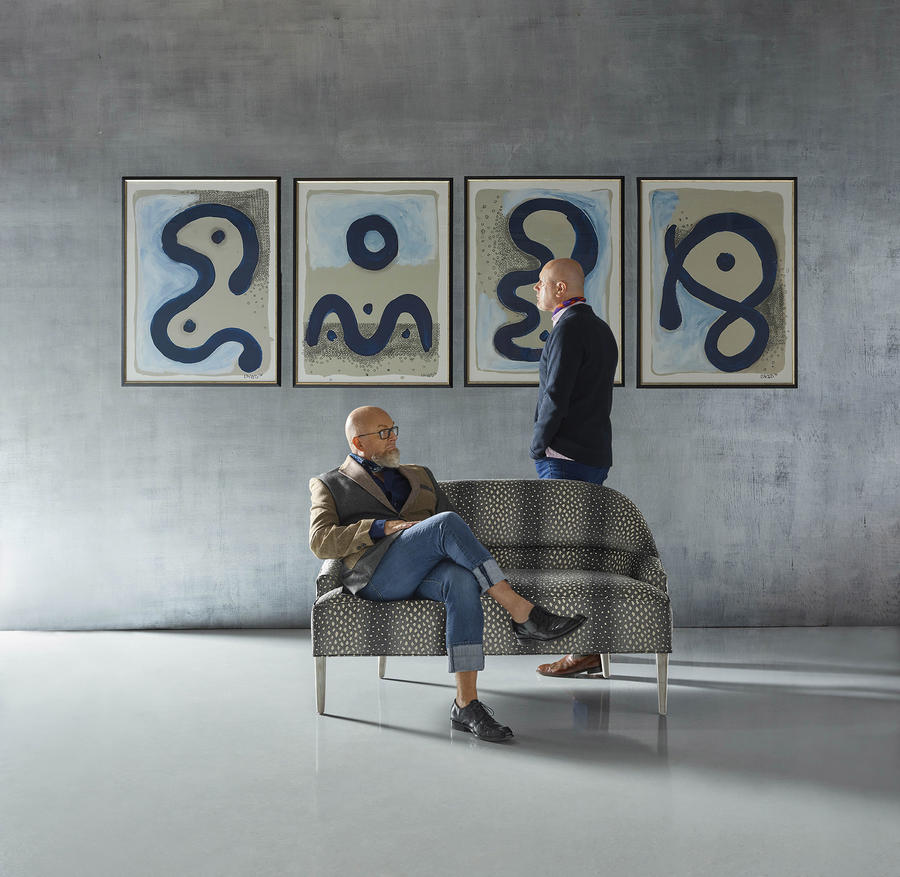 Courtesy of South + English
Founded by longtime partners and creative collaborators Palmer Linwood Smith and David Ebbetts, both veterans of trade brands Julian Chichester and Mr. Brown, their furniture line South + English was originally conceived as a company that would do both direct-to-consumer and offer a trade program. "But when we actually drilled down to it, we both come from a wholesale background," says Ebbetts. "Neither of us has any real direct retail experience. They seem like two different business strategies, and we decided that we should stick with what we know in a business that is more interesting and more diverse than ever."
Alexander Purcell Rodrigues, who, in addition to running an eponymous interior design and architecture firm, launched the furniture and lighting collection Atelier Purcell in 2019, took a similar view of the divide between the two business models. He views luxury furniture design as something closer to a service than a commercial endeavor. "It's much more interaction-based," he says. "Shopping for high-end furniture is something you have to physically see and do. I think especially, as a young brand, people have to be able to see it in person, because designers need to feel sure of the product they're selling to their clients."
While many new home brands try to have their cake and eat it too by selling direct to consumer and also offering a trade program, Ebbetts feels it's best to put all their energies into the trade business. "I think there's a lot of skepticism from designers with companies that are trying to go direct and court the trade [at the same time]," says Ebbetts. "There's certainly more confidence expressed when you say, 'We're totally a trade business.' There's more credibility and it seems like a more honest approach." Ultimately, the founders of both brands feel that if you're looking to sell to the trade, you have to meet them where they are, and most high-end designers are still shopping showrooms.
Courtesy of Atelier Purcell
The onslaught of digital-first consumer-facing brands and evolving shopping habits has created a rocky landscape for many brick-and-mortar stores. Even seemingly stalwart retail industry figures like Macy's are struggling to stay afloat—and trade brands haven't been immune to the changing tides either. "It's almost Darwinian in a way," says Purcell Rodrigues. "It's kind of cleaned out the showroom business, which was getting quite oversaturated in itself. The really good operators continue to thrive. ... To some degree, it's given the younger, smaller brands an opportunity to find a new space within the showroom model."
With the retail experience undeniably at a crossroads, both Ebbetts and Purcell Rodrigues agree that brick-and-mortar has got to evolve with its consumers. For Ebbetts, part of that evolution is creating a strong brand identity that tells your consumers who you are and clearly conveys your perspective. In the case of South + English, Ebbetts and Linwood Smith are saying a lot in their brand name—Ebbetts is a buttoned-up Brit and his partner is an outgoing Southerner, and they've melded those seemingly disparate sensibilities into an elegant, contemporary collection.
Purcell Rodrigues feels the next phase of retail needs to be more experiential. "We need to come up with a way to get people into showrooms and offer an experience that's really tailored to designers and their clients," he says. It can't just be walking through rows and rows of sofas."
Despite the often gloomy forecasts for the retail market, Ebbetts and Purcell Rodrigues are confident that showrooms can weather the storm. "From my point of view, when you look at any of these paradigm shifts in the way humans interact with one another, whether it's the advent of the car, the computer or the internet, you see the landscape, as a whole, begin to change," says Purcell Rodrigues. "People believed that cars would lead to the collapse of the city and that everyone would live in the country. And then when everyone got personal computers, people thought no one would work in an office anymore. I strongly believe that humans are ultimately gregarious. They're drawn together and want to interact and feed off one another's energy. The internet is great for a huge number of things, but I don't believe the brick-and-mortar is in any way done and dusted."
Homepage photo: The Klippen Sofa from Atelier Purcell | Courtesy of Atelier Purcell