In our monthly showroom round-up, all the expansions and openings to have on your radar.
EAST COAST
The trend toward shared showroom spaces continues at the D&D Building, where Connecticut-based furniture and lighting brand Oomph officially moved in with Quadrille last week. It's a pairing that felt natural to the founders of both companies, whose products have long been used in tandem by the brands' designer clients. "The majority of our upholstery projects are COM—and more often than not, it's a Quadrille fabric the designer has chosen," says Oomph co-founder Amy Rice. (979 Third Avenue, Suite 1415, New York)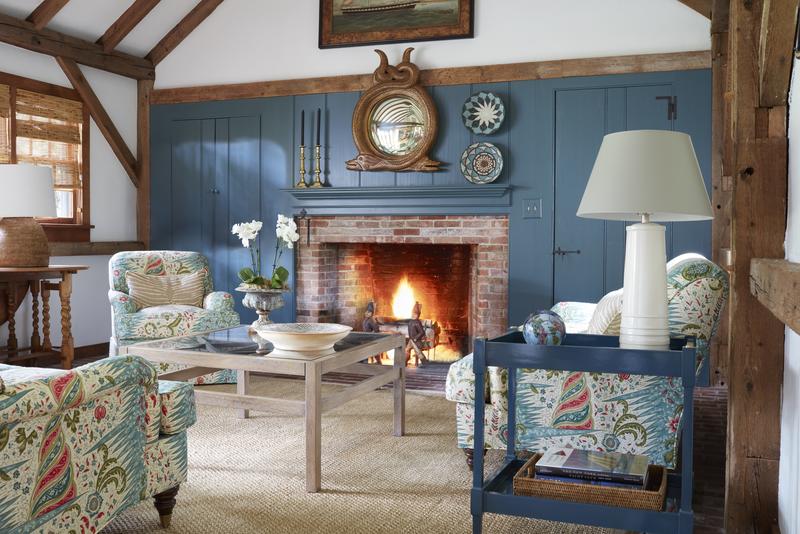 Britain-based custom radiator company Castrads made its debut at the New York Design Center. It offers school-style, traditional column and ornate radiators with floral motifs. (200 Lexington Avenue, Suite 417A, New York)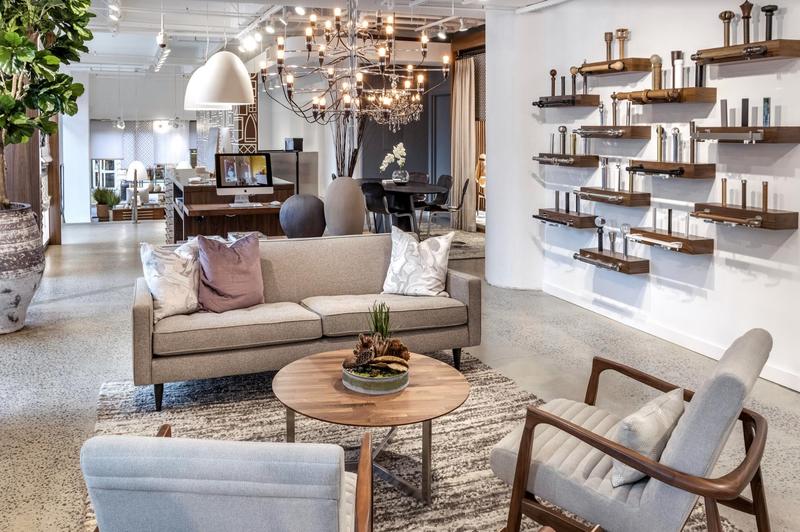 Courtesy of The Shade Store
Continuing its U.S.-wide expansion, The Shade Store opened its 65th showroom in DUMBO, a neighborhood on the East River in Brooklyn. The 2,500-square-foot showroom has vignettes with the company's collections with Nate Berkus, Jonathan Adler, One Kings Lane, and others. The building has a landmark designation. (73 Front Street, Brooklyn, New York)
Ikea will open its first Planning Studio in the U.S. next spring. Though the brand is still finalizing details of the new concept, its focus will be providing inspiration and smart solutions for urban living and small spaces. (999 Third Avenue, New York)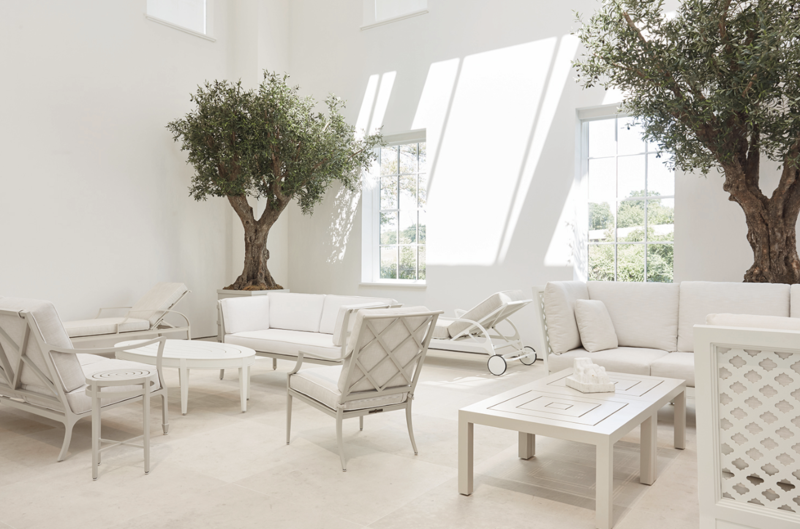 Courtesy of McKinnon and Harris
McKinnon and Harris just finished its new headquarters, workshop and showroom in a former WWII morgue in Richmond, Virginia. "Our sales capacity continued to exceed our production capacity, limiting our growth," says president Will Massie. "Our furniture is highly labor-intensive and we required more space for additional craftspeople to meet demand." The headquarters and showroom occupy 5,000 square feet of the 65,000-square-foot building, while the remaining space is dedicated to the workshop, where artisans craft the furniture. (1722 Arlington Road, Richmond, Virginia)
The Hudson Company, a wood flooring purveyor, opened a 1,400-square-foot showroom in Ridgefield, Connecticut, its fourth space in addition to locations in Manhattan, Brooklyn, and the Hudson Valley. Joining the showroom-mates trend, The Hudson Company shares its new outpost with Brad Ford, founder of Field + Supply in upstate New York. Ford designed the joint Ridgefield space and his furniture and wares are on display along with The Hudson Company's flooring, paneling and beam options. (139 Ethan Allen Highway, Ridgefield, Connecticut)
Italian linen manufacturer Society Limonta made its North American debut in Miami with an 1,800-square-foot store designed by architect Ferruccio Laviani. (701 S Miami Avenue, Miami)
WEST COAST
Violante & Rochford Interiors has opened The Store in Santa Fe, which—adjacent to the company's full-service showroom and fabric library—comprises international furnishings, accessories, art and lighting options. The brand plans to make new product available on a weekly basis. (401 and 405 Paseo De Peralta, Sante Fe, New Mexico)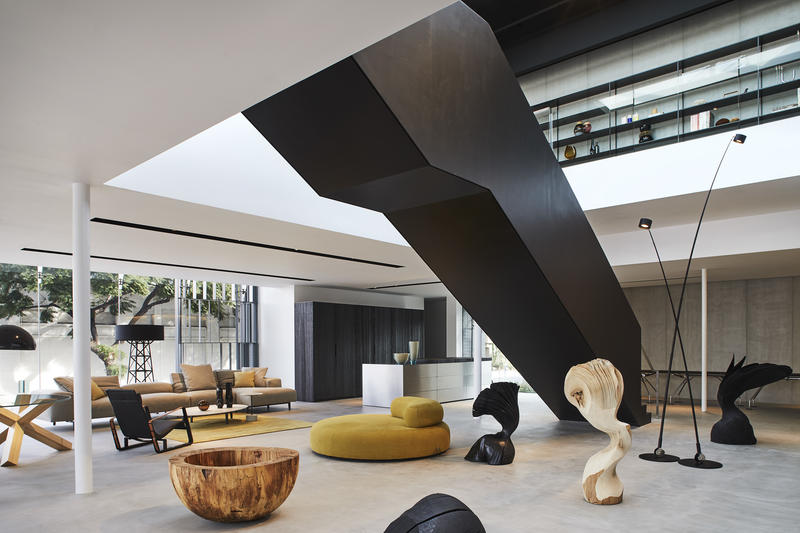 Luminaire opened its first West Coast showroom, a 21,000-square-foot shop in West Hollywood designed by the furniture retailer's founders, spouses Nargis and Nasir Kassamali, in concert with Los Angeles architecture and design studio Make. Luminaire's goal is to expand in a key market following its acquisition of U.S. manufacturer Haworth. (8840 Beverly Boulevard)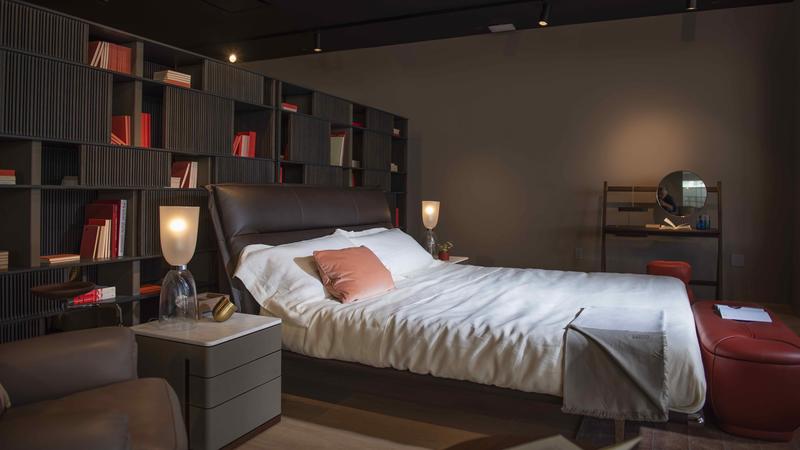 Courtesy of Poltrona Frau
Italian furniture-maker Poltrona Frau opened a 4,300-square-foot showroom in Los Angeles with natural oak floors, muted gray walls and a black ceiling. (8840 Beverly Boulevard)
MIDWEST
Luxury tableware and home décor brand Kneen & Co relocated from Chicago's Lincoln Park to its Magnificent Mile. (980 N. Michigan Avenue, Suite 650, Chicago)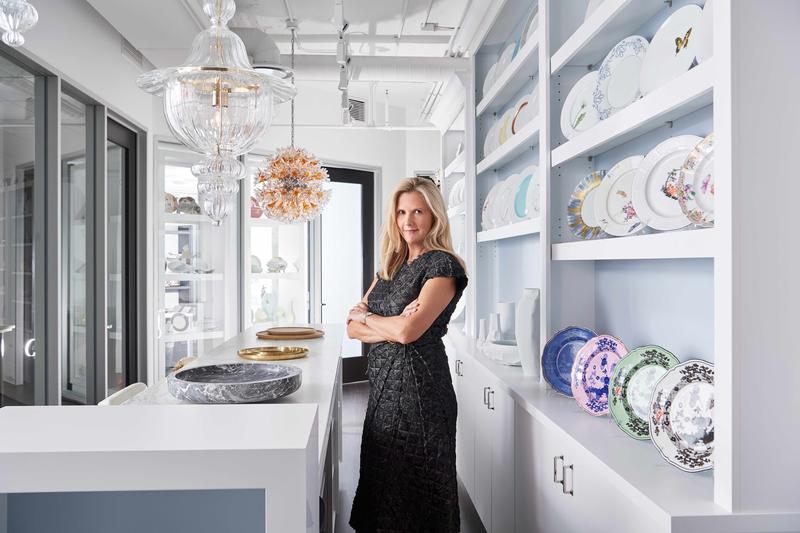 London-headquartered Wired Custom Lighting opened its first showroom at Chicago's Design Center this week. The 1,100-square-foot space is geared toward the lighting brand's Midwest client base of interior designers. (222 W. Merchandise Mart Plaza, Suite 14-132, Chicago)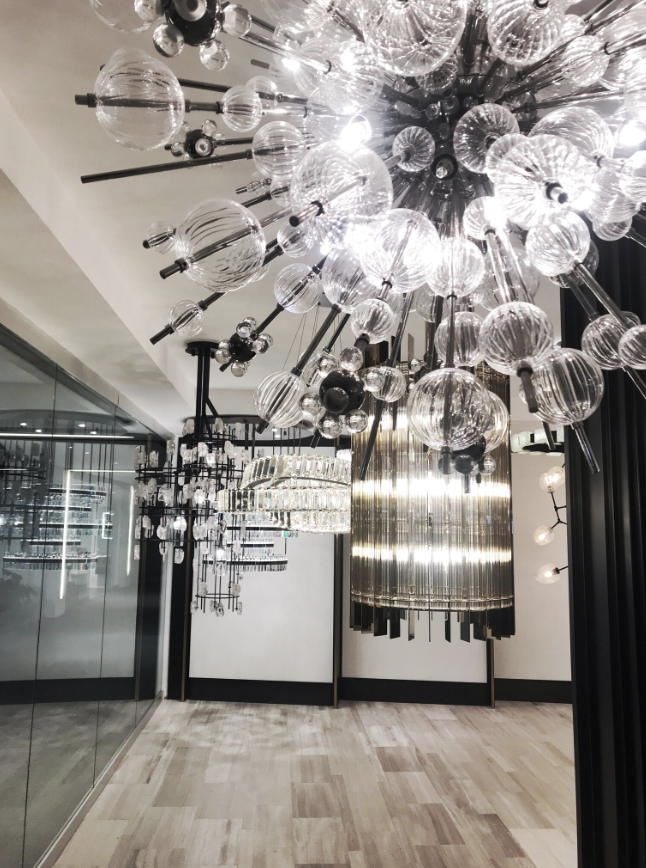 Courtesy of Design Center
Las Vegas Market has nine new, expanded and relocated showrooms that will be open in time for its Winter Market at the end of January. They include Caravan Rugs, Unique Loom, Canaan, Karastan, Decorum Home, Anthony California, Canvas Candy, Classy Art, European Bath, Kitchen, Tile and Stone, FJ Kashanian, Koncept and Wantech International/OK Lighting. (World Market Center, 475 S Grand Central Parkway, Las Vegas)
Design Within Reach opened its second showroom for its commercial division in Dallas. The Stamford, Connecticut-based brand's new space is geared toward contract and hospitality clients in Texas, and DWR hopes it will become a one-stop shop for quick-ship dining, bar, lounge and outdoor furniture. The showroom will feature works by independent designers Pat Kim, Hlynur Atlason, Takagi Homstvedt and Matthew Hilton, all of whom have made exclusive product for DWR. (5646 Milton Street, Suite 830 and 895, Dallas, Texas)
SOUTH
Dallas Market Center has debuted several new showrooms. Outdoor furniture retailers Summer Classics and Designer's Patio are partnering on a shop in the World Trade Center in early January, where buyers and interior designers can custom order and have delivery within 48 hours. Brunswick, Ohio-based furnishings company Taylors is expanding its showroom in time for the Center's January market, showcasing brands including Ralph Lauren Home, Emissary Home and Visual Comfort Group. Tulsa, Oklahoma-based home wholesaler IMAX Worldwide Home has doubled its showroom space and will unveil more than 500 products at winter market. And local retailer Anne McGilvray & Co. will open a showroom before market as well. (WTC 154, IHDC 1D111, World Trade Center 6-608, WTC 280, 2100 N Stemmons Freeway, Dallas, Texas)
Julian Chichester and Mr Brown London announced that they will open a 4,500-square-foot showroom at ADAC in February. Construction and planning are currently underway.
Ashley Furniture debuted its first Atlanta showroom at AmericasMart. With the space ringing in at more than 6,000 square feet, much of the Arcadia, Wisconsin-based furniture company's inventory will be arranged in vignettes on the showroom floor, but buyers can also view its complete offerings at interactive kiosks. (240 Peachtree Street Northwest, Building 1, Floor 4, Atlanta, Georgia)
INTERNATIONAL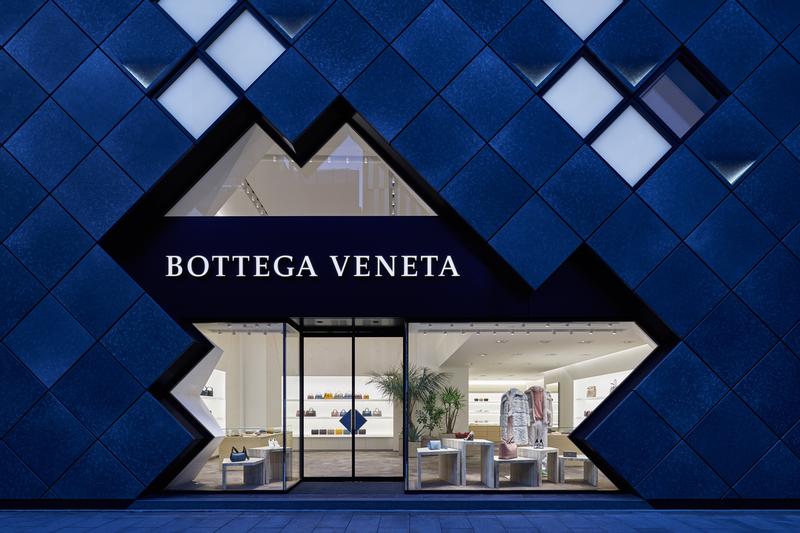 Courtesy of Bottega Veneta
Bottega Veneta debuted its Tokyo flagship this month, the largest of its Asian stores. Comprising 8,600-square-feet, the retail space was designed to capture Japanese modernist architecture, including a floor pattern inspired by Tamo, an endemic Ash tree, and Japanese slate teppei-seki. Bottega Veneta furniture are displayed in a pattern exclusive to the flagship. (5-6-1 Ginza Chuo-Ku, Tokyo, Japan)