Pity the executives of luxury appliance brands: In 2019, it's not enough to have a great product anymore. Beautiful ads, hooky marketing? Everyone has that. And it's certainly not enough to open a regular showroom—you need an experience center.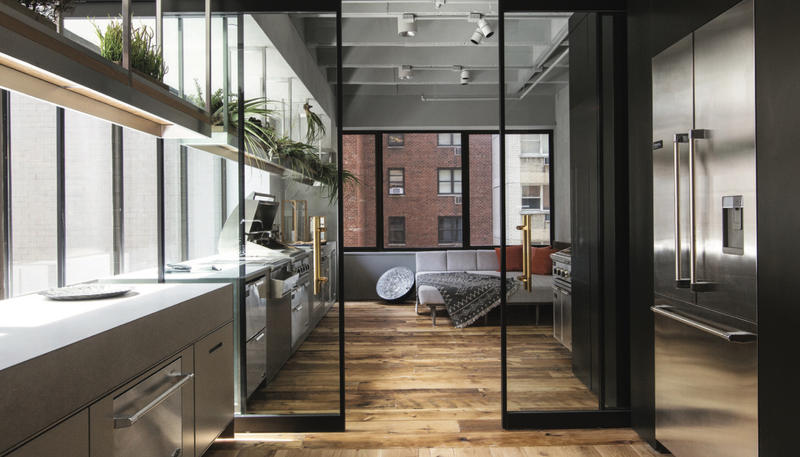 Courtesy of Fisher & Paykel
The term "experience center" comes from the world of consumer retail strategy, and like most neologisms, an exact definition is hard to come by. Broadly speaking, it's a retail environment where customers are encouraged to have an interaction with the product—which could mean anything from a racetrack-adjacent Porsche showroom to an Aveda shop where customers can get personalized skin-care advice.
While it's tricky to pin down exactly what counts as an "experience," experts agree why it's important: In the wake of the internet's continued assault on brick-and-mortar retail, presentation counts. "Just telling someone isn't good enough anymore," says Amberlee Isabella, a retail designer and strategist at Gensler. "You need to show them. And the most 'sticky' experiences are those that connect users to a larger purpose."
Brands have taken note. In 2017, Kohler opened nine experience centers across the globe where designers and their clients can try out products (even showers, if they wish) and spec them directly from the store. It's kitchen appliance companies, however, that have made the most of the concept. The opportunity is obvious—would you rather buy a range in a showroom that smells like a showroom and offers free mints, or one that smells like a bistro and serves French toast? The potential goes a long way toward explaining why an experience center has become de rigueur for a luxury brand looking to introduce (or reintroduce) itself to the trade.
Dacor is a case in point. Founded in 1965, the high-end appliance brand has a storied history but fell on hard times after the 2008 recession. In 2016, an acquisition by Samsung brought an infusion of cash and some new technology into the mix. The first step in introducing customers to the company's new look? A 2019 rollout of three experiential showrooms that the company is calling "kitchen theaters."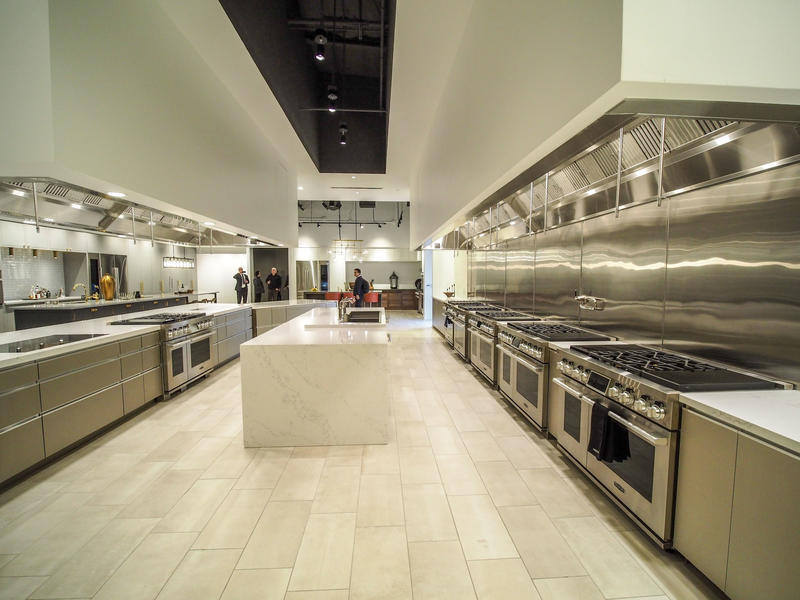 Courtesy Signature Kitchen Suite
Dacor's New York location (Chicago and Los Angeles are forthcoming) is, in many regards, a standard showroom, with rows of gleaming ranges, refrigerators and wine cellars on the sixth floor of the Architects & Designers Building. However, the brand has added a high-tech functioning kitchen into the mix, where it will host a variety of classes. Company president Randy Warner says the new space is part of an attempt to cater the brand's product to modern entertainers: "From partnering with sommeliers to floral styling sessions and lessons on how to plate and plan courses, we feel this approach will set us apart from our competitors."
Fisher & Paykel, a premium appliance brand based in New Zealand, is already on its second experience center in North America. In 2016, the company opened an experiential showroom in New York, also in the A&D Building; last year, it attached a new 6,500-square-foot location to its U.S. headquarters in Costa Mesa, California. The center has all of the expected amenities—artfully designed vignettes, a demonstration kitchen, classes and events—but has taken pains to add touches of its brand DNA wherever possible. Customers are offered Kawakawa tea (a New Zealand specialty) as soon as they walk in.
Signature Kitchen Suite, backed by South Korean electronics giant LG, is hoping to up the ante by creating an experience that extends beyond the showroom walls. Its new 23,000-square-foot center is located in Napa, the heart of Northern California's wine country. The idea is that, instead of squeezing in an appointment in the middle of a stressful after- noon at a design center, trade professionals will experience the brand as part of a leisurely day of wine tasting, good food and balmy West Coast weather.
But the location, 50 miles from the nearest major airport, is a little off the beaten path. Company general manager Zach Elkin notes the challenge, saying that it took "about six months of dialogue" with higher-ups at LG to greenlight the Napa location. However, given the story that he's trying to tell—the brand targets its products at a tech-native, food- and wine-savvy, affluent consumer demographic it calls "Technicurean"—Napa was too good an opportunity to resist. "Nowhere else on earth do you have the convergence of technology, food and wine," he says. "Anything else would have been settling."
The fact that a major company would prioritize an immersive experience over easy access demonstrates how crucial the experiential side of the equation has become, and how far the experience arms race has progressed.
All that experience doesn't come cheap. Most companies don't share exact figures for the cost of their experiential locations, but they're unquestionably more expensive than a run-of-the-mill showroom. Is it worth it? It depends on how you think of the expense.
"They're looking at it as a marketing and advertising cost more than a profit center unto itself," says retail expert Warren Shoulberg. "I don't think these guys expect these stores to make any money—or if they do, they're in for a rude awakening."
There's history there. Pirch, a multi-line home appliance and plumbing showroom, opened doors in 2009 and quickly earned rapturous applause from industry pros and media alike for its "Try before you buy" experience-on-steroids approach. Customers could take a shower on-site; Pirch chefs were constantly cooking on the in-store ranges. Ten locations were opened nationwide, awards were won, and investors came running. But by 2017, Pirch began to unravel, eventually closing all but its four California locations. The model, though innovative, wasn't profitable at scale. The exact cause of Pirch's contraction is complicated—Shoulberg attributes it to a combination of high real estate costs and a clunky product mix—but the takeaway was simple: Experiential retail is a powerful tool, not a silver bullet.
Executives from luxury kitchen brands have taken the hint, and most aren't thinking of their experience centers as cash cows. Fisher & Paykel won't even sell directly out of their Costa Mesa location. "It's a brand pillar within the selling experience," says Pierre Martin, the company's vice president of marketing. "But depending on the audience, it could be the tool that makes the sale come through."
Elkin is of a similar mindset—the Napa center is not a traditional, foot traffic–driven "Hey, honey, let's go buy a stove" location. Instead, it's a way to provide a total brand immersion to his company's most valuable customers: the trade. "I look at the design community as multipliers," he explains. "Individual homeowners may only do one kitchen in their entire life, but designers may do a dozen each year. We spent a lot of time understanding and investigating their pain points."
The brands' courting of trade organizations—the National Kitchen + Bath Association holds events at Fisher & Paykel's center, and the American Society of Interior Designers is set to have its annual board meeting at Signature Kitchen Suite's Napa location—drives home the point that even though consumers are savvier than ever, designers still have enormous sway over appliance purchases.
Is this the crest of the wave, or just the beginning? (What's next, brands inviting customers to spend the night and be served goat cheese omelets by their CFOs?) Only time will tell. But if the trend line is any indication, experience centers are here to stay. Dacor still has two more to build, and Fisher & Paykel is hoping to add another in North America. Sit back and enjoy the experience.