In our weekly digest, find all of the stories you might have missed. Read on for the latest announcements crossing the BOH news desk.
TRAGEDY AT NOTRE-DAME
Yesterday hearts broke around the world as Notre-Dame's spire collapsed in flames. The cause of the fire is not yet confirmed, though it's suspected to be related to renovations in progress. One of the most famous landmarks in the world, with 13 million annual guests, Notre-Dame was first built in the 1300s. The spire was redone by architects Jean-Baptiste-Antoine Lassus and Eugène-Emmanuel Viollet-le-Duc in the mid-1800s.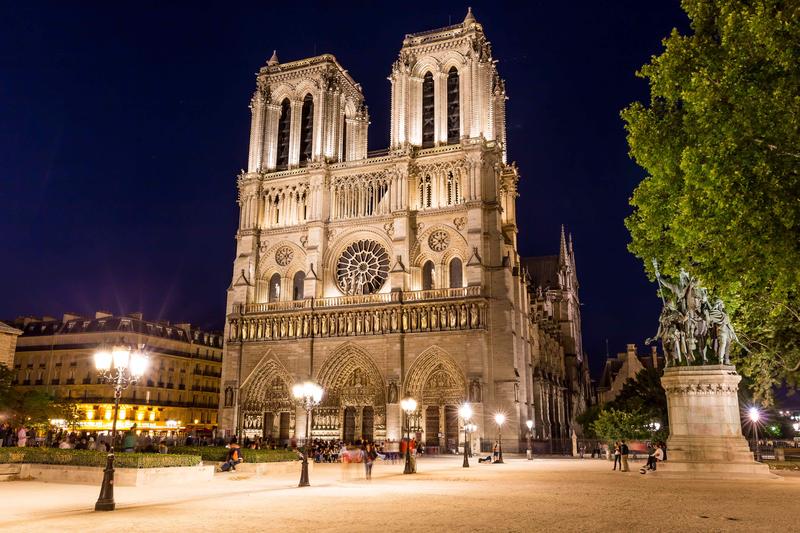 Courtesy of Shutterstock.com
The French government said that the cathedral's Christian relics are safe, including the front towers and the crown of thorns. "But other historically important items have suffered," reported The New York Times. "There is still little news on the condition of many other items of importance—including sculptures and stained glass windows—and how they have been affected by the fire, smoke, water and falling materials like melted lead."
The French design community expressed their shock and devastation over the tragedy. Interior designer Sarah Poniatowski posted a photo of the cathedral enveloped in smoke on Instagram, with the caption: "Notre histoire … notre si belle grande dame," which translates to "Our history … our beautiful lady." Paris-based home decor brand Fort Interieur replied to the post with the comment: "C'est une catastrophe … j'espere que nous aurons a cœur de reconstruire tout ce qui a été détruit … la Dame doit absolument renaître de ses cendres." ("It's a catastrophe … I hope that we will have the heart to rebuild everything that has been destroyed … the Lady must absolutely be reborn from her ashes.")
On this side of the pond, many American designers also took to social media: "How for granted we take the standing of so many unique buildings. We expect them to always bear witness to our unfolding lives," said Connecticut-based designer Susanna Salk on Instagram. "If only every individual memory of this place were a drop of water, then surely the flames would be extinguished by now."

OPENINGS, AUCTIONS AND EVENTS
The Philadelphia Design District is hosting a rooftop terrace evening on May 8 to fundraise for up-and-coming designers at Charter High School for Architecture + Design. There will be art and product in a silent auction. Tickets are available here.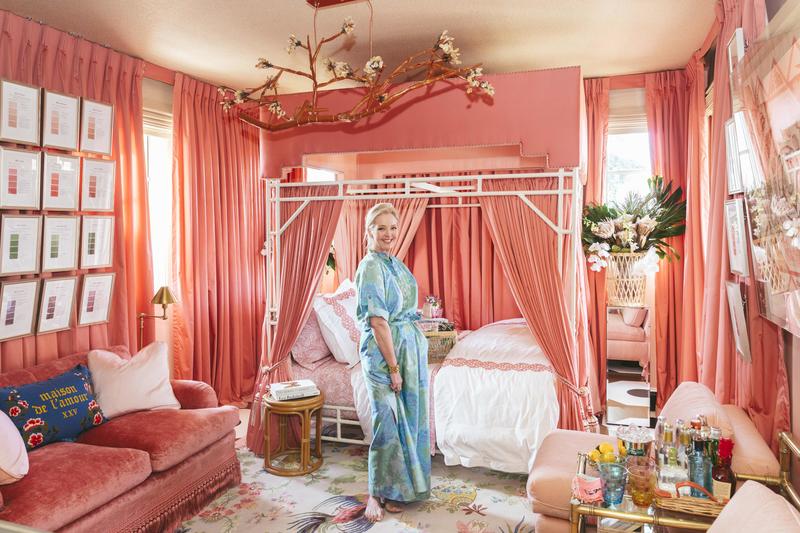 Courtesy of Danielle Rollins
Starting today on the Sotheby's Home website, Atlanta-based interior designer Danielle Rollins is consigning pieces she used in the Palm Beach Kips Bay Decorators Show House, including a framed Hermès scarf, Clarence slipper chairs and vintage Russell Woodard outdoor pieces.
The San Francisco Decorator Showcase announced this year's 37 participating designers, including Lindsay Anyon Brier and Jo Ann Hartley. It will be held at 3800 Washington Street, from April 27 to May 27; tickets are available here.

LAUNCHES, COLLABORATIONS AND PARTNERSHIPS
Interior designer Libby Langdon partnered with Fairfield Chair Company on a home furnishings collection that includes casegoods and upholstery. The 40-plus SKUs will debut at High Point Market this fall. "I've designed upholstery before but have always wanted to enter into the world of casegoods and flex those design muscles," says Langdon. "When I design a client's home, I'm usually designing one living room, one kitchen, but three to six bedrooms, so the need is there big-time. I'm thrilled that Fairfield is exploring this category with me as part of this initial launch." This is the furniture company's first time producing bedroom products, as well as Langdon's first licensed collection.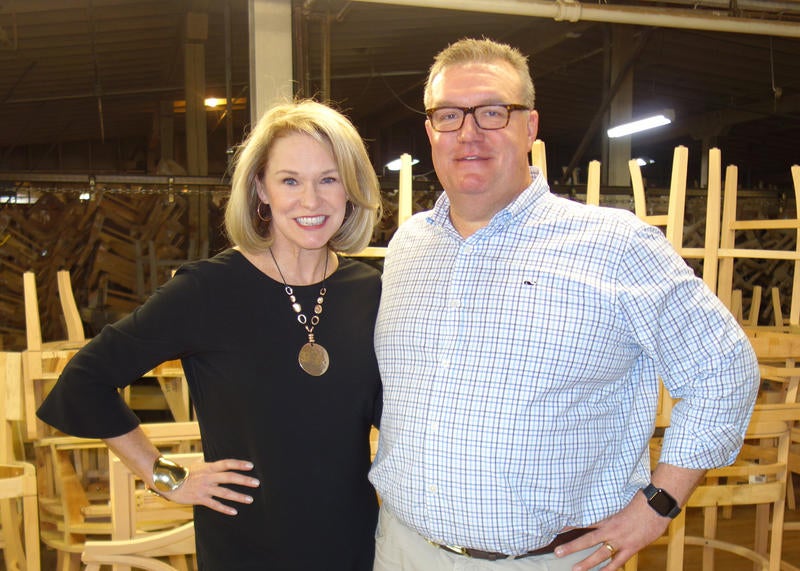 Courtesy of Libby Langdon
Swedish mattress brand Hästens, maker of the $189,000 mattress, has teamed up with London-based designer Ilse Crawford on Being, a collection that comprises a bed linen, lumbar pillow, bed skirt and upholstered headboard, made with hypoallergenic fabrics like hemp and linen. The collection retails from $140 for a pillowcase to $3,090 for the headboard, and it will become available in the U.S. on June 1.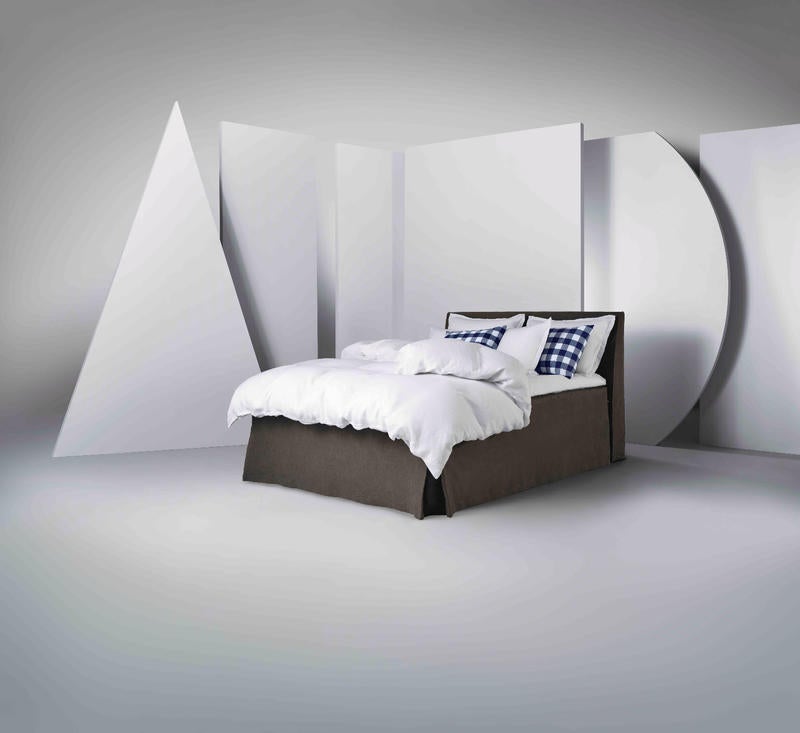 New York–based Andrew Joseph PR has launched a social media division called Reach. The team has social media professionals on its technical team, which targets engagement and following, and its creative team, which produces branded content. (In related news, BOH recently took a deep dive into how designers can outsource their social media with success.)
The summer issue of Cambria Style features the surface brand's first design supplement, "Kitchen & Bath Design Inspiration: The Ultimate Design Planner." Described as both #inspo and a project checklist, the planner is meant to help consumers with renovations. The magazine has a circulation of 200,000-plus, and its latest issue hits newsstands on May 7 and will be available online beginning April 17.

RECOMMENDED READING
Surface magazine highlighted seven "unstoppable women" who debuted show-stealing collections at Milan Design Week. "Change sputters on at a turtle's pace," wrote Mairi Beautyman. "Women, however, continue to fight. … At the 2019 Milan Furniture Fair, these seven female designers, with standout new product launches, proved they don't need cojones to close the gap." Liz Collins, Nani Marquina, Ilse Crawford, Anna Karlin, Lara Bohinc, Geke Lensink and Bethan Gray made the list.
This week Lonny took an insightful look into why we're so attracted to minimalist branding. "Minimalism has taken over branding and it looks like it might be here to stay," wrote Shelby Wax. "While newer companies are heading towards minimalism right off the bat, a few more established ones have made the change." This includes San Francisco–based Hannah Collins Design, which recently changed its name to ROY: "It was something I always wanted to do, but never made it a priority," principal designer Hannah Collins told Lonny. "We wanted to create a brand identity that reflected the diverse projects we have."

CUE THE APPLAUSE
French luxury linen designer Yves Delorme collaborated with design students from The New School's Parsons School of Design on a window display at the brand's Madison Avenue flagship in New York. Masters students Natalia Vlachopoulou and Jon Q. Ye, who won a competition for the opportunity to design the display, worked on a tropical rain forest which also portrayed the life circle of a silkworm. The display will be up through the month of April.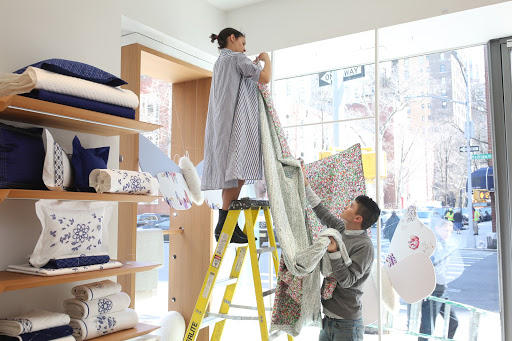 New York governor Andrew Cuomo worked with the New York State Energy Research and Development Authority to launch the Buildings of Excellence Competition, which is a $30 million competition recognizing the design and execution of low- or zero-carbon-emitting multifamily buildings. There will be three rounds in total; $10 million is offered in each. There are a handful of eligible buildings: those in design development, those where development is done and construction documents are in progress, those with building permits but not a certificate of occupancy, and those buildings already completed but with proposed enhancements or optimizations that improve the environment and are replicable. The deadline to enter is June 4.
Swarovski and Design Miami named installation artist Juju Wang, design duo Studio Klarenbeek & Dros, and lighting designer Raffe Burrell as recipients of the Swarovski Designers of the Future award. The commissioned works, said by the brand to "apply pioneering and sustainable crystal technologies," debut at Design Miami/Basel in mid-June. For architectural surfaces and building materials, Wang will create an installation that represents how sunlight looks when reflected on the surface of water; for home decor, Studio Klarenbeek & Dros will display 3-D-printed objects that symbolize shrunken Arctic ice caps (fun fact: This will be the first time Swarovski will 3-D-print crystal in light sapphire); and Burrell will create lighting that was inspired by the waterfalls in the mountains surrounding Swarovski's headquarters in Wattens, Austria.