Hästens's classic blue check has been reimagined by Swedish design firm Bernadotte & Kylberg for the new Appaloosa and Marwari beds, both of which use the construction of the Hästens 2000T bed. Announced at Salone del Mobile, the collection will be available worldwide in January of next year.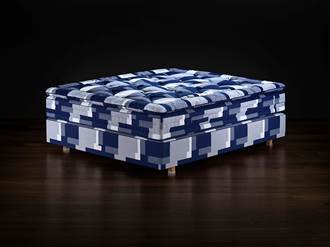 "It is with great pleasure that we announce a groundbreaking and unique design collaboration," said Hästens chairman and fifth-generation owner Jan Ryde. "We could not have imagined a more suitable partner than Bernadotte & Kylberg to interpret our signature blue check, with a truly innovative and modern performance. Both Appaloosa and Marwari exceeded our expectations, and the result pushes the boundaries of what is Hästens classical design."
The Appaloosa design, inspired by cubism, features the interweaving of the brand's blue and white colors in a new pattern, using two layers with different shades of blue, light blue and white. Explains the brand, "The American horse breed Appaloosa, best known for his colorful and irregularly spotted fur, was the inspiration for the name of this product." It features a matching bed and headboard.
"We were very excited when we were contacted by Hästens. It felt very tempting to work with such a classic Swedish brand, which also has such a strong graphical expression," said Oscar Kylberg, president of Bernadotte & Kylberg. "For us as designers, it is equally important with the two-dimensional expression in the pattern of the three-dimensional shape of the bed. To interpret such iconic designs was challenging, but exciting, and we are very proud of the result."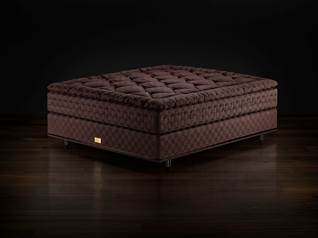 The Marwari design, which was, according to the designers, "inspired by a rare, majestic breed of horse from the Marwar region of India," features vegetable-dyed leather pieces to create a border on the bed's base and headboard, created with a braiding process similar to that used to make a saddle girth.