Dutch designer Tord Boontje has worked with Swarovski over the years on homeware, lighting, jewelry and installations. The newest collaboration, for the London Design Festival, will include Luminous Reflections, a collection of three crystal lighting components (Arc, Swirl, Circle) and four lighting designs (Luminous Bough, Lustrous Aura, Shimmering Jewel, Radiant Light) released under the newly re-launched Swarovski Crystal Palace.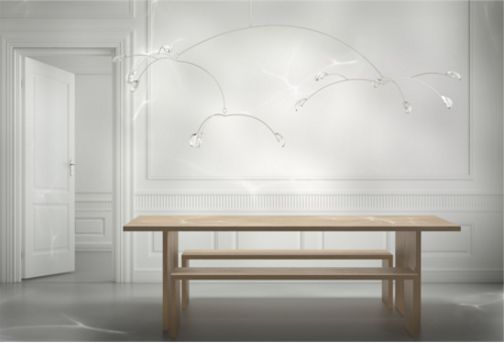 Swarovski Crystal Palace is a suite of lighting pieces and components the brand has created in collaboration with top designers. Founded in 2002, the initiative has worked with 60-plus designers, among them, Zaha Hadid, Yves Béhar, Tom Dixon, Ross Lovegrove, Arik Levy, Tokujin Yoshioka, Ron Arad and Gaetano Pesce. The current collections include 17 pieces by five designers: Boontje, Béhar, Fredrikson Stallard, Vincent Van Duysen and Diller Scofidio + Renfro.
Boontje says, "Having worked with Swarovski crystal for 15 years, I understand how light and crystal work together—it can illuminate a room with bright sparkle or create dazzling glamour as jewelry. I have also gained an insight into possible innovations, what the future of crystal could be, and for the first time, I have had the opportunity to change the shape of the lighting crystals. I wanted a 'soft light' effect; the quality of light you see in a misty or snowy landscape or on a lake as dancing light reflections. For me, these chandeliers really celebrate an organic quality of light that crystal can create."
Boontje's crystal components were developed just for the interior lighting industry and are available for designers' use.
Nadja Swarovski, member of the crystal brand's executive board, says: "We are delighted to work once again with our longtime collaborator Tord Boontje on this incredible new collection for Swarovski Crystal Palace. Its elegant, organic curves bring a fresh interpretation to the interplay of crystal and light."