This time last year, The Expert emerged from beta testing with a why-didn't-I-think-of-it concept as simple as it was ingenious: Connect elite designers with customers for a one-hour Zoom consultation, charge a pretty penny, and get out of the way. Only twelve months later, founders Jake Arnold and Leo Seigal have signed up a formidable roster of talent that includes a potent mix of established legends (Martyn Lawrence Bullard, Robert Stilin), buzzy up-and-comers (Noz Nozawa, Josh Greene), and a handful of design-world celebrities like Athena Calderone and Jenna Lyons.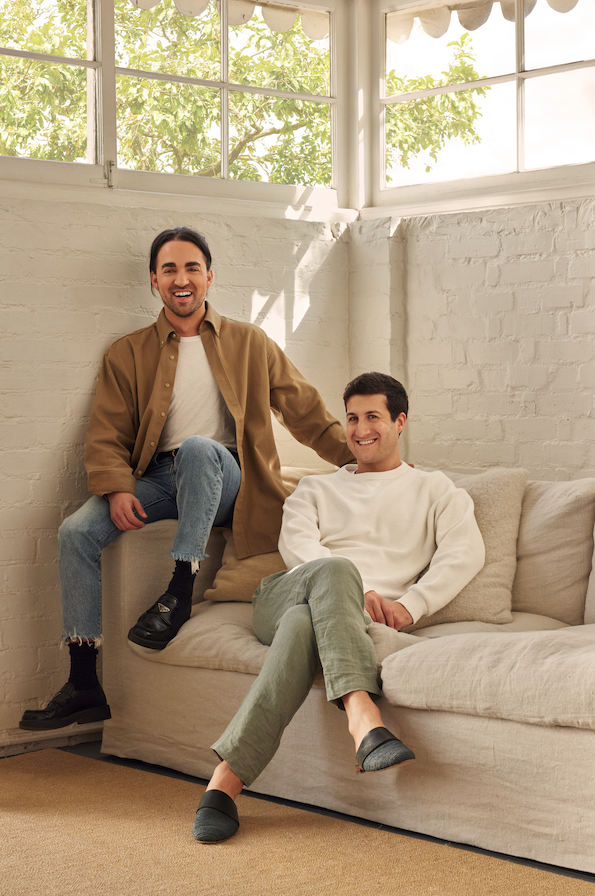 The Expert has had its critics within the industry. Some complain that the platform, with its emphasis on stars, is elitist; others have expressed concern that framing designers' talent as hourlong chunks of time reduces the holistic value of the profession. But whatever you think of it, there's no denying that The Expert has quickly defined the market for high-end design online.
Now the brand is announcing a $12 million round of Series A funding with sights set on the next big target: e-commerce.
"Within a week of launching last year we could see the biggest opportunity was not to scale the one-on-one consultations infinitely, but to use this unique positioning we have with this incredible roster of talent and being the hub of design expertise," says Seigal. "It's insane to me that home has not figured out a one-stop destination where you can discover all of the best brands in the same place, curated by the best minds in the industry. That's where we see the opportunity."
The round was led by First Round Capital, with seed investor Forerunner Ventures participating again, alongside angel investors Jenny Fleiss (a founder of Rent the Runway), Compass president Neda Navab, Away co-founder Jen Rubio, designer Brigette Romanek and Goop founder Gwyneth Paltrow.
The move into e-commerce is not a pivot, says Seigal, but an extension of the core business, which has proven to be lucrative. The company says it has already generated $5 million in total revenue (designers generally keep 80 percent of the fee, while The Expert pockets the remainder) its first year in business alone. But Seigal acknowledges that at 140 elite designers, the brand is already pushing the upper limits of its roster. The cadence of new signees has slowed to three or four per month, and the list of applicants (it currently sits around 1,500 would-be Experts) is getting longer and longer.
"The number of designers that we see as a fit for the site is shrinking by the day," says Seigal. "We want to give people a great choice of style and price point, but we want it limited to the best." The Expert has even seen fit to cull its ranks of underperformers—Seigal estimates the platform has phased out roughly 15 designers over the past year.
The Expert's foray into e-commerce will be an online marketplace called Showroom, debuting this summer. The goal, says Seigal, is to target consumers who love high-end design but aren't looking to spend hundreds (or thousands) on a private consultation with an elite designer.
Spearheaded by former Domino editor in chief Jessica Romm Perez, Showroom will be driven by The Expert's roster of talent. Designers will be able to curate a selection of product and earn commission when a customer purchases through them. The marketplace's debut will include a capsule collection of vintage pieces curated by Arnold, and over time Seigal says The Expert will work with its top designers to develop and manufacture products to sell exclusively through the platform.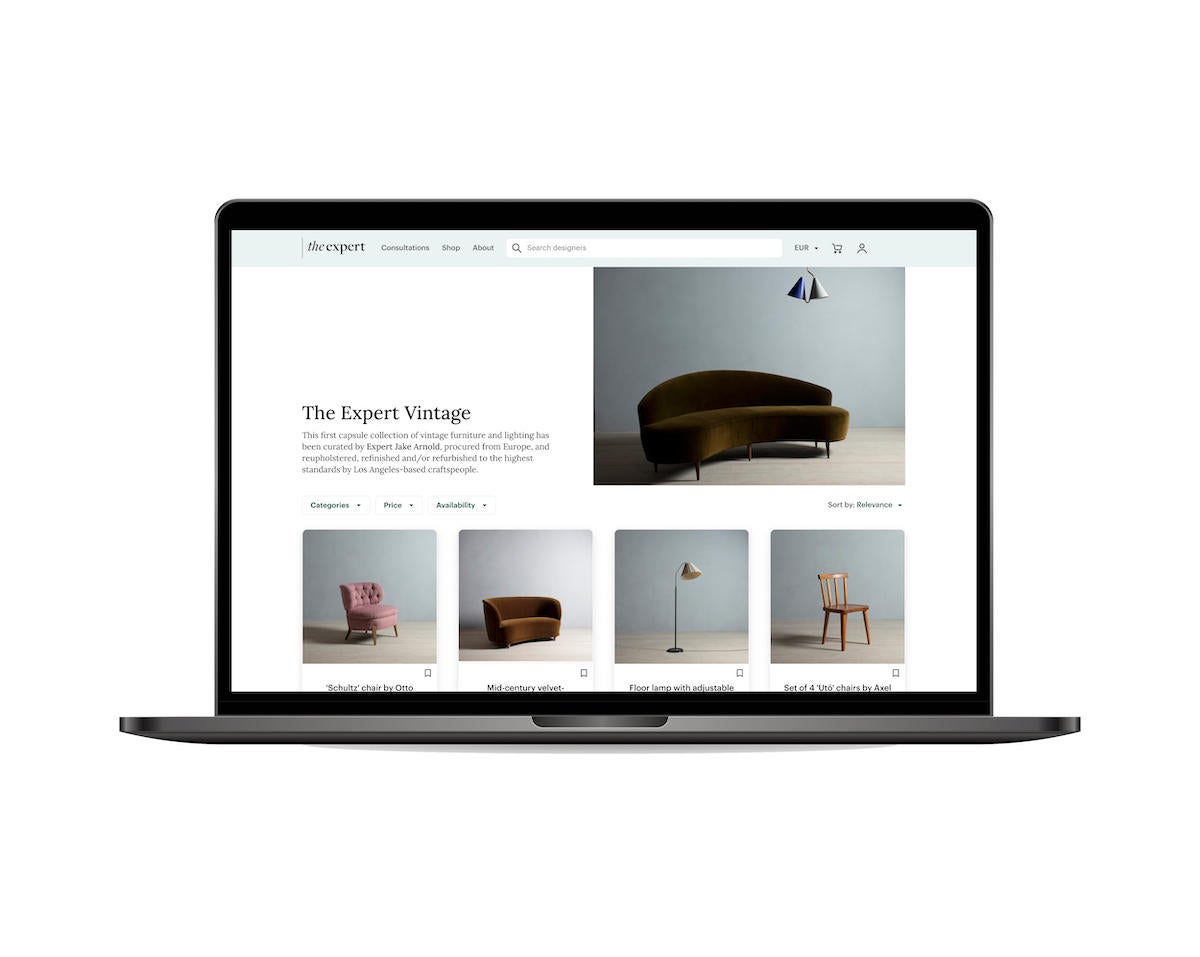 In seeking partner brands to stock The Expert's digital shelves, Seigal and Arnold took a similar approach to their quest for design talent: Shoot for the best. They've been successful in signing up a roster that includes luxury design brands historically hesitant to sell their wares through a third party, let alone an online marketplace. So far, the freshman class includes more than 60 manufacturers, retailers and artisans, including Pierre Frey, Apparatus, Schumacher, Williams-Sonoma, Lawson Fenning, Anna Karlin, Nickey Kehoe and Waterworks.
In mixing retail brands with trade-only operations and massive conglomerates with small makers, Seigal and Arnold have created something of a logistical puzzle for themselves. The complexity of streamlining purchasing for a designer-driven platform has presented a major roadblock for others who have experimented in this realm before (see: Homepolish). However, the pair made some strategic hires, including key employees from Wayfair and Chairish, to help facilitate the complex drop-shipping logistics that will underpin its efforts. They're looking to grow the team bigger still—Seigal says his goal is to double The Expert's staff of 16 this year.
As for the designers who make up The Expert's elite roster? Seigal says keeping them happy is priority number one. Some—say, perhaps, the AD100 designers who charge thousands for an hour of time—may only book occasional sessions and do more to bolster The Expert's clout than its bottom line. Others—especially those with an elevated-but-accessible design style who more modestly price their services—keep cash coming in the door. Both, the co-founder argues, are necessary to the health of the business.
"It all starts and finishes with the designers. We know if we lost them tomorrow our business would be irrelevant," says Seigal. "It's what differentiates us. It's everything."
To that end, Seigal and Arnold tweak the site based input, making communication between designer and client less intrusive, extending the consultation cancellation period from one to three days, and encouraging designers to turn their Expert clients into IRL projects—at least a few have booked significant projects based on their inclusion on the platform. The Showroom functionality, say the co-founders, will provide just another tool for designers to monetize their taste and talent.
"As a designer myself, being able to share to a bigger audience, from my own product to curating from our brands all the way to vintage—I'm very excited about this," says Arnold. "People will be able to really get into our heads."
Homepage photo: Jake Arnold and Leo Seigal | Marcus Meisler