Thomas O'Brien, one of the modern era's great designers, narrowly missed becoming a well-paid bean counter. He grew up in a small town in upstate New York, near IBM's corporate headquarters in Endicott. His father worked there, his uncles worked there, and presumably so would he—until a chance encounter with printmaking sent young O'Brien to New York City to attend The Cooper Union. "It's an age-old thing: Every student in art school hates the school, and I just loved it. I loved every moment of it," he tells host Dennis Scully in the latest episode of The Business of Home Podcast.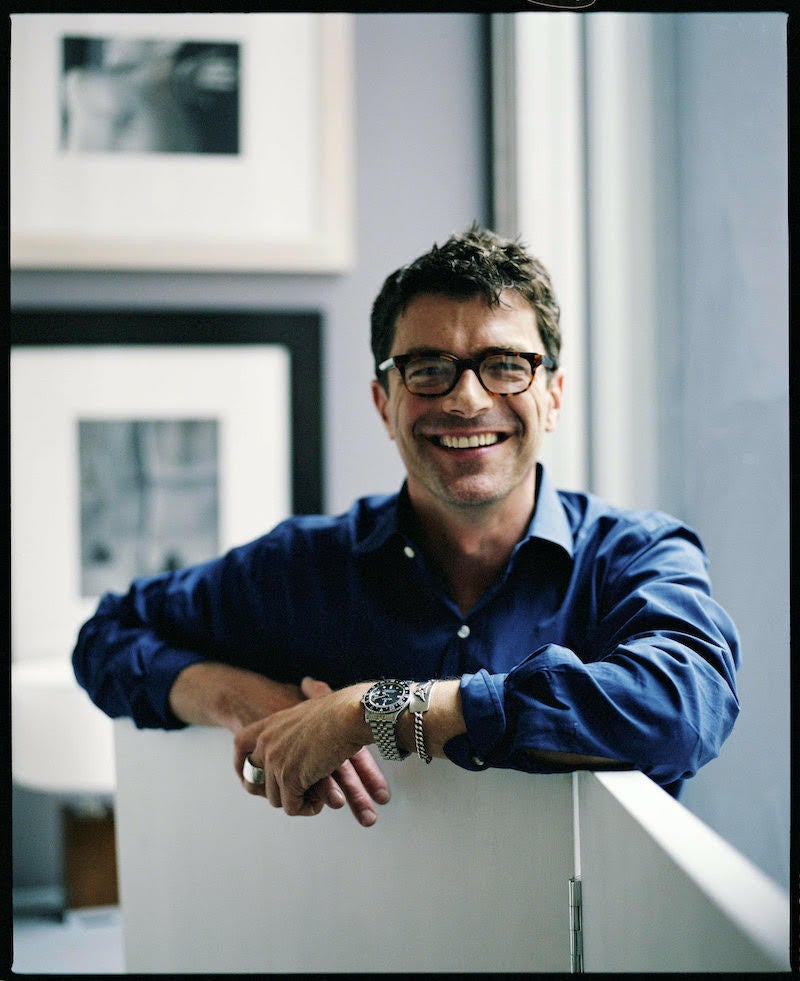 After graduating, O'Brien kicked around in various jobs—he bartended, worked for the then-fledgling Details magazine, and even had a brief stint working for Mario Buatta. (He quit working for the "Prince of Chintz" after a few short weeks, leaving a letter of resignation and his petty cash on a table in Buatta's latest room in the Kips Bay Decorator Show House.) It wasn't until O'Brien ended up in creative services for Ralph Lauren that his career began in earnest.
Prepare yourself to get a little jealous: "When I was just a young kid, I went to London and Paris—I went on 24 shopping trips in less than two and a half years," he says. "We would go to either city to buy, and then when Ralph arrived, we would create the trip in reverse." O'Brien was helping Lauren develop the Rhinelander Mansion into a flagship on Manhattan's Upper East Side, as well as work on his own home. All told, it was an incredible education and the honing of a keen eye.
In the early 1990s, O'Brien went out on his own to start Aero, a buzzy shop in then-underdeveloped SoHo. The store attracted attention and led to opportunities to design stores for Donna Karan and Giorgio Armani. It also led O'Brien into the world of creating product for Waterworks, Visual Comfort, Hickory Chair and eventually Target.
Aero has since moved into the New York Design Center, but O'Brien hasn't lost his passion for shopkeeping—he and his husband, Dan Fink, have converted an old grocery store in Bellport, New York, into a store they call Copper Beech. It stocks groceries, prepared food and home goods. "I'm hunting for things to be new ideas for Visual Comfort as much as I look for pastas and olive oil," says O'Brien. "I'm passionate and dreamy about it all still."
This episode was sponsored by Serena & Lily and Baker + Hesseldenz. Below, listen to the episode. If you like what you hear, subscribe on Apple Podcasts or Spotify.
ALL OR NOTHING
One of the secrets to the way O'Brien works? Total immersion. His best work, whether for Ralph Lauren or a private client, is an all-or-nothing affair. "I tend not to be the kind of interior designer who puts together schemes and [has] three or four meetings," he says. "It's more commonly the case that I help them put together their life. Every fabric, every choice, and the architecture and millwork details throughout."
NO SHORTCUTS TO LICENSING SUCCESS
Many designers dabble in licensing, but few can boast O'Brien's level of success. Particularly in the lighting arena, his lines with Visual Comfort could be significant stand-alone businesses. O'Brien attributes his success at licensing to his obstinacy and work ethic more than quick flashes of genius. "There are a lot of people who try to have a license, [but] you have to really work at it. I fight very hard for certain things to get made or certain things I believe in," he says. "I do it with clients, too: 'Please, this has to be your dining table.' You have to be an advocate for it, you have to do things well, you have to put the work in. There's no shortcut."
That spirit, says O'Brien, is particularly meaningful in an era when so many decisions are made by algorithm. "Everything can turn into the same thing. What's hard is the newness and specialness and uniqueness—it's something you always have to fight for and look for and dream up."
A LABOR OF LOVE
That fight-for-it spirit, O'Brien believes, is something that's sadly lacking in a world dominated by digital stimulation. "To be a believer in something you love is almost foreign today. I remember when clients would come to you and they loved a limestone from the Jil Sander store and wanted that to be their kitchen floor. Or there would be a detail or tear sheet or [other] elements that were absolutely essential and they were passionate about it," he says. "I'm passionate about things. I fall in love with something and I fight for it. I love when I hear a client who is passionate about something, because I feel that people aren't so much [anymore]. ... There's just so much stimulus, I think people are so confused they almost can't pick what they really do love."
Homepage photo: Thomas O'Brien | Courtesy of Aero