Last month, Ralph Lauren Home expected to debut not only two new collections at High Point Market, but also a new licensing partnership. The company signed an exclusive agreement with Theodore Alexander, effective April 1, and had been gearing up for a big reveal in a dedicated 10,000-square-foot footprint within its new partner's showroom in High Point, North Carolina.
The agreement makes Theodore Alexander the manufacturer of the complete Ralph Lauren Home portfolio, which includes more than 160 case goods and 200 upholstery pieces. The furniture manufacturer is in charge of sales, distribution and manufacturing of the collections, while the RL Home team oversees design and marketing.
"The warmth and style of Ralph Lauren environments are a critical component of the world of Ralph Lauren," says Day Kornbluth, who joined the company in January 2019 after roles at Restoration Hardware and One Kings Lane. "The home offering has always been a key part of our business, and we believe in its growth potential. Theodore Alexander's high quality and integrity of manufacturing, along with their global sales and distribution network, will help support our progress."
The latest partnership is another feather in the cap for a furniture maker with an increasingly high profile roster. "Ralph Lauren is one of the most recognized brands in the world, and certainly the most recognized American luxury brand," says Neill Robinson, president of Theodore Alexander. "This level of recognition is exciting and a great opportunity for Theodore Alexander to showcase the quality and craftsmanship of our product. We are honored to partner with them to bring Ralph Lauren's iconic style into homes across the globe."
The two companies had planned to showcase more than 40 new pieces this spring from a pair of yin-and-yang new collections: the Modern Equestrian (a blend of blond mahogany, brass accents and saddle leather detailing to evoke heritage horse farms) and Modern Penthouse (sleek silhouettes in rosewood, black lacquer, acrylic and polished stainless steel).
Though moving forward without a market has been a challenge, both teams have been making do. Last week, the new collections were presented virtually to Theodore Alexander's sales staff so that they could begin selling the pieces to their accounts; both lines will be showcased in the Theodore Alexander showroom in October alongside another round new collections already in the works. Meanwhile, as Ralph Lauren's store locations change over for fall, they will be showcasing the pieces that would have been shown at High Point in April. For the first time ever, the retail rollout will take place ahead of the collection's official Market debut.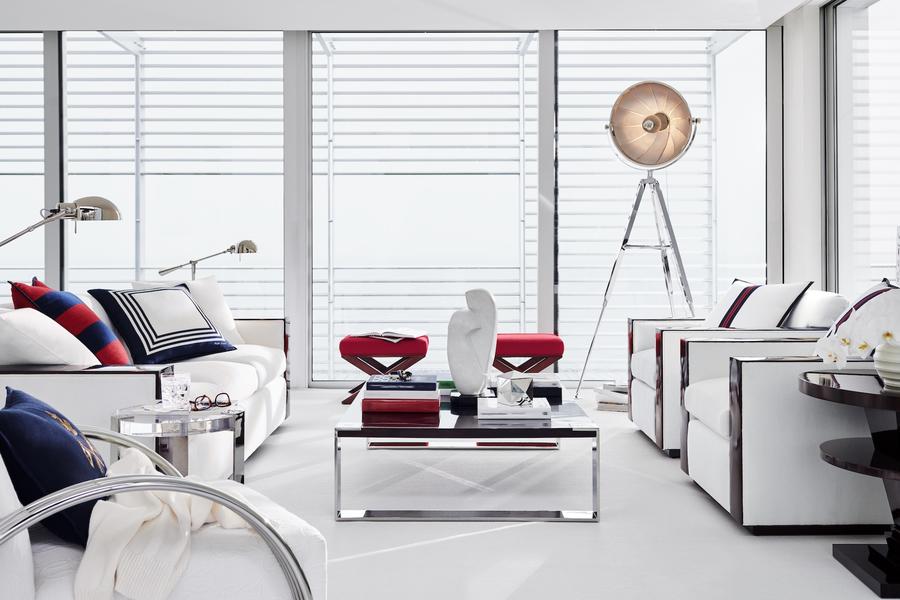 Previously, Ralph Lauren Home had collaborated with EJ Victor on its furniture lines since 2009; before that, the company had worked with Henredon since 1993. The new licensing agreement with Theodore Alexander follows several high-profile arrivals at RL Home: Kornbluth as president, as well as Billy Cotton as creative director last November.
Theodore Alexander was founded in 1996 by Paul Maitland-Smith; at the time, it was one of the first American furniture operations to open in Vietnam. The company has partnered with a series of high-profile partners in recent years, launching lines with designers Jamie Drake in 2014, Michael Berman in 2016, and Richard Mishaan in 2019. Alexa Hampton exited a 30-year partnership with Hickory Chair in 2018 to team up with the company; her collection also debuted in 2019.
In 2017, the company was acquired by Chinese investment firm Creative Home Furniture; Drake told BOH that before the purchase, CHF had long been one of Theodore Alexander's biggest customers. Today, the company has a footprint in more than 40 countries worldwide.
Homepage photo: Ralph Lauren Home's Georgica collection for spring 2020 was inspired by a the vintage touches of a summer retreat. | Courtesy of RL Home