You probably won't get rich or famous from a licensing deal, but every year, dozens of designers still sign on the dotted line. We asked them why.
For many interior designers, landing a licensing deal is a major sign that you've arrived. It makes sense: The allure and glamour of a collaboration is hard to miss. Apart from the prestige, success can net an entirely new level of exposure, to say nothing of royalties (a blockbuster product can pay out for years to come). One fruitful collection with the right brand can turn into a long-running creative partnership—and one hit line usually attracts other offers. Barry Goralnick is a shining example of the breadth of opportunities that licensing can spawn. In the early stages of his career, licensing deals were rare; instead, designers often created the equivalent of a signature line all on their own. In 1992, Goralnick began by trying to address gaps in the market with pieces that were produced, manufactured and represented independently. In the space of two years, his 20-piece line of neoclassical-influenced furniture and lighting was in eight markets across the United States, with representation at Profiles in New York and Holly Hunt in Chicago and Minneapolis.
In 2000, Goralnick and his business partner parted ways. While his first collection's manufacturing was centralized in now-closed New York factories, production for his second collection, under his new company, was all over the place—a web of East Coast manufacturers selected for excellent craftsmanship. "Lighting was made at a facility in rural Virginia," he recalls. "You'd open the doors to the factory and there would be a group of cows grazing 50 feet away." Upholstery came in from Long Island City, furniture from upstate New York.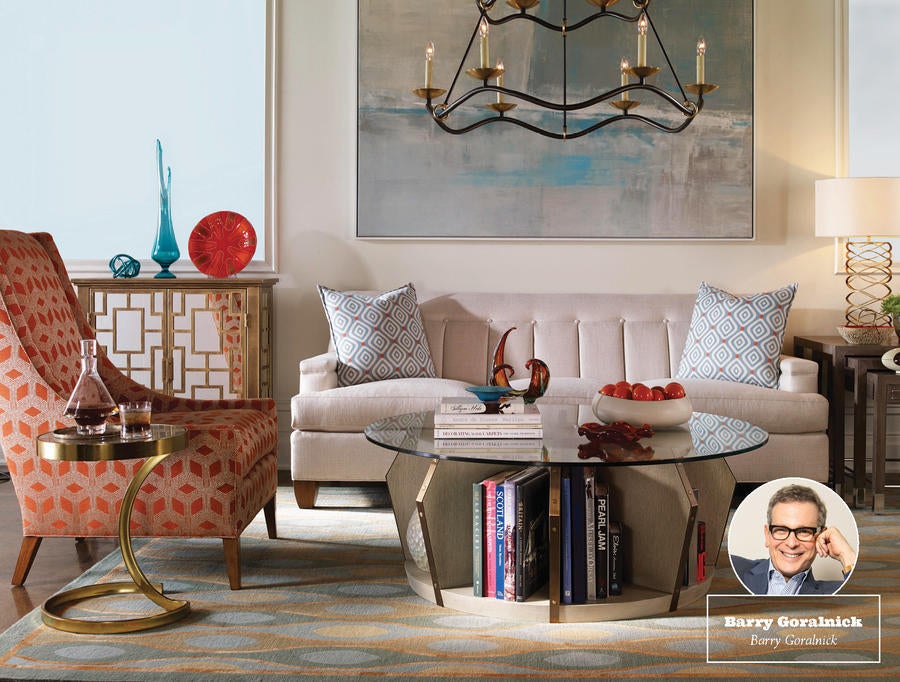 Portrait: Jason Zeren | Interior: Courtesy of Vanguard
Goralnick found himself fielding the details of production and distribution—in addition to running the rest of his firm. "It got to the point where I had customers calling me personally on a Friday night, complaining that they had received a damaged table leg," he says. Handling the dizzying elements of his own customer service quickly precipitated a moment of clarity. "It led me to think about what I was good at—like, Where does my core competency lie? And I knew I only wanted to design. I wasn't interested in the rest of it." He then pivoted to licensing his designs, ceasing production on the previous collection. Goralnick currently has six collaborations, including lighting with Currey & Company, tabletop with Villeroy & Boch and carpets with Stark, plus three more lines in the works for 2020.
While not necessarily a household name, Goralnick has built a stable product design business, all while keeping his day job as a designer and architect. The licensing model works for his firm—but without decades of experience creating a variety of products across categories, how (and why) do designers land (and execute) licensing deals today?
For design duo Jennifer Mabley and Austin Handler, who primarily work in New York, the Hamptons and Palm Beach, identifying a white space in a brand's offerings presented an unexpected opportunity. Specifically, they noticed a lack of coastal finishes from Kravet's furniture lines. "We've always done a lot of business with them," says Handler. "But we got to a point where we'd used the pieces we liked over and over again." When their sales rep noticed the dip in orders and reached out, the designers explained that the brand was light on pieces that had the coastal feel they were looking for. The rep thanked them for the feedback—and asked if they'd be interested in talking to the design team. Mabley had another idea: "Why don't we just design a collection for you?" she quipped. "I was only half-kidding," she says now. Joking or not, the pitch worked; the 36-piece Mabley Handler for Kravet Furniture collection debuted in 2017 at High Point Market.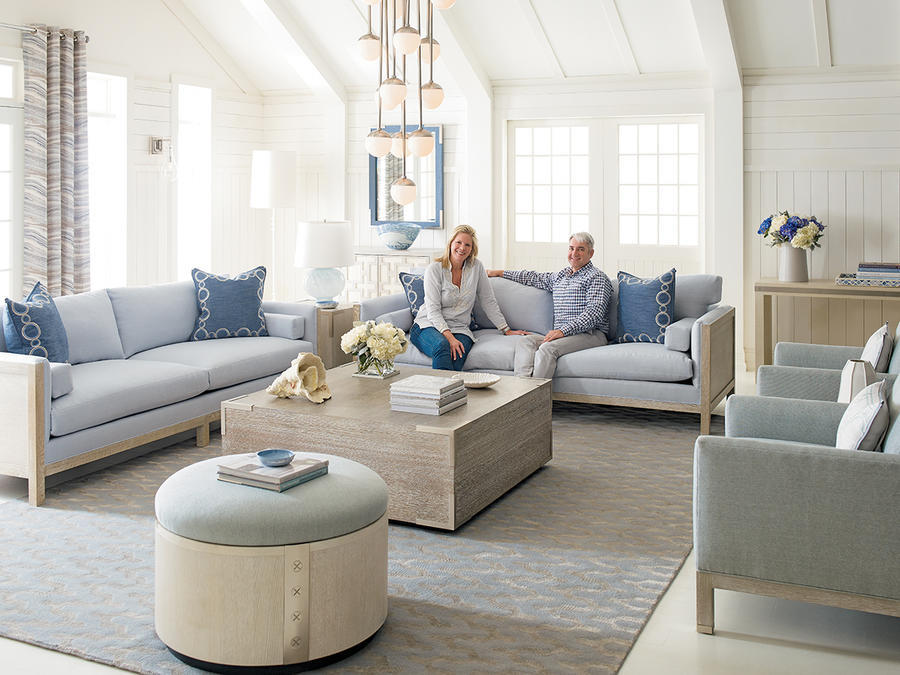 For Alexa Hampton, the idea for her first licensed collection—a line with lighting brand Visual Comfort—came about in a bawdier fashion. "It was 2006 and I was sitting in the bathtub, pregnant with twins," she recalls. "I'm staring up at the light fixture on the ceiling, belly full of babies, and I just thought, Why do all flush mounts look like boobs? Then I thought, You know what? I can do better. After hoisting myself out of the tub, I sat down and started a binder of lighting designs." A few weeks later, Hampton cold-called Visual Comfort CEO Andy Singer. "I have some legitimately really good ideas for you," she told him. "I FedExed my binder to him and the next day he sent me a contract," she says. "That's the thing—if you can provide the marketplace with something that's missing or a really good version of something you're unable to find, that's a great motivation to create a product."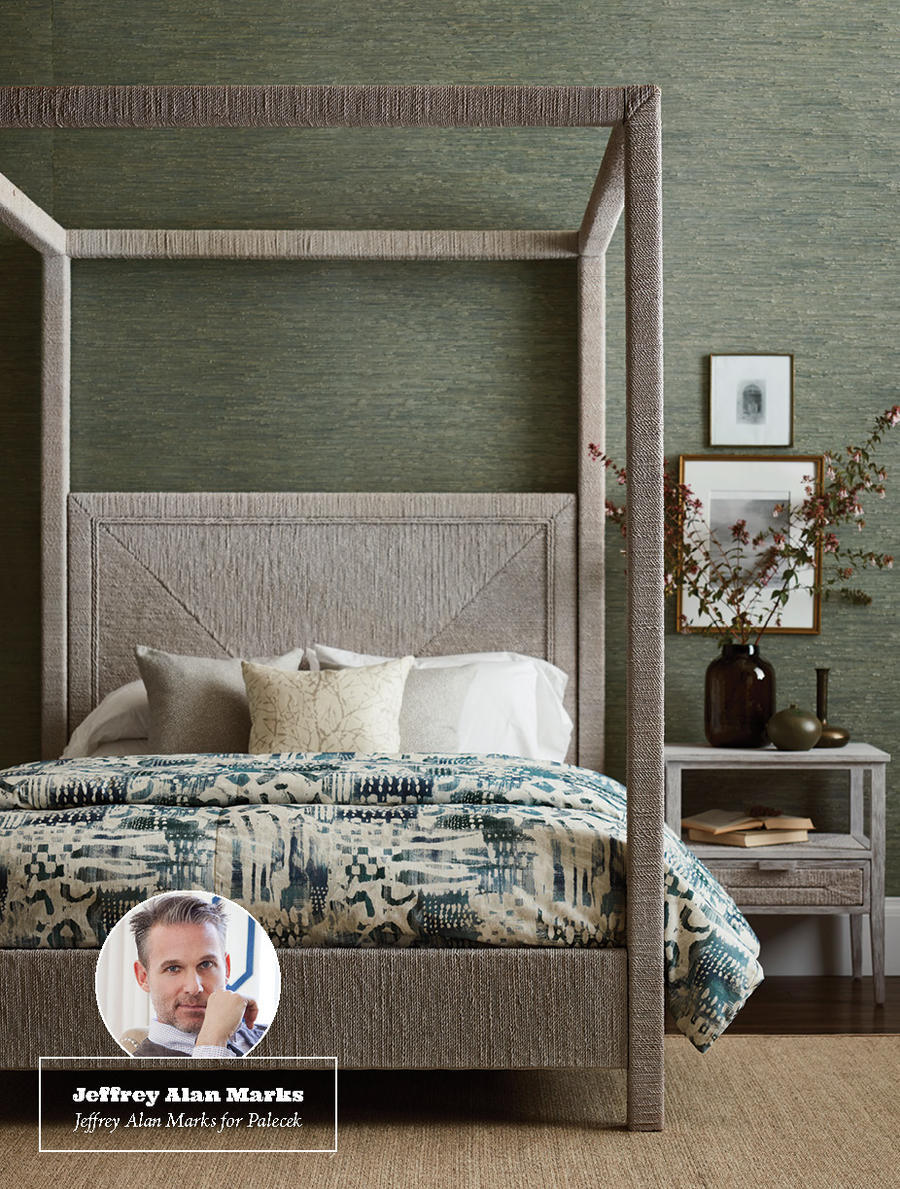 Portrait: Melissa Vallardes | Interior: Courtesy of Palecek
Designers who secure big-time licensing deals possess a talent for continuing to spot market gaps even after they've established a relationship with a brand. Soon after Jeffrey Alan Marks began collaborating with to-the-trade furnishings company Palecek in 2012, he began pushing the brand to consider carrying a product they'd never had before. "For years, I was telling [company vice president] Andrew Palecek that I wanted to make a bed for them, and he kept saying no," says Marks. "He said, 'No one comes into our showroom for a bed.'" Palacek finally relented in 2016, and today, Marks's bed, a four-poster covered in woven rope, is one of the brand's bestsellers. "I get a great paycheck from it every month—and you know, if I hadn't pushed and pushed, I don't think it ever would have happened," says the designer. "These collaborations are a learning experience for both parties. If you can't bring a brand to a new place or do something different, why do the collection?"
In addition to finding a market opportunity, creating a motif you can use in your own work—and then implementing it across multiple categories—can be a savvy model. Goralnick, for example, created a jewelry-inspired lighting collection for Visual Comfort that was such a hit, it led to an expanded line and a corresponding furniture line with Vanguard. Now, he's even thinking of translating the design into a tabletop collection. "You see it all together at High Point and people like that synergy and end up buying the furniture and the lighting," he says of the strategy. "And then it's just extra equity." Goralnick has also dabbled in designing a line that he intends to specify prodigiously in his own work, including a carpet collection for Aronson's Flooring scheduled to debut next fall. Whether you look at it as a form of vertical integration or plain old double-dipping, it's a lucrative move.
While it may seem like a logical addition, incorporating collections into your business is akin to entering a new phase of your career, and not all designers feel comfortable presenting their pieces to clients. Hampton says she only shows a client her own products if there's nothing else that will do. "I don't want to look like I'm double-dealing," she says. "Or if they don't like it, I don't want them to feel compromised about saying so. But at the same time, I want my pieces to be indisputably perfect for my projects. There are a lot of nuances." Similarly, Jesse Carrier of Carrier & Company says he too has been navigating how to pitch the firm's products from Century and Visual Comfort to clients; one solution he's landed on is to show them unlabeled, alongside other pieces. "We try to make it so our items aren't the focus," says Carrier. At the same time, some clients want the 360-degree experience of living with a designer's work. "We recently had a client who had seen our lighting line on our Instagram. She really liked it and asked why we hadn't shown her any of it," he says. "It hadn't even occurred to us that our clients might be interested in supporting us that way."
Another method of maximizing licensing profits is to find a way to sell the products yourself. For Justina Blakeney, this meant creating her own e-commerce site, Jungalow, which launched in 2017. "The ground I was walking on did not feel steady until I launched my own website," she says. "It's great to work with retailers and get your stuff to a larger audience, but getting that retail margin on the stuff you designed is also very nice." Jungalow allowed Blakeney to feel more self-reliant. "It gives me the freedom to work in a way that seems healthier," she explains. "We can work in symbiosis instead of blindly relying on [licensing partners] for the lines to succeed." The strategy also offered a place for clients and fans to easily shop products—helpful for Blakeney, whose audience is largely digital-savvy millennials. "I have to be able to say, 'Here's where you can get it—just click and check out.'" Marks, who also launched an e-commerce site in September, experienced similar benefits: "I would have people in Minnesota messaging me and asking where to find my lighting and I didn't even know what to tell them," he says. "Now [my site] does steady business and it's so much easier to direct people to."
Still, although licensing deals are a great way to diversify revenue streams, product lines are far from a get-rich-quick scheme. From pitch to production to paycheck, the process often takes years. Even when a collection debuts at a well-known venue like High Point Market, if the company doesn't get a certain volume of orders, it may not bother to produce certain SKUs and could instead let them die on the vine. Stacy Garcia, who parlayed her interior design business into a full-time career in product design, recalls recently getting a royalty check for a line of paper napkins for a total of $16. While not indicative of the bulk of her royalty payments, the small sum was still a humbling moment for her. "There's a perception that licensing is a major source of passive income, where you hand in a design and then just get checks in the mail for years," says Garcia. "That may be true for a few people, but sometimes the reality is a check that will just cover a few lattes."
Blakeney, whose seven licensing deals make up about 30 percent of her business's total revenue, estimates that even if a line she designs nets $1 million in product sales, she takes home about $70,000 after taxes and paying her team. "I think it's important to have a real sense of the amount of money that these kinds of things can bring in," she says. "It hasn't made me rich by any stretch of the imagination. From a financial perspective, this really can't be your whole game. I think it's a good idea to think of licensing as your side dishes in a meal. If you're trying to make it your main dish, you might find yourself a little stressed out."
For many designers, part of the draw of a licensed collection comes from the built-in exposure it offers, bolstered by dreams of the mass-market appeal of licensing design juggernauts like Thomas O'Brien, Nate Berkus, Barclay Butera or Kelly Wearstler. But much like the realities of making bundles of cash off a licensing deal, the odds of becoming a household name are slim. Given that reality, it's no surprise that some designers—even those with major name recognition—have taken a different approach to adding product design to their roster. Take Bunny Williams, who in 2008 launched her own furniture and decor line, Bunny Williams Home, instead of teaming up with a manufacturing partner for production, design and distribution.
Meredith Heron decided to start an independent line of rugs this past fall after a fabric and wallpaper licensing collaboration went sour. "I thought I had arrived," she says of landing the licensing deal in 2015. "I thought this was the ultimate goal of every designer: to have a collection." From the get-go, the process was not what she'd imagined. Instead of developing a collection with Heron from the ground up, the company wanted to slap her name on a selection of designs they had already created. She found herself in a partnership in name only, with little creative input and no say in how the collection was marketed after manufacturing. "We are all dying for some sort of validation in this industry, because you work really hard and put so much heart and soul into your work," says Heron. "A lot of people think that throwing their name on something is a way of leveling up, but they often go in blindly as to what is involved or how little return on investment there is. If you are designing something and you're passionate about it, then putting it out under your own steam is so much more rewarding, both financially and creatively." Looking back on her experiences, the designer does not mince words: "Licensing—I think it's a waste of your time," she says. "I think it's an ego boost. I am certain that there are successful partnerships that result, but given the number of people racing to licensing, and the brands willing to give them a 'collection,' the notion of this collaboration has been seriously watered down. Designers would be better off investing in themselves."
To build in protections against a relationship heading south, Blakeney says the first thing any designer should do before signing a licensing contract is call a lawyer. "Of course, it's hard to pay someone $1,000 to look over a contract when you can't even predict how much you'll be making from the overall deal," she says. "But there's so much room for things to get messy and for you to get taken advantage of, especially if you're bringing your own designs to that company. You need to make sure that, in your contract, you own the copyrights to your work, because if you don't, you might play yourself in the long run. Getting the contract right is so important."
Another essential element of a healthy collaboration is aligning with companies that you trust, and that you feel will respect your vision. "The most successful partnerships happen when it makes sense for the company and for me and what I'm trying to do," says textile and product designer Lori Weitzner. "It's important, if someone's going to hire me as a licensee, that I can bring something to the table for them. But it's equally important that what I offer is synergistic with my brand identity and messaging." Blakeney also stresses the importance of finding partners who not only appreciate your talent, but can sell to your audience—in her case, millennials interested in a fun, bohemian design at an affordable price point. "I love beautiful, expensive things just like we all do," she says. "But the people who read my books or follow me on Instagram are spending modest amounts, and it's important that I find partners who can serve them."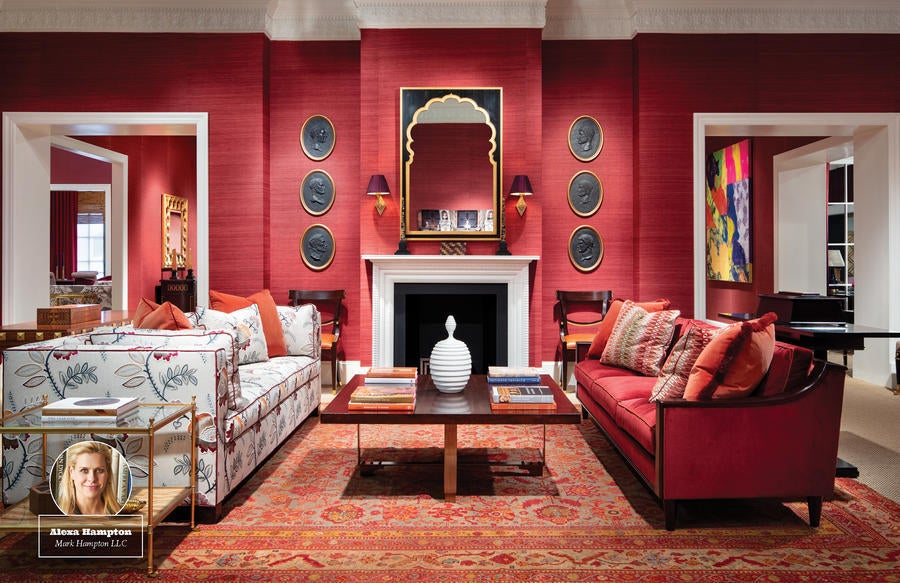 Portrait: Victoria Stevens | Interior: Steve Freihon
As with partnerships in other facets of life, what you expect from a collaborator may evolve over time. After years of working with Hickory Chair, Hampton cut ties with the company in 2018 and signed a new licensing agreement with Theodore Alexander. "I love Hickory Chair and I'll be a lifetime fan of theirs," says Hampton. "But Theodore Alexander has given me a chance to have a larger collection and introduce a fuller statement about the styles that I like. I have a larger voice in the process from start to finish."
If your voice is your most important tool as a designer, then product design is ultimately a way to manifest your point of view. "Decorating helps your visibility, which leads to product design deals, which let more people understand your design aesthetic, which hopefully feeds back into your business," says Hampton. But experience has taught her that she shouldn't pursue the wrong collaboration just for the sake of having a deal. She likens it to a situation a while back, while shooting vignettes for her first book, when a colleague included paper napkins in a table setting. "They matched the rest of the scene really well, but I just couldn't leave it in the shot," she recalls. "I thought, If I only get to write one book in my life, are paper napkins good enough?" She decided they weren't, and took them out of the vignette. That situation turned out to be a fitting microcosm for how Hampton, and many designers, feel about licensing: "You must truly believe in what you're doing," she says. "It's only worth doing if you do it right." 
Homepage image: Portrait: Victoria Stevens | Interior: Steve Freihon