When Authentic Brands Group bought some of the best names in the furniture business earlier this month for what amounts to a rounding error for many big corporations, it said a lot about the furniture business. Namely, that one more company will try to solve the field's branding conundrum.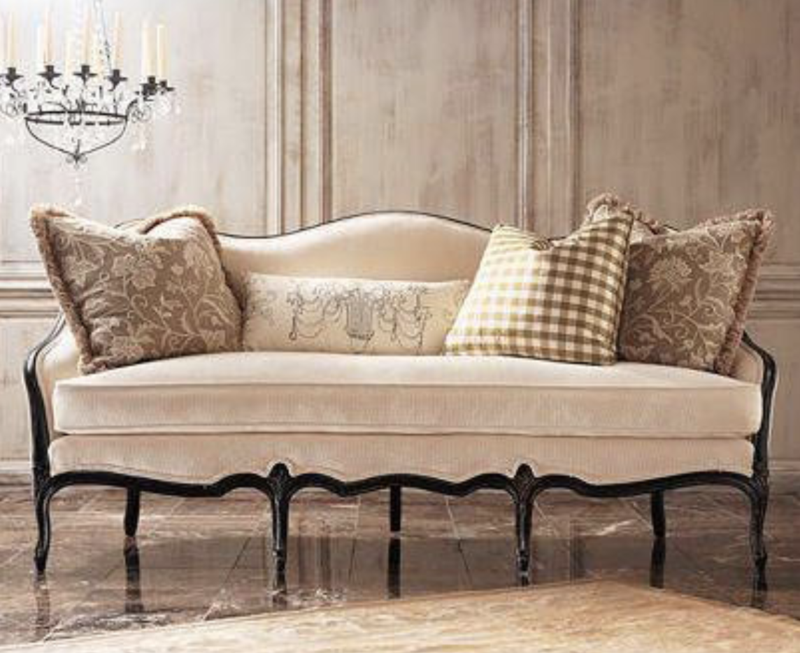 First off, Authentic—which already manages a stable of big brands (including the recently acquired Vince Camuto and Nine West), but is new to furniture—picked up some real legacy names: Thomasville, Drexel, Broyhill and Henredon. Then again, it paid virtually nothing for them: $38.5 million. (By point of comparison, that was the same amount Authentic offered when it tried to buy a broken and bankrupt Brookstone earlier this year; their Vince Camuto deal, done with a partner, had a price tag of $375 million. In that context, a little north of $35 million isn't all that much to spend.)
That's the dirty little secret of the furniture business: Brands are pretty much meaningless when a consumer is shopping for a sofa or a new bedroom set. Outside of a few rare exceptions—La-Z-Boy immediately comes to mind—the furniture customer does not shop by brand. When you go into a furniture store, you are often greeted with an overwhelming array of brown boxes—dressers, consoles, credenzas, whatever—and gray places to sit (the industry calls this "upholstered furniture," but consumers just call them couches). Brands are rarely displayed, much less promoted, and a shopper would be hard-pressed to find a label on a product without picking up cushions or opening drawers. Even big, well-known brands with major presences in other home furnishings categories, such as Martha Stewart and Ralph Lauren, have struggled to get the furniture shopper's attention when they go into a store.
As a result, store names have become the de facto brands of the furniture business. Ask a consumer what furniture brands she's heard of and she'll likely answer Rooms To Go or Ashley. (The latter is also a supplier brand, but it has only come to the attention of customers because of its burgeoning retail chain.) That's also why the so-called "lifestyle" stores like Pottery Barn, West Elm and Crate & Barrel—not to mention IKEA and RH at either ends of the pricing spectrum—have been able to establish footholds in the furniture business using their own store brands. So as good as the brands that Authentic bought are in the context of the furniture business, they will have their hands full getting their money's worth on their purchase.

That's the dirty little secret of the furniture business: Brands are pretty much meaningless when a consumer is shopping for a sofa or a new bedroom set.
Many of the brands Authentic picked up can trace their origins back to two companies from outside the industry that looked at the furniture business in the 1980s and '90s and said, "Yeah, we can do this better." Brown Shoes, which later became a quasi-conglomerate named Interco, bought Broyhill on a buying spree that also included Ethan Allen and Lane, two other storied furniture names. In the meantime, Masco, a company better known for plumbing fixtures and garbage disposals, bought into the furniture business when it picked up Drexel Heritage (recently rebranded as a millennial-leaning Drexel) and Henredon, among others. Both quickly learned that selling furniture was much harder than it looked; eventually, many of these brands, plus a few others picked up along the way, were amalgamated into a new corporate entity called Furniture Brands Inc. (And yes, they used the acronym FBI, providing an amusing, if somewhat confusing, twist to the world of furniture.) A third outsider who bought into the business was Kohler, a plumbing supplier that purchased Baker Furniture in 1986. They hung on longer than most, finally throwing in the towel last year when they sold it off to a big Chinese furniture supplier, Samson.
At its peak, FBI was doing over a billion dollars a year in sales, making it the largest supplier in the business—but of course, it did not last. Sales began to decline, and the assembled collection of disparate brands did not mesh very well. As furniture manufacturing was rapidly moving overseas to China, the company was stuck with more than its share of inefficient, costly domestic factories—and it did not help that management preferred to run each unit pretty much separately, defeating any cost savings and efficiencies you get when you put together a specialized conglomerate.
Private equity money got involved and, well, you know where this is going. Debt loads increased, sales decreased, and the whole thing came crashing down. From FBI's ashes arose a new entity called Heritage Home Group, which rearranged what was left of the original lineup. Despite new management, brought in from outside the furniture business, HHG couldn't make a go of it and filed for Chapter 11 bankruptcy in July. Assorted bits and pieces were sold off; after placing a baseline bid in early September, Authentic has picked up what was left.
But the brands it purchased are mere shadows of their former selves. Broyhill, which may have at one time been the biggest single-brand supplier in the business, has been decimated by both Ashley and direct import programs by large retailers. Thomasville, Drexel and Henredon are no better off. Thomasville had gone to a store-direct model, selling at both company-owned and franchised branded stores. They weren't necessarily the best stores in town and in the meantime, other furniture dealers stopped buying Thomasville so they didn't have to compete—never a good solution. Drexel and Henredon had once been among the most prestigious names in furniture, but their glory days have long since passed and their volumes are believed to be a fraction of what they once were. So while $35 million might at first glance appear to be a steal, this is really just an investment in what could be…maybe.
Authentic appears to be a smart company, and it may well have a plan that will get these names back to their former heights. The company is known for a model that relies on others to do the heavy lifting in return for a royalty-based cut of the action; Authentic's partner in all of this is SB360 Capital Partners, an affiliate of Schottenstein Stores Corporation, a holding company known for its savvy knack for making money in retailing, with stakes in the likes of American Signature and Value City furniture stores, DSW and American Eagle Outfitters.
A lot of people have had their shot with these brands—and a lot of people have failed. Branding strategies that work in other consumer product categories, like apparel and fashion accessories, don't seem to transfer very well when it comes to furniture. Upon announcing the deal, Authentic said the purchase put it "firmly in the home furnishings business." It may wish it had stuck to shoes and sweatpants with "Juicy" across the butt.