In a to-be-finalized deal, Steelcase and West Elm will partner on workplace furniture to be made available via Steelcase's network of U.S. and Canadian dealers by the end of the year. It's the latest in a growing resimercial trend. The collaboration extends West Elm's relationship with Steelcase company Designtex, which sprung up in 2015. Designtex makes textiles and surface materials, as well as manufacturing and distributing West Elm fabrics.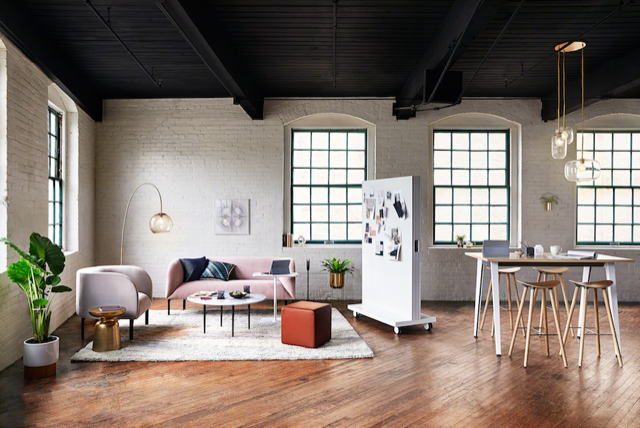 "Steelcase and West Elm share an ethos of improving the physical, cognitive and emotional well-being of people at work. Together, we will help organizations create inspiring, high-performance workplaces where people can be highly engaged and do their best work," said Allan Smith, vice president of global marketing for Steelcase.
Both partners will design, manufacture and distribute new workplace solutions that fit with West Elm's aesthetic. It's the right fit, they say, as the partnership will give "businesses easy access to a more expansive array of choices, through the industry-leading Steelcase dealer network and West Elm contract furnishing dealers."
West Elm has been offering contract-grade furnishings since 2015. Steelcase was founded 105 years ago and encompasses brands including Coalesse, Designtex, PolyVision, AMQ, and Turnstone; it distributes globally via its 800-plus Steelcase dealer locations.
"We are delighted to work with Steelcase to create spaces that enhance the total well-being of employees and support the varied needs of today's worker," said Cheryl Carpenter, vice president at West Elm. "We are connected to our consumer every day, and have a deep understanding of their preferences, from lifestyle to workstyle. Together with Steelcase, we will create customer experiences that leverage our differentiated residential design, shared commitment to world-class innovation, and Steelcase's industry-leading workplace expertise."
Steelcase is also partnering with Extremis on outdoor furniture; it will make available a collection of the brand's products throughout the U.S., Mexico and Canada starting later this summer. "Organizations understand that great employee experiences can be enhanced by bringing their people together in inspiring places. Outdoor spaces enhance well-being, support hospitality, and expand the workplace ecosystem for creative collaboration," Smith said of the collaboration. "This relationship will give our customers easy access to more outdoor furniture choices through our industry-leading dealer network."