If you haven't done the math, take our word for it: Residential plus commercial equals resimercial, or interior design for commercial spaces that embraces the qualities of the home. It's a trend that's poised to change the industry for designers and manufacturers alike, and one that will make its next appearance at NeoCon, over June 11 to 13 in Chicago.
Whether you credit hyper-chicly designed coworking spaces, the Pinterest-fueled expectations of MILLENNIALS, or residential interior design's own shining all-stars with fueling the demand for home-away-from-home design, the resimercial trend is one that's gaining increasing steam. NeoCon hosts 500 companies and 50,000 design pros this week, and we checked in with some of the attending experts for their take on the latest category of design.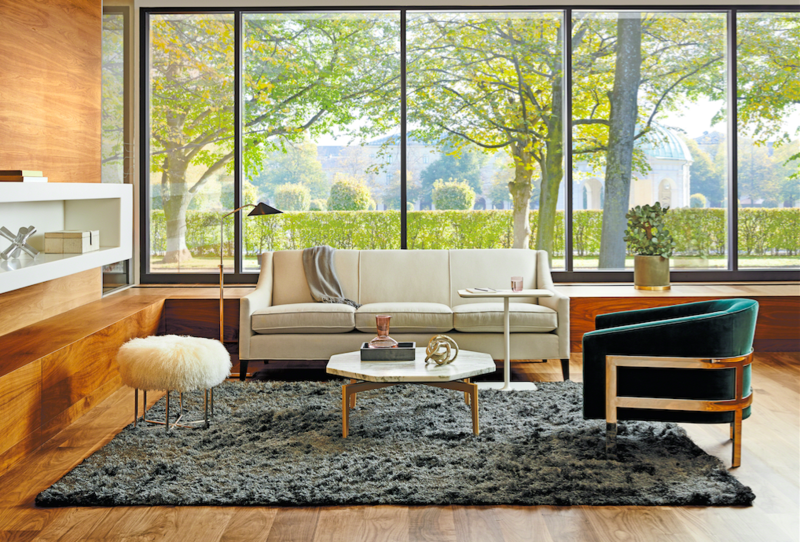 Is resimercial just athleisure, but for the interior design set? Don't be fooled by the low-slung, midcentury-mod sofas, the cozy workspace nooks, or the communal tables popping up in office kitchens near you—the trend doesn't seek to transform your office into a carbon copy of your house. Instead, it focuses on bringing abstract but no less important elements traditionally associated with the home—like comfort—into employees' work lives.
Byron Morton, vice president of leasing at NeoCon, shares his take: "It's not so much about bringing a residential flare to the workplace, it's about providing different types of spaces for different kinds of work. The showrooms and exhibitors at NeoCon are offering more seating for collaboration spaces as well as hospitality areas." To that end, he says, "More and more companies are offering ancillary products for the 'softer side' of the workplace." He attributes the onset of the trend to "the advent of the activity-based workplace"—the strategy that offers workers different settings like collaborative workspaces, shared desks, and private spaces as opposed to the designated desks, corner offices and cubicles of yesteryear.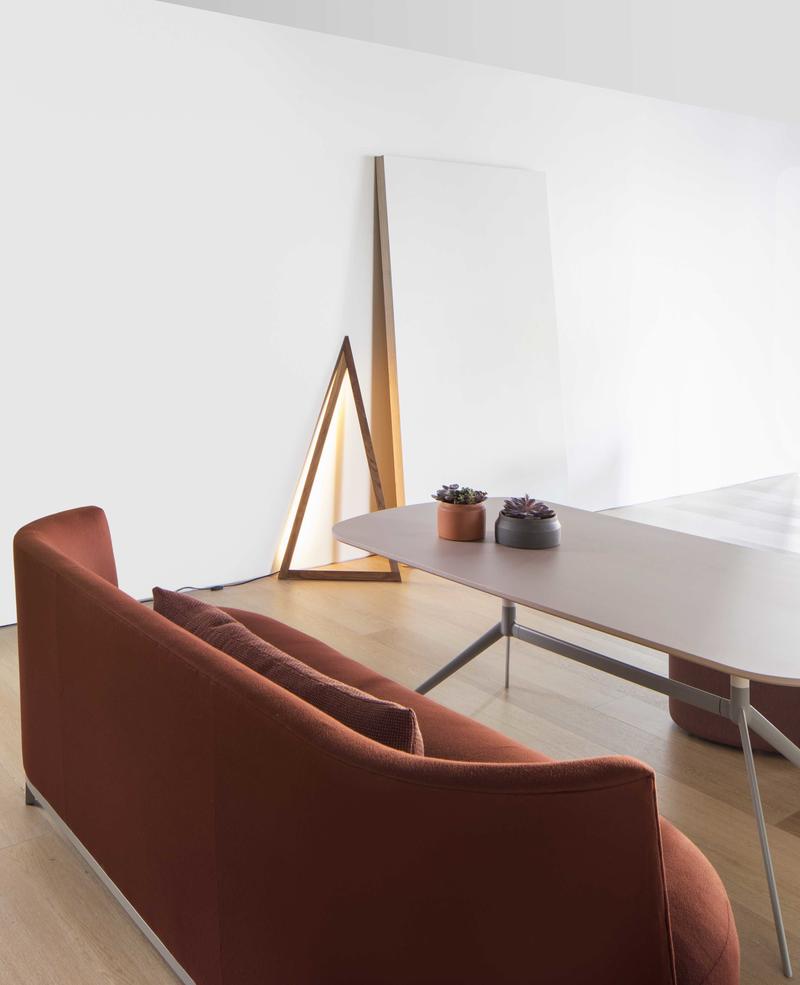 Creating a softer side within commercial projects can take many forms. In a recent design project for the Shirley Ryan AbilityLab in Chicago, Gensler principal and design director Anne Gibson was tasked with creating a Leadership Lounge, envisioned as a casual gathering space to welcome staff and visitors to the executive wing of the rehab hospital. In order to soften the space, Gibson says, "We used elements of domestic architecture alongside carefully curated art, accessories and furnishings to evoke a comfort level and familiarity and a peek into the unique personality of the organization and its leadership."
Design Mobility
Humanscale's director of industrial design, Mesve Vardar, affirms that commercial consumer demands are becoming more similar to traditionally residential consumer demands. It's a sign of a shifting work environment. "The demand for resimercial office spaces has two main drivers," Vardar says. "First, the rapid advance of mobile technology and the increased acceptance of remote working. Employees can choose where to work, and understandably prefer to work in more comfortable environments rather than the traditional office desk or cubicle." Changing workplace mores also play a role; companies are competing to hold on to top employees, and environment is a factor for many. "Second," she continues, "the shift toward task-based, collaborative working has led to companies designing offices to allow for different work modes: incorporating more soft seating, meeting pods, and touchdown areas. As a result, companies are now creating office spaces that employees want to be in, with a softer, more comfortable feel, in order to attract and retain the best talent."
But it's not just employee expectations that have shifted; the very way we work has changed in the last decade. Todd Bracher, founder of Todd Bracher Studio and strategic design adviser of HBF, suggests that calling resimercial a trend is a reductionist take on a much larger movement. "I am not a believer in 'residential' design as a trend, as I feel this is an oversimplification of what is, in fact, a shift in contemporary culture," he tells EAL. Over the last 10 years, particularly in the U.S., he says, "We have experienced a shift in work tools and platforms. The long-lasting laptop batteries, iPads, Bluetooth headsets, iPhones, etcetera—all such devices have triggered, and in some ways, were a response to [working remotely or flexibly]. We discovered quickly that traditional work furniture was no longer relevant in many cases to support this contemporary shift."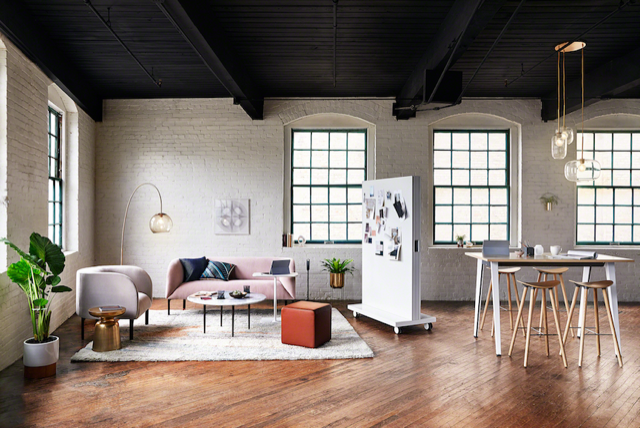 Partners in Design
In pursuit of the softness of residential design and the functionality of commercial, the trend is sparking some uncommon bonds. "From a leasing perspective, we're seeing companies develop more product for these spaces and forming partnerships with ancillary manufacturers who were not generally thought of as commercial," says Morton. "For example, Steelcase has partnered with Mitchell Gold and Extremis, and Haworth has acquired several companies, including Poltrona Frau and JANUS et Cie, as part of offering a full solution to the workplace." Earlier today, Steelcase announced that it will offer an array of West Elm furniture designed for the workplace via its U.S. and Canadian dealers by the end of this year.
Will resimercial be out in full force this week? Vardar says, "In line with the new trend, I expect to see commercial-grade soft lounge seating solutions, warmer colors and materials such as wood," citing Humanscale's Summa, the brand's first executive boardroom chair; the Nova light, the brand's latest addition to the its task lighting product line; and a height-adjustable tool, QuickStand Eco, that can be placed on top of existing work spaces to let workers sit or stand without needing a custom standing desk.
Achieving the balance of form and function in the new category is no easy feat, as Vardar points out: "With the trend toward resimercial interiors, the challenge is ensuring our products feel at home in softer, warmer environments while still providing the same high-performance functionality."