Design brands are making daring moves in the retail and showroom sphere this month. Between surrealist-inspired store openings and shops curated with social good in mind, December's openings boast a striking mix of exciting new spaces. In our monthly roundup, BOH has gathered all the expansions and openings to have on your radar.
SPOTLIGHT: RALPH LAUREN HOME REOPENS TO THE TRADE IN NEW YORK
Immersive experiences have long been a cornerstone of the Ralph Lauren brand—from the designer's own widely published homes to its network of restaurants in Chicago, Milan, New York and Paris. Now, after exiting New York's D&D Building in 2019, the company is putting down roots at the New York Design Center with a new showroom, which it is calling its To the Trade Gallery, that will house the classic American brand's most comprehensive collection of home products available in North America.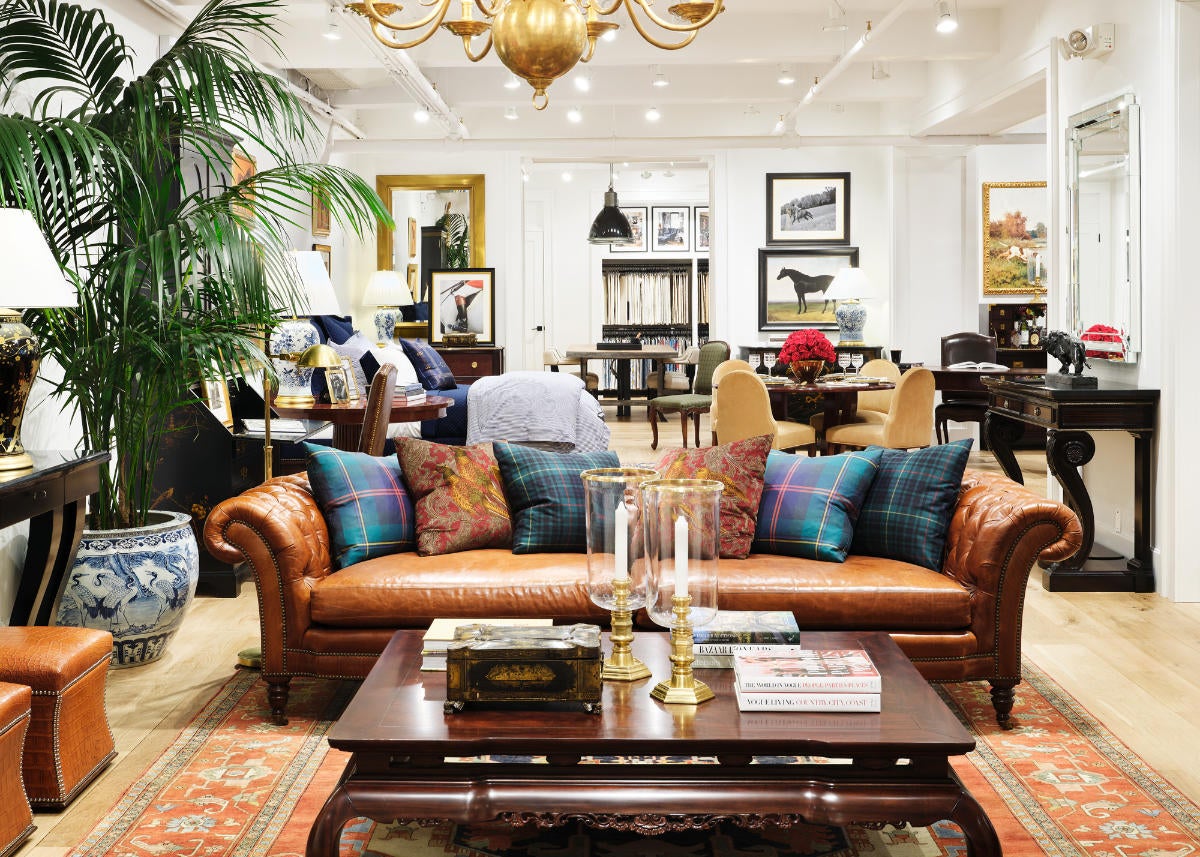 Courtesy of Ralph Lauren Home
The new showroom provides a survey of Ralph Lauren's extensive product suite—furnishings include the brand's 1930s art deco–inspired rosewood Duke bar and the Hudson Street lounge chair, both emblematic of the company's heritage; a curated assortment of fabric by the yard, featuring a distinctive array of tartans and wool plaids mixed with florals and damasks; and lighting in a range of styles and materials, including saddle-leather-wrapped brass, nodding to an equestrian aesthetic, and custom hand-cut chandeliers echoing the glamour of old Hollywood. Additionally, designers can take advantage of a made-to-order program, which offers custom seating in five of the brand's classic sofas, along with hand-dyed alligator skin upholstery available in an array of hues and finishes.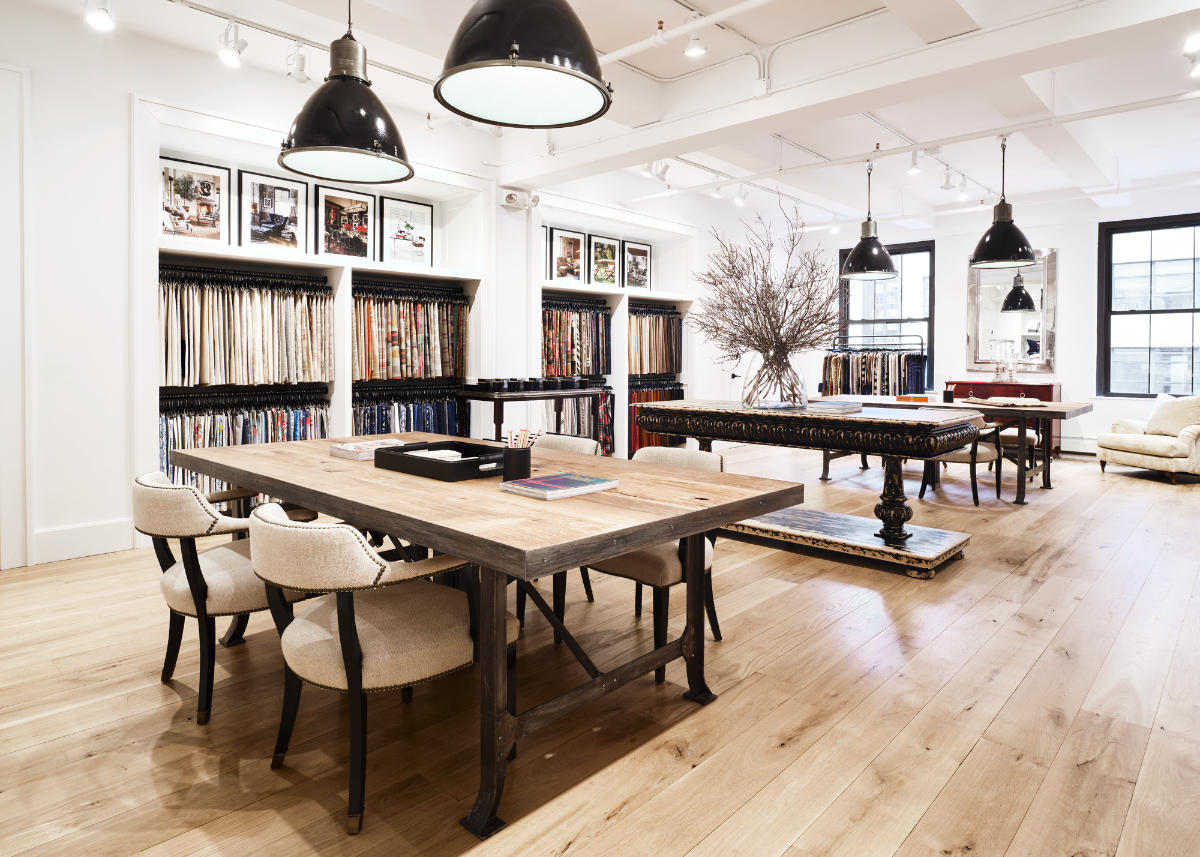 Courtesy of Ralph Lauren Home
Set in a light-filled 7,500-square-foot gallery, the showroom has been curated with the needs of design professionals in mind, with workspace set aside for client meetings. The brand is also in the process of rolling out a series of tech features that will fully debut in early 2022. The new digital capabilities will include interactive displays showcasing shoppable imagery to highlight the company's selection beyond the showroom floor, in addition to existing features like lighting displays that signal inventory levels and an interactive virtual gallery accessible through the retailer's site. In pulling out all the stops with tech and product alike, Ralph Lauren is clearly looking to make a splash in its new home.
California
Spatial designer Adi Goodrich of Sing-Sing Studio and entrepreneur Monica Navarro of Individual Medley, Wine + Eggs and Wine & Rock Shop have collaborated to open Dreams, a home and gift store located in the Atwater Village neighborhood of Los Angeles. The space offers locally made apparel, children's goods, apothecary, books and homewares displayed within a surrealist interior designed to evoke imagery from daydreams. The design elements include a mosaic-tiled archway, a large blue rock guiding shoppers to the back of the space, and a custom illuminated sky ceiling of printed plexiglass.
In the Los Angeles Arts District, Kvadrat has debuted its new flagship showroom, marking the high-end textile brand's second U.S. outpost. Designed by Ronan and Erwan Bouroullec, the location houses upholstery textiles, curtains and rugs from Kvadrat's brands in a gallery space. Behind these product offerings stands a two-story wood structure providing room for work zones on its top level and meeting rooms on its ground floor.
British furniture and interiors company Timothy Oulton has debuted its first Noble Souls gallery in the U.S., expanding the reach of a studio concept the brand has already launched in its existing London galleries. The new 1,400-square-foot space in the Malibu Country Mart highlights the brand's Noble Souls sofa collection (produced entirely with vegetable-dyed upholstery) and Gentle Shepherd range of sheepskin furniture pieces, alongside a select range of furniture and lighting made from such materials as reclaimed timber, salvaged materials and handblown glass.
Florida
In Miramar Beach, furniture and lifestyle brand Arhaus has opened its newest studio concept store. The 3,704-square-foot Arhaus Studio marks the third location of its kind to open nationwide, and provides both homeowners and design professionals with concierge-style design services and customization capabilities through technology such as 3D room-planning software and touch screen monitors, along with on-site design consultants.
RH has announced the opening of its newest store concept, The Gallery at St. Johns Town Center in Jacksonville. In addition to product offerings, the 70,000-square-foot space houses a rooftop restaurant and park, a wine bar, gardens and terraces displaying the brand's outdoor furnishings, and an in-house interior design firm and atelier providing professional design services.
Georgia
In AmericasMart Atlanta, a number of home decor brands have recently announced new and expanded showrooms. Companies who are making their debut with new spaces include the Auskin Sheepskin Company, Brayden & Brooks, Cloud 9 Design, Couture Lamps Inc., Meissenburg Designs and TWS Italian Paintings.
Maryland
Room & Board has opened a new store in Bethesda, debuting a 3,900-square-foot space to complement its flagship showroom in nearby Washington, D.C. Located at 7236 Woodmont Avenue, the new store offers the brand's indoor and outdoor home and office furnishings along with complimentary design services, and finds a spot along Bethesda Row amid neighboring coffee shops, restaurants and retail stores.
Nevada
Hooker Furnishings has moved into its first permanent showroom outside of High Point, establishing a new outpost in an 8,500-square-foot space in the Las Vegas's World Market Center. In contrast to the company's more traditional original showroom, the new space places a greater emphasis on how products can be combined and styled in a home or interior design project, with products showcased from the Hooker Furniture, Sam Moore, Bradington-Young and MARQ brands.
New Jersey
Arhaus has opened its latest New Jersey showroom within The Mall at Short Hills, where the brand has unveiled an 11,900-square-foot space. Inside, the brand has displayed its newest collections along with offering complimentary design services and on-site consultants to allow for a customized approach to its products.
New York
The first stateside Soho Home Studio—an offshoot of the Soho House members-only social club—has been unveiled in a warehouse building in Manhattan's Meatpacking District, where collections from the company's interiors brand are displayed alongside products created by its members around the world. The initial lineup of designers and artists featured in the space includes Brooklyn-based floral designer Jenn Huynh's Future Flowers, along with quality produce provider Alimentari Flâneur, founded by Daniel Emilio Soares. Open to members and non-members alike, the retail space will also offer interior design consultation services and eventually host events, workshops and talks.
Designer and entrepreneur Ben Soleimani has unveiled a new flagship luxury home furnishing showroom in Midtown East. The 12,000-square-foot storefront spans three floors at 601 Madison Avenue, where Soleimani's collection of antique rugs, handknotted contemporary rugs, furnishing, lighting, textiles and decor are displayed. Complimentary interior design consultants will be available on site to assist customers, while a bespoke design atelier will provide the same services to trade clientele.
Poggenpohl has debuted a new 5,000-square-foot showroom in SoHo. Located within a historic 100-year-old building, the two-story retail space features Corinthian-style columns amid a loftlike open floor plan, where the brand's product displays are housed alongside features such as a working kitchen island designated for live cooking demos.
Tennessee
Artisan home goods brand Reed Smythe & Co. has opened a brick-and-mortar version of its online shop, debuting its new space in Nashville's LeQuire art gallery. Inside, the store offers handblown glassware, handturned wooden bowls and cutting boards, wheel-thrown lamps and mochaware bowls made by a potter in the Ozark Mountains. The space itself is decorated with large-scale photographs by Nashville-based fine art photographer Jack Spencer, prints by William Dunlap, and work by other Southern artists.
Texas
At Dallas Market Center, several brands are making their debut in the space with new showrooms, including Crestview Home, Elite Accessories Ltd., The French Bee, Hester & Cook, Kendrick Home, Modern Burlap, Novart, Young's Inc., Daria Rugs and Antiques, and Pacific Trading. And a group of showrooms are expanding their existing spaces, among them Avenue Lighting, Classic Home, Cliff Price & Co., K&K Interiors, De Leon Collections, Fortune Silks, Gabby, Olivia Riegel, PA Home and Porch View.
Washington
Perennials and Sutherland has debuted a new studio in the Seattle Design Center, moving into a space formerly occupied by the Susan Mills showroom. Susan Mills operated the space for more than 20 years, representing Perennials Fabrics and Rugs and Sutherland Furniture collections before recently deciding to step back from her business. The new studio will continue to highlight the brand's products, while maintaining the staff and showroom space built by Mills.
Washington, D.C.
Washington, D.C.–based interior design studio Sanabria & Co., led by designer Melissa Sanabria, has opened a home decor and furnishings storefront in the city's Capitol Hill neighborhood, offering items like candles, throw pillows, home fragrances and vintage rugs. Curated by Sanabria herself, the space represents a majority of brands the designer has designated as "Partners with Purpose," each representing a small business that's either eco-friendly, cruelty-free, naturally sourced or women-owned or features charitable components. The cohort includes Jaipur Living, Fair + Simple, Second Story Honey, and more.
International
The MoMA Design Store has opened its first European shop-in-shop in Berlin, the retailer's newest international location, which joins outposts in Japan and Hong Kong. Located in the high-end KaDeWe department store, the new 900-square-foot space features a selection of the museum store's design objects, tech, home decor, apparel and accessories, housed in a space designed by local architecture and design firm Aletja.
Following the appointment of new artistic director Alberto Torsello, Fortuny has announced the completion of a full renovation of its flagship showroom in Venice—a project led by Torsello, who is a trained architect with a specialty in historic preservation. Located in a former convent overlooking the Giudecca Canal, the showroom's building was converted into a textile factory in 1922 by Spanish fashion designer Mariano Fortuny y Madrazo, and has remained active through the years. Under the new artistic director's vision, the space is broken up into three thematic sections—the entrance, the "house of memory" and the theater. The entrance is dedicated to representing Fortuny's production, research and invention practices; the house of memory displays an array of vintage and current fabric samples; and the theater has fabric rollers installed on the ceiling to allow for the lowering of textiles from above, as if they were a theater curtain or backdrop.
Homepage image: Inside Ralph Lauren Home's new showroom in the New York Design Center | Courtesy of Ralph Lauren Home