A fascination with organic forms, fungus-based materials and sustainable production
techniques has inspired a whole new world of design. From biomorphic lounge chairs to sconces made from mushrooms, it's time to get inspired by nature in all its splendor.
It isn't surprising that, after a year of hunkering down at home, we're eager to find fresh ways of incorporating the great outdoors into our spaces. While eco-friendly materials and products have been trending for quite some time, a new organically minded process is currently blossoming: biodesign.
As a burgeoning category, biodesign (or bioinformed design) is as loose and amorphous as its inspiration. According to lighting designer Danielle Trofe, it is best described as a catchall term for various styles that borrow aesthetic inspiration and production techniques from the natural world. Several of these—including biophilia, biomimicry and biomorphism—hold particular appeal to interior design enthusiasts.
The first, biophilia, is an architectural movement that seeks to incorporate aspects of nature, including plants, sunlight and sustainable materials, into designs. This can be achieved by simple means, such as integrating multiple exposures into architectural schemes to maximize natural light and views—or, to take the 12,000-foot Bank of America Tower in Manhattan as a grand example, by employing largely recycled and recyclable materials, indoor gardens, and a greywater system that captures rainwater for reuse. "People feel good when they feel connected to nature," says Rick Cook, a founding partner of CookFox, the architecture firm responsible for the state-of-the-art skyscraper. "We believe that there are very real benefits to biophilic design, including improved cognitive function, reduced stress and enhanced creativity."
On a much smaller scale, biomimicry imitates systems in nature to create truly sustainable designs. A few buzzworthy examples come from fashion, including the soon-to-be-released Victoria bag from Hermès, composed of a leathery bio-fabric grown from mushrooms, and Stella McCartney's new line of fungus-based garments; in the home sphere, Trofe's sophisticated selection of bio-fabricated lighting, MushLume, can be torn up and composted after one tires of it. "Biomimicry involves looking at nature's forms, processes and ecosystems, and emulating these deep patterns and principles to create well-adapted human design solutions," explains Trofe, who teaches courses on biodesign and biomimicry at the Pratt Institute and the Parsons School of Design.
Perhaps the most prevalent in the design sphere is biomorphism—the modeling of artistic elements on naturally occurring motifs or shapes found in nature. Biomorphic designs range from furnishings with fluid, organic forms (such as sculptor Isamu Noguchi's iconic cloudlike Freeform sofa) to decorative objects designed to emulate, say, a flower or tree.
In an environmentalist's dream, we'd all live in homes furnished with sustainably produced, compostable pieces. Until then, Trofe believes that biodesign provides an opportunity for architects, designers and shoppers to appreciate, prioritize and, in some cases, preserve the natural environment. "Biophilia, biomimicry, biomorphism and all the other 'bio-whats' often have fluid definitions, determined by industry or region," she explains. "At this moment in time, it serves as a hub so that these terms don't exclude newcomers or the ability to cross-pollinate between more traditionally defined fields."
At best, biodesign can help minimize waste, reduce consumption of nonrenewable resources, and create healthy, productive indoor environments. At the very least, it offers a comforting balm, providing urban dwellers with a dash of nature to admire while they're indoors.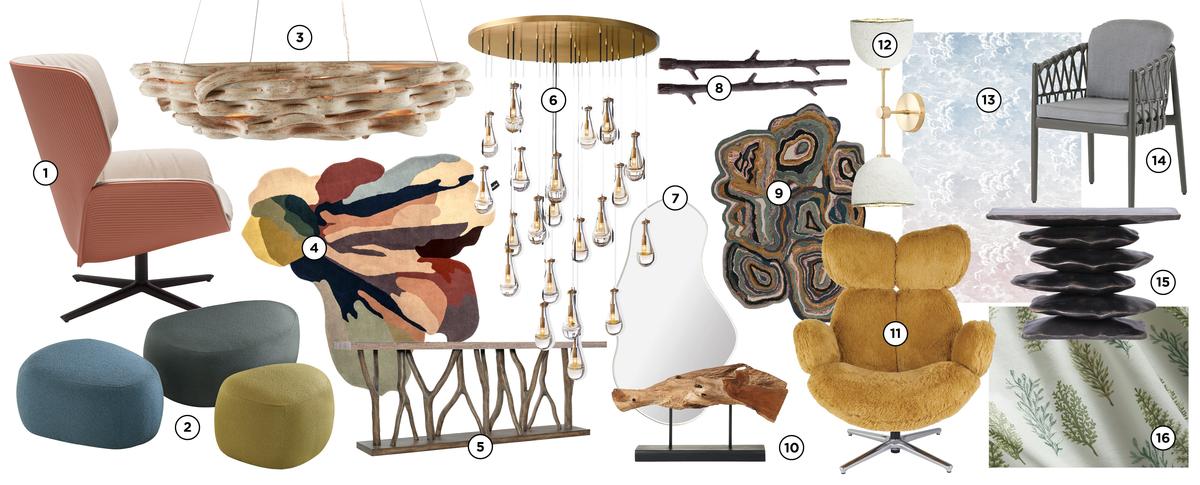 1. Not only is the Nuez Lounge Bio chair by Andreu World constructed of biodegradable and compostable thermoplastic, but it's designed to break down into easy-to-recycle pieces for the next stage of its life.
2. Inspired by the shapes and colors of river rocks, Room and Board's Asher ottomans can serve as footrests, side tables or extra seating.
3. Made with natural vines, the Atoll chandelier by Currey & Company hangs from thin aircraft cables that make it appear to float like a cloud.
4. Designed by Barcelona-based artist Santi Moix, the Flora Bloom 1 rug at Nanimarquina takes the form of a wilted flower. "Biomorphism is very present in my work," says Moix. "It allows my designs to convey how one shape can naturally transform into another."
5. Hooker Furniture's Sundance console boasts a driftwood-inspired base built to resemble dreamy tree branches.
6. Designer Alison Berger crafted the Rain Round chandelier for RH with a series of handblown glass drops that cast rhythmic ripples across the wall. Natural Wonder A fascination with organic forms, fungus-based materials and sustainable production techniques has inspired a whole new world of design. From biomorphic lounge chairs to sconces made from mushrooms, it's time to get inspired by nature in all its splendor. 
7. The fluid outline of Ferm Living's Pond mirror makes you feel like you're gazing into smooth waters.
8. Hand-cast from foraged twigs, the Maple Stick candles by Stick Candles and sold at Reed Smythe & Company are composed of slow-melting beeswax—alluring on the table, and almost too pretty to burn.
9. Hand-tufted from pure wool in India, Surya's Gypsy rug features concentric earth-toned bands that evoke swirling agate stones.
10. The Driftwood sculpture from Mitchell Gold + Bob Williams elevates a simple piece of teak into a natural work of art.
11. Designed by visionary Eugeni Quitllet, the Pulp armchair from Roche Bobois features a pivoting cast-aluminum base and a shapely seat inspired by organic forms. "For me, the biomorphic shapes in design are the shortest way to arrive at the beauty of a piece," says Quitllet.
12. The shades of the MushLume Double sconce by Danielle Trofe are made from some truly magic mushrooms—the lamps are grown for several days in custom molds, which allows them to be broken up into smaller pieces and composted when no longer needed.
13. An updated version of Fornasetti's famous cloud-etched print, Cole & Son's Nuvole al Tramonto wallpaper comes in two atmospheric ombrés, Dusk (shown here) and Dawn, inspired by the ever-changing colors of the sky.
14. You'll want to be caught in the spider's web of Ratana's weather-resistant Lamego dining armchair. Its knotted lines offer a bonus: serious ergonomic appeal.
15. The asymmetrical silhouette of the Zuri console by Made Goods emulates the undulating shapes of staggered canyon rocks.
16. To give her landscape-inspired Woodlands window treatment for Hunter Douglas more depth, textile designer Seema Krish used multiple tones of the same green hue and embellished the pattern with embroidery for a layered effect.
Homepage image: A MushLume lighting installation inside 1 Hotel Brooklyn Bridge | Courtesy of Danielle Trofe