An Australian lighting designer, Christopher Boots, is suing both RH and British furniture maker Timothy Oulton for allegedly copying his signature pieces. The twist? According to the lawsuit, executives from both companies first reached out to Boots exploring a collaboration. He declined. Months later, the designer saw close approximations of his work appear in an RH catalog—with Oulton's name on them.
According to the complaint, filed in federal court last week, the path to legal action was full of twists and turns.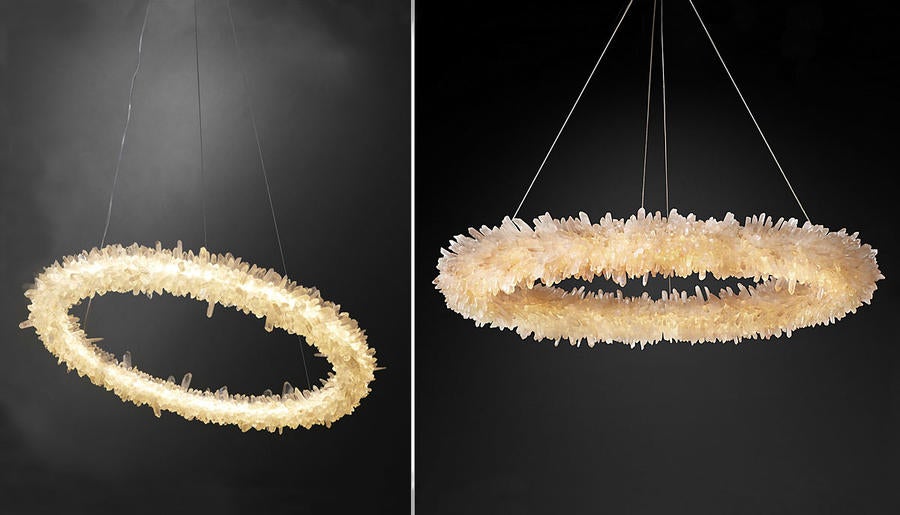 Courtesy of Erikson Law Group
Boots, a Melbourne-based lighting designer, founded his eponymous studio in 2011. His work melds a minimalist aesthetic with flair borrowed from the natural world—his creations frequently feature simple shapes adorned with artfully arranged clusters of quartz crystals. In 2014, his career received an injection of rocket fuel when he was invited by Hermès to display his pieces in the windows of the French fashion house's Madison Avenue flagship in New York. The feature increased his profile and Boots began appearing regularly in shelter magazines and luxury publications.
According to Boots, executives from RH began reaching out in 2016—first in person at ICFF, then via phone and email—to explore the possibility of selling his work in the U.S. or collaborating on exclusive designs. Such a partnership could be lucrative for an artisan maker—the lawsuit includes an excerpt from an email sent by an RH executive suggesting that another small lighting company was doing $12 million in business a year with Restoration Hardware.
Boots declined the company's overtures, arguing that his brand would be damaged by the association with RH. In January 2017, he says he received an email from an executive at Oulton's company, Halo Creative & Design, about a potential partnership. (Oulton and Halo produce collections through RH.) Boots says he didn't respond. From his perspective, the matter was closed.
It wasn't. According to Boots's lawsuit, later in 2017, RH began advertising two new lighting fixtures they called the Geode Quartz Crystal collection. The pieces, featuring quartz crystals arrayed in a jagged fashion, were nearly identical to ones Boots had debuted years before—the Diamond Ring chandelier and the Sugar Bomb pendant lamp. In RH's catalog, the quartz pieces were displayed alongside a photo of Oulton.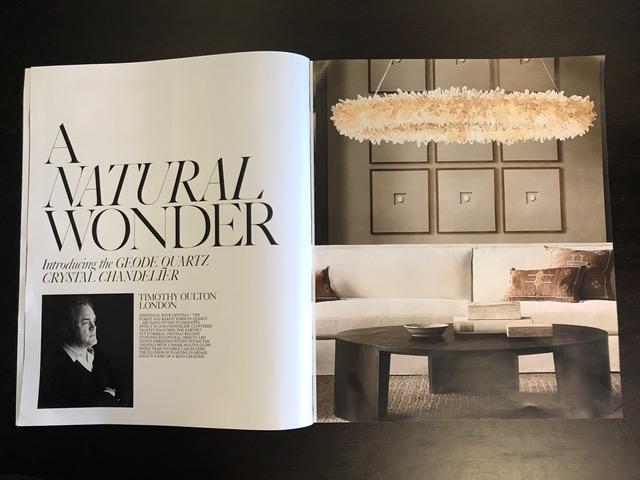 Courtesy of Erikson Law Group
In March of 2018, Boots sent a cease-and-desist letter to RH. According to his lawsuit, the company had pulled the offending pieces from its stores, website and catalog a month later. However, Boots alleges that RH continued to sell the pieces through discount stores and its in-house interior design service.
Through his own stores and website, Oulton was also selling the alleged knockoffs, rebranded as the Elysium Collection. According to the lawsuit, he went one step further and iterated on the designs, turning the quartz-embedded chandelier into a mirror. Boots also alleges that Oulton copied one of his sculptural pieces, Prometheus IV, and turned it into the Inception Rock Crystal mirror.
In response to the alleged copycatting, Boots sent Oulton's company a cease-and-desist letter in May of 2018. The response was a note from Halo's lawyers pushing back on Boots's claim to the intellectual property underpinning the designs. Oulton did not pull the designs offline, and continues to sell them to this day. As of last week, an Elysium pendant was on display in his showroom in the New York Design Center.
Boots's lawyers finally filed a lawsuit in August of 2019 against both Oulton and RH, alleging copyright infringement and unfair competition. According to documents filed with the case, Boots is arguing that RH and Oulton's lower-priced lookalikes have created confusion in the market, tarnishing his brand. In an email interview with Business of Home, Boots said "sales of the copied pieces has grown slower than they otherwise would have. In fact, sales of the pieces through dealers—who are most likely to be
influenced by the tarnishing of the brand's and pieces' exclusivity—decreased."

He's seeking unspecified damages, and asking that both companies recall and destroy the offending fixtures.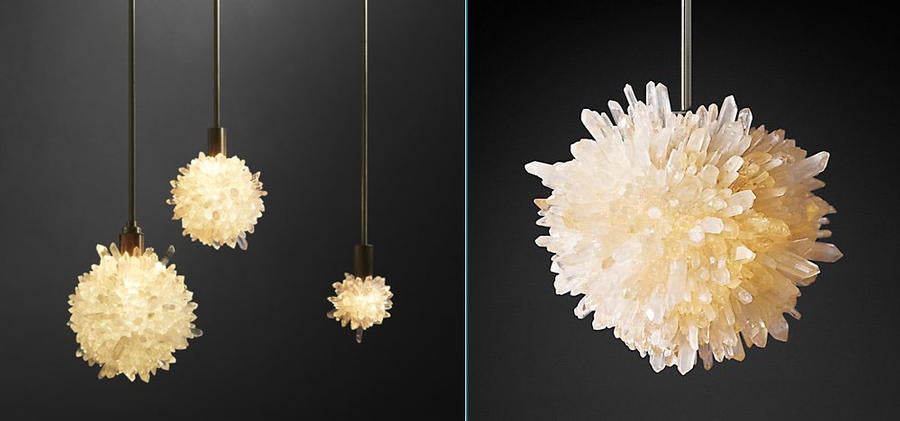 Courtesy of Erikson Law Group
Business of Home sent a copy of the lawsuit to both defendants. RH declined to comment for this story. Through a representative, Oulton released the following statement:
"Halo and Timothy Oulton carefully respect the valid intellectual property rights of third parties, and will vigorously defend themselves against any accusations claiming otherwise. We will happily talk about this matter, but won't be able to comment further until we are formally served with a copy of the complaint."
+ + +
This isn't the first time that RH has been sued over intellectual property. In 2012, Emeco, makers of the once-utilitarian, now-chic Navy Chair, sued Restoration Hardware over a reproduction of their signature piece. RH's version was called the Naval Chair, and was nearly identical in design. One key difference? It sold for $129, as opposed to Emeco's original, which at the time was sold for $455 (the price includes a lifetime guarantee).
The case settled in 2013 for an undisclosed amount—as part of the settlement, RH agreed to stop producing its copycat chair. A similar but less-publicized lawsuit brought by Fritz Hansen in 2013 saw a similar result: RH was producing lookalikes of the Danish company's iconic Arne Jacobsen–designed egg and ant chair. A settlement was reached and the case was dismissed.
Boots's lawsuit is a little different, in that the victim of the alleged copycatting isn't a long-dead icon, but an artisan who is very much alive. That distinction reflects the shift RH has made over the past five years. As part of a broader strategy to push the brand into a higher tier of the market, CEO Gary Friedman has weeded out affordable approximations of classic pieces in favor of original collections by industry stars. The company has been dogged in its pursuit of marquee names, and has the roster to show for it. Kerry Joyce, Clodagh, Vicente Wolf, Jonathan Browning, Ben Soleimani and dozens of other luminaries have all worked with RH over the past five years.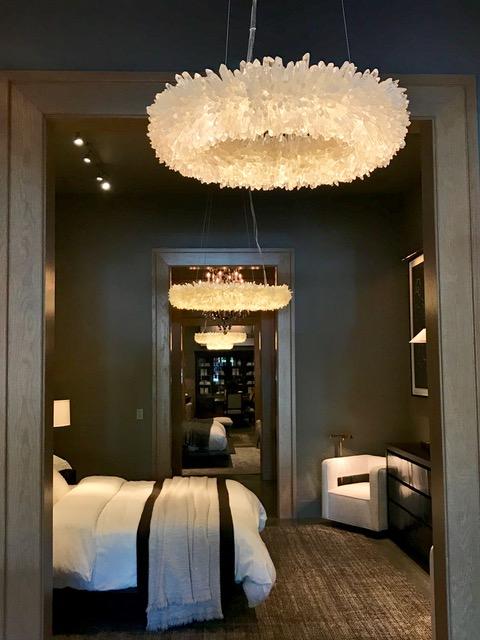 Courtesy of Erikson Law Group
The approach has helped RH climb into a higher tier of the market, commanding steeper prices for its collections and erasing some of the down-market stigma that lingered from its past. However, it has added a new wrinkle: working with outsiders.
As part of an article on RH's artisan program that was never published, Business of Home spoke with several of the company's partners late last year. Many described a similar courtship process to the one outlined in Boots's lawsuit. Like Boots, some of the more established artisans initially balked at the offer, worried about devaluing their hard-won high-end brands. However, RH was persistent, and won over even the more stubborn holdouts.
The makers Business of Home spoke with were consistently impressed by the care RH had demonstrated in producing their collections—sometimes taking an extra year to develop a piece to the artisan's standards. Though the association with RH would sometimes carry negative consequences—for example, being dropped by a showroom—most artisans described the arrangement as ultimately a lucrative and rewarding sideline.
Across the board, the RH artisans we interviewed spoke of their arrangement in glowing terms. However, they had all said yes to the partnership. Boots said no.
+ + +
Though the similarities between Boots's pieces and alleged knockoffs are clear, the legal picture is murky. Copyright of furniture design is already difficult to establish. Works that imitate nature or are made with naturally occurring materials—like Boots's lights, studded with quartz crystals—face a higher bar than creations that are arbitrary and fanciful.
Further complicating Boots's case, the U.S. copyright office rejected his registration for both the Diamond Ring and Sugar Bomb lights (it did grant full copyright protection to Prometheus IV). Though an unregistered copyright can still be defended in court, the burden of proof is higher, and there are strict limits to the damages that can be claimed. And that's only if a judge doesn't simply trust that the copyright office got it right the first time and toss the accusation aside.
Boots's other central assertion, that RH and Oulton copied his "trade dress," is similarly complex. Trade dress protections are designed to prevent competitors from knocking off the packaging and branding that surrounds a copyrightable work—it's why, even if you make a completely original soda, you can't sell it in a bottle that looks like Coke's. However, like copyright, the ownership of trade dress is difficult to establish and conclusively prove in court.
A number of experts on copyright law told BOH that Boots faced a challenging road ahead. If the case makes it to trial, it could end up costing both Boots and RH hundreds of thousands of dollars—if not millions—in legal fees and trial expenses. Such barriers help explain why smaller makers rarely pursue legal action against large brands—and if they do, they frequently settle.
+ + +
In the court of public opinion, Boots might find a warmer reception. Over the past few years, RH has enjoyed a period of growth. It posted over $2.5 billion in revenue in 2018, its stock price has climbed to all-time highs, and the company has opened high-profile locations in New York and Napa. Though some designers may still turn their noses up, many privately admit they shop RH and that the company has been successful at elevating its brand. A public lawsuit with David-and-Goliath appeal could drag the company's name through the mud during an otherwise rosy period and risk scaring off other potential artisan collaborators.
As a smaller company, with a different legal exposure to the lawsuit, Timothy Oulton
and Halo face a slightly different picture—but the same principle applies. As a brand that does business in the high-end design trade, selling a relatively small number of luxury items for a high price, reputation is paramount. Both Oulton and RH may feel pressure to settle Boots's lawsuit, even if they feel it's unfounded or that they can beat it in court.
Though Boots faces opponents with big names and deep pockets, he seems determined to push the case forward, and hopes it will send a message to the industry. "We are very interested in standing up for design integrity and the rights of artisans to not be bullied and copied by the likes of RH and Halo," says Boots.
Though Oulton's statement and RH's silence don't shed much light on their side of the story, it will be telling to see how the brands respond to Boots's suit. Watch this space for more reporting as the legal saga unfolds.