Heading into last week's earning's announcement, RH shareholders had every reason to be nervous. Last quarter, the company lowered its profit and revenue guidance, attributing declining sales to stock market volatility and a slowdown in the turnover of high-end homes, and RH shares had lost nearly 40 percent of their value in the past three months.
Many traders on Wall Street were preparing for more bad news to come. But after the markets closed on Wednesday and RH reported stronger than expected results, its shares jumped by over 20 percent in after-hours trading.
Earnings of $1.85 per share for the quarter were well ahead of analyst estimates of $1.55 and up over 50 percent versus last year. Revenue saw a 7.4 percent jump, coming in at $598 million for the past three months ending in May. On the back of its strong quarter, the company raised its revenue and earnings outlook for the remainder of the year; it now says that earnings could come in as high as $9.27 a share on revenue of nearly $2.7 billion.
While clearly enthusiastic about the strong results, it was a somewhat frustrated Gary Friedman, RH chairman and CEO, who led the earnings call with analysts. Friedman spoke of his growing impatience in having to deal with what he referred to as "low-level" questions from Wall Street and others about issues that he sees as mere distractions from the business he is trying to build. He compared some of the recent inquiries surrounding tariffs and other temporary market forces as focusing on merely moving little rocks around a table rather than trying to move the big rock that will meaningfully alter the future of the company. Friedman said that he didn't want to keep talking about all these "little rock" issues "because I'm sensitive to you guys distracting my team, honestly, and we want to lead this organization to greatness, not get lost in the noise like most people do."
What the CEO was eager to talk about was RH's global expansion. He and nine others from his team are soon going to be taking off on a 10-city European tour to finalize real estate deals. He went so far as to say that deals were just about to be finalized in two major cities, before members of his team could be heard cutting him off. "I am being waved off," he joked. "They know I can get over-excited and become an oversharer, so let's just say we are seeing 10 locations in Europe and a couple we feel very strongly about."
He went on to say that they are also looking at locations in South America and Australia, and are very actively engaged with people that want to partner with the company in China and the Middle East. "We're just trying to go through how much control do we want to have versus how much speed and other people's capital do we want to use," he said. He wrapped up the discussion by saying he anticipates a very productive trip.
RH Interior Design is another area of the business that really gets Friedman excited to the point of almost saying too much. "We are really focused on it and probably in the not-too-distant future, we'll have something really meaningful to announce here," he said. He also referred to his desire to create a services platform that could incorporate interior design, architecture and landscape design under one roof: "It is a huge opportunity and one of our big value-driving strategies, starting with interior design, and long term a whole integrated portfolio of services that becomes part of our ecosystem and amplifies the RH brand."
But as the interior design side of the business develops, Friedman intends to be less forthcoming. "I don't want anybody to know what we're doing here," he replied when asked for an update on the percentage of sales being driven by the company's design services. "I've already gotten too excited and gave you too much right there. The only reason I just told you what we can do is I don't think anybody else has a chance of actually trying to pull off what we're going to pull off, but I don't want to start giving out the metrics, because it will just be too important to other competitors."
The company's global expansion and the opportunity to capitalize on an in-house interior design firm are two perfectly good reasons to see a bright future ahead for RH. It's only when I look at the balance sheet and see that the company spent $250 million of borrowed money to buy back its own stock last quarter that something doesn't feel right. When the financial statement tells me that the increased interest payments necessary to cover all the debt the company is accumulating is going to be somehow offset by a reduction in the number of shares outstanding, then it all begins to sound more like financial engineering than growing a global luxury goods brand.
____________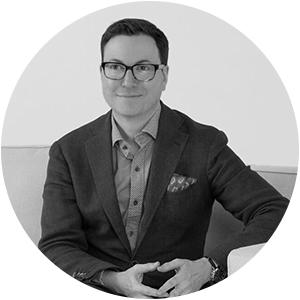 Dennis Scully is the host of the weekly BOH podcast, where he explores the changes and challenges facing the interior design community through interviews with industry thought leaders, entrepreneurs and creatives. He is also the vice president of sales and marketing at luxury textiles company Castel. Scully was previously a business development consultant for major trade brands, and has held sales and marketing roles at Domino, Waterworks and Twill Textiles. In his Market Watch columns, Scully calls upon his background as an analyst and longtime securities trader as he explores the ins and outs of the home industry's publicly traded businesses.
Disclaimer: The author does not hold shares of the companies featured in this column at the time of the story's publication. The views, thoughts and opinions expressed here belong solely to the author, and do not necessarily reflect those of BOH. The material is for informational purposes only, and does not constitute any form of financial advice.
Homepage photo: RH Nashville, the Gallery at Green Hills