The latest debuts on display at High Point Market abounded with lush shapes and bold patterns. Say hello to the new era of decadence. 
Abundance is back—and that's no surprise. Design trends tend to take a dramatic turn following periods of hardship. (Think: the post–World War I art deco movement and Christian Dior's haute couture "New Look" at the close of WWII.) This June's High Point Market showings proved no exception, brimming with an array of opulent motifs, sumptuous forms and rich materials. After a year of being tucked away at home, isn't it time for a touch of indulgence?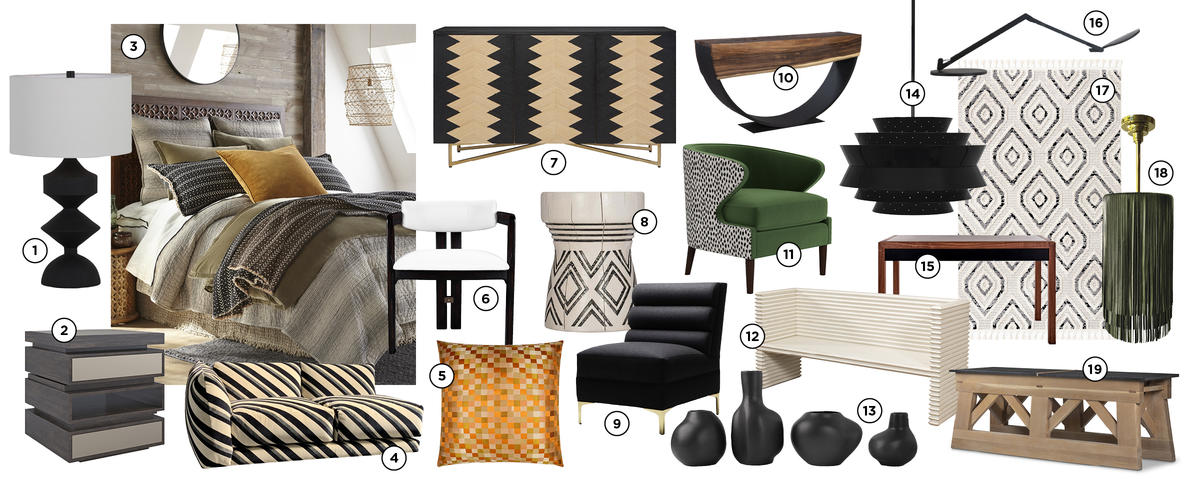 1. The Maddox table lamp, a striking plaster-finished creation by Gabby, is as much a work of sculpture as utility. Use it to light your way, or simply gaze at it in admiration. Geometry has never been so easy to understand.
2. Has Brutalism ever looked this tender? The stacked modernist La Moda end tables by Caracole will bring depth and dimension to any design scheme.
3. Amity Home's Hugh quilt and shams in linen, and Getz coverlet and body pillow in cotton, offer that rarest of treats: machine-washable luxury.
4. The voluptuous shape and eye-catching fabrics of Nathan Anthony's Jaime one-armed sofa, created with Design Milk founder Jaime Derringer, are sure to make any maximalist's heart sing. (Solid textiles are available for those who crave the drama in a subtler key.) 
5. D.V. KAP Home's Cubit throw pillow in lustrous silk jacquard is woven with metallic threads for an alluring deco sheen.
6. Evoking 1950s French style, the curved silhouette of the wooden Lille chair from Alfonso Marina combines period appeal with enduring timelessness.
7. Inspired by the graphic, zigzagging shapes and contrasting colors of classic French parquet, the Arrow credenza—one of Jamie Beckwith's new creations for Currey & Company—offers an audacious spin on a traditional chevron motif.
8. Crafted out of cast resin to create the illusion of organically aged patina, the Carved Stump side table from Hooker Furniture features a hand-painted geometric print that enlivens its streamlined form.
9. Precise lines and plush tufting strike the perfect balance in the Piero chair from James by Jimmy DeLaurentis, ideal for the office, entryway or living room.
10. The cool arched metal base of The Phillips Collection's Arc console allows the golden acacia wood tabletop to shine.
11. The barrel back of Universal Furniture's Smith chair supplies a shapely silhouette and plenty of support—and comes in a plethora of custom upholstery options, too.
12. The striations of Sarreid Ltd.'s Stacked bench, constructed from reclaimed pine, are buzzing with good vibrations.
13. The fluid, free-form shapes of Haand's Ripple vases flow like running water—perfect for adding a little organic rhythm to your tablescape.
14. You'll fall hard for the bold shape of this jagged gem by Robert Abbey—and how the Pierce pendant's perforated metal surface allows pinpoints of light to shine through for an ethereal effect.
15. This is not your grandfather's writing table. Sleek crafted walnut and black belting leather make Skylar Morgan's Scribe desk a modern take on the old-school classic.
16. With flexible arms that expand and contract for various tasks, Koncept's Splitty Reach desk lamp features a diffused LED light that allows the fixture to moonlight as a sensitive source of ambient lighting.
17. An arresting geometric print grounds this soft contemporary rug from Unique Loom's Cherokee collection.
18. The three tiers of hand-cut leather fringe cascading from the Nairobi pendant's solid brass surround are the stunning handiwork of South African artisans. A collaboration between interior designer Keia McSwain and Ngala Trading Co., the fixture effortlessly captures movement in a space, swaying gently in the breeze.
19. Designer Alfredo Paredes used the pieces in his own home as a launchpad for his new line with EJ Victor—including a 19th-century French foundry workbench that inspired the Alhambra console. At 94 inches wide, the table's massive oak timbers and two-piece stone slab command attention with a solid, grounding presence.