Thick in the madness of early April, I was speaking to an executive at a design brand about his company's adaptation to a world upended by the coronavirus pandemic. Toward the end of the conversation, we slipped out of the formality of an on-the-record interview and I asked him what might happen with his company's network of then-shuttered showrooms. "Well," he said, sighing fatalistically. "We'll see."
He was hardly alone. As businesses across the country shut down their retail locations—either voluntarily or by government mandate—there was widespread gloom and doom in the air about the future of in-person shopping. To be sure, much of it was justified. The past seven months have seen no shortage of bankruptcies and closures, notably for fashion brands, restaurants and small businesses that couldn't weather the disruption.
Home is different. As the industry continues to receive an unexpected boost from Americans sheltering in place en masse, many brands, rather than hitting the brakes on brick-and-mortar, are stepping on the gas. Undeterred by anemic foot traffic and the politicization of mask policies, they're looking to open new stores in 2021. Which isn't to say that their plans haven't changed a little.
SMALL AND NIMBLE
It's hard to think of a home world company more bullish on brick-and-mortar than The Shade Store. The custom window treatment brand, originally founded as an e-commerce company, hit on a formula for growth based around saturating key markets with small service-oriented stores (most are under 1,000 square feet) in high-end neighborhoods. The company has bet big on this strategy: Over the past few years, it has been opening up between 10 and 20 locations per year.
In January 2020, The Shade Store had 92 showrooms, with a plan to open seven more over the spring and summer. Then, the virus hit. Mid-March, says co-founder Zach Gibbs, was a period of extreme disorientation. "It was pretty much the same for everybody in retail: What the heck is going on? Where are we going to end up?" he tells Business of Home. "Things were changing literally by the day. Each market was coming out with specific rules and regulations, there wasn't some kind of one-size-fits-all plan."
However, after the dust settled, Gibbs says that the company took a look at the numbers and pushed ahead with the openings. He's planning to keep up the pace, with a rough goal of opening 15 to 20 locations in 2021. "We still believe in our model," he says. "It's unique in that we're not opening up inside of malls or megastores where we're relying on daily foot traffic. These are relatively small, posh boutique showroom experiences plotted around the country in specific markets."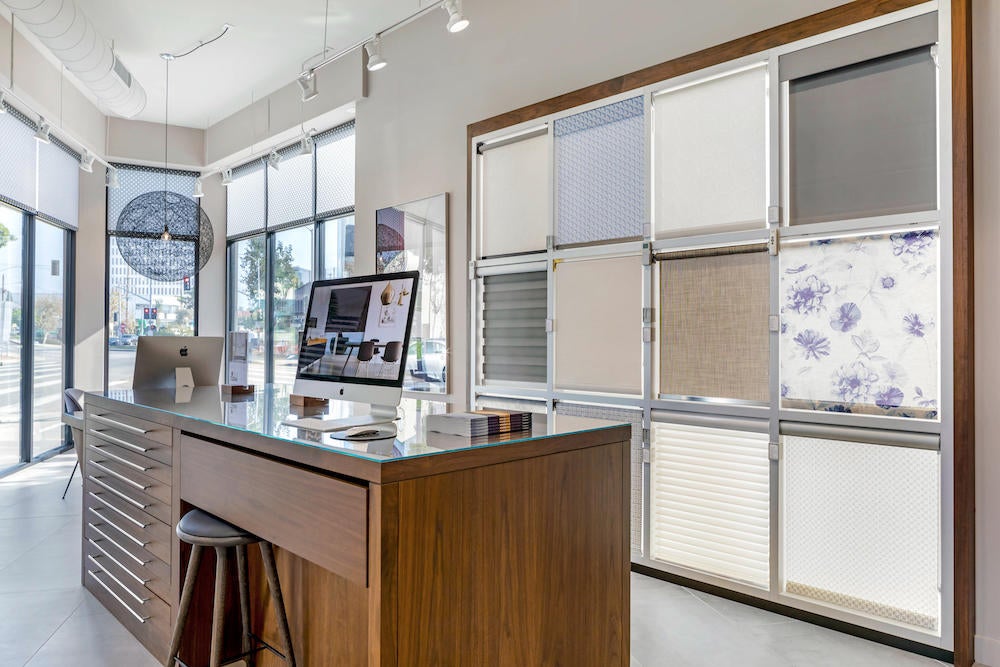 Though The Shade Store developed its brick-and-mortar strategy long before 2020, its approach reads like many a brand's playbook for post-pandemic retail. Few and far between are the companies planning to open megalocations in the years to come (RH is maybe the sole exception). In a moment where casual foot traffic is down, crowds are dangerous and the economy is uncertain, "nimble" is the watchword. The goal is to be there for your customers (if they want to come visit you) but not to break the bank on display space.
It's a strategy adopted by legacy players as well. Fresh off what the company describes as a record-breaking quarter, last month Herman Miller announced a round of store openings scheduled for late fall. The concept? Small studio-like operations designed to educate customers on proper work-from-home seating options.
Susan Tynan, the founder of online framing startup Framebridge, says that while the pandemic delayed her company's plans to expand its brick-and-mortar footprint, it didn't deter them. Her company recently expanded from two stores in Washington, D.C., to include a Brooklyn location, and is opening an Atlanta location soon. "We're in the same exact place we were on March 1. March 15, you would have seen a terrified me, I would have said, 'You can't ask me about the future!'" she tells BOH. "But now I would say we're definitely back on track."
Like The Shade Store outposts, Framebridge's shops are small and based around a service component, and the overall risk to opening any one location is relatively low. Tynan also says that retail shops can act as a kind of physical advertising for an otherwise mostly online business. "We noticed that [having a store] accelerates growth in the market [even if the shopping is happening through digital channels]," she says. "The stores do act as a billboard and give credibility to your brand and give added confidence even for folks shopping online."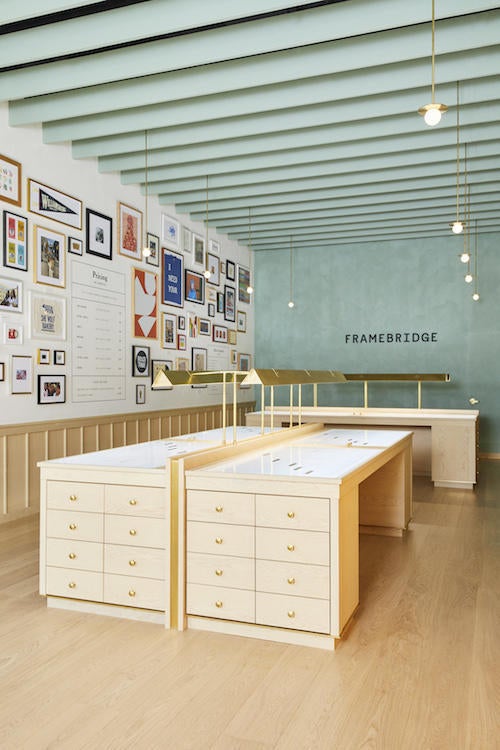 Slightly ironic that a big motivation behind opening a physical location is simply to reassure consumers that you're a legit business so they'll feel comfortable shopping online—but it works.
It's a phenomenon that Gibbs has observed as well, both before the pandemic ("It helped designers to have a place to bring clients," he says), as well as during the early months, when much of the company's business was shifting online. Even if customers wouldn't or couldn't come in, simply knowing the company had a physical location, he says, is a powerful differentiator.
VACATION SHOPPING
Arhaus, the Ohio-based home goods retailer, has also opened up a new location in the thick of the coronavirus pandemic. The new concept, called Arhaus Studio, is built around selling the company's wares from a small footprint through design services offered to a well-heeled clientele. In other words, like many brands, the company is experimenting with a boutique, service-oriented approach. What's most unique about the company's plan is perhaps less the what than the where: The test market for the concept is Carmel, a small, upscale enclave on the California coastline—Arhaus is making a deliberate play for second homes.
Though the brand's plans for its Carmel location were already in place long before COVID, the choice has proved prescient. As well-off city dwellers have retreated to their vacation homes (or purchased new ones) to weather the pandemic in a more pleasant, less-crowded environment, the real estate in what would traditionally be defined as "seasonal" markets has boomed.
"The steady growth of the second-home market has certainly impacted our strategy," says Arhaus CEO John Reed. "We know luxury shoppers and what they're looking for. If you own a second home, you want it to be comfortable, and you want it to feel like an extension of your personal style. You may not have the time or availability to curate its furnishings and design, but you certainly have the need—and the want—to do so."
There are no definitive plans just yet, but Reed says Arhaus is in the process of expanding the Studio concept, eyeing vacation destinations like Aspen, Vail, the Hamptons and Martha's Vineyard. "There is opportunity to bring Arhaus to high-end communities across the U.S.," he says. "[To places where] our clients already have second and third homes."
Gibbs, too, is seeing a boom in The Shade Store's secondary market business. "There are certain pockets of the country, whether it's the Hamptons or Cape Cod ... One, people are spending more time there. Two, new purchases and new renovations in those locations are booming," he says. "Usually that's very seasonal for us. The sweet spot for the Hamptons is normally in the summer. Now it's like all the places, you're serving year-round."
Gibbs says it's too soon to say whether The Shade Store will be aggressively opening locations in secondary markets in 2012. But he thinks that telecommuting isn't going anywhere, vaccine or no. "I don't see this changing. Remote working, even when things go back to normal—it's a nice option to have!" he says. "I can't say specifically if next year's plan is primary or secondary, but I will say it's a conversation. Where are these pockets that in years past didn't really warrant a full-time store? Where can we go?"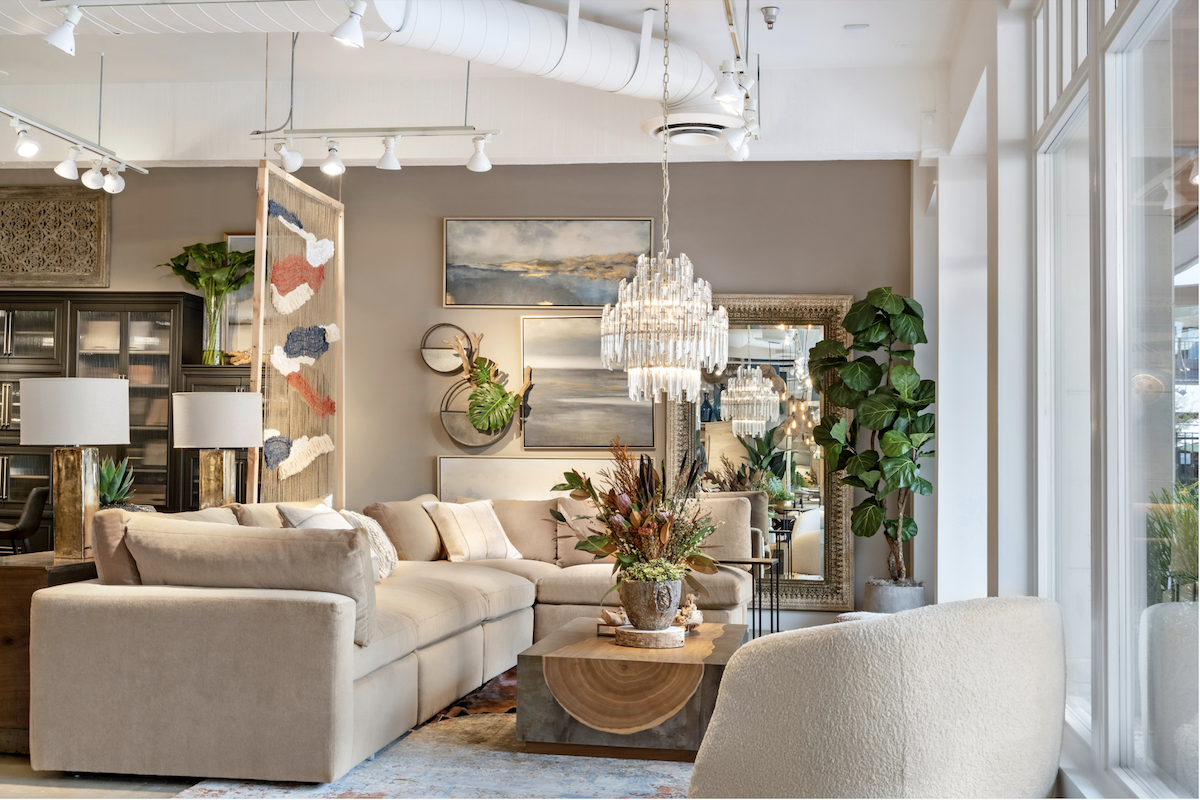 ELEVATING THE VIRTUAL EXPERIENCE
It's a story that has been written everywhere (including here at BOH): The pandemic has injected a dose of rocket fuel into e-commerce. Everyone is shopping for everything online now—that's obvious. However, a strange little twist is the fact that having a robust brick-and-mortar presence can be an advantage when selling online.
Arhaus, like many home brands, has spent the last seven months beefing up its virtual design consultation program. The openness of the internet can flatten built-in advantages between competitors, but having a national network of employees still helps, says Reed, as it covers all the time zones that consumers might be shopping in. "The geographic barriers that once limited those connections have been totally broken down."
Gibbs has also experienced the benefit of a national network of stores. "Someone will have a question on the East Coast at 9 p.m., and we're closed here, but in California it's only 6, and someone there can do the consultation," he says.
And much in the way that operating a physical location gives online shoppers a sense of confidence even if they never walk through the door, Gibbs says that a virtual consultation from a showroom works better than one done from a designer's living room. "We've figured out how to do virtual measurement appointments, even virtual installation appointments," he says. "That's been huge. And having the backdrop of a showroom makes it that much more real. It's one thing to have a virtual call with me sitting in my bedroom with kids screaming in the background, but this is professional."
It's something of a crazy notion: The idea that a not-insignificant advantage of opening a showroom would be to have a more polished Zoom backdrop. But it's 2020—crazier things are happening all the time.
Homepage photo: The Shade Store's outpost in Port Chester, New York | Courtesy of The Shade Store