Clothing stores are struggling. Restaurants are shutting down. Malls are dying. If you've spent the past six months thinking the coronavirus pandemic would send a serious chill through the world of brick-and-mortar retail, you're not alone. However, it's a chill, not a freeze. Looking ahead to a pandemic-free future, some brands are planning on expanding their store footprint, not contracting it.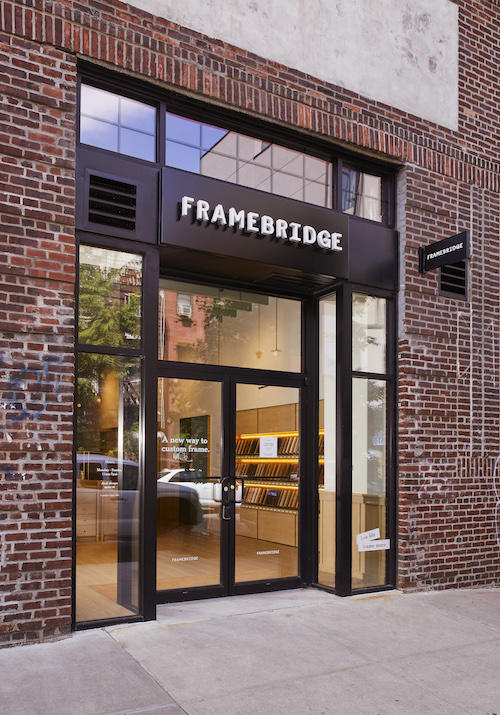 Take direct-to-consumer framing company Framebridge. Founded in 2014 as a frame shop disruptor, the company operated mostly online until early 2019, when it opened up two permanent shops in its native Washington, D.C. While Framebridge had built a burgeoning business with digital visualization tools and a middleman-free price point, there was a demand for an honest-to-goodness store.
"Our customers had been saying, 'Can I come to your corporate office? Can I ask you a design question in person?'" Framebridge founder and CEO Susan Tynan tells Business of Home. "We realized that the most friction-free interaction might be in person."
Some observers might note with irony that Framebridge had raised $82 million in venture capital to disrupt the frame shop industry, only to ultimately open, well, a frame shop. Tynan laughs it off with good humor and points out that, irony or no, stores work.
"Opening a frame shop seems less revolutionary," she says. "[But our revenue in D.C.] doubled with the adding of stores. And the growth came from both online shopping and in-person sales."
For a digitally native direct-to-consumer company, a real-deal store is doubly useful. It acts as a billboard that activates local customers to shop online, and it brings in cash (Tynan says both of Framebridge's locations are profitable). While the company has played with a few stunty touches here and there (like a booth where customers can record the story of the thing they're framing), Tynan makes clear that future stores won't purely be "brand experiences" and are intended to operate in the green.
Which brings us to the present moment. Framebridge has just opened up its third location, a shop in Brooklyn's thoroughly gentrified Williamsburg neighborhood. The store was planned pre-COVID, but Tynan has no regrets. In fact, her company has two forthcoming locations planned for Atlanta, and is looking to open 10 to 12 additional shops over the next 12 months. All of those plans were in place March 1, and though they've been slightly delayed by COVID, they haven't been halted or scaled back.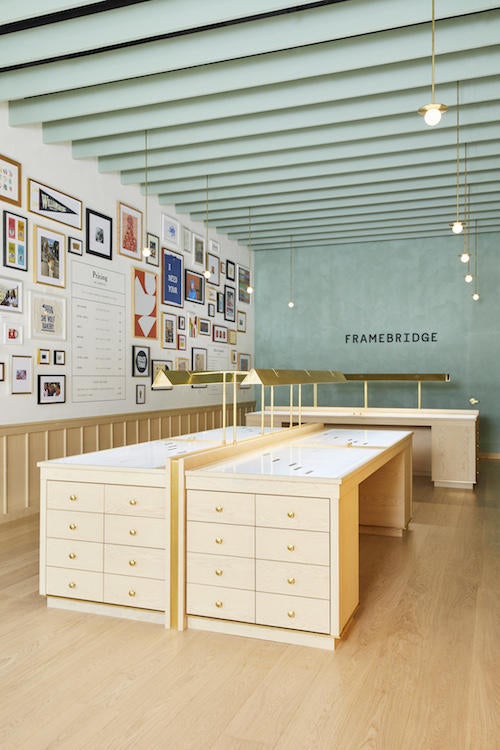 Part of that is due to a realization that the coronavirus won't be around forever, and now is a fairly good time to make deals with landlords—though not, Tynan says, as good as one might think. "[Prices] are really settling out," she says. "But being long-term focused and bullish on retail, I think we're going to be able to find some really great locations."
Framebridge will also benefit from the widespread renewed focus on home, and the fact that its locations—complete with big framing tables and relatively low density—can operate in a way that complies with local regulations and just feels safe to customers.
As for designers, it's an audience Tynan is eager to court, though she acknowledges the company has yet to make major inroads to the trade. Framebridge does have a trade program, albeit one with a fairly slim discount, a common challenge for DTC companies seeking to do business to designers. She is hopeful that designers—especially those who don't rely on a markup fee structure—will come to rely on the company for service, speed and accessibility. "The vast majority of our business is direct-to-consumer, but we love designers," she says. "We know our best referrals come from designers."
Whatever the audience, says Tynan, they will be served both online and in person: "We think there's magic in the combination."
Homepage photo: Genevieve Garruppo