As social distancing measures have been implemented across the country, in-person meetings are getting canceled, site visits are being postponed, and everyone is scrambling to find out what corner of their house makes for the best Zoom background. All of a sudden, all interior design is e-design.
For many designers with ongoing projects, the new normal is mostly a matter of figuring out how to do IRL tasks online, whether that's finessing digital presentations or getting good at FaceTime. (New York–based designer Francis Toumbakaris purchased a ring light for his desk, and dresses in a shirt and tie for virtual consultations, reasoning, "I can't sell clients a $25,000 sofa in a hoodie, can I?")
However, as weeks of social distancing threaten to stretch into months, many designers are concerned about the pipeline for new projects, and are starting to wonder if they can capture new business by offering an online experience. After all, with everyone stuck at home, surely there's a demand for design services—albeit at a distance of 6 feet or more.
Jenna Gaidusek, the founder of eDesign Tribe, a platform for independent e-designers, has seen the surge firsthand. "In the past 48 hours alone, we've let in 100 new members. Over the past week, it's been about 200," she tells Business of Home. "That's about five times the normal rate of sign-ups."
Established platforms have also been seeing a bump. Gretchen Hansen, the CEO of online decorating service Decorist, tells BOH that her site has seen unprecedented gains across the board, from a 30 percent boost in traffic to a 45 percent increase in sign-ups and more than a 30 percent increase in spending. "We have seen many traditional design firms move to 100 percent virtual in the last few weeks as they manage through this situation," she says. "In many ways, it has prompted a shift in the entire category from in-person to virtual—one that we always felt would happen. Unfortunately, it's not the circumstance we hoped would cause the shift, but we think offering great design at very affordable prices—all virtually—is the future of home design."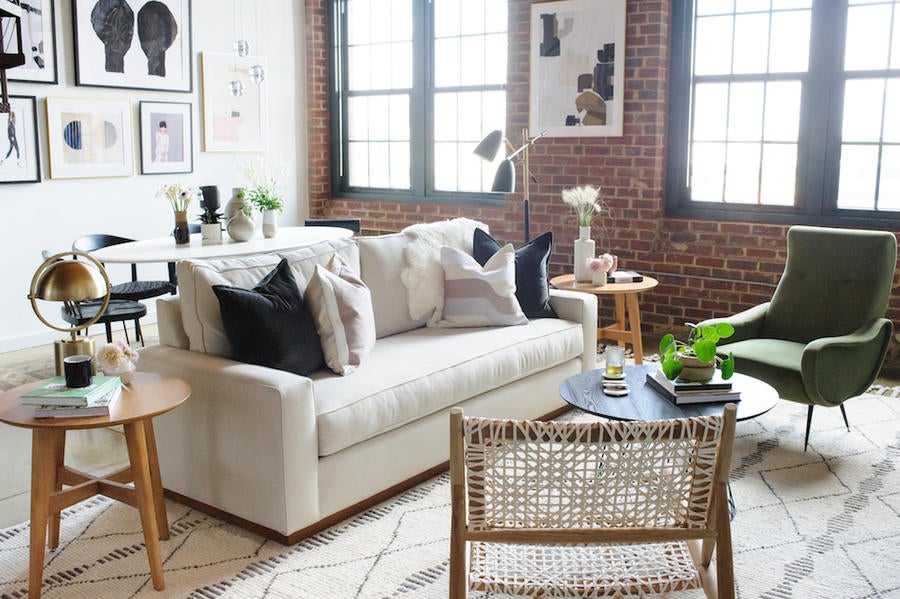 Shelly Guberek for Decorist

For "traditional" designers looking to get into the game, there are both opportunities and challenges.
It helps if you're not starting from zero. Nicole White, a South Florida–based designer, does most of her business the old-fashioned way: in person. But she has long offered an e-design component to her business, mostly for clients who moved out of state but wanted to keep working together. "E-design can be demanding on the client, as they have to execute, and not everyone is meant for it," she says. "We found years ago that our ideal was a local client who already knew we were serious, or a referral from someone we had worked with in person."
White had never actively promoted the service until two weeks ago, when, anticipating a slowdown in new projects, she put up a post on her Instagram account that she was available for virtual design projects. She was encouraged by the response and quickly booked six new jobs—all from clients she had never met. "The [coronavirus] is such a horrible thing, but it forced me to expand my reach a little," she says. "I had all these followers who never knew it was an option."
White structures her virtual services as a package of hours (clients must purchase a minimum of 10) that are divided up into a few distinct steps. First, she consults with the client over FaceTime or Zoom; then she and her staff put together a proposal (relying on a freelancer to complete a high-tech render), which they walk through with the client online. She has been handling sampling through Material Bank and letting clients determine whether they want to use spare hours—or even buy extra—to have her firm handle purchasing.
White is both pragmatic and optimistic about the potential of e-design services. "They're going to be one-room jobs," she says. "But people are going to want [design services] because they're realizing they're going to be stuck at home for a while. Everyone can't wallow in this nightmare all day, people need a distraction."
However, there are challenges for traditional designers attempting e-design for the first time. Learning how to conduct business online takes time, from getting comfortable with Zoom meetings to learning how to create a compelling room render (or finding freelancers who can do it for you). But maybe the biggest hurdle is simply grafting a new business model onto an existing one.
Stephanie Sabbe, a Nashville, Tennessee–based interior designer, posted a notice on Instagram earlier this month offering e-design services. "I have a young staff that I need to keep busy, so I thought of e-design," she says. "I fielded about 25 emails, but as soon as I started mentioning fees—I tried to keep it to $1,000, which is definitely less than what we'd normally charge—most of them didn't reply back. It's been enlightening, and it goes back to the whole world of home renovation TV shows, where people think design can really be done on a dime."
There's no way around it: Most e-design clients are looking for a deal—and many of the large-scale brands in the space charge less than $100 for their most basic design package, which has conditioned the market to see the service as a bargain. (Decorist is unique in offering a premium tier of service at $1,299—its entry level package starts at $299.)
That's not to say that independent designers can't make more than $100 for a design fee. "These [big e-design] companies are running the price down, but clients are fine paying more for quality work," says independent e-designer La Toya M. Jackson-Wilson, who charges $300 to $500—but it's going to be a tough sell to hook a new client on prices that traditional designers are accustomed to charging their in-person clients.
A deal-hunting clientele has knock-on effects as well. The same client who balks at a $1,000 design fee isn't going to spring for a $10,000 bench-made sofa, meaning that designers who rely on markups on trade-only product will grapple with e-design's incentives. White sees working with retail sources as a necessary concession to the realities of the marketplace. "We will send some trade options," she says. "And we definitely do lose out on income when we don't handle the orders, but I'd rather push through. Ten virtual clients a month is a steady flow of income."
Whether or not the surge of interest in e-design will have lasting effects on the business of interior design will depend on how long we're all socially distanced, and what the long-term economic effects of that social distancing will be. The uncertainty around that central issue has many designers hesitating on how enthusiastically to embrace e-design as a practice. There's a risk that offering services at a reduced rate will make it difficult to return to business as usual. One of Sabbe's concerns around temporarily offering e-design was that it could risk scuffing up her brand: "I didn't want people to do quick and dirty installs and then post on social saying, 'This is by Stephanie Sabbe!' I really care about what we put out there."
Even if the most pessimistic calculations are true and many of us are dealing with some form of isolation on and off for the next year, it's unlikely that e-design will come to supplant traditional in-person design on a mass scale. There are simply too many advantages, for both clients and designers, for design to happen in person. But this period will likely see the increased interest in e-design having lasting effects, whether it's a pool of clients checking out the service for the first time, or designers exploring new skills and streams of income that carry on beyond the current crisis.
"A lot of people who come to [eDesign Tribe] haven't done anything virtually before, but they're seeing these really realistic renderings and trying to figure out if they can adapt what they're already doing to work online," says Gaidusek. "Even if people aren't going to be booking e-design jobs right now, this is a time when designers are learning new skills. [Even before the coronavirus] I had established designers reaching out and asking, 'How can I take my knowledge and work less, and stop running around all day long?' They're just over it."
Homepage photo: Courtesy of eDesign Tribe