The 50 States Project is a yearlong series of candid conversations with interior designers we admire, state by state. Today, we're chatting with Sunrise, Florida–based designer Nicole White of Nicole White Designs, the firm she founded 10 years ago after leaving a career in journalism. She tells us why she uses a detailed intake questionnaire; why she never stops showing up for her clients, even long after the project is over; and what she learned from a recent sales tax dispute.
You were an award-winning reporter working at the Miami Herald, but design was your passion. How did you make the switch?
I was working full-time as a journalist, and design was more of a weekend side hustle. I designed my own house, and soon friends started asking me who did it. When I said, "I did," it kind of took off from there. My first paid job, I charged $350 to do the living and dining room—just finishes and paints. It was supposed to take one weekend, but of course it took many weekends to complete.
When I started, I would paint the rooms myself. I've never been able to install curtain hardware or assemble anything from IKEA, and I am the worst with a drill, so I've always had a handyman. But at the beginning, I painted, shopped, installed and charged peanuts. But back then, that wasn't my main source of income—I was just testing the waters, getting my feet wet, and seeing if this was really something I could do. And eventually, it became a reality for me. And then I started getting busy, busy, busy with a roster of clients.
How long did you keep a foot in both worlds?
Too long. The overlap was about three years. I left the Herald in 2008 after eight years. I was ready to rock and roll, but the recession was around the corner, unbeknownst to me, which was devastating. I was so excited to have clients and projects, but within a year there was no business—nothing. And I remember the embarrassment [I felt] at the time. Like, "What have I done? I have failed." I had to go back to corporate America, but it took me another year to find a job as a writer. I remember thinking: There's no design work, and I can't even use my journalism degree. It was a very humbling experience. I eventually got a job writing for a medical school that offered me half of what I used to make but full benefits, which was better than nothing.
Within a year, clients started recovering from the recession and calling me again. I quit the medical school in 2010 [to found my firm] after two clients told me, "You need to commit." Both clients were attorneys and understood the value of time. They said to me, "We will do whatever we can to help you grow your business." And I took a final leap of faith 10 years ago. I said, "OK, that's it," and I've never slowed down since.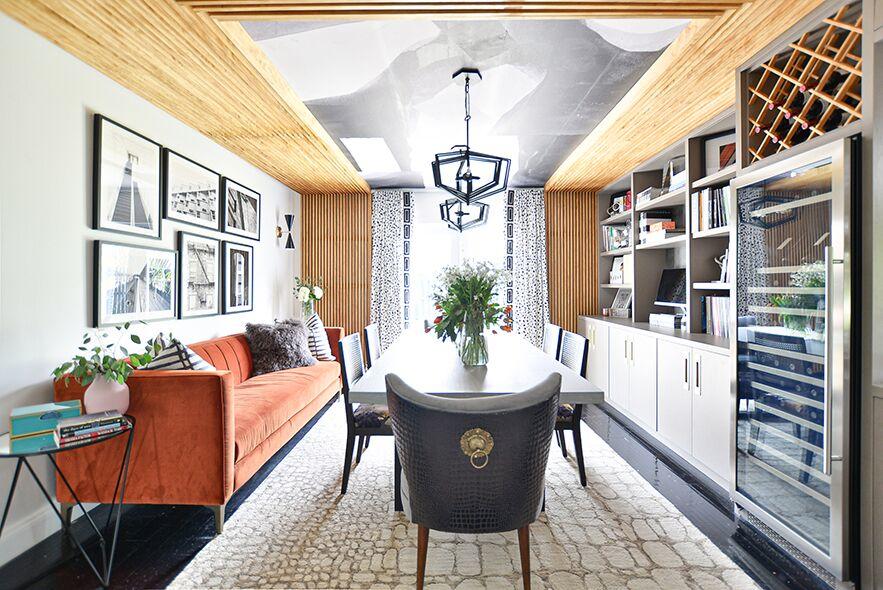 That kind of straightforward advice feels like such a once-in-a-lifetime thing—to have not one, but two clients say, 'You're ready.'
One of the clients, in particular—he called me at work. I remember him saying, "Listen, I've got to talk to you. It's very personal." And I was like, "Oh, Lord, what's this about?" And he said, "I'm going to cross the line from client to friend, because watching you go to that job every day is like watching Picasso go to work for the postal service." I was so taken aback. He said, "Listen, anything you need from me as a client—reviews, referrals, I am there. But it pains me to see you running over here after work or on the weekends to figure out this project. You're wasting your talent." We're still friends. He was a bachelor then; he's happily married now, and his wife always thanks me for doing his apartment.
He was the second client to say that to me. The other client paid me thousands more than I had invoiced her for my design. She said, "You undervalued your service and I cannot sleep well not paying you what you should have asked for." It was incredible. She told me, "You need to do this full-time. You are so talented, and we're going to pay you twice what you asked for, on principle." It was those two solid affirmations, I was like, I would be doing a disservice to myself to not follow this career. And that's what I did.
I tell designers all the time, you have to be available for the universe to give you things. I left that job on a Friday—and that day, I got a call for a consultation on Tuesday morning. Had I been working, I wouldn't have been able to take those consults, but I was able to say to that [potential] client, "Sure, I'll be there." And it was my biggest job yet—over $100,000. I knocked it out of the park and just kept going.
That's incredible. Tell me a little bit about the projects you're working on these days.
We typically have 20 to 30 projects on the schedule—that's from start to finish. And clients who are waiting to meet us, too. There's always a full roster, thank God—we have been blessed for a long time. I have never struggled with keeping the pipeline going.
How do you attract new clients?
A lot of our clients are repeat clients or referrals. My strategy over the years—I'm always in touch with my clients. Always, always. We never wrap a job and just move on. If we've closed a job and the client's having a baby shower, I'm there. Someone has a death in the family, I'm there. It's a relationship, not a one-night stand. If you are a part of your clients' lives holistically, then whenever anything comes up—even the simplest project for themselves or their family— then they're going to say: "Call Nicole." As much as a lot of designers focus on social media—which is obviously a great thing, and I do [get] a lot of clients that way now—my core focus will always be nurturing those day-one clients and the clientele that they have brought me over the years.
What does that look like on a day-to-day basis?
If I drive through someone's neighborhood, I'll send a text: "Hey, I was in your neighborhood. What's up? How's the family?" I'm busy, so I'm not looking to drum up immediate business, but I'm in your neighborhood and I care, so I'm going to say, "What's up?" I do that all the time, and I cannot tell you how many times I've done that and a week later I get a phone call that's like, "Oh, my God, my bathroom just flooded and I need to redo the whole thing. Can you come by?" Done.
You're in their consciousness—that's where you want to be and the level of service you want to [provide]. We [also] have a 90-day warranty on projects [in case] something happens, but just this week, we had a shower pan leaking at a project [we completed] years ago. We actually just ripped out the shower this morning, and we'll fix it. Is that ideal? No, of course not. But this is a client that's given me so much business; I'm not going to spend time going back-and-forth saying, "It's out of warranty." We did the work, something has happened, and I'm just going to take care of it.
So that's a cost you're covering because you want them to feel good about the experience?
Yes, definitely. I use the same trades [who completed the original job], so they're not going to charge me full price for the repair, which means the cost to me labor-wise will not have the same impact [on me] as it would have been to the client. The amount of materials I need, it's not that much, so I can absorb that. Now if it was something massive and it's totally not my fault—the client is going to have to meet me halfway. But in this case, it was not. It's one small shower, it's not going to kill us. The goodwill is so important to maintain that I'm OK with that.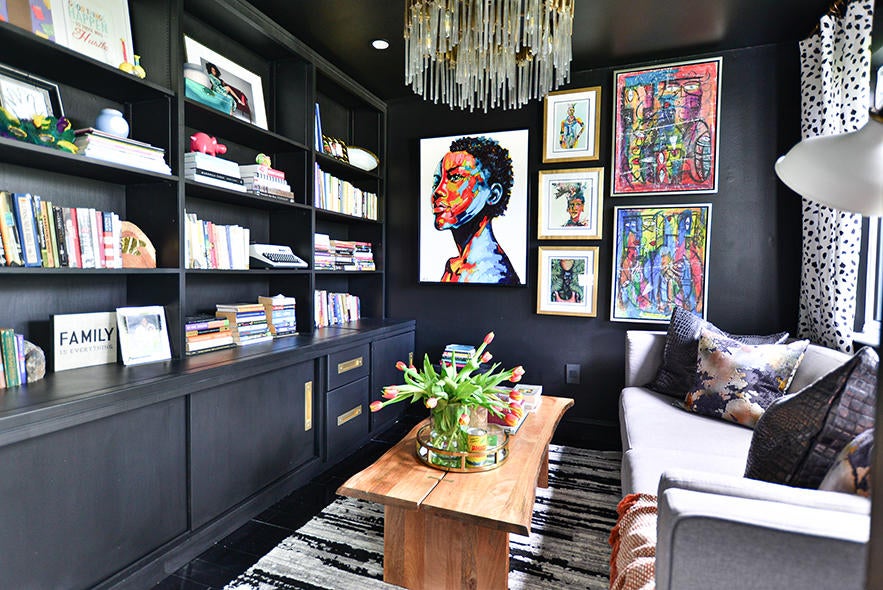 When you're working with clients, what are the other things you're doing to nurture that relationship?
I go to their events, I support their businesses—even my dentist is a client!
I'm also very responsive in terms of email follow-up. I have a 48-hour email response policy for a lot of things. Obviously, I can't spend all day answering emails, but [clients know] I want to answer you when I have an answer. That's very important to my clients—I never call just to tell them there's a problem. When I'm calling you with a problem, there's already a solution.
Clients don't know that things weren't going well—and they shouldn't. We protect them from a lot of things; that's what they're paying me for, to absorb some of the shock and unpleasantness of this business. Maybe now they're going to know [more] because they're following me on social media—they'll see some of it, right? But they still won't know half the drama that we absorb from the trades, from vendors, and just from life, to get them that beautiful project.
How did you come to that way of thinking about running your business?
It just made sense to me. I've never been the person to like the process, even in my own life. Do not call me and tell me what you're about to do or how you're going to do it—I don't care. I just want to know it's going to get done and when. I try to treat my clients how I want to be treated. I think they deserve that courtesy—they're paying me a premium as their designer to figure it out. Of course, it's the client's money; I don't make big decisions without talking to them. But I have learned from over the years to never call a client and ask, "How do you think we should run this tile?"
You get to know your clients. I do a very detailed intake questionnaire and some of the questions are psychological—like, "How involved do you want to be in this project?" So the client who says, "Very involved," I'm going to call them with a lot of information. The client who says, "I do not care. I want Nicole to handle everything and just tell me what's up," I don't call. That's the ideal client, by the way—the one who trusts your judgment. The client who wants to know every move you make is a client I now try to avoid.
What answer in that questionnaire would make you say, 'Well, this isn't going to work out'?
We ask, "Have you worked with a designer before, and how did it end?" If you said, "I've worked with five and I've fired all five," then we're not working with you. Number two, if you not only say you want to be involved, and then you detail everything you want to [be involved in]—I can't. I already know, I've tried that and it never works [for me]. You can't micromanage creativity, and it's very important for clients to understand that. Those micromanaged projects are never successful. No one's happy, we never photograph them, they're never publicized, and no one wins.
I have learned that very painfully over the years. In the beginning, I thought you had to work with everyone. You need the money. But now I would rather go take a shift frying hamburgers than take a client who tells me that they want me to tell them everything. At this stage in my career, if I can't have some creative control and you can't trust, we cannot work together. I'd rather say no.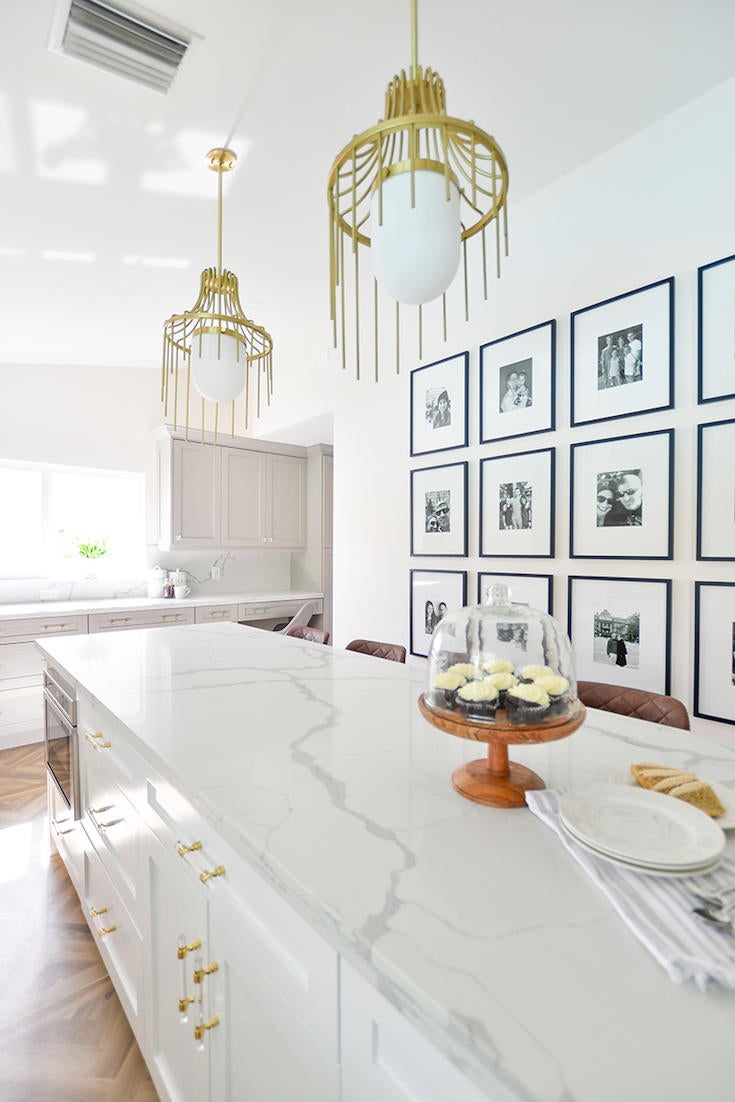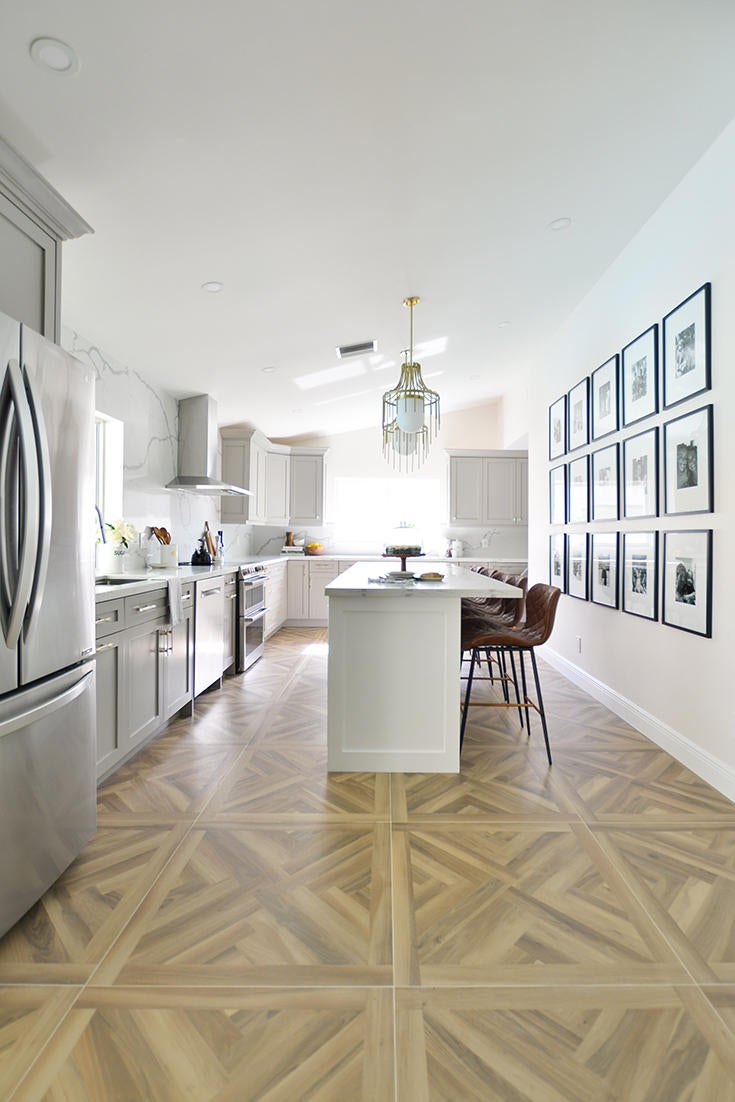 For the clients who fill out the questionnaire that you do take on—what does the process look like for you and your team?
This questionnaire is like a goldmine. We ask, "What hotels do you like? Where do you travel?" The hotel question tells us a lot when we check out the space—we get a lot of cues about what stands out for a client.
We also ask how they live, if they have pets, if they are averse to certain materials. We ask all of that, and their answers are something we reference constantly as we design and shop. I recently went to shop for accessories [for a client]—at that point [we'd been working on the project for] months, and when I went back to the questionnaire, I realized she hated leopard prints. I had a bunch of leopard prints in the shopping cart, so it was an important [detail] to know. You have to constantly remember and know your clients.
At what point in the process does the questionnaire come in?
It's an online form, and we don't meet a client until they have submitted that form. Anybody who calls me, messages me on Facebook or Instagram, we send them all a link and say, "This is your starting point." We're not having willy-nilly conversations in DMs. Here is where you go to start the process.
Once they submit that, our assistant Debbie sets up a time for me to talk to them for 10 minutes at no cost. That phone call is very important because I get to hear the client and they get to hear me. I get to ask a lot more questions. For example, if they said [on the questionnaire] that the budget is $10,000 for a brand-new kitchen, I can say, "This is not possible." I can tell them, "I don't want you to waste your money on the consultation. I'd rather you keep that money and have a realistic understanding of how design works." A lot of people don't really know—they think $10,000 is a lot of money, but it cannot get you a brand-new kitchen designed by me. Once we have that talk, sometimes they'll say, "Oh, I didn't know what to put there, I just made up some number. I could really spend $100,000." Then we'll go ahead and have a consultation.
That may sound like we're only qualifying high-end clients, but that is not the case—I've done police officers, lawyers, nurses—my clientele runs the gamut. But I would rather a client save the money. I've told a client, "You're going to need $50,000 to do that kitchen the right way. It's your forever home, so do it right. Call me back in five years and we'll do it right." And that has happened on many, many occasions.
People have saved up and called back?
Yes, absolutely. But people also call me back because they went and spent that $10,000 with a guy who promised them a kitchen and gave them crap. And I have gone back multiple times to rip out that $10,000 nightmare and do it the right way while they cried and said, "Oh, my God, you were right." My thing is, I'm here for the long haul for clients. Call me in five years—I'll be here if the Lord's willing. I don't want to take your money and do a crappy job now where no one ends up happy.
And then once you do that consultation, you charge a fee for that in-person meeting.
Yes, we start at $350 and give you two hours. We discuss anything you want to discuss—it just has to be in the space you want designed so I can see it. I can tell you if this wall can be removed or not if that's the goal—I get into a lot of technical details on that consult. It generally lasts about an hour; we use the rest of the time to do a quick recap of the meeting with a preliminary concept. We send it to you and it's yours to keep—you can call your cousin who was a contractor to come run with the concept if you want. Or, 95 percent of the time they say, "When can you start?"
Is there a budget and a contract in that preliminary concept?
No, the concept is a quick mood board. It takes us an hour. We're not nickel-and-diming that. Anything beyond, though—to get a drawing and specifics—you have to retain us.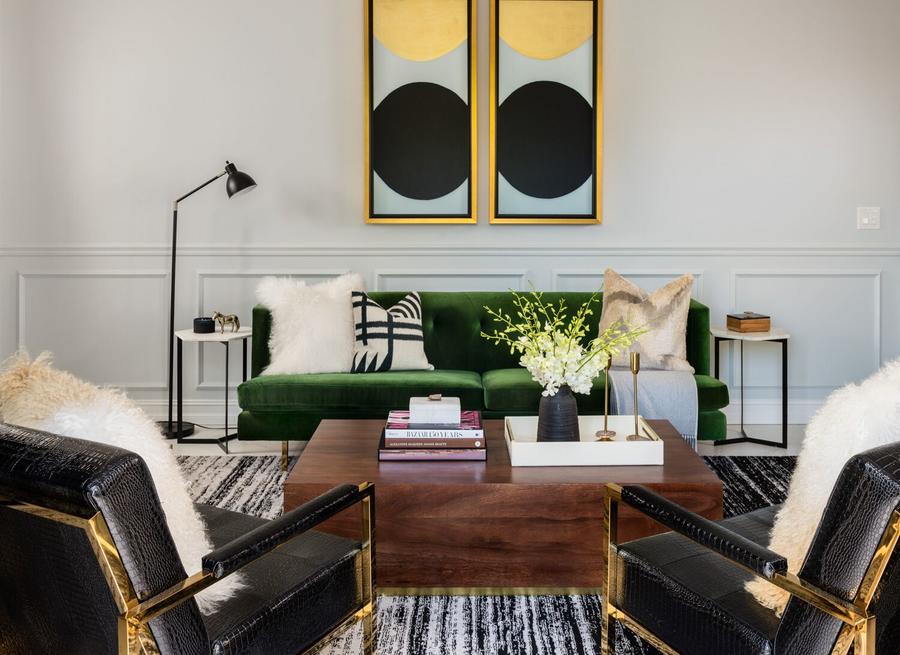 How would you describe your aesthetic? What are clients coming to you for?
I grew up in Jamaica and my decor is heavily influenced by that—you'll see a lot of texture in my designs. I like woven textures, rugs with a lot of color. I'm a little bit more nuanced these days in my color but there's always going to be some color. That's just the Caribbean girl in me.
Being from the islands, that's still a part of me. My family's still in Jamaica—my mom's there, my two grandmothers are there. I travel there often, and anything Caribbean is still heavily a part of my design approach—the visual language and the ease. I don't design stuffy spaces. I design for living, for family, for fun and to relax, because that's how I am in Jamaica. It's very approachable design. I've never done a project where no one uses a room—not ever.
How big is your team, and how is the firm structured?
There are three of us—Gloribell [Lebron], a full-time designer; Debbie [Brown], our part-time assistant; and me. One of the things I want to look at for the next quarter is [taking] bookkeeping and invoicing off my plate. Even though we are outsourcing that right now, I'm [considering] bringing someone in full-time to handle that, because we're spending way too much time on the nitty-gritty: Did we scan this receipt? Did we take note of that payment? I don't want to be doing that.
How does the firm grow? Do you hire more designers, or more people to support the work you do?
That's the goal, but that's always the scariest part—it's hard to think that you can sustain payroll. Payroll is the nightmare of every firm, right? You don't want to take it on if you can't sustain it, but I have learned over the years that you have to spend money to make a lot more money.
I have held back in the last year of hiring because I was dealing with an audit. Nothing else could happen. But now that that's over, I see another hire or two in the next year or so. We have so many clients waiting right now, that is a problem. They'll get tired eventually and you don't want [to leave] a sour taste like, "I had to wait two months just to get a phone call."
Tell me about your audit.
I got a letter last April from the state of Florida that said they had decided to issue an audit for our sales tax payment. No business owner ever wants to hear that. I wasn't worried per se, but I wasn't happy. So I emailed the bookkeeping team and said, "What are you going to do about this? It's on you to figure this out." They followed up and there was a lot of back and forth with the state. Then the state says, "Listen, in lieu of going through every single document of yours"—because it was going to be a four-year audit—"we're going to assess your situation based on a similar company."
Based on the volume of money in comparable firms in Florida, they assessed [that I owed] more than $100,000. I don't know what company they used, but it was a four-man firm. It was absurd, and not a solution for me. I'd rather you come get four years of paperwork; I'm not paying all this money I don't have. I kept thinking, "Who is this four-person firm? I don't have four people in my firm. Who are you comparing me to?" I started freaking out. I had technically fired the bookkeepers [because of some red flags during the time I worked with them], but they still had to handle it because they had submitted most of the paperwork.
What were some of the red flags you noticed with the bookkeeper before that letter came from the state?
I would catch a lot of little issues on the invoicing for clients. They're not in-house, so I understand that for any outside firm, we have to send them what we can. But I would constantly catch math [errors]. Or clients would say, "Hey, what is this [item on an invoice]?" I give people a lot of chances before I end a partnership. But that [relationship] should have ended long before it did, and it came back to bite me in the butt.
To the bookkeepers' credit, they did find a [consultant to help]—a retired auditor who had worked for the state and was really exceptional. He came in and took over and was able to walk us through everything. There was a lot of back and forth [with the state] for months. Then he said, "Listen, I know you don't owe [the state] anywhere near that amount [they assessed], but your books were not well-kept and that's a problem. You have some liability here, so you need to offer them [a settlement] if you want to walk away from this without further devastation." It was a fraction of the original number—a little less than 10 percent. It was a lot of money, but a lot less than $100,000.
There was a lot of waiting, but the [state ultimately] settled and said, "OK, we'll accept that. You need to be very careful as you move forward in business and hire somebody who [keeps your books] well." Was I unhappy to pay money that I personally did not see I had collected? Sure. But the alternative was to tie this thing up forever—and knowing that the bookkeeping hadn't been solid, God knows what else could have been found.
Designers in Florida need to be very mindful. Florida doesn't charge income tax, so they are very strict about their sales tax. You need to talk to your bookkeeper about what is taxable, especially when you're managing projects—that's what this issue came from. We often use a client's credit card, so sales tax was paid there; what triggered the audit was that we did not submit consistently when we bought wholesale. Plus, the state's argument was that they should be getting sales tax on the firm's project management fees, which is absurd.
I am out of pocket for that money, but that's what my peace of mind has been [worth]. It's just the cost of business, sadly—you have to pay attention, you have to ask a lot of questions. So that's my focus moving forward.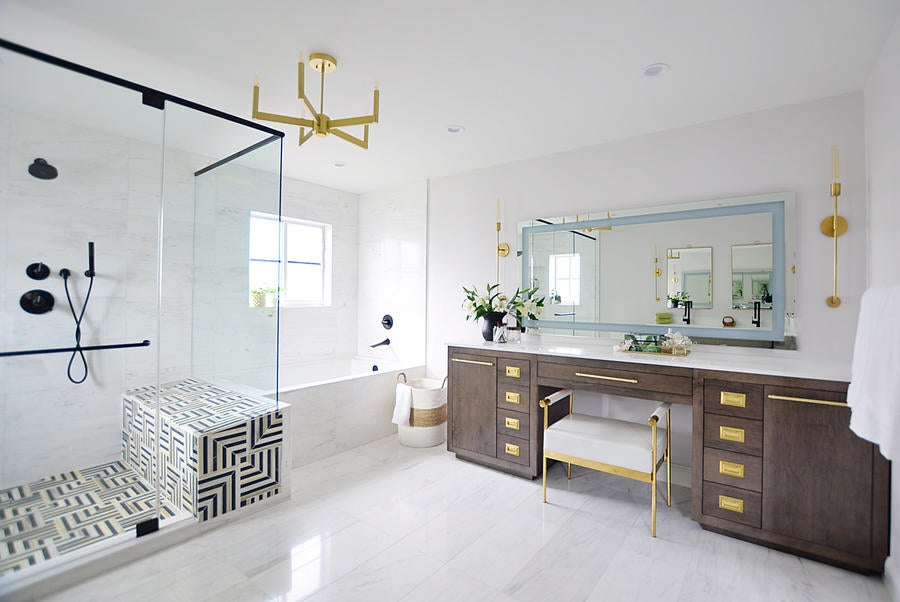 What else, beyond the audit, has been the biggest challenge you've had to overcome?
The last two years were tricky for us. I've dealt with the tax nightmare, which is thankfully resolved. But the last couple of years, I was also let go from a job or two. And I wasn't mad—we were actually all happy and relieved because we should not have taken those jobs [in the first place]. I used to ignore those red flags because I thought I needed the money. That's not my philosophy [anymore]. I'm not going to take a chance that it's going to cause me more stress than the check is worth. I'd rather cut back in my own personal life budget than deal with this kind of stress.
Two years ago, for the first time in 10 years, I had to talk to a lawyer. We ended up not needing to retain one, but had to potentially get prepared for a client who wanted a full refund of everything because she wasn't happy with one thing she had approved and then got amnesia about. I was prepared to spend the money to fight it, but I couldn't believe we had gotten there. She had always been difficult from the beginning, and I should not have taken the job. It was not worth it—I got nothing from that job, no creative energy, no photos. And for what? I paid a bill [with that design fee]. It was not enough.
Now I'm very intentional about the kind of client I get and let affect my energy, and I will not take certain clients anymore. If they tell me on the questionnaire, "I will call you 10 times a day," then they will. And you cannot be mad when they call you, because they told you so. Thank God for age and wisdom. Now I am the queen of the United Nations response. I'm very pleasant [when] telling you no. Like, "No, sorry. I just can't help you. We're not a good fit, it's not the right time." And saying no now without any apology.
You changed your firm name between the recession and relaunching in 2010—and the second time, you named the business after yourself. What prompted the change?
When I transitioned from journalism, I was very insecure. I did not go to design school. I'd never taken a design class in my life. So when I started, I felt like I had to have a partner who knew something in the business. My first partnership was with my freaking hairdresser; she knew everyone in town, so I felt marketing-wise that I would have a constant stream. That was not the smartest decision, and it didn't last. I was doing all of the design work, but splitting the fees halfway just for a referral.
Then I started again with an [amazing] contractor, but we tussled over who had what role. With partnerships, everyone has to understand their role; when you don't, it can't work. It imploded. I was devastated because I thought, "Why am I doing this? I've had two failed partnerships; I should just go back to writing." One of my now-ex-husband's good friends said to me, "Listen, every time this happens, the clients still call you. It's you that they follow, and you should own that." She said I should start over and call the business Nicole White Designs. I refused for weeks. I was like, "I'm not Martha Stewart. No one knows Nicole White!" I remember thinking it took such an audacity to name your company for yourself. It's laughable now, but back then, I couldn't do it. [That friend] works in the Google and Microsoft world and she said, "Trust me on this one thing." So I did, and it was the best forced decision ever—and yes, the clients did follow me and I am the brand. She's one of my best supporters, and I thank her every anniversary. I say, "This lady right here told me to do this and I did it and look at the blessings that happened from that."
A full decade later, is there a real sense of pride and affirmation in having your name on the door?
Yes, definitely. One, my son is very proud of that, that his mom's firm is named for his mom. That's a real sense of pride and I don't take that lightly. And then whenever I go to neighborhoods where there's a security gate, and the security [staff] discovers that I am Nicole of Nicole White Designs [after letting the contractors and trades into the neighborhood, who are registered under my firm's name, for so long], they are in shock. They're always so blown away to meet the head of this firm. A security guard was in tears the other day because she had never met a black woman who owned a company. I was like, "Why is she looking at my license so long?" She just could not believe it. It is tremendous pride. That's why I am so thankful—it has engendered so much love in others, in my son, in complete strangers.
What does the next decade look like for the firm?
I want to not work so hard. I'm a workaholic, I love what I do. As stressful as it can be at times, I really do enjoy [seeing] the complete psychological change I see in clients when their home [becomes] what they always wanted it to be. But I want to be more intentional with my design and take on fewer projects, but more detailed projects.
I want to write a book—a cookbook, a lifestyle book, a memoir about how I got into design. That's [been] in my head forever—I see myself being an author finally. I want to have a global lifestyle brand and coming full circle with design. I don't want to be doing this until I'm a hundred, that's for sure. I want to be on a set trajectory. I want to own more rental properties as a good source of income so I can be more selective with projects, because I have a child and I want to spend a lot of time with him before he jets off to college one day.
In the next 10 years, I'll be doing more speaking engagements, talking about how I got into this. When I started, there was no one to call on, no one I could message on Instagram and ask for help. I want to be a resource and be known as that woman—she did that. She said she could and she did.
To learn more about Nicole White, visit her website or find her on Instagram.