Just before the start of the new year, Jenna Gaidusek logged into a Zoom video conference with nearly 50 e-designers to explain the new developments that would be rolling out on her fledgling platform, eDesign Tribe. The independent network offers a way for e-designers to gain exposure—an alternative to major players in the space like Havenly or Decorist—while also providing behind-the-scenes tools to boost their businesses.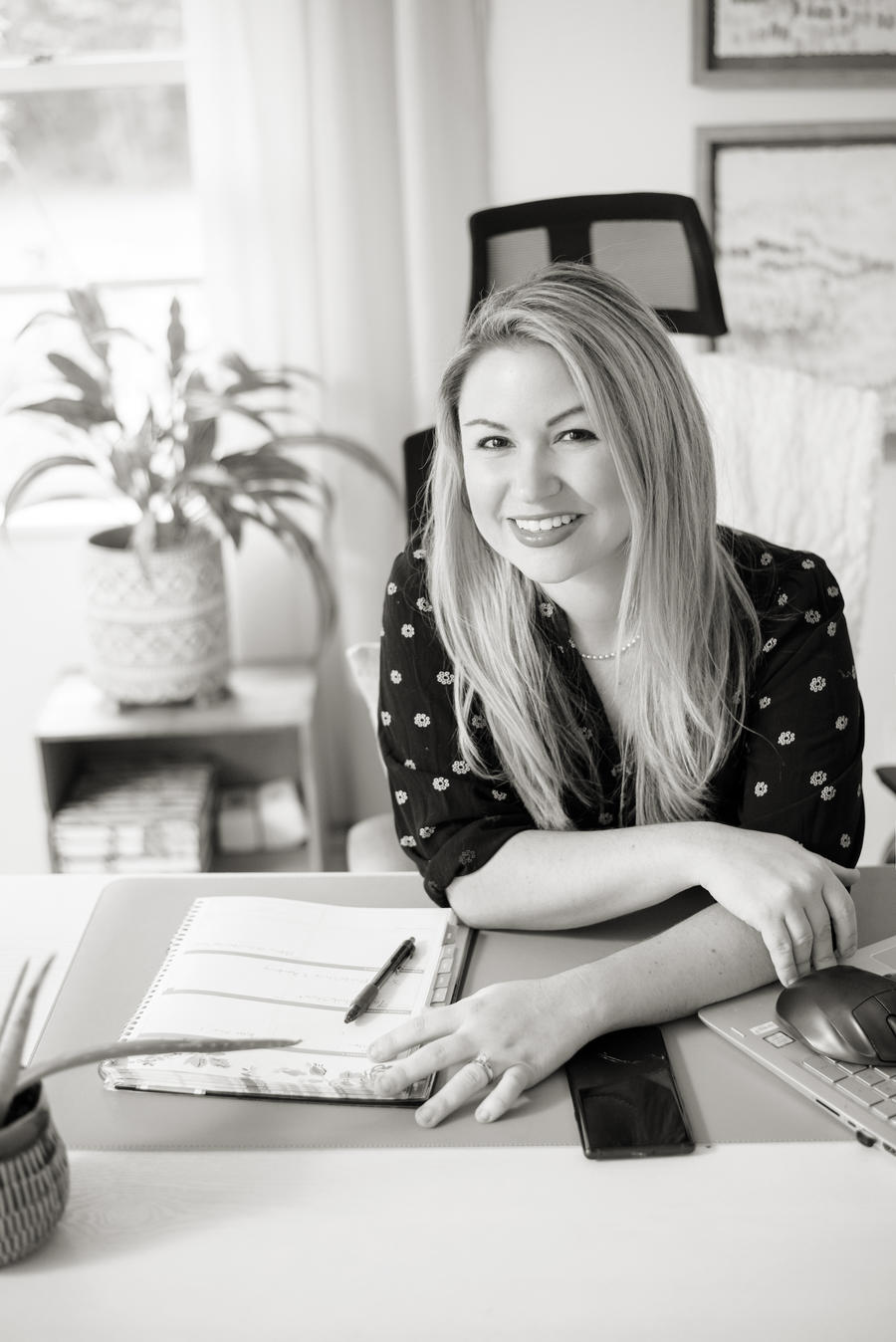 Courtesy of eDesign Tribe
Gaidusek, an e-design vet with an interior design degree herself, had a foot in the space long before she launched the platform in spring 2019—she had quit her job managing Arhaus stores and developing the brand's New York trade program when she started getting projects with Laurel & Wolf in 2015 ("I was getting good jobs and getting paid," she recalls). She has had a front-row seat to the changing realities of e-design, including diminishing financial returns and pressure to use certain products. In 2018, from her home in Gainesville, Florida, she founded eDesign U, a series of courses that help e-designers develop and grow their businesses, covering topics like how to use Pinterest, Tailwind and Canva to market an e-design company; how to collect email addresses and establish a passive income stream; and how to create concept boards with Photoshop.
Yet she quickly realized that even if her courses were setting e-designers up for success, their primary access to jobs was through major platforms—companies that were increasingly pressuring designers to do more for much less. "These companies started degrading what we do and how we do it," she said to the designers assembled on the video conference. "Remote design has taken a cheaper name in this market, and I have been pursuing a way to get it back and give you guys the integrity and respect you deserve."
More than 150 designers have been using the software since eDesign Tribe launched last year. The updated offerings, which will roll out in early February, include a new do-it-yourself rendering tool and a dashboard that includes, among other features, an e-shop—a growing library of products that pay out a 10 percent affiliate commission, with links that can be shared on Pinterest, in a blog post or with a client.
The new-and-improved eDesign Tribe will provide services at two levels: a basic membership with access to the program's back-end tools, or a "featured" designer option, which also buys inclusion in a directory that helps clients discover e-design talent. Both membership levels cost less than $600 a year.
As part of Gaidusek's mission to elevate e-design's reputation, eDesign Tribe has established standards required to be featured on the site—including having a website that the network can direct clients to for pricing. One of the results of driving clients to an e-designer's site is that designers can set their own rates and customize their own set of offerings.
"Jenna has developed something that doesn't require the e-designer to sell their soul financially," says Houston-based design consultant Leslie Carothers, the CEO of custom publishing venture Savour Partnership. She developed a custom course with Gaidusek on how designers can create, structure and market their own online courses—and has mentored the entrepreneur as she developed the platform. (The two will also speak together in a panel at KBIS later this month about the importance of developing passive income streams.) "Platforms give people who don't have other options a place to go, but [also] take advantage of that and pay as little as they can. Designers have a lot of artistic vision, and Jenna is trying to acknowledge that and help people raise their rates. She has developed a platform that gives designers ownership and control."
Becoming a featured designer on the platform also means not contributing to what Gaidusek calls "the race to the bottom" in pricing for online design. For a standard package—a concept board and a shopping list—featured eDesign Tribe designers can charge no less than $299. "I created that package because it's the standard [offering] right now on other platforms," she explains. "The price is comparable to other sites—but no one can go lower than that, and they should be charging way more if they offer a rendering." Prices for the standard package range from the $299 minimum to upwards of $700.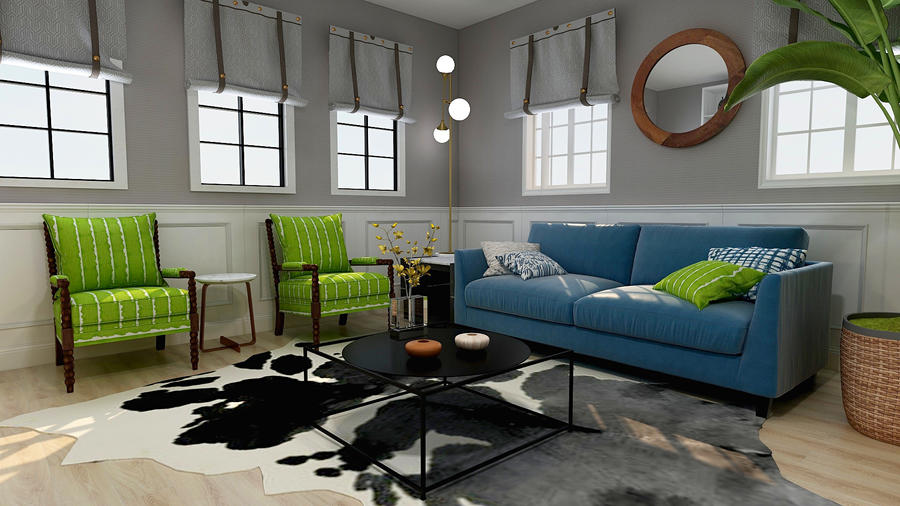 Courtesy of eDesign Tribe
She hopes luxury designers will be interested in offering a scaled-back option on their sites for $1,000 or more. "I'm trying to show designers that they're worth more, and my goal is to take over every part of the industry," she says. "Maybe you're a kitchen and bath person, but don't want to be anymore. Or you're hybrid, offering half in-person and half online. I have home stagers that do virtual staging [with the software], people with stores who want passive income options, and in-person designers making a switch. That's what's so exciting."
With eDesign Tribe's software, Gaidusek aims to offer designers freedom and a plethora of options. She continues to bring new vendors onto the platform, with a focus on brands that have drop-ship capabilities or offer white-glove delivery in the United States and Canada. She has plans to launch eDesign Tribe's own customizable, American-made upholstery line by 2021. And the site's new e-shop includes a partnership that gives designers access to more than 19,000 products on Design Kollective, an online platform for brick-and-mortar furniture retailers. But the software also allows designers to incorporate their own products—including furniture, fabrics and accessories they procure outside of the site.
For all the platform's offerings, Gaidusek has her work cut out for her. The major e-design platforms are all well-funded enterprises: Decorist is owned by Bed Bath & Beyond, Havenly has raised $57 million, and Modsy $71 million. These companies have sunk considerable capital not only into their tech platforms, but also into marketing and advertising to attract a stream of clients. For many e-designers, the appeal of steady work on a big platform may outweigh the potential rewards of going independent.
Throughout, Gaidusek has funded the entire operation herself, and with eDesign U course fees and early eDesign Tribe memberships. Her team recently swelled to seven employees, but for most of the company's life, she has been working with only a developer and a virtual assistant to create the platform.
"Funding this without investors was important to me, because working for other e-design companies, I watched as they took on investors and started taking away from designers—using their info and not paying them what they deserved," she says. "I knew I had to do this when I could barely pay my rent working for e-design companies. There was nothing to help me grow and advance, and I thought, 'I'll forever be here making $1,000 a month.' I built this to give other designers the financial freedom they want."
Homepage photo: A room design from eDesign Tribe's new rendering program | Courtesy of eDesign Tribe