It's Tuesday, the best day of the week—at least, for the BOH news desk. In our weekly digest, find a roundup of need-to-know (and nice-to-know) news.
BUSINESS NEWS
This morning, e-design and e-commerce platform Havenly announced that it had closed a $32 million Series C round, bringing the company's total funding to more than $57 million. In a statement, the company said that it planned to use the cash infusion to launch a private-label collection, continue to scale its designer network, invest in technology, and roll out a broadcast advertising campaign in early 2020. When she appeared on the BOH podcast last month, Havenly CEO and co-founder Lee Mayer explained her increased focus on e-commerce—driven by the decision paralysis customers often feel when buying for the home. "Thirty years ago, you were limited by whatever was carried in inventory in your local furniture store. … You now have access to not 500 different items, but 12 trillion. In our database alone, you have access to 13 million," she said. "[Our goal is:] 'Can I narrow down the 12 trillion to the hundred for you?'" She's clearly onto something: Havenly's business has grown 14 times in the past two years. Its new product line, Cove Goods, will offer affordable rugs, pillows, throws, furniture and lighting, starting with 50 SKUs in time for the holidays.
Candle startup Otherland has announced a $2.7 million seed round led by Lerer Hippeau Ventures with participation from Global Founders Capital, Correlation Ventures and Cleo Capital. They join existing investors including all five co-founders of Casper; Iqram Magdon Ismail of Venmo; and Nadia Boujarwah and Lydia Gilbert of Dia&Co.
Furniture store sales grew by a billion last year, up 2.6 percent from one year ago, according to data from the U.S. Census Bureau. Sales reached $5.5 billion in July, up from $5.4 billion in July 2018. Dinnerware sales grew 1.7 percent in 2018, rounding out to $2.05 billion, according to HFN's State of the Industry report. Growth has been driven by a rise in folks eating at home, as well as a wide range of interesting product.
A shareholder filed a class-action lawsuit against Overstock.com that accused the brand, its former CEO Patrick Byrne and former CFO Gregory Iverson of artificially, fraudulently enhancing the company's market value, reported Furniture Today. California investor Benjamin Ha filed the federal complaint on behalf of company shareholders on October 3.
LAUNCHES, COLLABORATIONS AND PARTNERSHIPS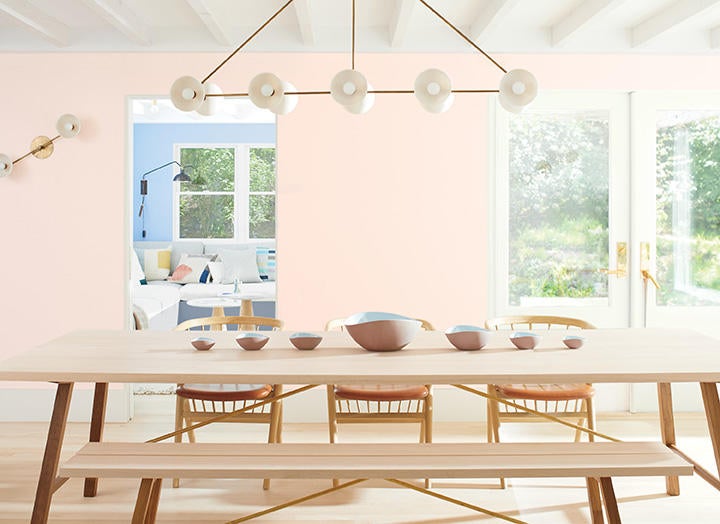 Courtesy of Benjamin Moore
It's that exciting time of year—when the Color of the Year announcements just start rolling (dripping?) in. Last Thursday, Benjamin Moore debuted its 2020 COTY: First Light 2102-70, which the brand describes as "a soft, rosy hue blooming with potential"—a fitting dose of optimism to kick off the next decade.
Valspar released its picks last week as well, showcasing a palette of 12 (yes, 12!) hues available at Lowe's and independent retailers across the U.S. The dozen colors, which range from an earthy red to a crisp mint, are all inspired by nature and meant to encourage serenity and calm in the home.
Nordic paint company Tikkurila is launching Endangered Colors, a collection of nine hues that each represent a different endangered animal. The brand will donate one euro per product purchase toward endangered species conservation. The collection will debut in stores in Russia, China, Finland and the Baltics in 2020.
New York–based online paint booking platform Paintzen now has a design trade program that will feature additional services besides providing access to hundreds of painters and wallpaper installers. Trade partners can be anyone working in interior design, decorating, staging, real estate, concierge and other industries. Paintzen also delivers PPG paint and supplies to project sites. It is available in Boston, Chicago, Dallas, Houston, Los Angeles, New York, Pittsburgh, San Francisco, Seattle and Washington, D.C., and Portland, Oregon.
Maiden Name, a new luxury digital direct-to-consumer brand that will focus on fashion and paper goods, will launch in New York this fall. One of the founders, Alix Freireich, hails from Ralph Lauren, as does director of production Susan Lee.
Chicago-based visual customer experience company Threekit has released a new visual product platform that makes it easier for brands to make realistic renderings, with the aim of reducing the number of product returns and increasing online conversions. "Today, we live in an increasingly visual world, surrounded by Instagram, Snapchat and Youtube, but too often, when we want to buy something online, the product visuals don't live up to what we expect," Threekit founder and chief technology officer Ben Houston said in a statement. "With the launch of this platform, companies can greatly elevate their visual customer experiences."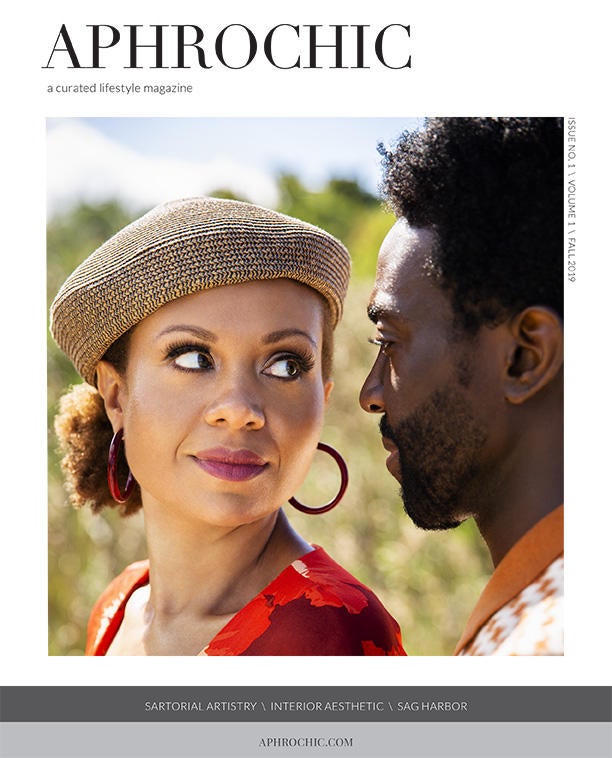 New York–based design brand AphroChic has debuted its quarterly lifestyle publication. The inaugural issue of AphroChic is available in print and online. "This magazine is about more than beautiful objects and places," co-editor in chief Bryan Mason says in a statement. "It's about presenting a new conversation. You'll see discussions in Issue One around the Fair Housing Act, the concept of diaspora and new legislation that guards against discrimination of natural hair. It's equal parts chic aesthetic [and] current affairs." AphroChic also recently launched the podcast "One Story Up," which celebrates the African diaspora and the stories and culture surrounding it.
New York–based lighting designer Bec Brittain collaborated with local high-end carpet manufacturer Edward Fields on a carpet collection titled Taxonomy, Brittain's first for carpet, which launches today.
Bloomingdale's launched a partnership with Riley, a New York–based DTC home and lifestyle brand. The department chain will carry Riley bedding, bath and other soft goods online and in a handful of brick-and-mortar locations across the nation.
OPENINGS, AUCTIONS AND EVENTS
1stdibs is hosting the New York debut of Object Permanence, a series of exhibits founded by Los Angeles–based designers Leah Ring and Emma Holland Denvir to celebrate up-and-coming designers. The show is on view from October 18 to November 8 at the 1stdibs Gallery in New York. Local designers Slash Objects, Ian Alistair Cochran, Maryam Turkey and others will participate.
The Architecture & Design Film Festival will debut its 11th season on October 16 at the Cinépolis Chelsea in New York. For four days, the 25 featured films will tackle homelessness, gender inequality and profiles on internationally renowned designers.
Forty One Madison will host The New York Tabletop Show from October 29 to November 1. Andrew Kline, design director of Workshop/APD, Foundry42 founder Cooper Boone, and Jon Sherman of Flavor Paper will headline Forty One's Tastemaker Takeover program.
On November 7, design firm Radnor will open a new studio in Gowanus, a neighborhood in Brooklyn, sharing space with Workstead and Julianne Ahn in the Old American Can Factory.
RECOMMENDED READING
Home furnishings brands are hard-pressed to pinpoint the value of influencer partnerships in a national landscape of 9 million home, food and lifestyle bloggers, reported HFN. At the International Housewares Association's recent CHESS conference, Laiza Cors, co-founder and CEO of influencer marketing agency Embello, talked about how to prorate an influencer. "While companies may wonder which social media platforms they should be on, Cors said it is better to manage one or two platforms really well than to attempt all of them and wind up doing them poorly," writes Allison Zisko. "In order to gauge the return on investment of an influencer campaign, the following metrics should be considered: reach (the total number of unique accounts), engagement (the percentage of impressions that resulted in interactions such as likes, shares or saves), follower growth, the amount of content created (which companies can often repurpose for other projects), trackable links and page visits."
CUE THE APPLAUSE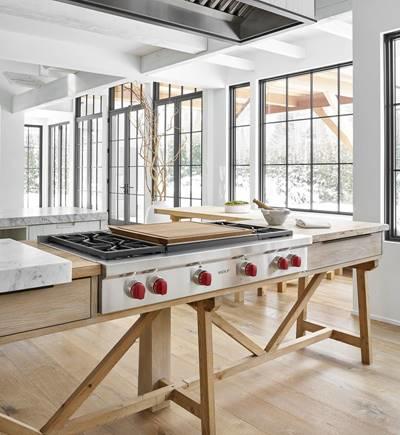 Courtesy of Giulio Kitchen Design
Michael Amini, CEO of Pico Rivera, California–based furniture brand Amini Innovation Corporation, will receive the Academy of Achievement Honor at the ARTS Awards in Dallas on January 10. He will be recognized for his massive influence on the industry. Hosting the awards ceremony this year are designers and tastemakers Carson Kressley and Thom Filicia.
Congratulations to Mick De Giulio and Greg Webb of de Giulio Kitchen Design, who were recently recognized at the Kitchen Design Contest hosted by luxury appliance brand Sub-Zero, Wolf and Cove. There were more than 1,800 entries, 30 finalists and ultimately 14 winners.