Former Queer Eye for the Straight Guy stars Carson Kressley and Thom Filicia are returning to Bravo to host a new home-focused show. Get a Room With Carson & Thom premieres on October 19. For each of the new series' episodes, the friends and co-hosts will help re-imagine two clients' spaces.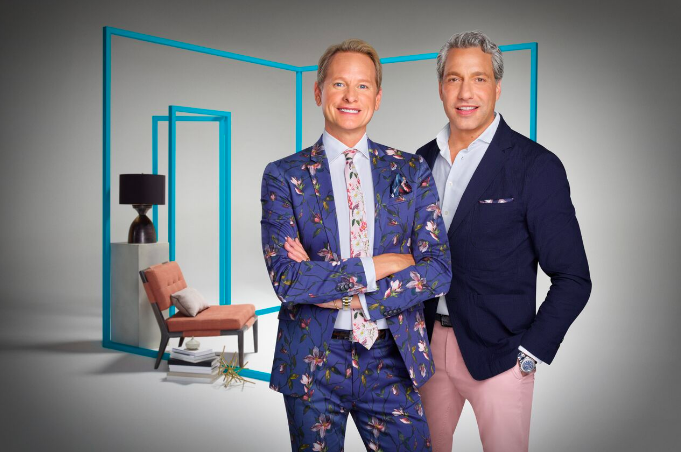 Courtesy of Bravo Media/ Rodolfo Martinez
Reports Bravo, "Carson and Thom are here to help fight the uniformity and ubiquity of American home design with a new business venture in Get a Room With Carson & Thom. Carson has been bitten by the decor bug, and he's looking to his interior designer buddy, Thom, to take him under his wing and teach him the design trade from soup to nuts."
The clients on each episode will have a range of budgets, says the network. "Some have big budgets and some small, but they're all trying to create a beautiful room that is unique to them. With Carson's fashion sense and bold personality and Thom's designer acumen and friendliness, the bodacious besties will create breathtaking and affordable redesigns. These two arbiters of style work together, play together, argue, compromise and create spaces as only they can in their quest to make America chic again."
Kressley recently came under fire for his comments about the new Netflix-powered update of Queer Eye. As People reported, he had said the original series was "more groundbreaking" than the current iteration. "I loved being a part of the original Queer Eye, and I love the reboot. When I said the original was more groundbreaking, it only meant that the original aired in an era when there was far less representation of gay people on television," Kressley told the magazine. "We have come a long way, and I am very proud to have passed the torch to the wonderful and talented new cast."
The show is produced by Critical Content and Free Range Media, with Filicia, Kressley, David Metzler, Tom Forman, Jon Beyer, Jason Hollis and Grace Lee-Toumanidis all on hand as executive producers.