We're back again, live from the second day of BOH's inaugural Future of Home conference, where top design and digital leaders took to the stage for in-depth conversations about the forces of change sweeping the home industry. Here were some of the highlights from the day.
---
Activation: The Helpful Home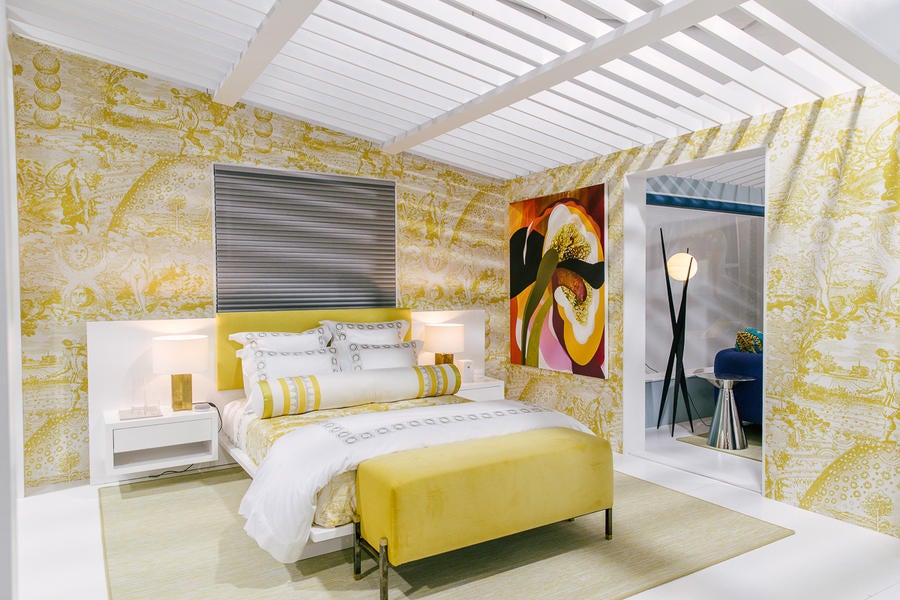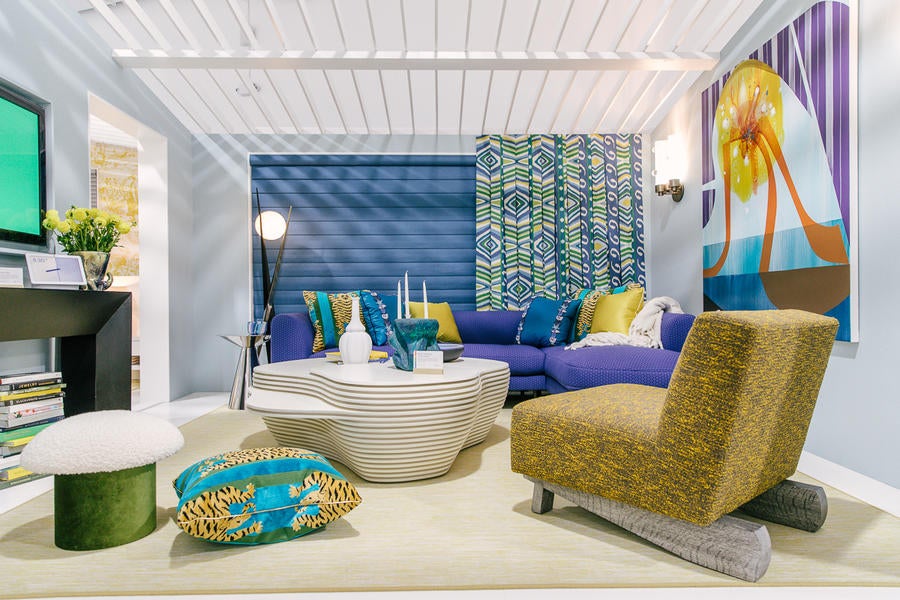 Business of Home presented The Helpful Home, a forward-thinking activation during the Future of Home conference, and one that expressed a more nuanced, decorative side of smart home technology. A collaboration with Google Nest and noted New York design firm Drake/Anderson, the space's features—including thermostats, lighting and motorized shades by Hunter Douglas—responded to the cues "Good morning, Google" and "Good evening, Google."
Principals Jamie Drake and Caleb Anderson dressed both the living room and bedroom with fashion designer Johnson Hartig's vibrant and punchy new Libertine collection for Schumacher. While most connected-home showcases focus attention on innovation, Drake/Anderson's layered spaces offered a new and elevated approach to integrating on-command tools without sacrificing aesthetics. —Arianne Nardo
---
---
The Future of Sampling
Business of Home editor in chief Kaitlin Petersen sat down with Adam Sandow, founder, CEO and chairman of Sandow, for the final discussion at the Future of Home conference. Sandow described the "consumerization of B2B," his take on how on-demand culture is shaping the professional space—from millennial employees expecting better, faster tools in the office, to service providers making the customer experience even better.
Sandow also shared his passion for innovation and sustainability—two pillars that helped the development of digital sampling service Material Bank. In pursuing "the sample library of the future," Sandow has sought to save designers time, streamline an outdated process and reduce the sampling waste that is so rampant in the industry. The thought leader also detailed his love of ideation and collaboration; how he thrives by building quickly; and why he is willing to take risks—as with the company's new Material Bank Lab in Chicago's Merchandise Mart, which went from concept to opening day in only three months (two months of prototyping and one month of building) and offers an in-person expression of the platform's sampling capabilities.
Best quote: "Today, things are moving so fast, innovation is mandatory," said Sandow.
Key takeaway: The world is in warp-speed—so dream it and build it fast. —Arianne Nardo
---
---
The Future of Media
Domino general manager Tracy Cho; Melissa Duren Conner, partner and managing director of Jennifer Bett Communications; and Apartment Therapy founder Maxwell Ryan sat down with Sophie Donelson to discuss media and its many iterations.
Donelson noted early in the conversation that it's not even necessary to specify "digital media" anymore–a print magazine is the aberration these days. That set the tone for the rest of the talk, as Ryan discussed the impact of the ever-changing Google algorithm on Apartment Therapy's traffic and how the site has responded to the increasingly fragmented media landscape. But there's still room for print out there: Cho talked about how Domino has continued to innovate the traditional medium—its most recent print issue included a scan-and-shop QR-code feature. And from a PR perspective, Conner noted: "Brands today are at a huge advantage because the media landscape is so wide."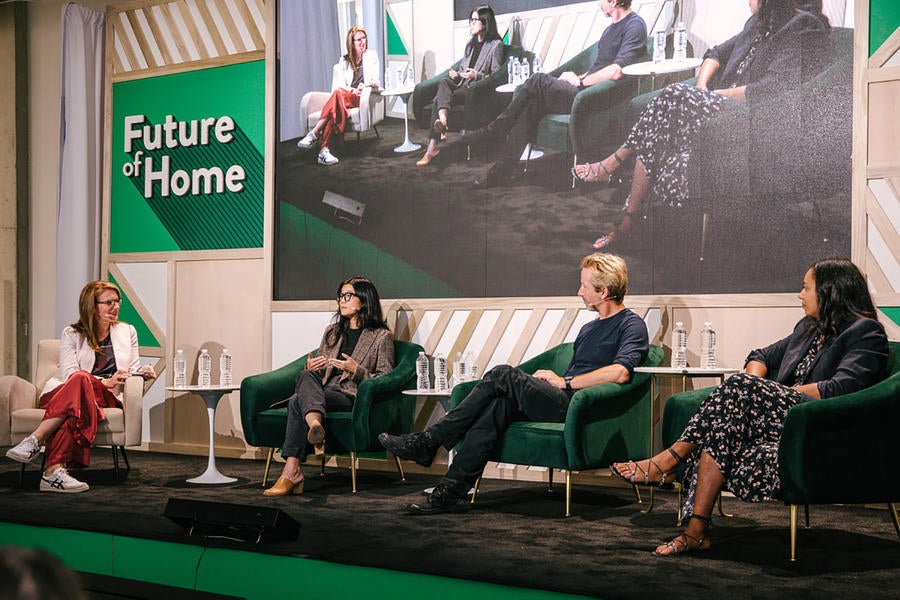 Best quote: On looking to the future of media, Ryan said, "I don't think the web was designed to be a reproduction of a magazine or newspaper. I think the web was made to be interactive. When people say, 'I read Apartment Therapy,' that's great; when they say, 'I used it,' I'm excited."
Key takeaway: Media is changing, and we're no longer in the early days of huge growth on the web. Be prepared to see publications continue to diversify their revenue streams. —Katie Rothstein
---
The Future of Community Commerce
Snowe co-founder Rachel Cohen and Connie Matisse, the co-founder and chief marketing officer of East Fork Pottery, joined BOH contributor Sophie Donelson in a discussion about the future of direct-to-consumer commerce. Both East Fork and Snowe have extremely loyal customers who might be better classified as fans, a feat that Cohen pointed out cannot be achieved through something like venture capital alone. She argued that you have to give a brand time to grow organically and find its own audience. Matisse echoed this and chronicled her brand's unique path to success, which began at craft fairs and pottery festivals. Both brands are attracting multigenerational customer bases, something they attribute to creating a lifestyle and overarching design aesthetic that is bigger than a single product.
Best quote: "Younger customers come into our stores and they say, 'I need to bring my partner back to see this,'" Cohen said. "That decision for what fork you're going to be holding or what finish is on the glass that you're going to drink out of, we're seeing that become a household decision."
Key takeaway: Many consumers are now seeking out brands that have unique perspectives and place a larger emphasis on quality and craftsmanship. In other words, brand loyalty is something that happens organically and can't be rushed, forced or bought. —Haley Chouinard
---
---
The Future of Legacy Brands
Legacy brands have longevity for a reason, but as Benjamin Moore CEO Dan Calkins and Lenox CEO Mads Ryder shared with Business of Home's Dennis Scully, that doesn't mean they can't stop innovating. Both leaders described the marketplace challenges they are encountering and the strategies they are adopting to meet them. For 136-year-old Benjamin Moore, a changing client base has created new opportunities. Calkins revealed that the company has seen an increase in its professional painter business versus the do-it-yourself consumer, a segment that was strong for the last 20 years. He described a shift from a product-centric mentality to a services-oriented one, and teased out a few early-stage initiatives to assist professionals, like sending over lunch or helping get labor to job sites to keep them on schedule.
For historic tabletop brand Lenox, which is celebrating its 130-year mark, young consumer behavior and attitudes about formal dinnerware or cohabitating before marriage have influenced the kind of product the company brings to market. When Scully jokingly referenced how he "Lego-izes" Lenox tabletop offerings, Ryder revealed a new collection that you can mix and match. Instead of imposing the full dinner service, Lenox wants to inspire clients to buy tabletop and "customize it to the taste you have at any given point and time," noting that tastes change throughout life. "You're buying a platform, you're buying an infrastructure that you can build on. Instead of taking your Ikea dinnerware and throwing it away, you buy some Lenox and you can continue to add [pieces] as if was a fashion collection." Both executives described the pain in retiring SKUs, but said the benefits were well worth it.
Best quotes: "Today, being judged as a brand, you're not judged by the space you're in, you really, truly are judged by the best experience someone has had," said Calkins.
Regarding availability of tabletop replacements: "I don't know any car company who continues to do car spare parts 30 years after they launched their car. But that's the notion of what we do in the industry, and we cannot continue to do that," said Ryder.
Key takeaway: Innovation is everything. Even category leaders need to revise and refresh their products and services. Legacy is not the final stop—successful brands continue to build and change and are open-minded. —Arianne Nardo
---
The Future of Influence
Corey Moran, head of industry, fashion and luxury at YouTube, joined BOH managing editor Fred Nicolaus to chat about the role influence (and influencers) has on luxury brands. The platform currently has a whopping 2 billion monthly users, but the imprint of the design industry on the site is relatively low compared with sectors like beauty and fashion. Moran said there is an audience hungry for well-produced design content, but the videos just aren't there at the moment.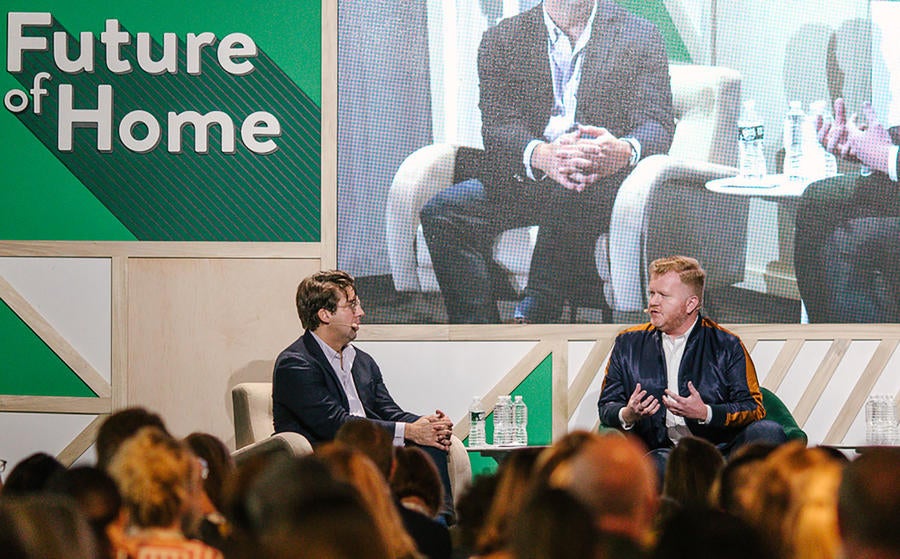 He emphasized that the barrier to entry for creating YouTube videos is very low and that the most successful ones are shot and edited on smartphones. He talked through a variety of ways that designers can get involved on the platform, from sharing videos of the installation process to choosing textiles or creating mood boards. Ultimately, Moran said, YouTube users are looking for education and product recommendations, both areas where designers can offer new content.
Best quote: "Figure out what makes you unique and what your personality is on this channel and then own it," said Moran.
Key takeaway: YouTube has a massive audience, and there is a desire for more high-end design content on the platform. While the design world has embraced Instagram as its social media of choice, there's an opportunity on YouTube to grow both a brand and a dedicated following that Instagram doesn't necessarily attract. —Haley Chouinard
---
---
Activation: Studio Designer Demonstration
During lunch, Studio Designer CMO Rachel Wagman and avid user Marla Marshall offered attendees a demonstration of the platform. Marshall, the owner and lead consultant at Designer Accounting & Consulting, showed the audience how she uses Studio Designer to keep all parts of her projects organized. The platform has features that allow designers to keep "shopping lists" organized by room, as well as offering easy budget tools and quick ways to communicate with vendors to get pricing and sourcing information. —Katie Rothstein
---
---
The Future of Real Estate
Curbed senior reporter Patrick Sisson joined Zillow senior economist Cheryl Young to discuss their top predictions for the real estate shifts in the next decade. The data-driven talk began with the issue of affordability, something that both Sisson and Young identified as one of the biggest issues facing the real estate market. Much has been made of how millennials are buying homes at a slower rate than previous generations, a trend that Young attributed to their exorbitant student debt and a rapid increase in the cost of living in major cities. The panelists pointed out that millennials are living with roommates for longer, even after they're married.
They also touched on the large number of baby boomers who are moving into senior communities (a trend that's being referred to as "the silver tsunami") and making aging-in-place renovations in their homes. Rounding out the discussion, the pair tackled the increasing presence of smart home technology, which is a growing priority among millennials, whether they're renting or buying.
Best quote: "You're going to see people who value quality of life, who want to be able to own a home or a business and do it affordably, looking at cities like San Antonio and Memphis as their best option," said Sisson. "Those secondary markets are going to grow quite considerably."
Key takeaway: Millennials and boomers alike are facing unique challenges in the real estate market, and the issue of affordability is verging on crisis level. —Haley Chouinard
---
---
The Future of On-Demand Design
The digital design world is growing, and it shows no signs of slowing. Business of Home's Dennis Scully sat down with Modsy's vice president of style, Alessandra Wood, and Sweeten founder and CEO Jean Brownhill for a conversation about the ways both companies have embraced technology to make design services more accessible and transparent for consumers.
Modsy provides online interior design services, and uses 3-D design to show customers a rendering of their exact space. Wood likened it to trying on furniture for your home virtually. Brownhill came from an architecture background, and started Sweeten after having a tough time finding a general contractor for her own brownstone renovation. Through a combination of algorithm and background screening, Sweeten's technology allows customers to compare and select the best general contractors for their projects.
Best quote: On how Modsy helps people visualize and select the right furniture, Wood noted, "The technology is providing not just the service, but the confidence to know that the decision-making process is seamless and easy."
Key takeaway: Modsy and Sweeten aim to use their technology for good—to make the design and renovation experience better for customers. —Katie Rothstein
---
The Future of Subscription Furniture
This morning, Business of Home managing editor Fred Nicolaus led a conversation about a niche in design that has inspired endless curiosity: rental furniture. Michael Barlow and Lucas Dickey, the co-founders of furniture subscription service Fernish, and Kyle Hoff, co-founder and CEO of furniture brand Floyd, have emerged as dominant players in this space. All three panelists agree their businesses evolved out of a reaction to the disposability of furnishings, but they also cite demographic and lifestyle factors that have compelled their growth in urban markets among millennial consumers. While the familiar aspects include space, finances and career changes, Dickey referenced Jenny Fleiss's presentation on consumer behavior (see below) and pointed to a deeper, more personal value, as individuals arrive at different stages in their lives.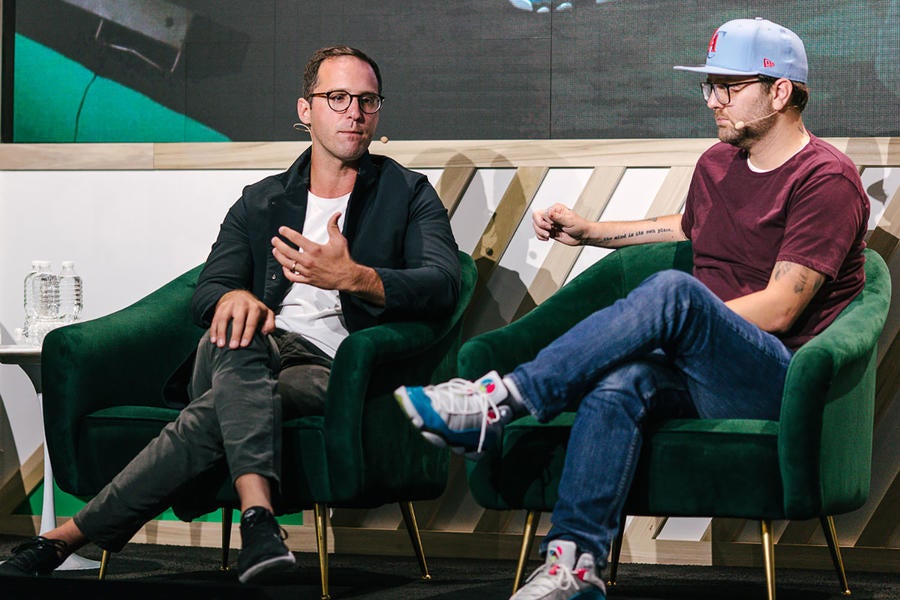 "Subscription furniture enables you to re-create your identity on a three-year basis, and it's not putting another $10K in every single time that you do it. So it's a lot more fluid and possible to do." The leaders of both companies discussed how they appreciate interior designers—Fernish even has designers in-house—but said their current focus is on making product accessible, not moving into the high-end market.
Best quote: "The reason things go out of style is because companies don't stand behind their product and they offer it in the next style next year. If you look at Herman Miller or Knoll having product that can withstand the test of time, it isn't just a coincidence that it was great design, because they stood behind their products for 60, 70, 80 years," said Hoff.
Key takeaway: The convenience of renting furnishings is appealing for anyone surviving their next move, but it's also part of our shifting views of personal style in the home and consumption. Being untethered equals freedom of expression. —Arianne Nardo
---
---
The Future of Affluent Consumer Behavior
To kick off Day Two of the Future of Home conference, Jenny Fleiss, co-founder of Rent the Runway, sat down with BOH contributor Sophie Donelson to discuss her new venture, Jetblack, a text-message-based personal-shopping concierge for affluent consumers that delivers products and recommendations on-demand. Currently operating within Jet.com's incubator program, Jetblack is primarily targeting busy parents who may not have time to, say, buy a present for a child's birthday party or shop multiple sites to get everything on a school supply list.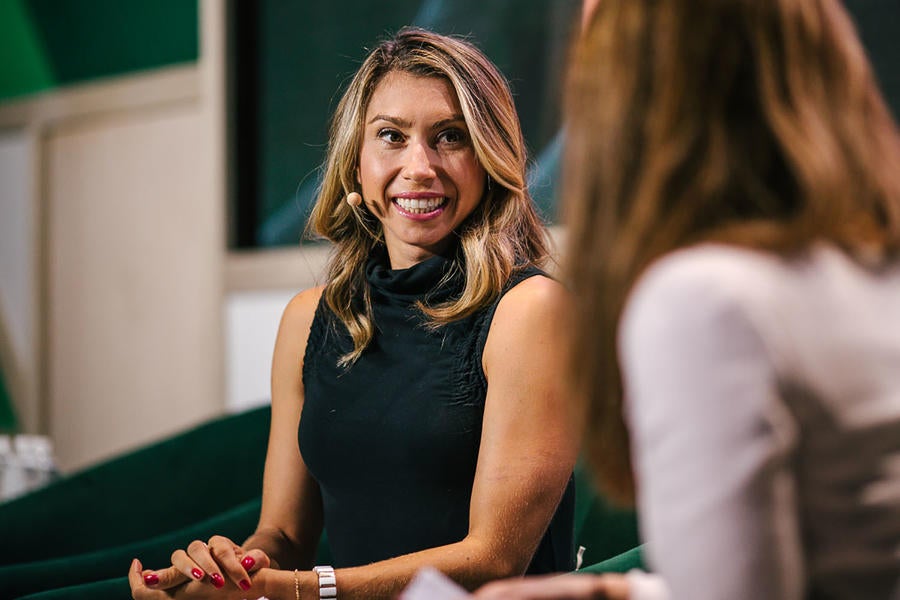 The invite-only service is heavily reliant on AI and machine learning, something that Fleiss said will become more and more intuitive as more users join the platform. Looking ahead, she hopes that Jetblack can make text-message-based shopping more efficient than traditional e-commerce (she cited a statistic that 33 percent of Americans have voice-controlled tech hubs in their homes, but only 3 percent use those devices for shopping), and offer a viable way to make life a little easier for the service's members.
Best quote: "We're all time starved," Fleiss said. "Women are working more than ever, but they're still having kids and bearing most of the responsibilities of running the household. The need for services like this that complement our lives is only growing."
Key takeaway: Jetblack is prioritizing collecting conversational attributes of products, such as questions you would ask a store employee, like: "Will this bike helmet fit a 4 year-old?" Making the digital shopping experience more reflective of the physical experience, Fleiss argued, is the key to making it more efficient. —Haley Chouinard