Opening the doors to a store is just one step of today's retail equation. You need an e-commerce platform, an Instagram strategy and a direct mail program—it's no longer possible to just choose a lane and stick to it. "A brand has to know where to meet its customer and how to speak to them when they arrive at that channel," says Mollie Kitchens, senior manager of PR and brand marketing at Ballard Designs. "And those channels and messages aren't always the same for every company."
An omnichannel sales and marketing strategy prioritizes establishing and maintaining a cohesive brand experience across all mediums—from the catalog, phone, and store or network of stores, to the desktop and mobile versions of a site, marketing emails and social media channels—in order to build a meaningful, consistent relationship with customers. (Omnichannel is often confused with multichannel, which refers to simply selling products on several channels—and which, in today's retail environment, is no longer sufficient.) "The goal is to ensure a smooth transition between transactions occurring on both [online and offline] channels," wrote digital marketing consultant Shane Barker in a recent article for Forbes. "It's not enough that you just establish your presence on multiple channels. It's not even enough that you make all of your touch points shoppable. What matters is that you focus on creating seamless transitions between multiple channels and touch points to ensure the best shopping experience for your customers."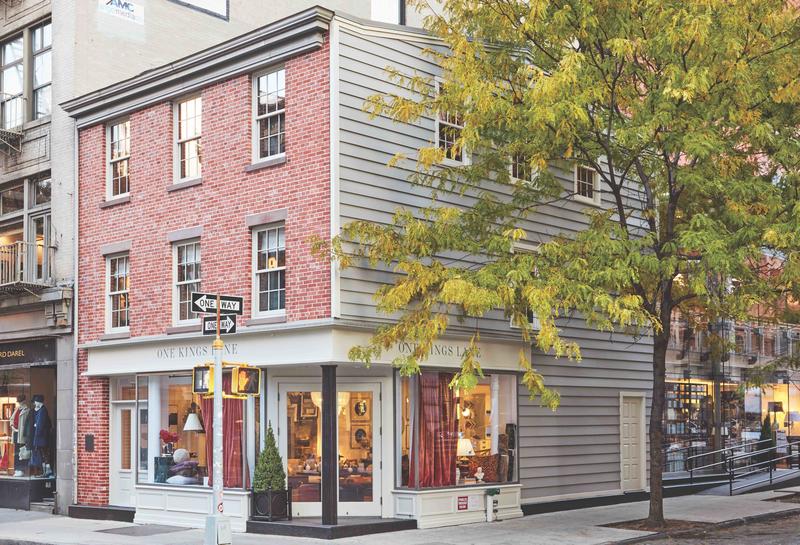 Courtesy of One Kings Lane
Ballard has had decades to perfect the omnichannel approach—the company was founded in 1983 as a catalog brand, launched its website in 1999 and opened its first storefront in 2007—but for new brands, it's a constant grind. "It's really hard," says Stephen Kuhl, co-founder and CEO of the direct-to-consumer online furniture brand Burrow, which launched in 2017 and recently opened its first physical store. "We're constantly creating new content and trying to cycle through that new content as fast as possible and on as many channels as possible."
To better understand how brands of all sizes are navigating these challenges and establishing a consistent footprint across all platforms, we spoke to six retailers at different stages in the journey, from a local Atlanta shop that expanded into e-commerce to a national brand that began with a website and now has a network of 65 showrooms across the country. These are the lessons they've learned.
1. Different channels need different stories. This is a brand's biggest challenge: What attracts a consumer on Instagram may not be the same thing that makes a shopper click through an email, which probably isn't going to be the same messaging that catches a homeowner's eye in a print catalog.
Ballard approaches each channel with the same concept, but a different message. "It's about meeting the customer where they are and how they prefer to shop," says Kitchens. "Take for example a new desk—you'll see it in the catalog in a beautiful home office, on Instagram as a product video, in the retail store vignette, in an email showcasing the product benefits and on the website with decorating tips."
For Snowe, a digitally native brand that creates and sells elevated home essentials, the challenge manifested in how they communicated product information to shoppers in their stores versus online. "Sometimes you take for granted that things that are easy to merchandise on-site are a little bit harder to merchandise in-store and create that same experience," explains Rachel Cohen, the company's co-founder and CEO. Snowe offers customers bundles, or groupings of product, so that they can purchase an entire dining or bedding set with one click on the website. That system didn't easily translate to a traditional retail setting—and the in-store solution, Cohen discovered, needed to be much more hands-on. "We've really focused on training our in-store retail team on guiding customers through that bundling experience," she says. "Customers want that in-store experience, for someone to talk to them to understand exactly what their needs are, and help them through the process."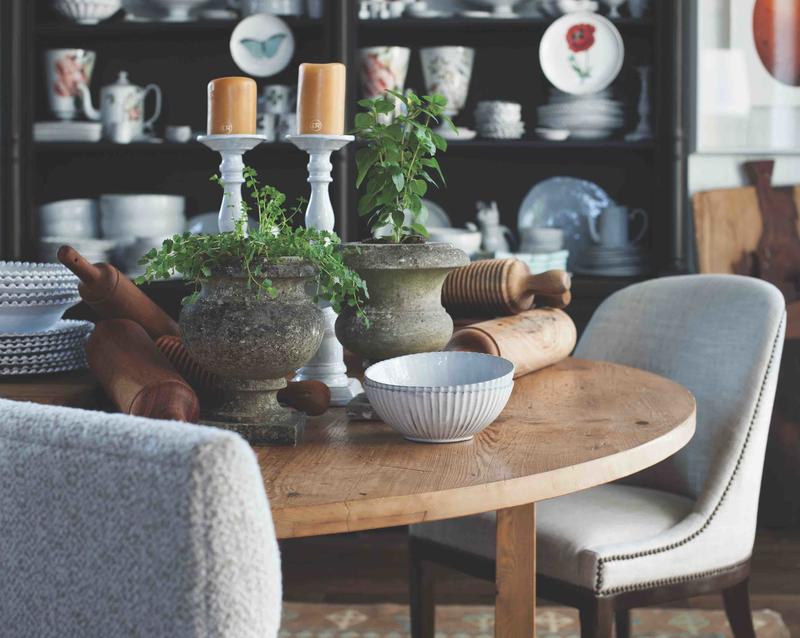 2. The retail store is far from dead. Having a physical storefront is a two-way street, giving a company immediate and direct access to its customers while allowing customers to interact with the product—and the latter is key for home furnishings. People want to touch that entertainment console or hold that glass or sit in that lounge chair before they buy it. They also want to be shown how to use it. "Our customers love inspiration," says Cohen. "They love the way we're styling the product and putting it in context."
Giving customers direct access to the product also gives them more confidence to shop online. One Kings Lane opened its first store in Southampton in 2017—a pop-up so beloved that its run was extended from three and a half months to a year—and just opened a flagship in Manhattan; president Debbie Propst says that "the impact of seeing something in real life" creates "an enhanced trust level" with the overall assortment on the website. Propst adds: "We're building our brick-and-mortar strategy based on that feedback and the overall halo effect that we have with the customer once they've seen our products in our store."
The importance of creating that customer confidence was something that The Shade Store discovered soon after opening its first showroom in 2008. The 73-year-old company had long been a catalog business, but the response to that first outpost in New York was overwhelming—the brand soon found success in the combination of its website, phone sales and support team, as well as the showrooms. In response, the company quickly developed an aggressive brick-and-mortar growth plan with no signs of slowing down. Today, The Shade Store has 65 storefronts across the country; in a 2017 Forbes interview, CEO Adam Gibbs projected that the number of stores would likely double in the next three years. Michael Crotty, the company's chief marketing officer, attributes the success of the showrooms to the fact that custom window treatments are a high-touch product and that navigating the design process can be intimidating. "Sometimes as a consumer, or even the trade, you don't really know what you're looking for," he says. "It's not something you buy often enough to understand the pros and cons of different products based on what your needs are."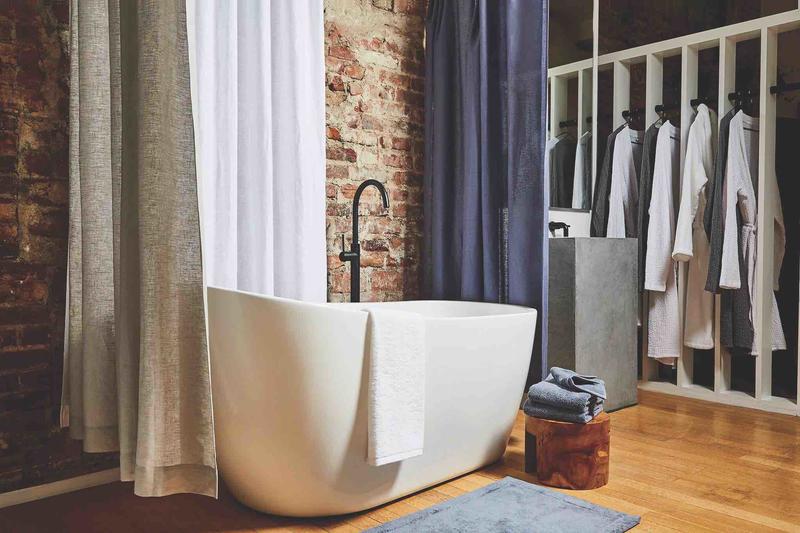 3. Listen and adapt. When Burrow opened its retail concept, Burrow House, in September 2018, Kuhl says that there was an adjustment period in how his team approached the customer experience. They were so used to analyzing digital data to better understand shoppers, "it was like they forgot you can just talk to people and get to know them better," he explains. "We had to get our team to wrap their heads around the fact that if you actually watch people and talk to them, you'll get way more information."
As an online-first brand, the Snowe team was adept at savvy digital marketing. In the process of developing three New York shops in the past two years, the team has also fine-tuned its strategy for translating that message to a brick-and-mortar outpost. In the company's first foray into physical retail, a third-floor, appointment-only location called the Whitespace, product is displayed as if you are shopping someone's apartment right before they were about to host a dinner party. It is "completely immersive," says Cohen. (It is also Cohen and her partner Andres Modak's real apartment and the company's office—so the experience has been immersive for employees and customers alike.) In the Blankspace, Snowe's 2017 pop-up shop in SoHo, the team pulled back and created, true to its name, more of a blank slate—a minimalist display that let customers project their own ideas onto the products. Though the pop-up was a success, they found that shoppers needed more guidance, so the third and current pop-up, this time in Flatiron, marries the two concepts: On one side of the shop, you'll find styled vignettes, and on the other, a more straightforward product display. "We're always looking for ways to improve and innovate," says Cohen. "We paid attention to what our customers loved [about each space] and paired it with the same kind of clear, thoughtful guidance we see perform so well on the site." And so far, it's working: In its first month, the new Flatiron location pulled in more than double the sales of last year's store in the same time period.
For Bradley Odom, owner of Dixon Rye, a home store and design studio in Atlanta, customer feedback led to a more balanced product mix. When the shop first opened in 2015, Odom carried a line of sofas he had designed and manufactured through Verellen in High Point, North Carolina, but he quickly found that the price point was a little high for the shop's everyday customer. Instead of value-engineering the product, he now shows the starting price point instead of an "as shown" price—which makes each piece feel more attainable while still inspiring with luxurious fabrics—and added smaller, lower-priced items to balance the shop's inventory. "We've learned how to maintain our level of quality and craftsmanship in the things that we sell," says Odom, "but to mix in some of the more approachable and affordable pieces that you can walk away with on a daily basis, from books to bud vases."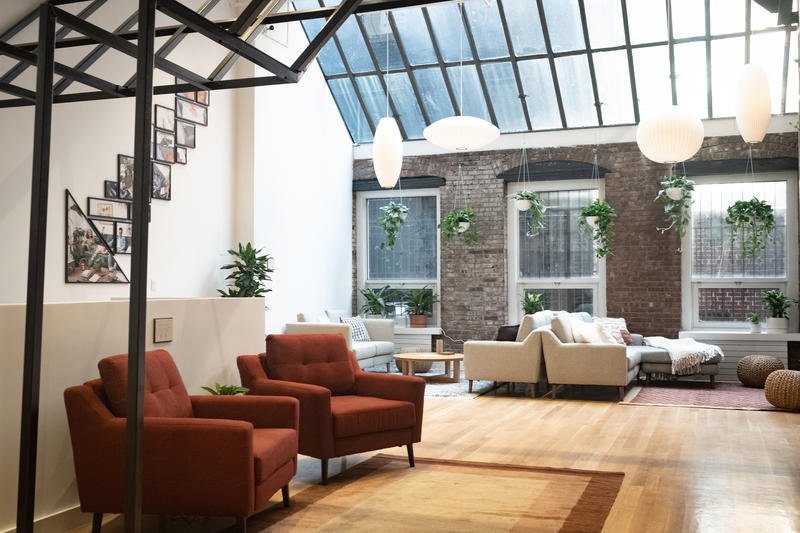 4. Old strategies are new again. While many legacy brands like Ballard have their roots in print—the company launched with a two-page black-and-white catalog that featured a dolphin table, and today sends out more than 55 million catalogs annually that clock in at around 100 pages each—digitally native brands are looking to direct mail as they expand.
One Kings Lane, which started in 2009 as a flash-sale site and has grown into a full-fledged furniture and home accessories company with a mix of proprietary collections, collaborations and one-of-a-kind finds, launched a catalog last year that blurs the lines between editorial and commercial. Though completely shoppable, the publication often reads more like a magazine, complete with articles of everything from holiday gift guides to home tours, all of which offer another "physical way for the customer to experience our brand," says Propst. "As a brand with a strong belief in the power of print, we see our catalogs as a natural extension of the content-led commerce we have always offered on site."
Catalogs and mailers are about brand awareness, but they are also a great way to remind customers to come into a nearby store. The Shade Store mails catalogs to new homeowners every week to provide a snapshot of what it's like to work with the brand, and Snowe's first direct mail campaign hit mailboxes in early November. Burrow has used direct mail to drive New Yorkers to its SoHo store, testing both prospecting (which targets potential customers via lookalike audiences) and retargeting (which reaches customers who are already familiar with the brand) campaigns to meet people at "different stages in the consumer funnel." According to Kuhl, customers often have up to seven touchpoints with Burrow before making a purchase, making it difficult to track which strategy led to the final sale. That said, Kuhl notes that the company's retargeting campaigns "have a more directly attributable impact to sales."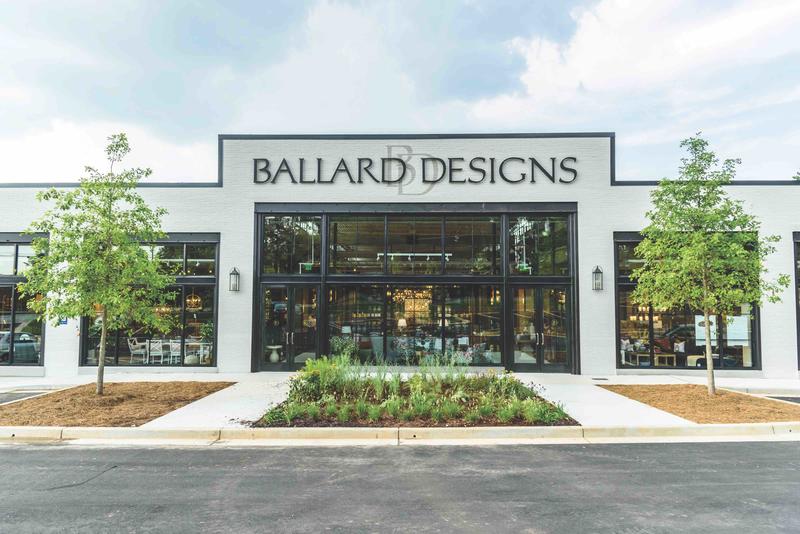 Courtesy of Ballard Designs
5. Instagram is non-negotiable. A quick scroll through a well-curated Instagram account gives a consumer a better understanding of brand voice, target audience and product selection than even the best-designed homepage. "If I'm introducing someone new to Snowe, and they say, 'Let me look up your company,' the first thing they look up is actually Instagram," says Cohen. "They don't even go to the website." Instagram also makes it easy for customers to make purchases through its click-to-buy feature, which means that photo of a perfectly styled bedroom is no longer just an inspirational image, but yet another entry point for sales.
The app is also an endless well of new customers. For Ballard, the photo-sharing platform has been "an incredible driver" of growth, says Kitchens. "People respond to beautiful, inspirational imagery just as well as they respond to product stories. We are constantly testing new strategies to see what works and what doesn't work."
For a local brand like Dixon Rye, Instagram is often the first touchpoint for customers outside the Atlanta metro area. Before the company launched its e-commerce shop in summer 2018, consumers from across the country would often see something they liked on Instagram, then call the store to inquire. Odom also leverages the platform to show his shoppers that Dixon Rye is socially conscious and engaged with the local community; on Election Day, for example, they used an Instagram post to announce a 30 percent discount if you showed your "I voted" sticker.
6. Designers are a brand's best friend. Partnerships are key for any brand. For home furnishings companies, these often manifest in the form of designer collaborations, which bring in new products, new marketing opportunities and often a new audience. "They always bring something fresh to the line that we may not already have, with a different perspective and a different personality," says Crotty of The Shade Store's 15 designer lines with the likes of Sunbrella (an easy-to-care-for material with UV protection) or Nate Berkus (modern patterns in muted blues, grays and tans inspired by traditional blockprinting). The brand's inspired by traditional blockprinting). The brand's newest collaboration with Aerin Lauder adds floral prints in a pastel palette to the product lineup.
One Kings Lane's approach has evolved over the years, from working with designers and influencers to curate tag sales to the co-branded product development that the company pursues today. In 2015, One Kings Lane collaborated with Sister Parish Designs on a collection of upholstered furniture; today, they work with Matouk and Matteo on linens and bedding collections. "There has to be a win-win," says Propst. The ideal partnership, she says, is when "they get halo from working with us and we get halo from working with them." (One such collaboration is with The Shade Store; One Kings Lane designed eight fabrics inspired by vintage textiles and contemporary fashion that can be used for drapery or Roman shades.) Online, the site is also building shopping destinations for like-minded brands like Ralph Lauren Home or designer Mark D. Sikes to showcase their many lines in one place.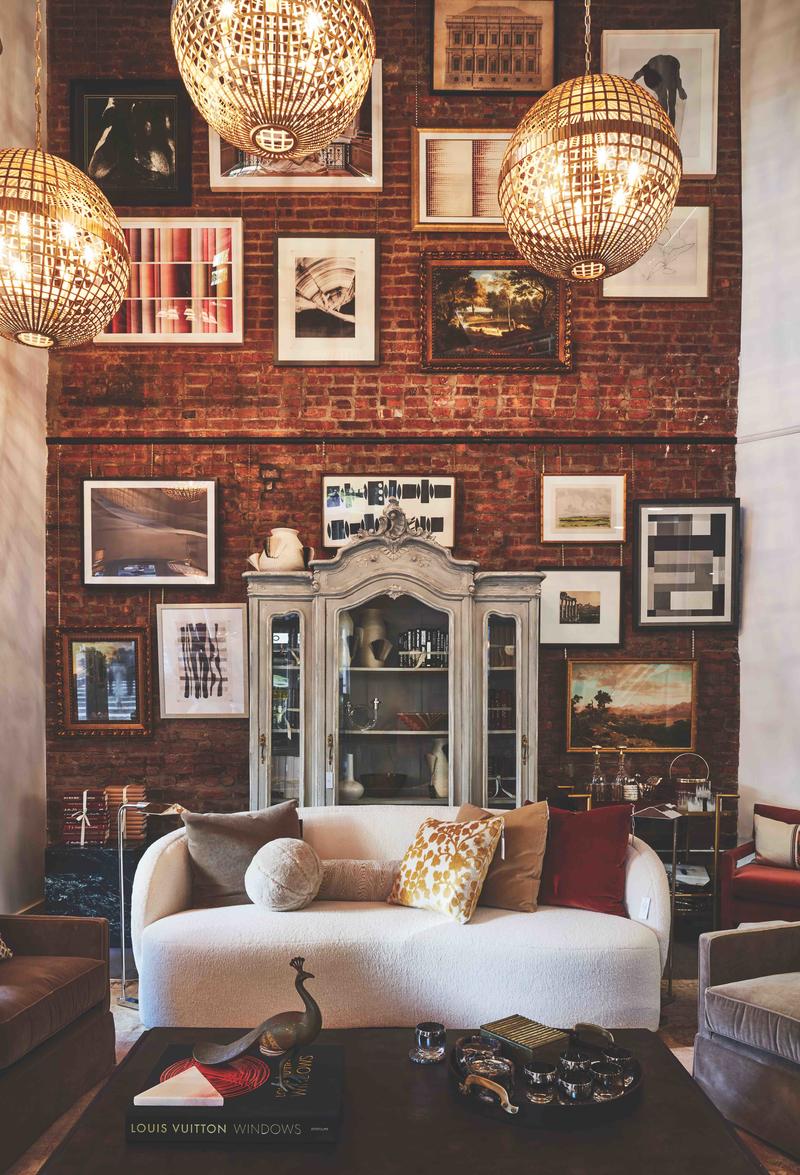 Courtesy of One Kings Lane
In addition to its in-house designed product, Ballard offers collections from designers Suzanne Kasler, Miles Redd and Bunny Williams—all of which are especially popular with the brand's trade customers. The brand's designer partners "bring a level of expertise in our industry that is unmatched," says Kitchens. "Their collections tell a story and are usually inspired by their own design projects."
7. Centralize creative resources. To keep brand and customer experience consistent across stores, Instagram, a website, email and print marketing, the messaging and visual identity need to come from a centralized team. This applies to startups—whether they're shooting product for the website or documenting a pop-up, Snowe has worked with the same photographer since they launched—and national brands alike.
The Shade Store is a perfect example: You're going to have the same experience if you walk into a showroom in Columbus, Ohio, as you will in Portland, Oregon. "Everything is being guided by one team at our headquarters in Port Chester, New York," says Crotty. It seems basic, but as he notes, "it makes it easy to control the end product."
One Kings Lane, meanwhile, needs to be cohesive not only across retail channels, but with its editorial outlets as well. The brand publishes daily content, including home tours and inspirational round-ups, on its blog, and the key is constant collaboration. "On a weekly basis, we're cross-checking what we're saying and showing across each channel to ensure it creates consistency but not redundancy," says Propst. "The same message doesn't work on every channel, but it all ladders up to a collective storytelling voice."
Ultimately, what it comes down to for every company, new or decades-old, is building a team that believes in the brand and the story you want to tell. Kitchens notes that Ballard is able to create a consistent experience in all of its stores by employing people who have been "lifelong" fans who "already had an understanding and affinity for the brand" before they walked in the door. For a nascent brand like Snowe, finding those team members who innately understand the company's mission—to be the go-to destination for the next generation of home shoppers—is arguably even more important so the message doesn't get lost as they grow. "Everyone we have on our team is here because they're passionate about what we're building," says Cohen. "They have to believe in Snowe."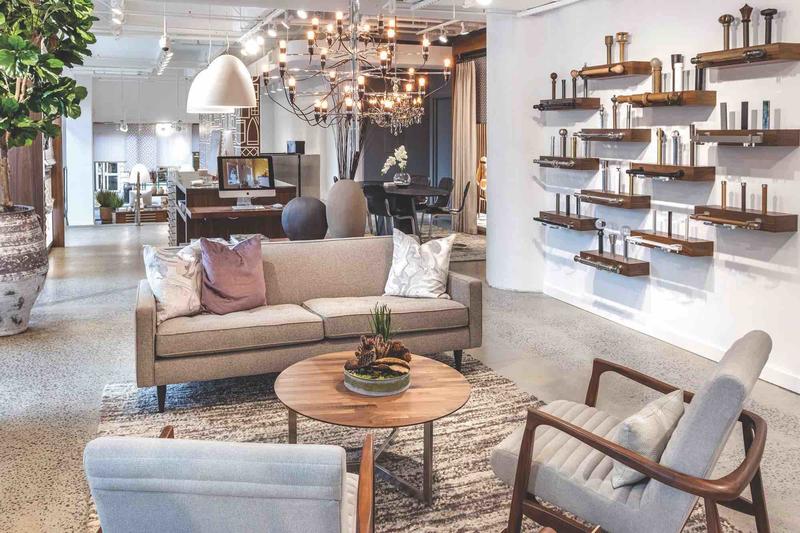 Courtesy of The Shade Store
8. Cater to the trade. Customer experience is not just about the general population; the trade needs to be considered in equal measure. Designers often represent a significant percentage of revenue for home retail businesses because they shop with frequency and in volume. For The Shade Store, establishing that clear vision for a universal store experience was an important part of the brand's effort to cater to its designer clientele, who are more likely to be long-term, repeat customers. ("We work closely with them because they tend to stick around," says Crotty.) The goal, he explains, is for a designer who has a New York client with a second home in Palm Beach to be able to confidently send their client to the Palm Beach showroom and know that they'll get the exact same service they would in New York. "There's no risk of the experience or the product being different based on where the showrooms are."
In addition to discounts, trade programs often include access to staff that can act as project support or handle specific sourcing needs. Each of Ballard's stores has a design solutions area—essentially a workspace where interior designers can put together a room—while One Kings Lane offers concierge services as part of its to-the-trade program. "If you have a client that needs a chinoiserie-style console that is 12 inches deep and 40 inches long, we can go to our network of vintage dealers and source that specifically for you," explains Propst.
Newer brands also understand the benefits of cultivating a network of designers as key clients, and Snowe has found that the Whitespace is especially well-suited for the trade. "It's quite intimate, and allows for a high-touch experience that's by appointment only," says Cohen. "Since we offer such a tight edit of pieces, it allows the client to have some ownership in the selection process without overwhelming them." Interestingly, Cohen says that they've found it difficult to track the number of designers shopping the collection because they don't always ask for the trade discount: "We've heard, anecdotally, that designers are so pleased with the direct to consumer pricing that they tend not to ask about trade pricing."