Sampling may be an industry pain point, but if Sandow's sample library Material Bank is any indication, a showroom footprint still matters. On Monday, Material Bank opened its first material lab in a marquis spot next to the first-floor Starbucks at the Mart in Chicago, just in time for the first day of contract design show NeoCon. The lab will remain a permanent fixture in the Mart for at least the coming year.
Material Bank is an online resource that aims to disrupt the memo sampling system—architects and designers on the platform who place orders by midnight will get their samples the next day. (The operation is powered by a distribution facility in Memphis, Tennessee, conveniently located near FedEx's central hub.) The platform is backed by Sandow—a brand whose other holdings include magazines such as Interior Design and Luxe Interiors + Design, the global materials consultancy Material ConneXion, research firm ThinkLab, and NewBeauty magazine, among others—all helmed by founder and CEO Adam Sandow. "We're a media company that's really a technology, data and logistics platform that's reinventing how a manufacturer would create a sample," he says.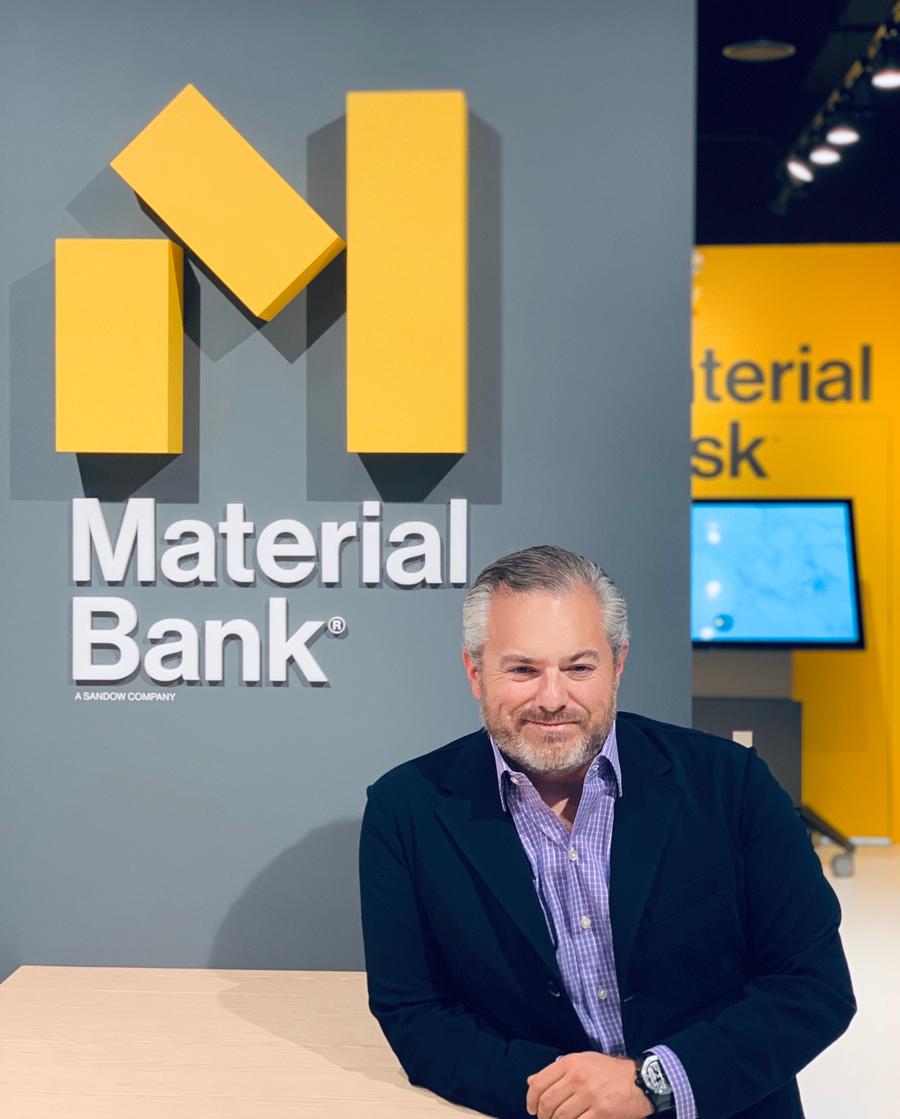 Courtesy of Interior Design
The new outpost features a wall adorned with Material Bank's new Smart Swatch system, a QR-code-enabled swatch, affixed magnetically on the walls (with thousands more stored in a wall full of drawers, organized by color, material, and theme), that provides effortless access to information like available colorways and a suite of product specs. The space also features the Material Desk, a new interactive touchscreen that helps architects and designers create palettes with renderings of samples from the Material Bank library—all of which can then be easily ordered for the platform's signature next-day delivery.
Since it launched in January, more than 165 companies have signed on to make their products available on the site, paying a flat fee whenever their products are included in a designer's box. The platform has garnered more than 5,000 active trade members, with over 3,000 more on the waiting list. (Material Bank currently limits the number of designers onboarded to the platform each month: "The service is free, and designers are beginning to use it addictively," said the company in a statement. "We're careful not to overwhelm our systems. We are taking it very slow, making sure that we can perform at the very highest level of service for our designers.") The Material Desk touchscreen, which will soon be beta-tested in the offices of architecture and design firms, has a long waiting list of its own.
The platform's popularity is easy to explain: "When you can show a designer how you can take an hour and turn it into five minutes, that's important," says Sandow. "You get their attention, and they don't want to go back."
BOH caught up with Sandow in the heavily trafficked Material Bank Lab during its NeoCon debut.
You've opened this storefront here at the Mart in Chicago. Why here, why now?
NeoCon is very important to us as a company. Across all my brands, we do a lot of activations at NeoCon. It's an important show, and we have a very good relationship with the Mart. We also were able to secure a very good space. Being next to the Starbucks on the ground floor, I don't think [we could find] a better [location].

What was here before?
A tea shop.

How long was this space in the works? I heard it was a pretty quick turnaround.
We built this in three months. Keep in mind, I have my own fabrication shop. Everything you see is designed and fabricated in-house by our own guys.

Did you always know that you wanted to have a physical representation of Material Bank? Or when did you realize that you needed one?
We were going to build a 50-foot mobile truck [that looked like] this [storefront] version and tour it around the country. We loved the idea, but I wanted to build something physical that could be a little more stable to learn from.

I learn from doing, and we innovate by trying things. For example, this entire Smart Swatch concept was an idea, but [opening in time for NeoCon] forced us to develop it for the store. When you take a material [off the wall], notice it's got magnets—this is all designed in-house, too. You can just scan it to go from this to colorways and ordering a sample in a second. These Smart Swatches will help designers get rid of the bulk, binders, and disorganization, and creates a system that can go from looking at a physical representation of one SKU to digitally giving you all of the colorways, and then order what you want and get the sample the next day.

Designers are creative, so it [also] provides inspiration. The nice thing about the Smart Swatches is you can see them and say, "Okay, I get it. I get the thickness. I understand it. I know this is in nine colors, and I know what color I want to get." If you look at this leather, it's a very particular leather. There are 43 colorways. So instead of having a binder, I've got this [Smart Swatch]. I scan it, I choose the three colorways I want, and I'm done. But I felt it. I see that there's a nap to the leather and I either do or don't want it.

So for that leather, the price range is listed as three dollar signs. At what point in the process do I understand how much it actually costs?
We link [designers] to the rep. This is about empowering, not destroying, the reps. The minute that you request that sample, the rep's notified and it's up to the rep [to follow up and make the sale]. We do not take orders, and we don't take cuts. We are a matchmaker, specifier, and maybe a batcher.

Does this platform eventually grow into a marketplace?
No, because what we know is that the reps are a very important part of the process. The designers need the reps. We're here to help the reps make more money by not delivering materials. I want them following leads, answering questions and connecting.

What kind of firms are you looking to go in first?
We are talking to tiny firms all the way up to the biggest firms in the world. Residential and commercial. We want to be something that is ubiquitous, we want to everywhere. We try to be clear about the delineation [between residential and commercial], but we are really focused on servicing the designer. What we care about is taking away all the friction and pain points and being so easy that designers evangelize us and love us. Designers are the ones saying to the rep, "You need to get on Material Bank because it's hard to work with you otherwise."

That's a really fast change for that to happen.
We have more than 165 manufacturers. We have a tremendous amount of users, and thousands [more] on the waiting list. You have no idea how that changes a designer's life. Being able to have a designer, from their bed on their iPad, order samples as 11:30 at night and have them show up to the office the next morning, it's game-changing.
When I talk to manufacturers, sometimes they say, "Listen, we put it in the post office and it's fine." But it's not fine. Jeff Bezos and Amazon decided that wasn't fine. All we're doing is following what the designer wants, based on research. This [platform is] based on hundreds of hours of asking designers, "How can I take away all the pain points you have in this business?" And there are a lot of pain points.

What does the rollout of the Material Desk look like? If I'm a design firm, how easy is it to get this in my office?
We have a huge waiting list. We're going to firms that are power users and we're going to start to beta-test.

Will there be another physical manifestation like this one? Are you still thinking about driving the truck around?
We are still thinking about the truck, and we want to do more of these [showrooms]. We're going to spend the next three months testing the store when it's not NeoCon to see how designers like it, [what it's like] having designers come in with a couple of clients. Think about it: You bring a residential client here and you display [the materials] like this—it's cool.
Homepage photo: The Material Bank Lab at the Mart in Chicago; Eric Laignel