"Resimercial" is more than just a buzzword: The way Americans work has been profoundly changed by the mobility of the tools we use to do our jobs. In a world where many of us can work full-time from any spot with Wi-Fi, the design of commercial spaces is changing fast.
Until recently, residential designers may not have had NeoCon—the annual trade show at Chicago's Merchandise Mart geared toward commercial design and about to start its 51st edition next week—top of mind. But that is changing, and fast. Designers, you've been warned: As resimercial design expands, so do the diverse and numerous types of products (think: sofas that charge your smartphone) NeoCon will have on display.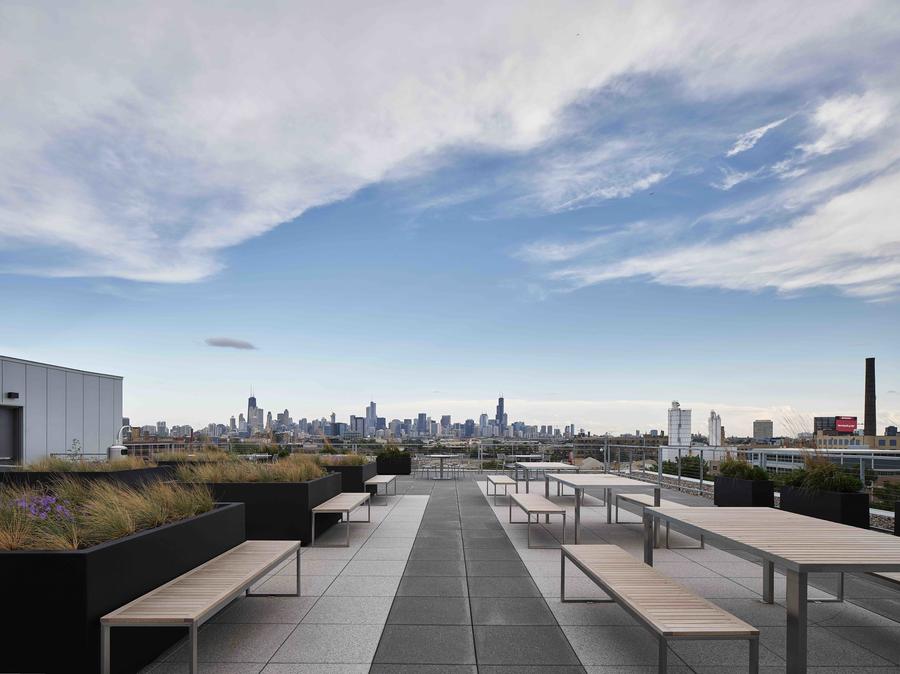 As always, the show's programming, exhibitors and keynote speakers are organized around the latest trends and mainstays in the field. New to the show this year are designer-led tours co-sponsored by the International Interior Design Association. Julie Engstrom, senior technical project designer at the New York–based design firm Vocon, is one of the first-ever "Inside Design" tour guides, leading guests through transport company C.H. Robinson's offices on Webster Avenue. The utilitarian warehouse loft comes with its own version of a town square and over 1,800 sit-to-stand desks.
"As designers, we all have our kit of parts we use; the key to each client is knowing which tools to use," Engstrom tells Business of Home. "We're so used to seeing a tenant floor in a high-rise or even an office park. You don't typically see a four-story atrium." The firm aimed to balance a "big corporate feel with smaller break areas or relaxation spaces," says Engstrom, speaking to how corporate spaces have shifted given the rise in tech mobility, even if an employee typically works from the evermore-ancient desk.
The Inside Design program will include tours of other major buildings in the Chicago area. "Chicago is such a great city from a design and architecture standpoint," Byron Morton, VP of NeoCon sales, tells BOH. "All of the leaders of the design world are here to attend NeoCon; it's natural to take the show into the city and focus on the groundbreaking projects here." That includes one with some recognizable Golden Arches. The new McDonald's headquarters in the Windy City has about a dozen outdoor terraces for employees to get some fresh air and work outside. That's just one of the several new perks that come with another one of the latest trends in workplace design, which is not outside in, but inside out.
On and off campus, NeoCon aims to meet designers wherever they are—including, for more working Americans now than ever, anywhere you can sign into Wi-Fi (hotel lobbies and local coffee shops, cheers to you). "We're always trying to develop an aha moment—this year I think we're gonna hit it out of the park with NeoCon Plaza," says Morton. The plaza features a Gensler-designed boardwalk and many, many pieces by Holland, Michigan–based office furniture brand Haworth, encouraging attendants to enjoy the outdoors as they work, socialize and network.
As workplace stress rates are higher than ever, focusing on the design of where we stay and work will be a solution more and more companies will turn to. Employees are working longer hours, engaging in workplace politics and socializing, reported CNBC—each a stressor that conscious design could solve. (Especially the easier access to some vitamin D.)
Because of an emphasized focus on hospitality this year as a response, the show will also feature a number of high-end residential/hospitality design brands, including Wolf-Gordon and Buzzispace. "It's a great time in the commercial environment, driven by generational change, economic change and the kind of work being done," says Morton.​​​​
NeoCon will be held at The Merchandise Mart (222 W. Merchandise Plaza, Chicago) from June 10 to 12. Register here.