Nine months following an office move in New York and even Sandow founder and CEO Adam I. Sandow admits the company's new headquarters is still a work in progress. As the brand's growing media roster and business portfolio would attest, that's just the way Sandow works.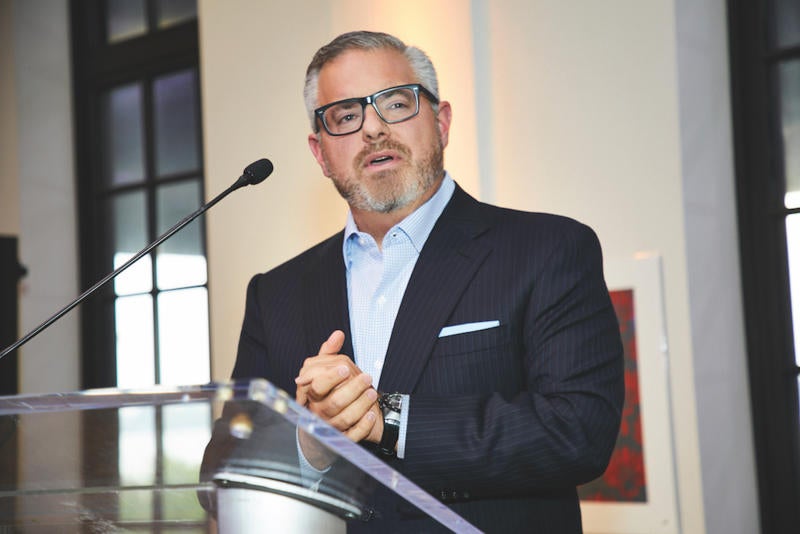 "I'm a builder," Sandow tells host Dennis Scully in the latest episode of the Business of Home podcast. "I'm never satisfied. I never want to stop growing. I never want to stop rethinking things, and I think it's been part of the DNA of our success."
By success, he means a profitable-from-the-start media company that includes the titles Interior Design, Luxe Interiors + Design, NewBeauty and Worth, as well as the recently founded beauty solutions company Beauty Engine, the retailer Fred Segal, the global materials consultancy Material ConneXion, and as of October, state-of-the-art samples library Material Bank.
It's a portfolio backed by years of industry intel and experience. Prior to launching the "non-traditional media company" in 2003, Sandow worked at digital wedding resource The Knot, developing revenue streams that would eventually allow the company to go public. The launch of travel magazine Honeymoon and several years as a custom publisher also make an appearance on the Florida native's credentials.
When it came to his eponymous firm, Sandow viewed media platforms as the "engines" that would allow additional business developments to go. "It goes back to the overall philosophy of how I built this company, which is certainly innovation, non-traditional thinking, creativity—all of that. That's fantastic, but it's: What can I build on my media platforms?"
He offers travel planners like Expedia, Kayak and Hotels Tonight as modern examples: "Think about the power that any of those publishers had back in the day with their travel magazines. … The categories that they owned are now owned by tech companies because magazine publishers were focused on selling advertising."
Come October, Sandow is debuting a similarly disruptive concept within the home industry. Sample library Material Bank is one part digital platform, built to save designers time when searching and sampling materials, and one part robotic logistics and distribution facility.
Housing SKUs from 100 manufacturers, Material Bank promises that if an order of samples is placed by 11:59 p.m. Eastern Standard Time, it'll be on the designer's desk by 10:30 a.m. the following day—a level of speed even Amazon hasn't mastered. Rather than placing orders on the site, Material Bank connects designers with the manufacturer's nearest representative.
"If I can save designers time, we're going to become a part of their everyday life," says Sandow, who spent years incubating and testing the idea of Material Bank. Aside from decreasing the amount of time designers spend sourcing materials, the new platform is also dedicated to cutting back manufacturer waste by requesting returns of the samples for multiple use.
Learn more about the building of Material Bank, as well as how Sandow differentiates itself from other publishers, in the latest Business of Home podcast: