Exploring the odds and ends of his 96-year-old grandmother's house was a favorite pastime for an adolescent Jonathan Adler. Eclectic finds and artisan works acquired through her travels dotted every shelf, window sill and countertop. "That sense of excitement that I got from her stuff is what I hope to create in my own [work]," Adler recounts in the latest episode of the Business of Home podcast. "I want to make eccentric, well-crafted [pieces] that I hope people will look at and understand there was an author really trying to express something."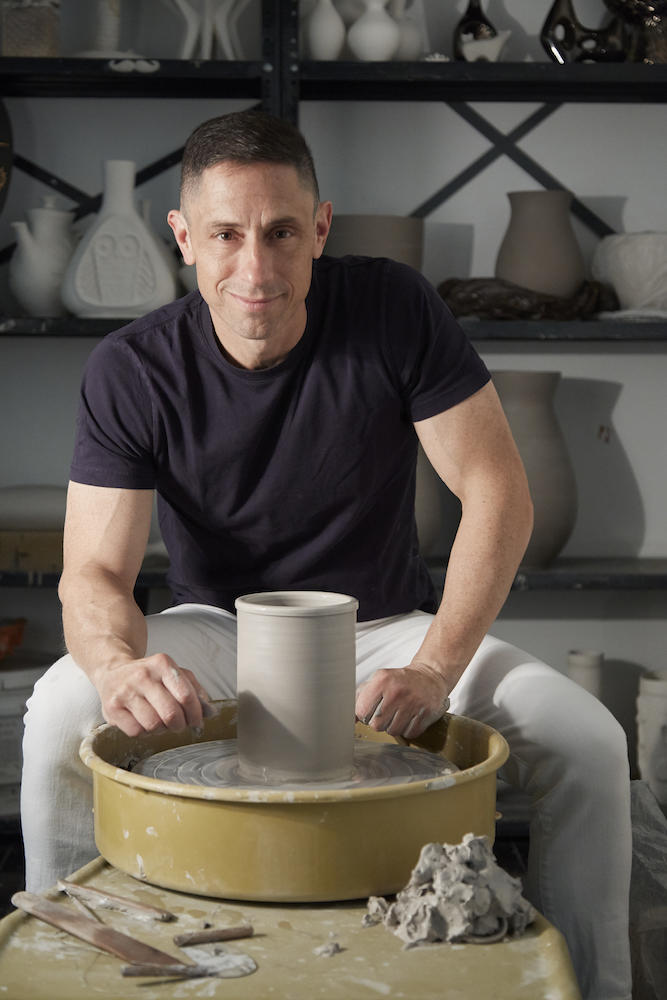 Courtesy of Jonathan Adler
Her home wasn't the only way his grandmother influenced him. She'd often recite: "The meshugaas (Yiddish for 'craziness') never stops." It's a concept that Adler, now two decades into his career, can confirm. He grew up witnessing firsthand the negative effects of globalization; he has managed the challenges and resource strains that come with every brand partnership; and he continues to reassess his company in times of tariffs and shifting retail patterns—all while maintaining his signature joyful attitude.
Seventeen store locations and an ever-growing list of partnerships later, he chuckles at the question of whether building a home furnishings empire was ever the goal. "I went from being a dude [with] mud and a potter's wheel to a dude with the world at my fingertips," says Adler, who developed a passion for pottery-making while attending summer camp at age 12. In this week's podcast, he vows to "keep it 100" about the struggles of running a creative business today.
"Retail is in a state of flux," Adler says, when asked about the relevancy of traditional business paradigms. A few years ago, the priority of his eponymous company was expanding its physical retail footprint. Today, as with many retailers, the focus has shifted to creating a more nimble and strategic distribution model. "The retail real estate bubble is kinda bursting," he says.
Part of that new strategy involves meeting people where they shop. In October, the product designer partnered with Amazon to launch the e-tailer's first designer furniture collection, Now House by Jonathan Adler. "I saw the opportunity to create an entirely new look, world, brand that was still a reflection of me, but a slightly different one," he says. While the collection may evoke Adler's fun-spirited sensibility, he admits that meeting Amazon's "more attractive" price points and high order volume was a real challenge.
"Ultimately, design is about communication," he says. "And I have a lot to say." In this week's episode, which is sponsored by Fuigo, Adler delves into the defining moments—and challenges—of his career, from his first order with Barney's to opening a retail store to expanding his manufacturing to Peru: