In our weekly digest, find all of the news you might have missed. Read on for the announcements crossing the BOH news desk this week.
BUSINESS TALK
Yesterday, Formica Group, which invented laminate, was acquired by Netherlands-based industrial firm Broadview Industries. The acquisition will be finalized in 2019 and includes Formica's branches in North America, Europe and Asia, and its proprietary line of high-pressure, fire-retardant metal laminates called Homapal. "This combination represents an exciting future for the Formica Group, as the two businesses are complementary with a strong strategic alignment," says Mitch Quint, president of Formica Corporation North America. "Formica brings a global reach with its operational and commercial capabilities, and Broadview brings unique and innovative product technologies, including Trespa exterior products and Fenix acrylic surfaces. We're grateful to Fletcher Building for investing in our business for 11 years and for finding a buyer in Broadview Industries, who echoes our commitment to product leadership, sales and specification excellence, and industry-leading customer service."
"Seriously, Prada, what were you thinking?" asked The Washington Post on Saturday, regarding the brand's recently recalled tchotchkes that held an unmistakable (and unbearable) likeness to blackface. Controversy sparked after civil rights lawyer and activist Chinyere Ezie rightfully roasted the company on social media; in response, Prada apologized to Ezie and said it would follow her suggestion to donate proceeds from the products (which retailed $550 apiece) to an as-yet-unnamed organization in New York that works toward racial justice.
Ikea parent company Ingka Group began building its 4.6-million-square-foot development in Shanghai, joining the ranks of a number of European brands that have set up shop in the major metropolitan hub. Slated to open in 2020, the development is the company's "single largest investment," at $1.16 billion, reported Furniture Today. The shopping center will include 300 stores, restaurants and other businesses, and an Ikea store where customers can pay for product via cell phone.
Casper co-founder Luke Sherwin may disrupt the renovation industry with his new business venture, Block Renovation. Along with Rent the Runway chief customer officer Koda M. Wang, Sherwin founded the company to complete renovation projects within three weeks for a quarter less than a regular contractor would charge, reported Fast Company. "The world of renovation is kind of like the Wild West," Sherwin told the publication. "It involves a lot of moving parts. Most homeowners have no idea what things should cost or what they should even be asking their contractor for."
Ferguson Enterprises, the biggest plumbing distributor and showroom chain in the U.S., acquired Blackman Plumbing Supply and Wallwork Bros., increasing its New York metro-area reach by more than 30 locations—now totaling about 100 in New York and New Jersey. The company, a major distributor of HVAC and Waterworks equipment, has 1,500 locations across the country.
Brand activism and, by extension, consumer advocacy, is top of mind this month. Business of Fashion investigated brands that take "a position on divisive issues," exploring how the strategy can succeed in the long run and backfire when it's on a bandwagon. Barely over a week later, Fast Company answered a question some of us didn't realize we still had to ask: Did a slave make your sneakers?
The Shade Store announced that it will be the exclusive window treatment provider at the 2019 Kips Bay Decorator Show House Palm Beach. "It's been an honor to support this wonderful cause, and partner with so many talented interior designers to help bring their vision to life," said The Shade Store co-founder and chief creative officer Ian Gibbs. "We have a rich history of working with interior designers and have created a program called Custom Made Simple just for the trade that makes the process of designing and producing custom window treatments seamless from start to finish."
CUE THE APPLAUSE…
Lamps Plus donated thousands of dollars' worth of lighting and furniture to Los Angeles–based charity Pen + Napkin, which helps families transitioning out of homelessness into homes through free professional design services. Lamps Plus has sponsored the nonprofit since early 2018, and will continue into 2019. "Every person deserves to have a comfortable space the way they want it to call their home," says Angela Hsu, senior vice president of marketing and e-commerce for Lamps Plus. "We've been grateful to work with Pen + Napkin in its mission to help people without homes to get back on their feet by designing and furnishing their new homes." As part of its sponsorship, Lamps Plus gives every child in a transitioning family a photo pillow with their name on it.
Last Friday, Christie's Auction House broke its own long-standing record for the most expensive work by Tiffany ever sold at one of its auctions. The Pond Lily sold for $3.4 million, surpassing the Pink Lotus Tiffany lamp that sold for $2.8 million in 1997. "The entire Design sale, at 96 percent sold by value, shows the success of our curated approach and our ability to reach global collectors," said Daphné Riou, Christie's head of design, New York.
Observer released its list of 2018's most powerful art and design PR firms, and Sharp Communications—representing Benjamin Moore, Pembrooke & Ives, 1stdibs and Kohler—is at the top. Among the other noteworthy firms on the list are Novitå, which reps Room & Board, Larson Juhl and others; and Head & Hand, which reps Dedar fabrics, Roche Bobois and B&B Italia.
As of Monday, the American Home Furnishings Hall of Fame is accepting nominations for 2019 inductions. Any member of AHF Hall of Fame Foundation can nominate or second a nomination. The deadline for submissions is February 1.
The winners of the Houston Design Center's 11th-annual Deck the Tables competition have been announced, and among the recipients are Brad Brandt, Connie LeFevre, Kathie Flournoy and Oscar Zuniga. Points were given for use of color, greenery and creativity, reported Houstonia magazine. The event benefited the Memorial Assistance Ministries, a local nonprofit that that provides toys and gifts to children.
Questlove was recently announced as one of the headliners at the Interior Design Show Toronto this January. He and Sandow founder Adam Sandow will discuss their new venture, Creative House, which launches next year.
Atlanta-based Hansgrohe USA was recognized as a finalist at the Manufacturers of Distinction & Leadership Awards, hosted by the Cumming-Forsyth Chamber and the South Forsyth Rotary Club. There will be a ceremony in April during Georgia's Manufacturer Appreciation Week, during which the company will discover whether it won at the state level.
The International Furnishings and Design Association's Educational Foundation has added two new scholarships, reported Furniture Today. The first, the IFDA Philadelphia Scholarship, gives $2,500 to full-time undergraduate students and will rotate between those who focus on interior design, furniture, textiles and graphic design. The second, the Barbara Beckmann Textile Design Scholarship, is available to full- or part-time undergraduates who study interior design, fashion design or something related. Contenders can apply during the month of March.
OPENINGS AND EVENTS
Design Miami concluded last week, with partnerships a major trend across the board. Fendi, the first luxury fashion brand to participate in the festival, showcased its 10-year anniversary project with Dutch furniture designer Sabine Marcelis, consisting of 10 Fendi-inspired cast resin fountains. Tapis Rouge unveiled the Iceberg Miami rug, which took more than 1,200 hours to hand-knot. Design Miami Visionary Award recipients Pedro Reyes and Carla Fernández sculpted two big, anthropomorphic steel pythons. "In addition to being a barometer of the market, we see movements and discourses crop up within the fair," says Rodman Primack, who is transitioning from Design Miami chief creative officer to global ambassador. "This edition, an emergent theme has been collaboration. From iterative works passed from one designer to another at Etage Projects (by FOS, Marcelis, and Guillermo Santomà), to Calico (with Philippe Malouin) and the KAWS and Campana Brothers collaboration, the contemporary design world is producing much of its strongest work in this way."
Interior designer Magdalena Keck opened her gallery at 3 Mercer Street in Manhattan. The first exhibition is titled "Morgan O'Hara: Live Transmission, On Stage," and it comprises drawings of music, art and dance recorded by O'Hara.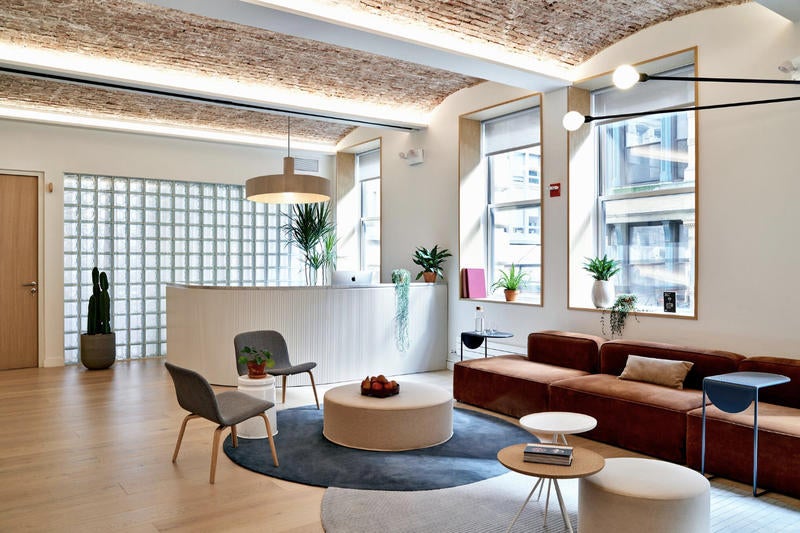 New York–based studio Float's high-design meeting room complexes, Meet in Place, opened two new locations in New York City this month. Meet in Place has a partnership with Design Within Reach's commercial sales division for its reception and salon furniture.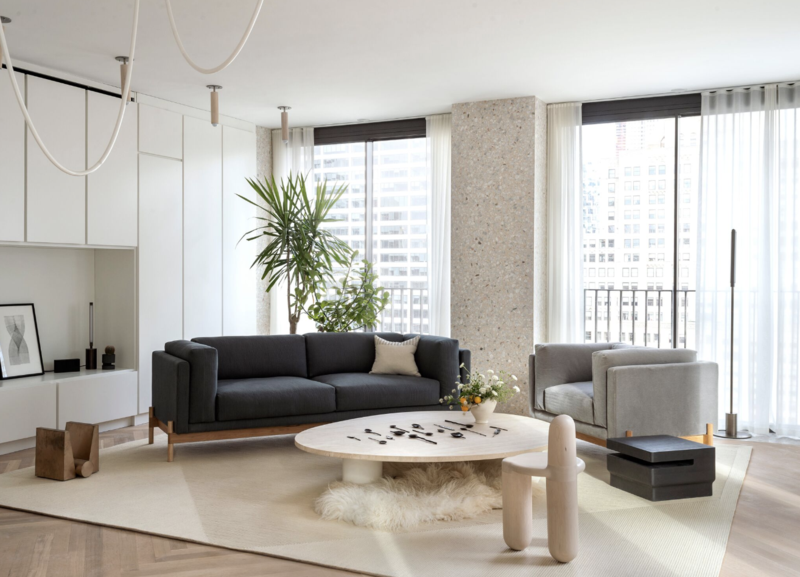 This week, moving design gallery Radnor has set up its winter installment at a new apartment in The Bryant, a David Chipperfield–designed residential building in midtown Manhattan, that it has extended its partnership with. Radnor's Made collection will feature works by Adam Rogers + Bunn Studio, plus new pieces by "Radnor Represented" designers Farrah Sit, Julianne Ahn and Oyyo Studio. It's open by appointment from now until April 30.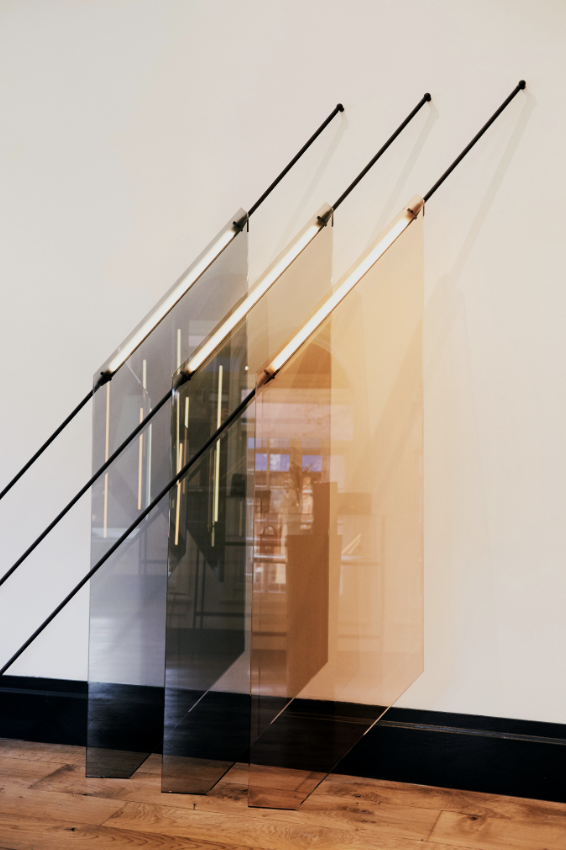 Clément Pascal, courtesty of Want Les Essentiels
New York–based designer Bec Brittain created the first installation in Want Les Essentiels's new Designer Showcase Series, a custom installation for the store's West 4th location. WANT Les Essentiels new creative director Christine Charlebois wants the series to incorporate contemporary design into the brand's mix of product.
The dates of WantedDesign 2019 were announced yesterday. WantedDesign Manhattan at the Terminal Stores will be held May 18 to 21, and WantedDesign Brooklyn at Industry City will be held May 16 to 20. Earlier this month, WantedDesign co-founders Odile Hainaut and Claire Pijoulat were made French cultural knights, a national honor granted by the French Minister of Culture.
PRODUCT LAUNCHES AND COLLABORATIONS
Cracker Barrel Old Country Store is teaming up with Country Living to create a line of "rustic home decor, kitchenware, apparel, accessories and pet toys," reported HFN. "Our brands are such a natural fit, and I know I'll be the first in line for the charming checkers set featuring mason jar lids, as well as the on-trend splatterware, cross-stitch pillows and enamel bread bin," said Rachel Hardage Barrett, Country Living editor in chief. Prices range from 99 cents to $150.
RECOMMENDED READING
Connie Britton, who plays designer Debra Newell in the upcoming Bravo TV drama Dirty John, told The New Yorker about trying to fill her newly purchased Spanish Colonial home: "I love Art Deco and mid-century modern," she told the magazine while sipping a lime LaCroix. "I do think of interior design as an art form."