Christina Mallon wants to make inclusive design the norm—and as a designer with a disability, she's a living example of her goal. Her day job is helping brands like Microsoft and Tommy Hilfiger be more inclusive for people with disabilities, and at night she helps run Open Style Lab, a nonprofit incubator that creates clothing and other products with and for people with disabilities (recently, they designed backpacks that can fit comfortably on the back of a wheelchair and have super-adjustable straps).
Courtesy of Open Style Lab
Making changes to existing designs is easy, she says, but it's better to use technology to make something new that works for everyone—and looks good too. "I want to make [inclusive design] cool," Mallon tells Business of Home. "People wear glasses without a prescription because they look cool, but they were originally a medical device. I want to make all fashion like that. … We noticed all these products were really geriatric, and people with disabilities shouldn't have that."
Eight years ago, Mallon was diagnosed with a motor neuron disease that progressed quickly. About three years ago, both her arms became completely paralyzed. "I'm disabled because of design," she says. "That's what's so frustrating to me. I can take away this 'disability'—I'm not in pain, it's just my arms don't work. But [this world] wasn't designed for me."
Mallon, 30, lives by herself in New York City, and has adjusted her home to fit her needs. She keeps her microwave on the floor and pushes plates in and out of it with her feet. She eats from a table that she can raise and lower—a key feature for her to maintain her independence. An IKEA bed frame with drawers close to the floor makes it easier for her to get dressed in the morning. The doors in her apartment (as well as her parents' and fiancé's current and previous homes) feature bar-shaped handles, without which she would be unable to get in and out independently. But she also uses them to get dressed, leaning her body toward or away from it, and tightening or adjusting clothes to better fit.
"People like me, we have to get our homes custom made," says Mallon. "Using all the technology for homes will allow me to have more independence, but I'll have to have my home custom built when I have a family. I think that that's a really great business opportunity for designers, especially in home goods, to create that."
Inclusive design has been around for ages, but it rarely takes center stage in industry news. However, those who depend on it are always paying attention. "An inclusive designer is someone, arguably anyone, who recognizes and remedies mismatched interactions between people and their world," wrote Kat Holmes, author of Mismatch: How Inclusion Shapes Design, in an essay for Fast Company.

I can take away this disability—I'm not in pain, it's just my arms don't work. But [this world] wasn't designed for me.
" —Christina Mallon
Designing to include people with disabilities would not just be socially good, argues Mallon, but also might be good for your business. And she's not the only one making that case: "The market for inclusive design is vast," reported Metropolis earlier this month. "According to the World Health Organization, 15 percent of the global population lives with some form of disability, making us an economic and social force—and an untapped resource." Baby boomers are planning for aging, and millennials are supporting brands that align with their personal values. It's not a bad time to dive into accessibility—but is it possible to mass-produce custom solutions?
Kohler, Cosentino and Benjamin Moore collaborated with Florida-based interior designer Cheryl Kees Clendenon on the design for a concept kitchen geared toward multi-generational families. It features extra-wide clearance between the oven and kitchen island, a low counter space, easy-to-maintain Silestone countertops, and Kohler faucets with lever handles similar to what Clenendon installed for her mom, who has arthritis. ("If she's having a bad day with her hands, she doesn't have to worry about grasping on to [a handle]," Clenendon tells BOH.)
"We believe that it is possible to produce beautiful, high-quality products that create an accessible and gracious environment, but the design of the environment needs to be tailored to provide a custom experience for users," Kohler marketing manager Lynn Schrage tells BOH. "As a designer, I think all spaces should be designed with accessibility in mind. We can think ahead for design modifications if a client has aging in place in mind, but accessibility also means planning for the unexpected—like an accident that temporarily limits our mobility—so that our spaces continue to work for us."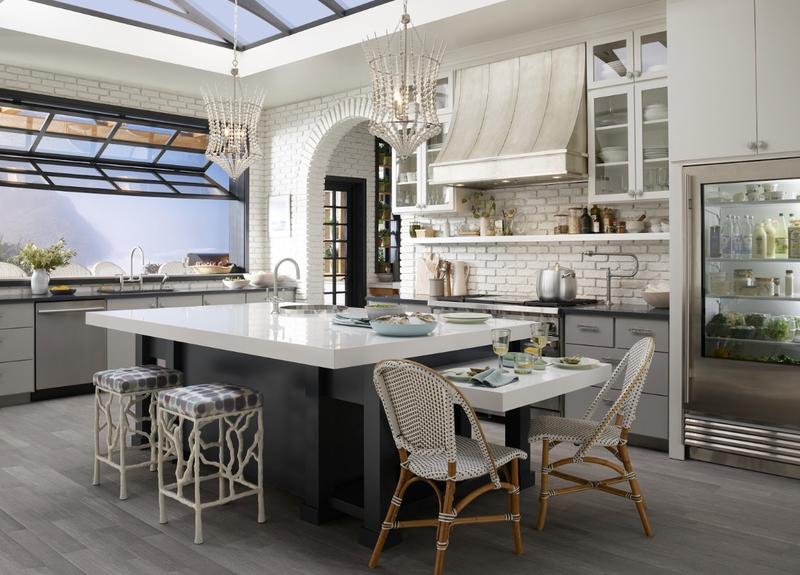 When it comes to designing with accessibility in mind, Clenendon likes to plan in advance—working with architects to build versatile spaces that can, for instance, later accommodate an extra bathroom, a refrigerator on an upper floor, or a wall that may become a doorway. Even though bathroom and shower grab bars aren't exactly aesthetically pleasing, Clenendon blocks for them so that if clients ever need to add them, it's a breeze. "One of the questions we ask clients is, 'Is this your forever home—do you think you're going to be living here for a long period of time?' and if people say yes, then we go into that." At the moment, Clenendon has three or four clients preparing for aging care.
Other designers say that inclusive solutions may not have to be custom. Designer Sally Layman, whose husband has a disability, argues that better overall practices can allow for accessibility without sacrificing style. She suggests that raising the average seat height from 12 inches to 22 is one such option, since "the taller the seat height, the easier it is to get up without assistance and remain independent," she tells BOH. Room & Board design associate Tim Danen, who worked on a project for someone who has spinal muscular atrophy, tells BOH that custom or mass-produced solutions are both possible—designers just have to know the needs of the client. "You're working on the internet with people, you're working on the phone with people," says Danen, "and if they don't tell you, you don't know."
Some companies are already on the track to making products that are inclusive to everyone. The Shade Store has 10 different types of products with motorization options, which users can operate by remote, app or Smart Home system (which syncs to voice). Integrating this technology into battery-operated rollers, drapery panels, roman shades, wood blinds and other products has allowed The Shade Store to be more accessible: "As technology changes, we will continue to evolve our program to keep up with our customers' needs," Shade Store co-founder and chief creative officer Ian Gibbs tells BOH.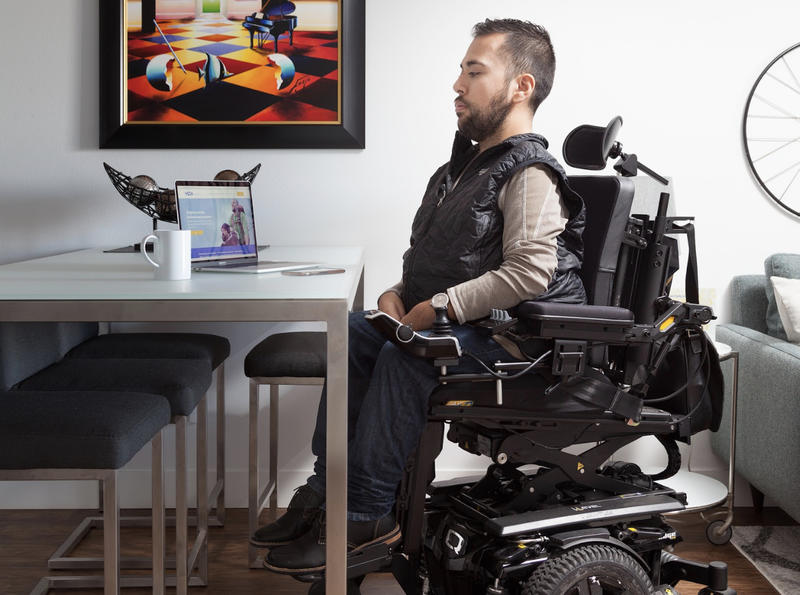 Last October, IKEA created a collection called Omtanksam, named after the Swedish word for caring. It's a line of cutlery, anti-slip coasters, cushions and an armchair. This year, the company partnered with Open Style Lab and Mallon, as well as UNYQ and Two Blind Brothers, to explore creating more inclusive products. In mid-October, IKEA hosted "Meet the Experts," a series of panels in which people with disabilities, the experts on hacking solutions in their lives, could share their insights and experiences. Physical therapists, occupational therapists, designers and engineers came together to collaborate on ideas. "We can come together to find solutions that make home and life easier, and actually make these wishes come true," IKEA vice president Catarina Löwenadler said on the first night of the series. "The only way to do that is to work together."
One of the event's participants was Kieran O'Brien Kern, a writer who works from home so she can take care of her two young daughters. Kern, who has cerebral palsy and fibromyalgia, displayed her original design: a desk that had everything she needed within reach, including her computer, snacks, a place to put a bassinet or bouncy chair, and all the necessary accoutrements. She tells BOH, "I like to think of adapting your home as having insurance. You might not need something every day, but you want to know it's there, so if you do need it, you can call upon it."
When her disability worsened, Mallon decided to dedicate her own marketing career to inclusive design. And she believes that if more companies (in the home industry and otherwise) made a point of hiring people with disabilities to join their ranks, it would speed up the slow process of making every place more accessible to everyone.
"To change the lives of one-fifth of the world would change how the world is," says Mallon, "and it's seriously not that hard to do. It's just having one disabled person on your team to give you those kind of reflections on what their daily life is like, to provide insight."