Like many designers, Nicole Gibbons had a tried-and-true roster of paint colors. But for the average shopper, she realized, buying paint was a real pain point in the decorating experience—a choice that could sometimes feel more agonizing than investing in the house itself. "When I would talk to people about their experiences buying paint, the people who said, 'My best friend is a designer' didn't have a problem," Gibbons explains. "But the people who were tackling it on their own were like, 'I went to Home Depot 16 times, it took me two months, and in the end, I still hated the color.'"
Enter Clare, Gibbons's new, curated paint brand with 55 designer-approved color options and the seductive ease of an e-commerce site, which goes live today. "I saw an opportunity to support the customer through their entire journey," she says, "from picking the color to offering the paint, tools, tips and inspiration—and even after the paint has dried, continuing to inspire them."
Early in the development process, Gibbons identified the major problems with paint shopping at big-box stores and paint dealers: too many colors, too many product lines, a lack of transparency about ingredients, and a cumbersome, costly shopping and sampling process that requires several trips to the store. Clare answers each of them head-on, from an easy-to-use website and paint-free sampling process to a pared-down selection of colors and products—the features the average homeowner really needs, and the quality tools to get the best results. "At the end of the day, we exist to make paint shopping easier and more inspiring."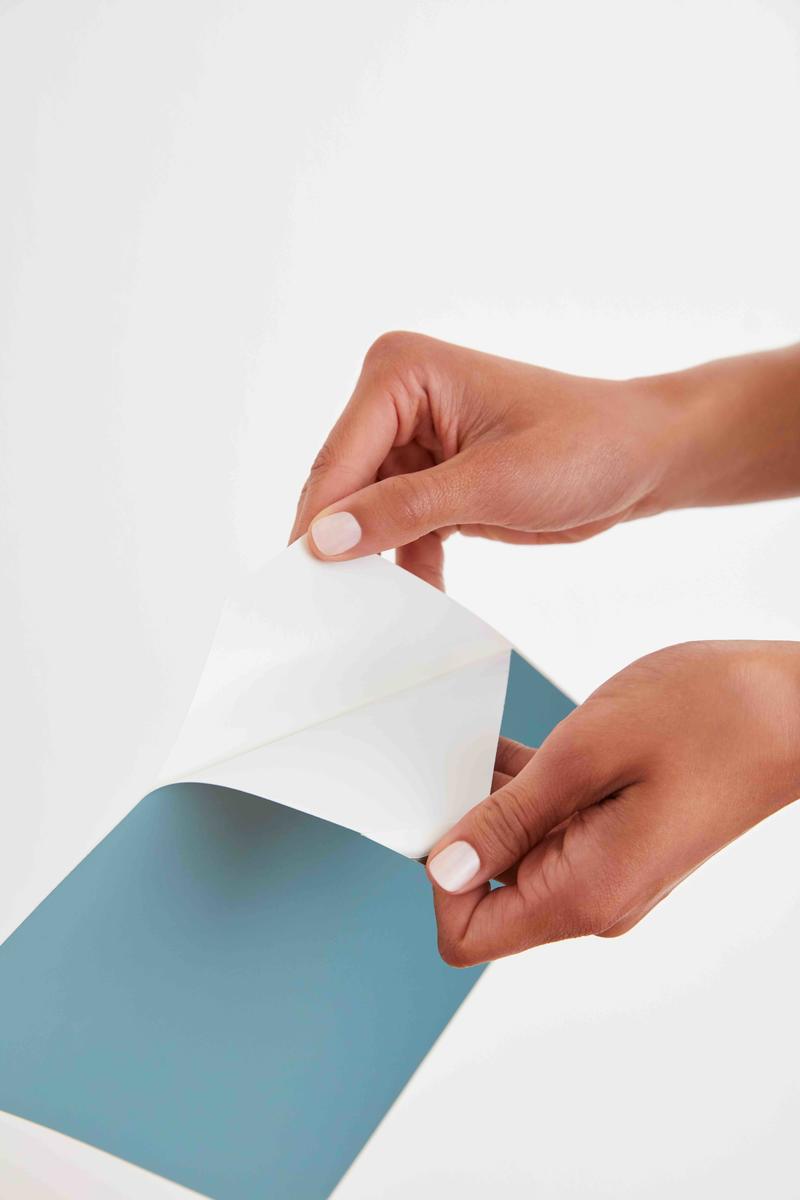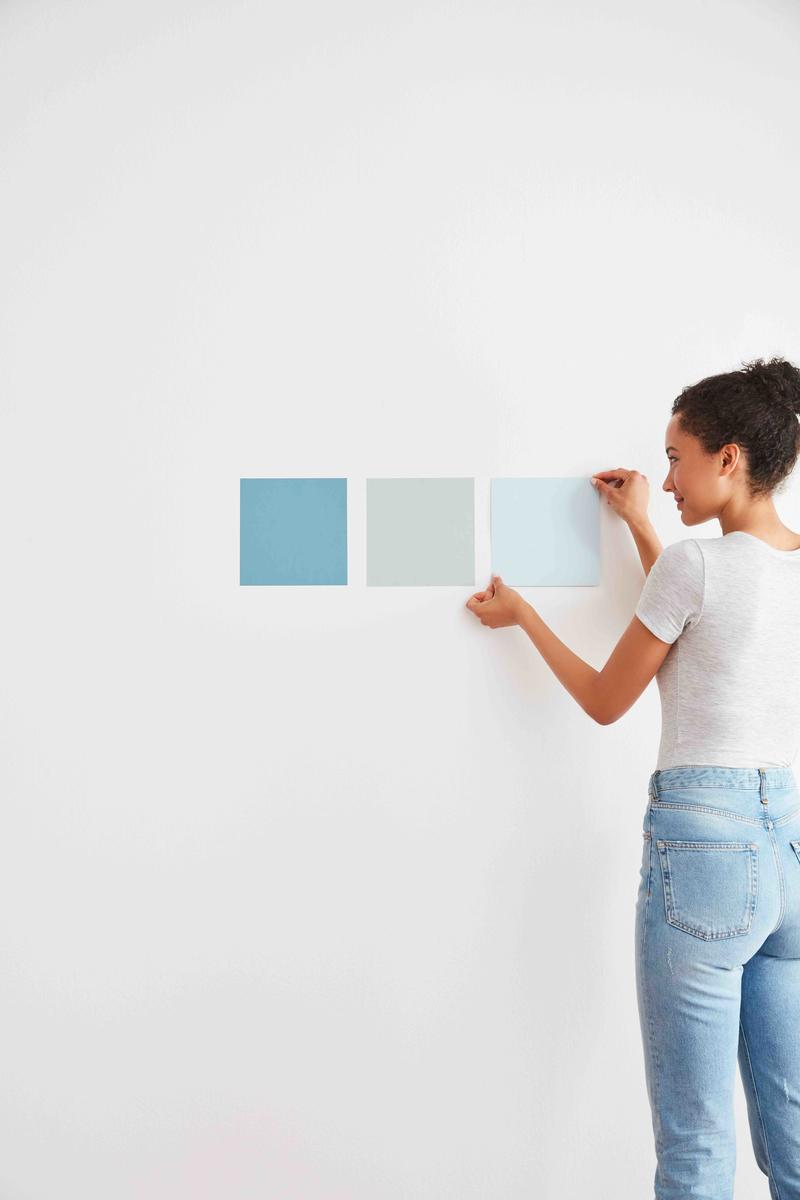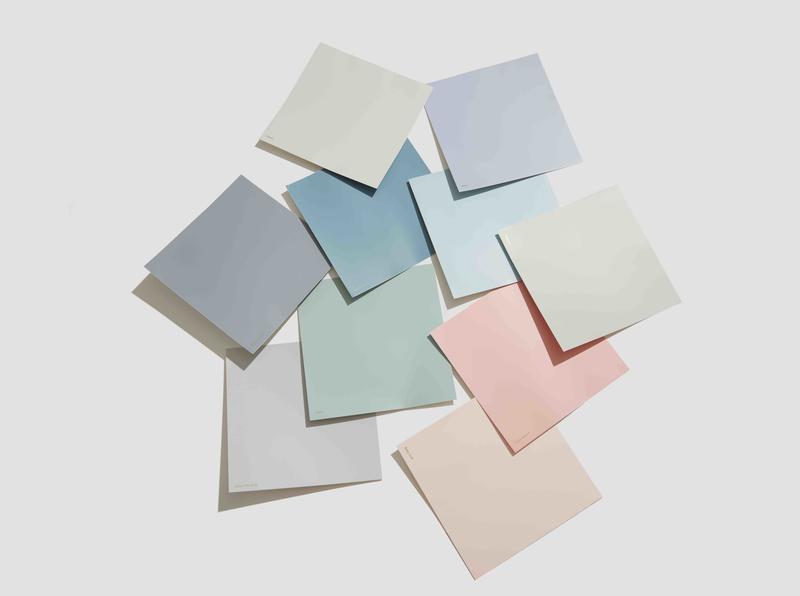 The idea clearly resonated with venture capital firms too; Clare's first round of funding closed in December 2017 and included First Round Capital, Imaginary Ventures, Brooklyn Bridge Ventures, Bullish, Able Partners, and angel investors Neil Parikh and Luke Sherwin (co-founders of online mattress giant Casper) and Jeff Raider and Andy Katz-Mayfield (co-founders of the e-commerce men's shaving and grooming business Harry's).
Business of Home sat down with Gibbons to get a preview of the new site and find out how she's streamlining the paint-shopping experience:
The name of the company is a feminine one. Was that a conscious decision?
Clare is the polar opposite of what you're used to hearing in the market, which is inundated with very masculine-sounding names: Benjamin Moore, Sherwin-Williams, Behr. I wanted the name to be easy to remember, feminine, and a name that you could really build a personality around. Clare comes from a Latin word that means "bright and brilliant"—there's lots of wordplay there: bright in terms of color, brilliant in terms of forward-thinking.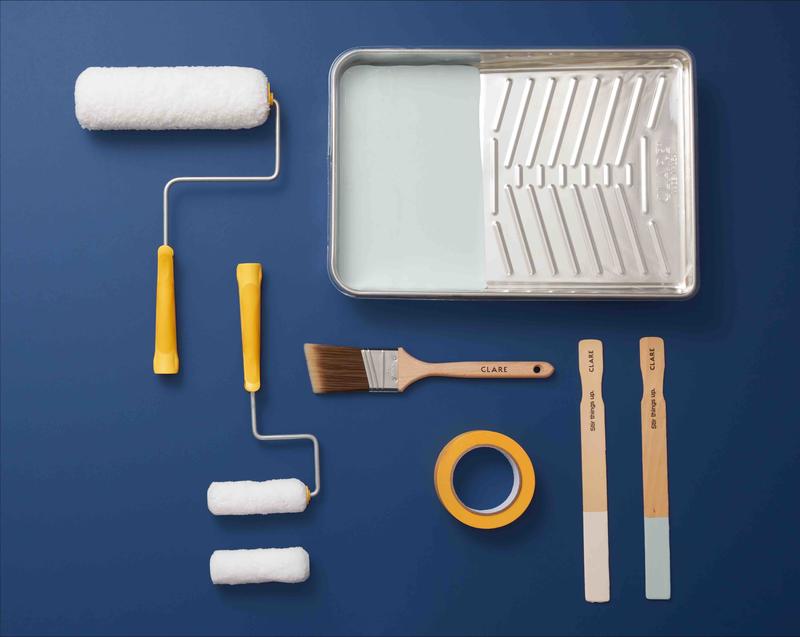 Clare is launching with fewer than a hundred hues. How did you edit the color options? And how did you name each one?
Here's the secret that designers know: You don't need a million-and-one colors, or 101 whites. Most people aren't that adventurous with color anyway. We have the perfect warm white, the perfect cool white, and the perfect clean, neutral white with no undertones. Having beautiful colors that both the DIY homeowner and interior designers would want to use was really important—the colors were created to feel timeless, and to cover the majority of use cases. I looked at about 600 color formulations to get down to our perfect 55 shades.
We led with color, and we had a lot of fun with naming. We wanted the names to resonate with the kind of customer we believe will really support our brand—Blue Ivy is inspired by Beyoncé, Motor City after my hometown Detroit, Money Moves after the Cardi B song.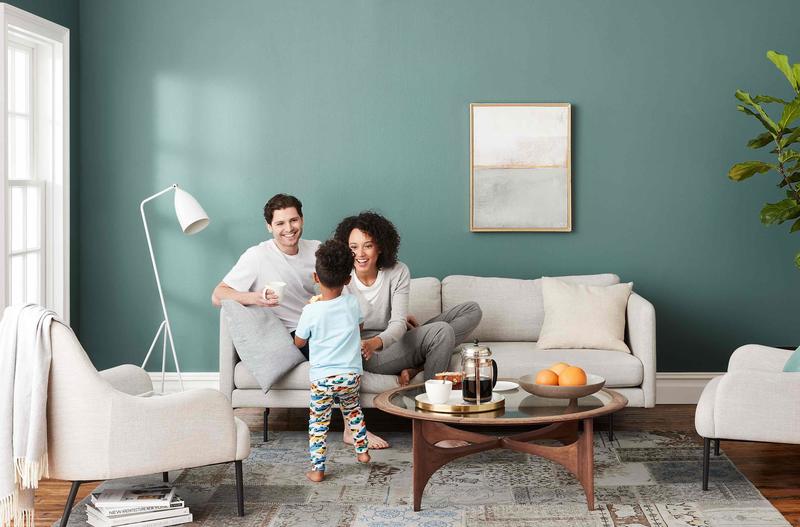 You've overhauled the traditional paint sampling process. What are the problems Clare seeks to solve?
This is a paint company designed for the way people live and shop today—so sampling had to be really easy. The old-school way of sampling requires so much back-and-forth to the store—first to pick up paint chips or buy a fan deck so they can narrow it down to three to five colors that they can test, then back to the store for paint samples. Even testing colors is an investment, because those cost money.
A direct-to-consumer experience online has to be simple, so we created peel-and-stick color swatches that arrive to your house in a cute, branded envelope and let you sample your colors in one step with no mess.
Another way to simplify the process is with Color Genius, a color recommendation engine based on an algorithm that is like having an interior designer help pick paint colors—no one really has a difficult time picking paint when they have a design expert to guide them. When I would present to clients, I would only recommend one paint color, with two backup colors waiting. They were almost always approved right away; no one's ever like, "Show me five more, I'm not convinced." They're hiring me and they trust my expertise.
Color Genius asks questions like, "How much natural light does your space get? What furniture is already in your room?" Most people aren't starting from scratch with an empty, blank slate; they probably already have furniture, maybe their sofa is blue. We take that into consideration when recommending colors for them.
What role does paint play in the overall design of a home? How did you develop Clare around that purpose?
I think of paint as being the foundation of your home. Even if you buy a home, you take all your old furniture with you, and you paint—it's the first step of making your home beautiful. But we most often start that journey in the most uninspiring of places: the paint aisle at a big-box home-improvement or hardware store, where you've got thousands and thousands of colors to choose from. And then on top of having too many colors, there are too many product lines to choose from—some of the big brands have 24 or 25 different kinds of paint just for your walls. How do you know which one to choose when you don't have anyone to help you?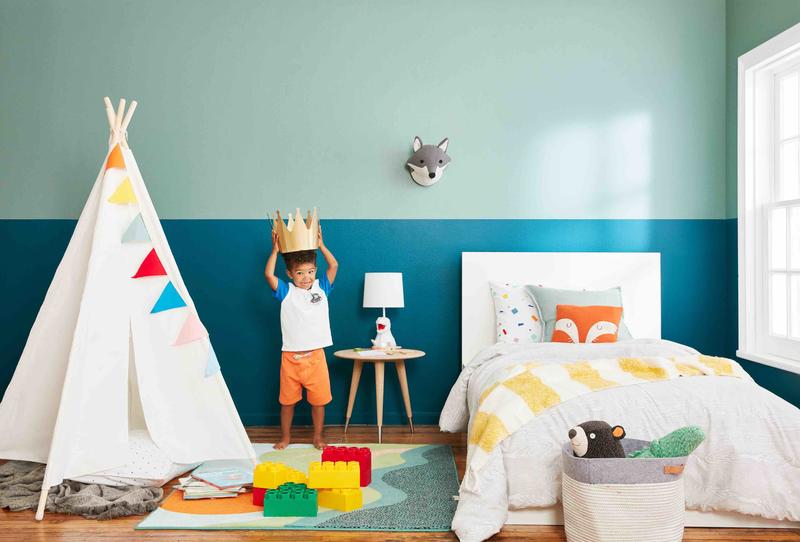 We also simplified the finish offerings to eggshell and semigloss instead of offering all of the random finishes—matte, gloss, permanent, semipermanent, pearl—that make it really hard to choose. In my career, I recommended eggshell for walls 99.9 percent of the time. I think that's what most designers do, and what most people put in their homes. Eggshell has definite dimension, but enough properties in the material to give it the durability that makes it cleanable and more functional. And for trim, you want a noticeable contrast with the walls, so semigloss is the perfect option. (Instead of offering all of the colors, I focused on the 10 best shades for cabinets and trim in semigloss.)
And that's it—we simplified it down to what I believe are the two best finishes for your home. We make it really, really easy for people to find exactly what they need. On top of those two finishes, we have a flat white ceiling paint and primer.

Aside from paint, the site also sells all of the tools you need to tackle your paint project like a pro. Most people are directed to the cheap value kit in the store and don't realize that there are different roller materials and different nap sizes based on what the walls are like and the type of finish you want to achieve. So we chose the best options for you to have the best results, even if you're not a skilled painter. We want to have tools that a pro would want to use, and that would also help a DIYer have the best results.
We often hear about the dangers of volatile organic compounds (VOCs) and other ingredients used in paint. How does Clare address consumers' health concerns?
I'm from a generation that cares tremendously about what's in our product. Moms care tremendously about what they surround their children and families with, so it's really important to me to create a paint that makes them feel good about what they put in their homes.
Although paint companies are heavily regulated, it's not a requirement to disclose your ingredients—just like in the beauty industry. Nobody talks about what's in their paint, and [companies] try to mislead you into thinking it's something that it's not. But paint is a chemical product, no matter how you try to break it down. That's why we're super transparent—we even include the ingredients on our label. And we tell you exactly what "zero VOC" means so that there's no confusion.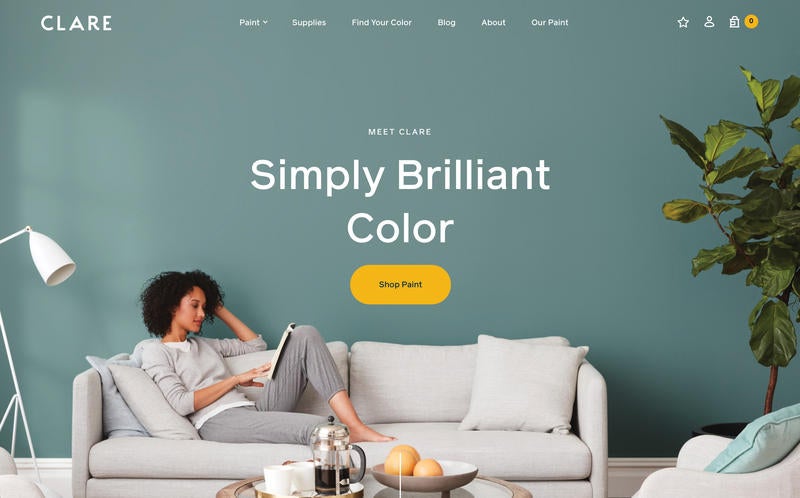 What was the impetus for starting Clare?
I was hustling really hard on all these different things—my design business, but also TV hosting. But what I really wanted to do was build a brand.

I'm a member of women's co-working space The Wing, which used to have a program called "office hours," where you could sign up to talk to an expert in their field. They had a session with noted venture capitalist Susan Lyne of BBG, a fund that supports female founders, for [sharing your] business idea or you wanted to get some feedback on fundraising. So I signed up for 20 minutes with her. I had a one-page slide, and I talked to her about the vision I had to build this brand.
She didn't invest on the spot or anything—that wasn't the point; I just wanted feedback. She said, "I think this is a really good idea. I had no idea of the market opportunity." She also told me that it's really hard to raise money pre-launch, but made recommendations if that's what I was going to do. I saw that as a really positive sign. Presenting to a venture capitalist who was intrigued by the market opportunity was a huge vote of confidence that helped me feel comfortable scaling back everything else I was doing so I could really focus on it.

The next step was a cold call to an R&D chemist in the paint space who said, "I know every single ingredient in a can of paint, and even I hate shopping for paint. I think you're on to something." Both of those conversations happened in early February 2017; by the next month, I was all in. I researched and went to trade shows. By the fall, I had the foundation of a supply chain and I started building out a financial model so that I could raise capital.

I started to fundraise in earnest in August 2017. In all, I met with 30 to 40 people, and of those, about 20 were actual targets. Most of them said no, but by the end of September, I had a term sheet. By the end of October, I had all my investors. We technically closed at the end of December, and since January, I've been executing.
Clare debuts today at Clare.com.