In our weekly digest, find all of the stories you might have missed. Read on for the announcements crossing the BOH news desk this week.
BUSINESS NEWS
As of yesterday, the $840 million sale of Cincinnati-based Formica Group to Netherlands-based Broadview Holding is finalized. It encompasses Formica businesses in North America, Europe and Asia, including Formica Corporation and Formica Decorative Materials. Formica Group invented laminate in 1913.
This week, IKEA hosted "Democratic Design Days," the annual symposium during which the company announces its largest initiatives for the coming year—a revealing look at what it will prioritize in research and development. Notable news includes the staggered launch in Spain and Italy this fall for Musselblomma, a collection of fabrics comprising recycled polyester partly made of PET plastic waste caught in nets in the Mediterranean; a new, more stable family of dressers that hits the U.S. market this December; the expansion of the Omtanksam collection—which is designed for people with disabilities—to include bedroom, bathroom and kitchen come May 2020; and a future collaboration on home goods with British designer Zandra Rhodes.
LAUNCHES, COLLABORATIONS AND PARTNERSHIPS
Historic British home furnishings company Morris & Co. has launched a new capsule indoor/outdoor furniture, lighting and rug collection in collaboration with Selamat, a wholesale decor company based in San Francisco. The collection launches to retail in the fall.
OPENINGS, AUCTIONS AND EVENTS
The 1stdibs Gallery at Hudson Yards has expanded its hours, now open until 8 p.m. on Thursdays and from 10 a.m. to 6 p.m. on Saturdays. The antiques dealer opened the 44,000-square-foot showroom at the beginning of the year and has made a number of strides since, including the acquisition of Design Manager and a partnership with Christie's. "Consumer response to the 1stdibs Gallery has been terrific and as such we are expanding our hours to fit the needs of this audience," Cristina Miller, chief commercial officer of 1stdibs, tells Business of Home. "We have added several new exhibitors since the February launch and will be adding more throughout the summer."
Event proposals for the second annual Nashville Design Week are due June 5. The event will take place in early November.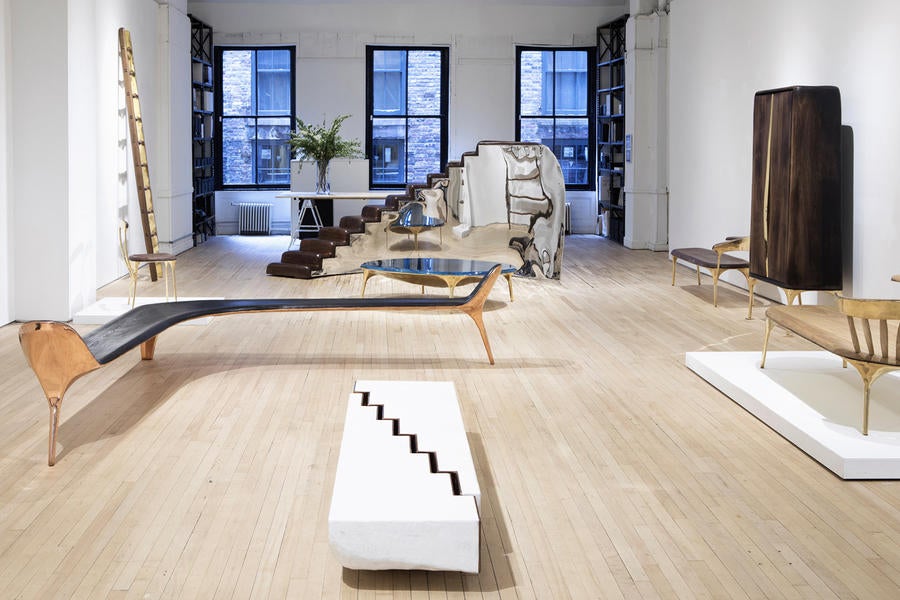 Courtesy of Twenty First Gallery
Twenty First Gallery will host a solo exhibit on German designer Valentin Loellmann at its TriBeCa location until July 19. Working with the Parisian Galerie Gosserez, the gallery coordinated Loellmann's New York debut.
Design Museum Holon is exhibiting "The Conversation Show" from now until October 26. Curated by Maria Cristina Didero, the exhibit features five commissioned installations, including "The Hall of Broken Mirrors," which was created by New York firm Snarkitecture and Italian interiors brand Gufram.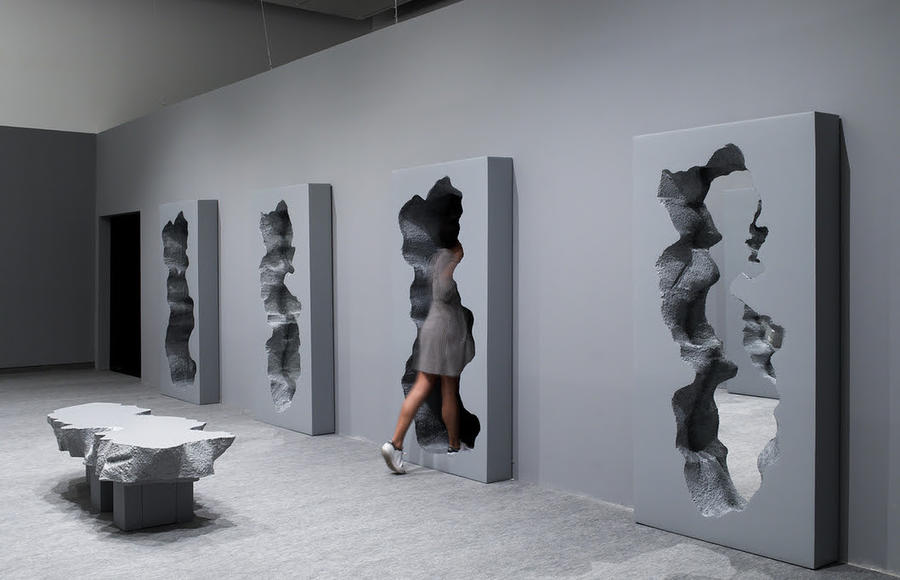 Here's an exclusive from Design Miami/Basel CEO Jen Roberts on what to look out for at the show: "Interior designers will be inspired by the variety of materials that come from designers and studios working with recycled materials and natural materials manipulated by hand," she tells BOH. "Formafantasma … will show pieces manipulating recycled technology. Erez Nevi Pana will be showing an incredible chair and table that was submerged in the Dead Sea. There are many incredibly beautiful and unique pieces that will inspire interior designers and create opportunities for them to work with something different and provocative." Design Miami/Basel will be held June 11 to 16.
RECOMMENDED READING
Robb Report took us inside a 161-foot Italian superyacht designed for a multigenerational family. "[Designer Horacio Bozzo] configured the sixth stateroom, behind the helm area and captain's quarters, with bright colors, low-slung furniture and a television with a PlayStation for the youngest generation, while also designing a shallow swimming pool in front of the wheelhouse so the young kids would be safe and always in view," wrote Geri Ward. "The third area, for the grandparents, includes a shaded space on the 1,200-square-foot flybridge deck, with a bar and an eight-person table for alfresco dining."
"At times the fight for civil rights is a straight road pocked with speed bumps; at other times a maddening spiral of detours," wrote Holland Cotter in his The New York Times profile on New York City museums and public spots that celebrate the 50th anniversary of the Stonewall riots, which led to a pivotal shift in gay rights activism that we still celebrate today.
Opening Ceremony founders Carol Lim and Humberto Leon declared yesterday that this is the year of Mexico, reported The Cut. Every year since 2002, the New York fashion brand has hosted designers from a different country and offered exclusives from the region (on the docket this year are hand-thrown homewares by Taiga Cerámica). Opening Ceremony partnered with Mexican nonprofit organization Fondo Semillas, which focuses on women's rights.
CUE THE APPLAUSE
St. Augustine, Florida–based outdoor furniture brand Brown Jordan received the Awards for Design Excellence (ADEX) Platinum honor for its Stretch collection, designed by Richard Frinier and recognized for its versatility and craftsmanship.
International architecture firm HLW's Los Angeles studio received a 2019 Calibre Design Award by the International Interior Design Association Southern California chapter for its new oceanfront headquarters for Procore Technologies. It was selected out of 15 nominees.
Happy 20th to design firm Meyer Davis, which celebrated with the opening of the Dream Nashville/Printer's Alley hotel.