A new partnership of potentially epic proportions is headed our way. The first collaboration between 1stdibs and Christie's launches in two weeks on the latter's new exhibit in the 1stdibs Gallery in New York as well as in a digital storefront on the 1stdibs website. The new shop brings a "buy it now" mentality to the venerable company's wares, giving access to Christie's product without having to wait for an auction.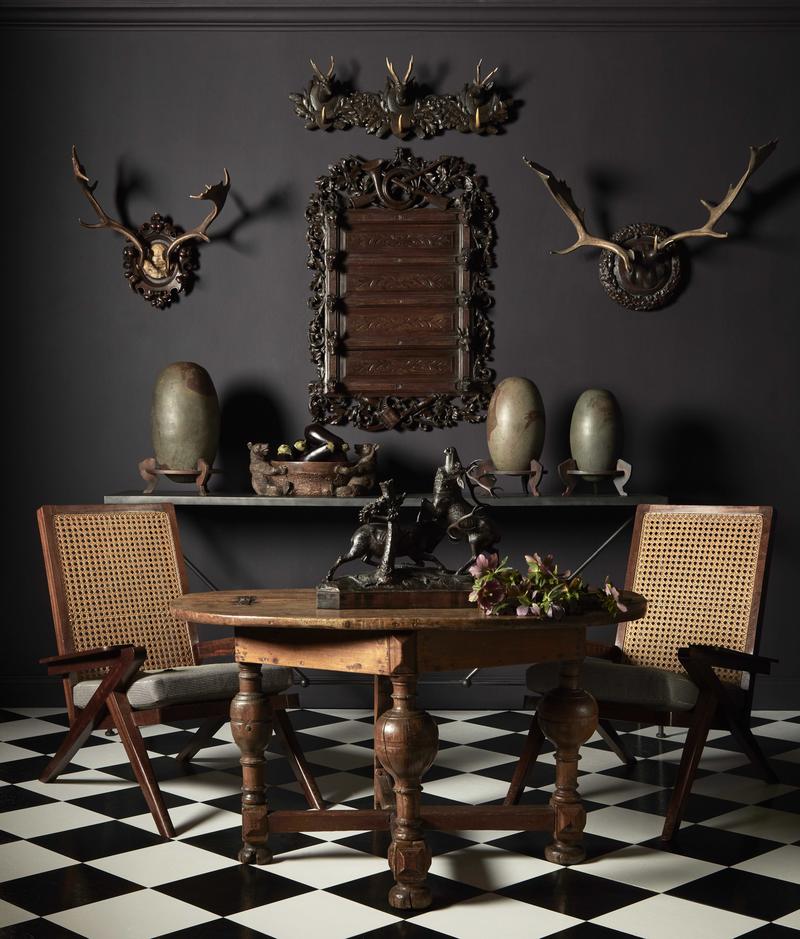 In a preview that goes live today, some of the items are immediately available to buy. Starting May 1, 100 pieces of furniture and decorative objects will be featured, including seven petal-form side tables designed by interior designer Juan Montoya. Other noteworthy pieces are Swiss black forest antler mounts from the early 20th century, French Art Moderne mahogany and caned armchairs, and Indonesian Art Deco wood and caned bergère.
"We are delighted to work with Christie's, renowned globally for their esteemed auctions, record-breaking sales, and expertise in the fine and decorative arts to offer these specially curated objects for purchase immediately in a new and exciting format for Christie's," says 1stdibs chief commercial officer Cristina Miller. "We look forward to exploring additional ways to offer continued benefits to our combined networks of collectors and interior designers."
The buy-it-now option is predicted to do well, as it gives more chances for its collectors to invest. "The collaboration with 1stdibs, the leaders in e-commerce luxury goods, is an exciting opportunity for Christie's," says Christie's deputy chief marketing officer Matthew Rubinger. "We are thrilled to introduce Christie's to a whole new group of collectors, many of whom are based in New York, as well as connect with new buyers entering our market digitally."
1stdibs opened its 44,000-square-foot gallery this year near Hudson Yards, New York's latest, hottest (and surprisingly controversial) shopping destination. Christie's, meanwhile, is in a celebratory mood; for its 40th anniversary in Chicago, the auction house hosted a free three-day public exhibit at its local showroom featuring 14 rarely seen 20th-century artworks that have long been held in private collections, including paintings by Monet and Picasso, that will be up for auction this spring in New York.
The 1stdibs gallery, at the Terminal Stores (269 11th Avenue, Lobby 4, 7th Floor, New York), is open Monday through Friday, 10 a.m. to 6 p.m.