The design industry has a new arms race: project management software. To the outside world, it's record-keeping with all the sex appeal of the tax code. But for design professionals, it's the administrative lifeblood of any operation that's graduated from Excel and earnest prayer.
Everyone agrees that project management software is indispensable, but designers say the offerings come with trade-offs like byzantine navigation, tedious manual entry, or shady login-in privileges. Chicago-based designer Cari Giannoulias sums it up: "One is either really user-friendly and pretty, but not super functional; and the other is functional but not really pretty. We're in a pretty industry—how has no one figured this out yet?"
That question has been fueling a handful of enterprising companies looking to reinvent designer admin for the 21st century. As they evolve, we've noticed two trends emerging: seamless, e-commerce-like purchasing and enhanced designer-client collaboration. On the heels of Ivy's announcement today of a new feature that converts mood boards into purchasing orders, here's how Ivy, Fuigo, Design Manager (now powered by 1stdibs) and Studio Designer are approaching the task of becoming relevant beyond project workflow and bookkeeping.
Ivy
The digitally native workflow management platform has emerged as a forward-thinking brand with a strong community-first philosophy. Today, the company is unveiling its latest feature, called Room Boards, a visually driven tool that allows members to assemble products and services by room and ultimately show their concepts to clients.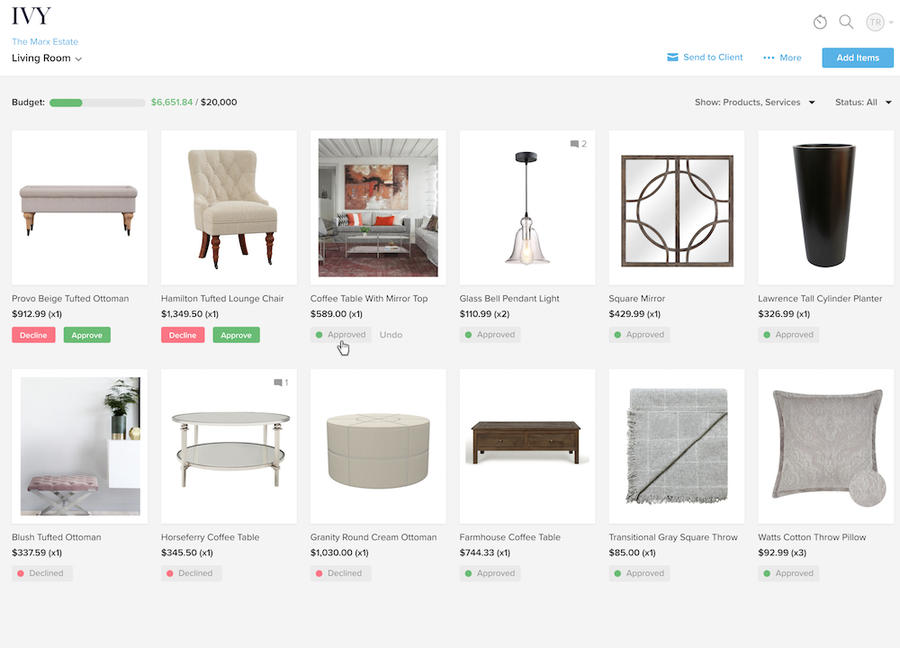 The objective is to streamline product vetting in the pre-proposal stage by sharing a board with clients, who can approve or decline options and offer feedback on the choices—all within the Ivy system. During a demonstration for BOH, Ivy co-founder Lee Rotenberg arranged products and inspiration images, while revealing the program's scaled budget feature, which responds instantly to changes, turning red if a room has maxed out.
The furnishings are imported using Ivy's popular clipper tool. Prices are easily visible, and each product features data fields for details like markup percentages or delivery notes. Selecting "approved" items, Rotenberg showed how to create purchase orders and tear sheets via a few clicks. She also gave previews of the client and member dashboards, which share the uncluttered, modern interface that has earned Ivy praise.
"This is absolutely cutting-edge. There's no other platform out there that really allows the design firm to go from ideating to closing out that project," says Rotenberg. "Our goal is to allow designers to concentrate on what they love, and that's creativity. We empower that by giving them the tools and the resources to have a more streamlined workflow."
The emphasis on putting the creative process first has set the platform apart, making Ivy the fastest-growing business management software for design firms, according to Rotenberg. The company reports more than 5,550 member firms—more than double the community of 2,400 they had last February. That potential for growth likely lured Houzz to purchase the platform around that time in 2018. While the acquisition raised a few eyebrows, access to a powerhouse coding team and other Houzz resources is an undeniable advantage. Ivy's app, for instance, includes features like augmented reality.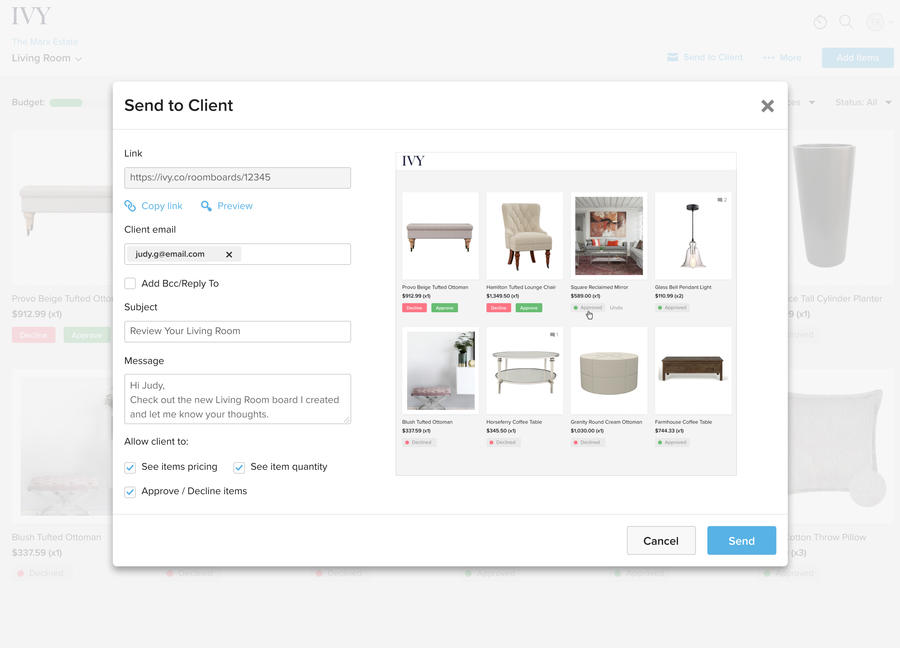 The process to build and deliver Room Boards took several months, and with it, Ivy is looking to integrate the artistic side with the administrative necessities even earlier on in the process. "Our users asked for this feature," says Rotenberg. "The challenge with Room Boards was when designers are conceptualizing and ideating, how do we make sure that saves them time with documents like invoicing and proposals? Everything we do with Ivy is automating and streamlining more of the workflow so that designers have more time in their day."
San Francisco–based designer Alison Pickart, who specializes in high-end residential design, spoke from a user perspective: "Ivy has an easy tool for creating individual item tear sheets, which saved a step and gave the information a permanent, localized footprint within the system," she said, ahead of Ivy's Room Boards announcement. "If Ivy created an online template for the whole room, designers would then be able to assemble the visuals within their system, and the visual aid furniture takeaway could be auto-generated based on the items selected for a proposal, saving a ton of layout time." Pickart's comment was prescient—it's just this conundrum that Room Boards aims to solve.
"Before Room Boards, designers had the power to ideate offline, but they didn't really connect to the bigger picture of the potential budget," says Rotenberg. "So it wastes a lot of time. You might only later realize that you and your client were not on the same page. The thing that I love about tying together workflow within the realm of creativity is that we're allowing designers to be incredibly creative while allowing it to drive the rest of that [budget and planning] process."
Design Manager
While most of us were following bankruptcy news, ownership story arcs and pondering the effect of Chinese tariffs, 1stdibs announced on May 7 that, following a $76 million Series D funding round, it had acquired Design Manager. This new union brings the robust engineering, data insight and e-commerce capabilities of 1stdibs to a designer-focused tool first introduced in 1984. Changes would be coming, CEO David Rosenblatt told Business of Home on the day of the merger. Two have already been enacted: one-click integration of all 1stdibs product into the platform and free tech support, starting June 1.
We're now learning more about what's in store. "Designer and client collaboration is an area we are actively considering as a strategic extension of the current Design Manager product," Sarah Liebel, SVP, GM, trade at 1stdibs, tells BOH. "We will be working closely with designers to define a solution." The online antiques and design marketplace does not need assistance in creating a sleek digital experience, but as the executive team studied the design management software landscape, they identified two pain points for designers: entering items and tracking orders.
That first concern may be remedied with one-click integration, which should vastly simplify the process for entering orders. According to Liebel, they're also exploring integrations at other stages of the order process, such as updates on order or shipment status directly in Design Manager for orders on 1stdibs. Future iterations of Design Manager will feature simpler setup and onboarding processes. A feature called ClientConnect allows designers to collaborate with clients on proposals, and the new Design Manager Pro supports integrations with existing mood board and mock-up tools.
"We believe these [features and] integrations, in addition to more streamlined and intuitive user experiences, will help designers save time," says Liebel.
Studio Designer
Studio Designer's platform, which serves just under 8,000 design clients, allows designers to click on a product from a manufacturer and drag it into a presentation while retaining all of the relevant metadata, which populates in the system and details finish capabilities, custom quotes and more.
Chicago-based interior designer Tom Stringer has been using Studio Designer for more than two decades, and is on its board of directors, as well as being a shareholder and investor. Stringer sings the platform's praises, including one-click integration from vendors, similar to the new capabilities of 1stdibs.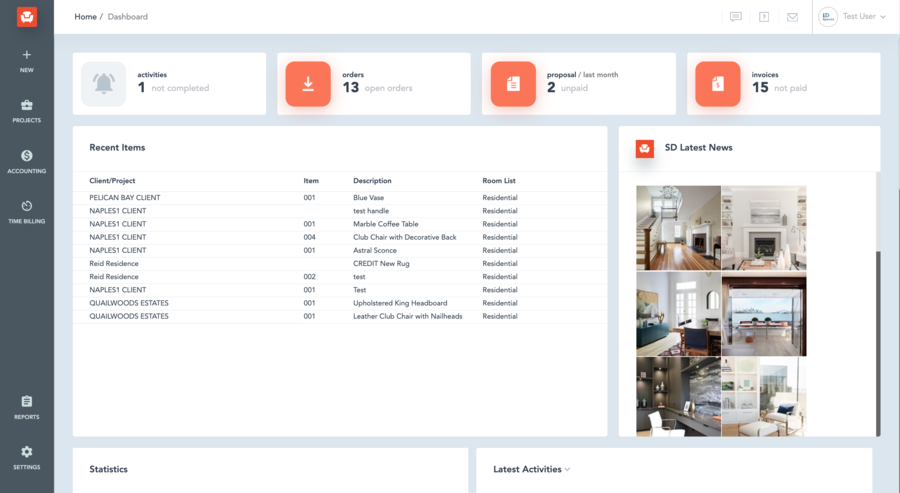 Courtesy of Studio Designer
"That one-click feature is the new standard that everyone is going toward," Stringer says. "In the fall, we are releasing our marketplace, which will allow designers to buy through the system directly. It's also one-click purchasing." This update follows the news that later this year, all users will be upgraded to the new 2.0 platform. Additionally, Studio Designer now has the capability to easily migrate a user from any of the available platforms to Studio Designer 2.0.
Studio Designer already has a sophisticated client portal: Designers provide login access to their clients, who can view proposals and click the items they approve. If anything gets declined, the system updates and re-totals the proposal instantly. For approved pieces, clients click the pay button and funds move from a client's account to the designer's account.
For Stringer, this technology represents a significant upgrade particularly for clients, who, like anyone else, expect a seamless digital experience in everything from online banking to purchasing airline tickets or making dinner reservations. Waiting for anything feels like an insult these days, and the straightforward functionality places a premium on a simple, well-choreographed sequence.
As design management software pushes into the need-it-yesterday pace of design business, the role it plays will also change. "I think the next wave for Studio Designer is more and more partnerships, where you could be looking at a fabric sample from the vendor portal, click it and have that sample show up in your mailbox the next day," says Stringer. "A company like Material Bank has come up to support that."

Fuigo
Fuigo, as an independent company born from the digital generation and a pioneer in "for designers, by designers" ethos, has a unique perspective in the marketplace. Helmed by Maury Riad, who also owns luxury Venetian textile house Fortuny, the company sees a fuller picture—both in its efforts to foster a workaday design community and contribute to the bottom line. "Our north star is building best-in-class software as a means to bringing the industry online and transacting in a faster, better way," Riad says.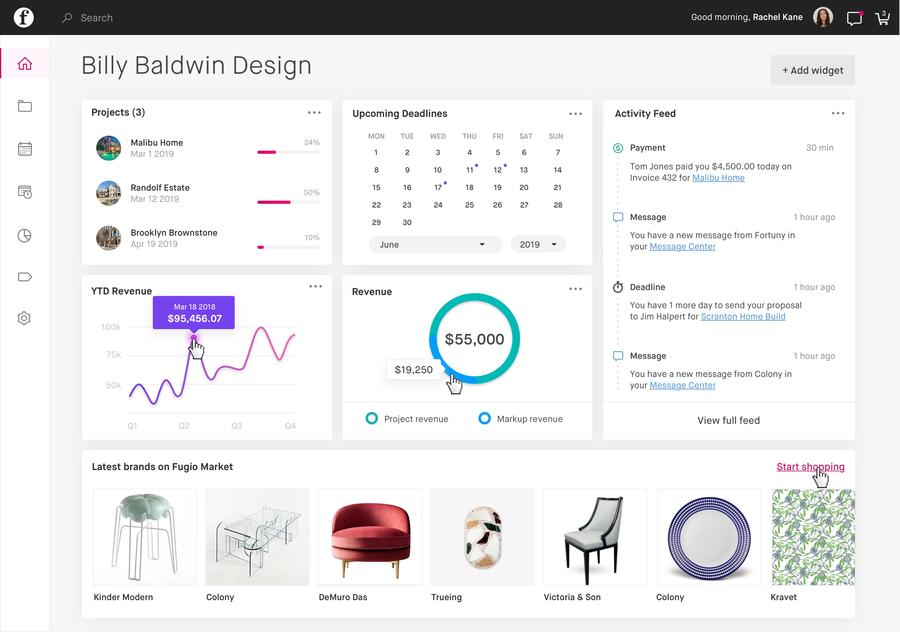 One of Fuigo's latest debuts is a mood board tool. "It will allow for direct engagement with clients and save time through its integration into record keeping tools in the software," says Riad. "We've also released Online Client Payments, which lets designers offer a beautiful white-labeled payment portal for their clients—increasing customer convenience and streamlining cash management."
Marrying marketplace integration with project management is another recent feature. Riad notes that purchasing takes up to 75 percent of a designer's time. To assist with the process, the company has launched Fuigo Market. "It is not about helping designers a little; it is about completely transforming the arduous task of purchasing, allowing it to become a part of the artistic process." Similarly, the vendor communication portal inside Fuigo Market is designed to "crack the code on trade specification and expediting."
And in the spirit of simplicity, Riad reveals that Fuigo is testing out machine learning tools that can predict manual entries, which would make record keeping part of the business as simple as possible.

While many of each platform's features bear resemblance to one another, the needs of a professional class are changing faster than anyone expected. Differentiation and tailored solutions may be the best way forward; otherwise, design workflow management platforms risk the same fate as mobile phone carriers: same menu, different rates, and no incentive to stay loyal.
"I believe that we all would love a one-stop shop where something could do everything, but I don't think that is realistic, at least not yet," says Libra Kaplan, principal of Librastudio in Alameda, California. "I think it's because interior design is fluid; the design process is fluid. So even though you do the initial getting-to-know-you phase with a client or with a design mood board, something could change. There are so many shifts and adjustments that happen in a project that it seems unrealistic that software that doesn't have the human element can fill all the designers' needs."
For some designers, this flurry of software updates are the silver bullet solution, regardless of the platform they've chosen. Others engage with software as technicians rather than artists and would prefer to pursue the creative side of their jobs app-free. Kaplan has many years of experience with programs like Studio Designer and Design Manager, but when it's time to develop a mood board or source a piece, she isn't often tapping into the software. "Part of the reason is that we sit at our desks for so long, and I want to get up," she says. "So I am going to get up and get my pens, go to my workstation and draw. You have to change it up."