In our weekly digest, find all of the stories you might have missed. Read on for the announcements crossing the BOH news desk this week.
Wood-Mode closes, leaving some in shock
Yesterday, Wood-Mode employees in Kreamer, Pennsylvania, walked out of their office after they found out that the business was shuttering that day, likely within a few moments of their departure, reported The Daily Item. "'I'm not surprised, because we've known for months that something was happening, but I'm shocked that it happened this fast and we didn't at least get a 60-day notice,'" Tim Benner, a 61-year-old final inspector who has worked at the plant for over 41 years, told reporter Marcia Moore. "In one instant, Benner and his wife, a 10-year employee, lost both incomes," wrote Moore.
Over the past few months, the 77-year-0ld custom cabinetry company has looked toward financing, new capital, and a potential sale so it could continue operating. But last week, the company had no other option but to discontinue operations. It says that employees will still be paid.
TARIFF TROUBLE
China has retaliated against the U.S. with higher tariffs, stating that on June 1 it would raise the price on $60 billion worth of beer, wine, swimsuits, shirts, liquefied natural gas and other goods, reported The New York Times. The decision follows President Trump's 15 percent increase in tariffs on Chinese goods last Friday. My, what a time to be in business. "Trade talks between the two sides broke down last week without a deal, causing tensions that have rippled through financial markets and the global economy," wrote Keith Bradsher.
"'What should be concerning to markets is how close both sides have gotten to a deal before one side backs off," Hannah Anderson, a global markets strategist in the Hong Kong office of J.P. Morgan Asset Management, told The Times. Last week's talks were the 11th time Chinese and American officials met to talk trade since Trump took office.
Major U.S. stock indexes decreased by more than 2 percent yesterday during the escalation, reported CNBC. "The duties in large part target U.S. farmers, who largely supported Trump in 2016 but suffered from previous shots in the Trump administration's trade war with China," wrote Jacob Pramuk. "The president has repeatedly claimed China bears the brunt of the costs from the tariffs. But the burden falls largely on U.S. businesses and consumers."
OPENINGS, AUCTIONS AND EVENTS
This is the last week to check out Grace's House, a designer showhouse in Plainfield, New Jersey, that benefits the Valerie Fund, a nonprofit that helps children with cancer and blood disorders. Designer Tina Ramchandani created the Parlor, which she describes as a lounge space for entertaining. Other participating designers include Swati Goorha, Gail Davis and Samuel Robert. The house will be open through Sunday. Tickets can be purchased here.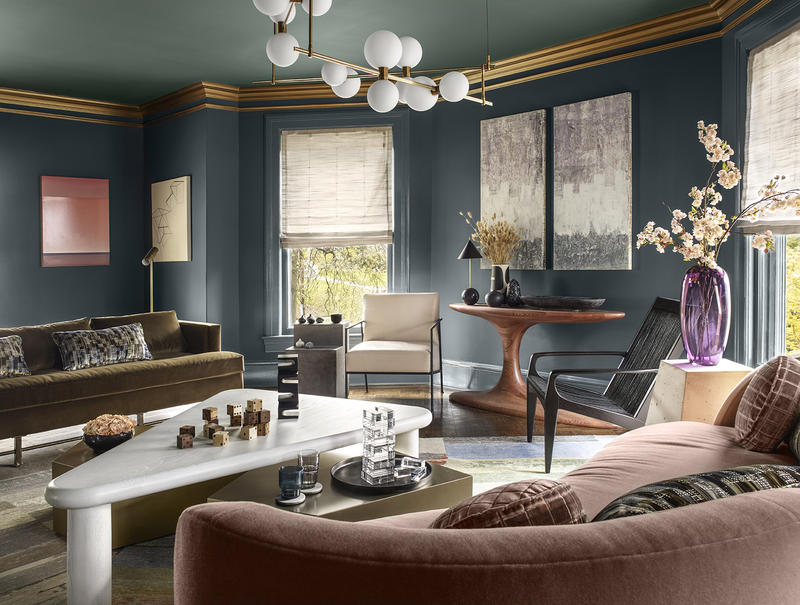 Ellen McDermott Photography
It's also your last chance to go see the 2019 Pasadena Showcase House of Design, held at the 12,000-square-foot Boddy House in La Cañada Flintridge. Participating local designers include Tracy Murdock, Kenneth Boyer and Samantha Williams. Purchase tickets here.
On May 21, Design Within Reach's SoHo studio will host its first design discussion, "Dome Life," with Los Angeles fashion brand Entireworld. Entireworld founder Scott Sternberg and T: The New York Times Style Magazine contributing editor Deborah Needleman will discuss the intersection of myth and design. The SoHo studio will also feature the fashion brand's first pop-up.
NY NOW announced that it will host its first fashion show, Fashion Runway, at the summer 2019 Market. Designer Farai Simoyi will curate and present the show, to be held on August 10—the opening day for the show's Handmade Collection.
LAUNCHES, COLLABORATIONS AND PARTNERSHIPS
Modsy launched renderings of grown-up rooms inspired by Game of Thrones—specifically, four major houses of the Seven Kingdoms, plus a bonus White Walkers room, reported Refinery29. Fun details include a fuzzy-wuzzy, direwolf-esque bean bag chair, eclectic and boho elements for the Mad Queen herself, and a room meant for some Cersei-level entertaining, scheming and wine drinking. "Just as long as no one's suggesting we make elaborate mosaics out of our enemies' body parts," wrote Sabrina Rojas Weiss, "this is valid inspiration."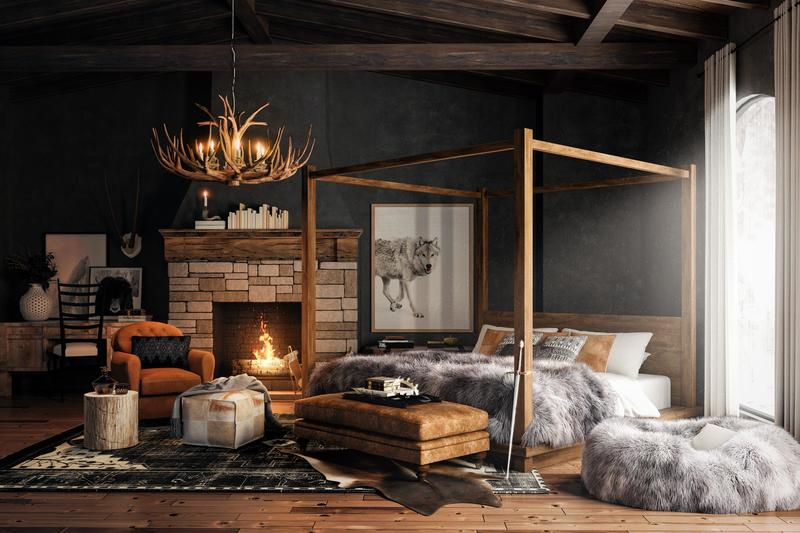 Google announced it would discontinue its Works With Nest program, replacing it with a stricter Works With Google Assistant program, and introducing a new Nest Hub Max, a 10-inch smart display and camera, reported Variety. Google acquired Nest in 2014.
After 80 years of pedal bins (which are part of the Museum of Modern Art's permanent collection, a huge feat), soap dispensers, tables and lamps, Danish design brand Vipp has debuted its first chair. It costs $595, has a slender frame and three different upholstery options, and comes in two sizes.
Fabricut announced that it is now the exclusive U.S. distributor of Byron & Byron hardware. The line, which produces high-end curtain poles and accessories, was formerly in Robert Allen Duralee Group showrooms.
Nicole Hollis released her first products with San Francisco lighting shop Phoenix Day, a collection inspired by gothic design in Sylvia Plath's novel The Bell Jar.
Clare Paint has announced its first new paint color, Frozen, which was named by customers through a crowdsource campaign that garnered over 2,000 votes. Frozen, in case you hadn't guessed, is described by the brand as a light, airy blue.
RECOMMENDED READING
The New York Times profiled eight first-time artists participating in the Whitney Biennial, a prestigious opportunity. Meriem Bennani, Tiona Nekkia McClodden, Calvin Marcus, Maia Ruth Lee, Todd Gray, Sofia Gallisá Muriente, Nicholas Galanin and Tomashi Jackson will make their debut; while they all felt satisfaction at the news, many also felt crippling panic. "Selection in the Whitney Biennial instantly marks an artist as a figure at the forefront of American contemporary art," wrote Siddhartha Mitter. "For young selectees like Ms. McClodden—three quarters of this year's roster of 75 artists are under 40—it is a surefire resumé and market builder. By the same token, it exposes them to inevitable political stakes and heightened scrutiny."
Dennis Rodman was accused of stealing a 400-pound crystal from a yoga studio, reported The Cut. This was the biggest scandal of the Los Angeles crystal community since Amanda Chantal Bacon's rose quartz was taken from her Moon Juice shop in 2016.
CUE THE APPLAUSE
Sheree Vincent of Fusion Designed has received the #GetYourGreenOn sustainable design award by Interior Design Society and the Sustainable Furnishings Council. The winning design, an interior, featured a closed-loop geothermal system, ethically sourced timber, and zero-VOC paint throughout.
The Harvard Graduate School of Design named the recipient of its seventh-annual Wheelwright Prize, architect Aleksandra Jaeschke, who was recognized for his research proposal "Under Wraps: Architecture and Culture of Greenhouses," which was about her long-term interest in horticulture and the relationships between plants and humans.
University of Southern California–Los Angeles Extension student Rich Yeung was recognized at the "Setting a Legendary Table" competition hosted by La Cienega Design Quarter, UCLA Extension School of Architecture + Interior Design, and Mehraban Rugs. Yeung's table was dedicated to William Haines and Kelly Wearstler.
The Boston Design Center's Innovation and Design Building turns 100 this month, and its occupants are celebrating tomorrow at an exclusive, tenants-only event that includes, among other things, a ginormous birthday cake that will be sliced by a robot.
This week, UrbanGlass will host its 2019 gala and auction, paying homage to gallerists Zesty Meyers and Evan Snyderman of R & Company, as well as artists Tauba Auerbach and Keith Sonnier. Purchase tickets here.
The New Jersey chapter of the American Society of Interior Designers will host its annual Design Excellence Awards on June 19. Early-bird pricing, $105 to $125, is available until June 3. Purchase tickets here.
Fantini will host the third-annual Fantini Design Awards, which honor kitchen and bath design in North America. Interior designers, architects and building developers are welcome to enter projects beginning May 19. This year's grand prize is a free trip to Italy in the fall.
Applications for the International Furnishings and Design Association Educational Foundation's professional grants for 2019 will be accepted in the month of June. Professionals in interior design and furnishings are welcome to apply.
Homepage photo: House Tyrell; courtesy of Modsy