There's growth and then there's growth. The Shade Store has been undergoing the latter. Over the past decade, the Port Chester, New York–based window treatment company has gone from a small regional presence to a national brand with over 80 locations. An illustrative point: When Business of Home sat down with co-founder Zach Gibbs and CMO Michael Crotty to discuss the company's plans for 2020, they mentioned, in an offhand way, that the store count was about to go up by two—the next day.
"We have [opening new locations] down," says Crotty. "It's becoming a bit of a smooth machine."
The growth of the company, which was founded in 2006, has been in part fueled by private equity investment—first from Great Hill Partners, who acquired a majority stake in 2013, then Leonard Green & Partners, who bought out Great Hill in 2018. However, it's certainly helped that The Shade Store has been expanding into a kind of vacuum. There are other companies that manufacture window treatments. There are other companies that install them. But when it comes to national brands that do both, The Shade Store is in something of a white space. ("Really, the biggest challenge is just saying, 'We're here,'" says Crotty.)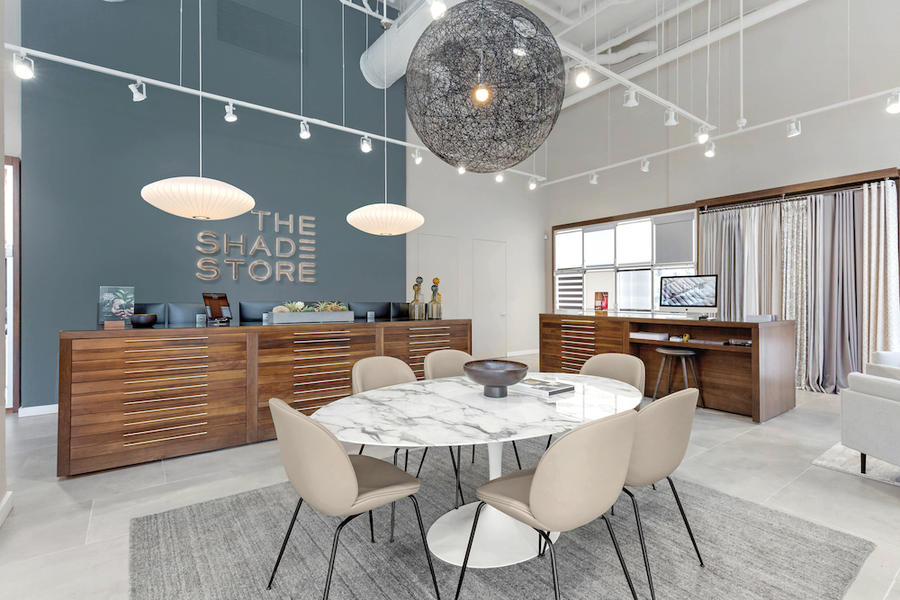 Courtesy of The Shade Store
Adding a wealth of new stores in upscale shopping districts (you're more likely to find The Shade Store showrooms near upscale jewelry boutiques than in suburban strip malls) is a very visible way for the company to announce to its preferred consumers, "We're here." The other big piece of The Shade Store's growth story is harder to see with the naked eye: It's the trade, which now makes up just under half of the company's business. The brand is eager to hold on to that number; next year, The Shade Store is introducing three new partnerships specifically aimed at its interior design clientele—a collaboration with passementerie company Samuel & Sons, a line with Victoria Hagan, and a partnership with smart home giant Lutron.
+ + +
The company has always, on some level, pitched itself to interior designers. Its service is nestled at a familiar pain point: Designers know the aesthetic decisions that go into a window treatment, but most aren't steeped in the technicalities of installation. Historically, however, they relied on local workrooms to handle it.
The Shade Store has been able to enter the conversation for a variety of reasons. For one, some local workrooms are suffering from generational dropoff. For another, many are decidedly old-school operations, not always set up to do business at the speed of the digital age. Those factors have created an opportunity The Shade Store is hoping to take advantage of.
Of course, the company is not exclusive to the trade, and its designer discount (which starts at 20 percent) is shallower than at some workrooms. On the flip side, The Shade Store aims to offer designers speed, convenience, a brand with consumer resonance, and a consistent experience whether you're in New York, Los Angeles or Winnetka, Illinois. The pitch is essentially: We can do what the old-school companies can do (including custom work and COM), but nationwide—and in seven to 10 business days.
In recent years, The Shade Store has accelerated its courtship of a design audience. The company has taken a multipronged approach, ranging from one-by-one meetings or hosting designer dinners to bigger plays, like sponsoring the Kips Bay showhouses in Palm Beach and New York. There, the company worked with participating designers to create all of the window treatments—an ambitious and potentially risky move.
"It was a big test for us to [meet with the Kips Bay board], tell them we were going to deliver and tell those designers they had to work with us," says Crotty. "That was bold."
The test, in a way, is twofold. For one, if The Shade Store can satisfy the most demanding audience in the market—designers working for themselves—it can likely handle whatever a consumer audience will throw at them. For another, putting its product under the brightest lights the industry has to offer goes a long way toward getting the brand over the final hurdle that designers throw up: quality and customization.
A trade audience now makes up 40 percent of The Shade Store
'
s business.
"Designers kind of get the [convenience] part. But then they're like, 'Yeah, but can you do the level of work that I require?'" says Crotty. "Kips Bay has been an incredibly good proving ground to tell that story, because we have something to point to."
A trade audience now makes up 40 percent of The Shade Store's business—an increasingly impressive number as the company's overall volume of sales increases. It's a poignant lesson for other brands looking to play on both sides of the fence: Trade exclusivity isn't a prerequisite for doing business with the trade. At the end of the day, while some designers will stick to trade-only sources, it's not the only thing that matters anymore. Speed, reliability, cost and brand equity all play a role, especially as a generational shift toward pricing transparency with clients is pushing designers away from markups and toward flat fees.
+ + +
Based on the plans Gibbs and Crotty laid out, The Shade Store has no plans to pull back on its pitch to the trade. Of the three big partnerships the company is rolling out early in 2020, one is aimed squarely at interior designers: a collaboration with Samuel & Sons to offer trims and tassels as an add-on to curtains and drapes.
"Trims are big. They have been forever. Our customers, our designers, they want it," says Gibbs. "Samuel & Sons have an amazing product, service and quality. They're innovative and family-run. [The partnership] was a no-brainer."
"When we started thinking about solutions, [we wondered], Should it be something we source ourselves?" adds Crotty. "And very quickly it was, Well, let's just go to the best. And [Samuel & Sons] is the best."
The initial run will feature roughly 60 SKUs—priced, Gibbs says, as an add-on, but not an astronomical expense. Interestingly, the collaboration will mark the first time the passementerie powerhouse offers its products to the general public (albeit through a partner). Gibbs says, however, that designers are very much the intended audience, and that trims are consistently one of the most requested add-ons from trade customers.
Another designer-friendly plan for 2020: a new line with Hagan, adding to the company's roster of blue chip license partners that currently includes Alexa Hampton, Aerin Lauder, Jonathan Adler and Nate Berkus. Crotty says that The Shade Store reached out to Hagan to achieve a new look: "Instead of starting with, Who do we want to talk to?, we started with, Let's look at what we're selling and what could strengthen the collection," he says. "What's another area that we can have someone fill in and add some newness and softer, feminine colors? And that is completely [Hagan's] look. It matched what we were looking for."
Finally, in 2020 The Shade Store will be working with Lutron to bring the smart home powerhouse's technology into its motorized product. The Shade Store will continue selling its own motorized units—Lutron will be a premium product. But for Gibbs and Crotty, the partnership has both practical and marketing benefits. The technology-focused company can deliver top-of-the-line features (virtually silent, simultaneous operation, for example). Also, the brand is recognized by the architects, designers and high-end consumers they're trying to reach.
"[People] who know Lutron, want Lutron, understand the overall quality of their technology," says Gibbs. "They want that for their windows also. … They want a Lutron house."
"We did have people come in and say, 'I want to motorize things and I'd like it to be Lutron,'" says Crotty. "We would have to say, 'Well, we can offer you something else.' Now when that comes up, we've got a solution."
The Shade Store's plans for 2020 follow a general trend. For one, the company is aiming to build on its relationship with the trade. For another, it's not headed downmarket anytime soon (don't hold your breath for a Shade Store x Target collab). Finally, it's planning to keep expanding its footprint. Crotty and Gibbs declined to provide an exact number, but indicated that 2020 will continue to see more showrooms opening up.
The elephant in the room: The Shade Store's growth trajectory is amping up just as many economists are predicting a recession in the not-too-distant future. However, Gibbs brushed aside worries about a slowdown, pointing to the fundamental need for the product ("People need something on their windows at the end of the day") as well as a good/better/best pricing strategy that allows for some flexibility in the event of a downturn.
Also, though the company is adding locations, each is a small, contained operation. Most are no bigger than 1,000 square feet, with three or four employees. Collectively, it's a big footprint, but individually, the exposure on each location is limited—reflecting a growth strategy more "school of fish" than "pod of whales."
Nor is Gibbs overly worried about a competitor swooping into the space ("It's a complicated business. Amazon can't do it."). His concern is mostly with guaranteeing the brand promise to a bigger and bigger audience. "Even pre–Shade Store, I know the fundamentals on exactly what the customer wants, consumer or trade, how they want to be treated and serviced, what the expectations are when we put that final screw in the wall," he says. "My sole focus is on making sure that experience is still happening today [with] 84 showrooms, hundreds of people and installers, every single day."
That goal is partially why the company has spent considerably to bring its installation staff in-house—Gibbs estimates that roughly 90 percent of installation work is now done by Shade Store employees, as opposed to 30 percent a few years back. "[Setting up our own network of installers] is a beast for sure, but it's a necessary evil and arguably one of the most important components to making a customer feel fully confident in pressing the go button," says Gibbs. "In the end, it's about control and controlling your brand."
As for Crotty, macroeconomics don't keep him up at night, nor do logistics. One of his biggest concerns is simply living up to the expectations of a notoriously discerning audience: interior designers. "I want to make sure that we continue to present ourselves in a way that earns their respect," he says. "You've got to remember what these people do for a living. It's sort of like selling clothes to fashion designers."