Michael Cohen had just left a career in finance and returned to the family business: M&J Trimmings, a garment district institution that many designers (Mario Buatta included) counted as a secret source. Coming from the world of corporate accounting to fabric trimmings involved some whiplash. "I walk in there and I go, 'OK, so how do I know how much of each trim we actually have?' And they would say, 'You call Felipe,'" recalls Cohen with a laugh. "And I said, 'We have over 10,000 SKUs, we can't run a business like this!' And I remember my father saying, 'OK. Then you do it.'" So he did.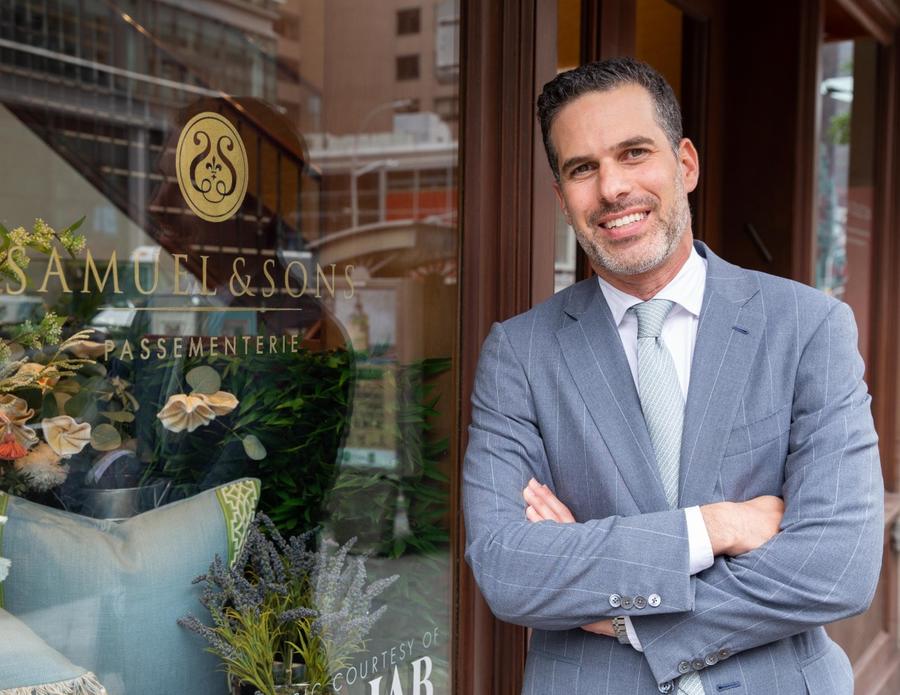 Courtesy of Samuel & Sons
Cohen, along with his father, Samuel, and his brothers Hymie and Joseph, built an offshoot brand from M&J, Samuel & Sons, specializing in high-end passementerie for the interior design industry. In the latest episode of the Business of Home podcast, sponsored by Datacolor, Cohen tells host Dennis Scully how he has built out a thriving, tech-forward business selling, well, fancy tassels.
A key early discovery? Design your own product. "Most of the fine trimming manufacturers were located in Europe, so they were designing for the European market and just selling it in the U.S. market. … It was a lot of hit-and-miss," says Cohen. "When we started to design for ourselves, even a little bit, we got a taste for: 'Whoa, what could happen? All of the colors are good now." Later, collaborating with designers like Lori Weitzner kept the product selection fresh and on trend.
Another important factor has been a forward-thinking approach: Cohen looks as much to Amazon for inspiration as he does to the trade—a highly functional website (with pricing, inventory, accurate colors, etc.) has been a core part of the firm's strategy from the beginning. "You need to give a client functionality. If they're gonna have to pick up the phone anyway, why go to the website in the first place?" says Cohen. "And the new generation—they don't want to go [to showrooms]. They don't want to call even when you don't have the information. They might just give up."
As for what's next, Cohen is optimistic, both about the passementerie business and the interior design trade—though he thinks things need to get a little more transparent. "I have friends who say, 'You're in the industry—which designer should I use? [Their first question is] 'Are they trustworthy?' I think they're all trustworthy. It would serve everybody if you could see the trade pricing, because then the end user would be more likely to hire a designer," he says. "If everybody knew the trade pricing, would that be the end of the world for the trade?"