There's a long list of things we'll all be happy to abandon once the coronavirus pandemic fades into history's rearview mirror. Masks. Purell-chapped hands. FaceTime primping. More interesting: what we'll keep doing after the social distancing tape marks have been ripped up and the plexiglass shields have been torn down.
One pandemic-era development with legs? Selling home goods via Zoom. In conversations with six major retailers, Business of Home found that virtual design consultation programs, in many cases hastily assembled in the chaos of mid-March, are poised to become a significant long-term growth area for brands large and small, even as (knock on wood) COVID-19 fades.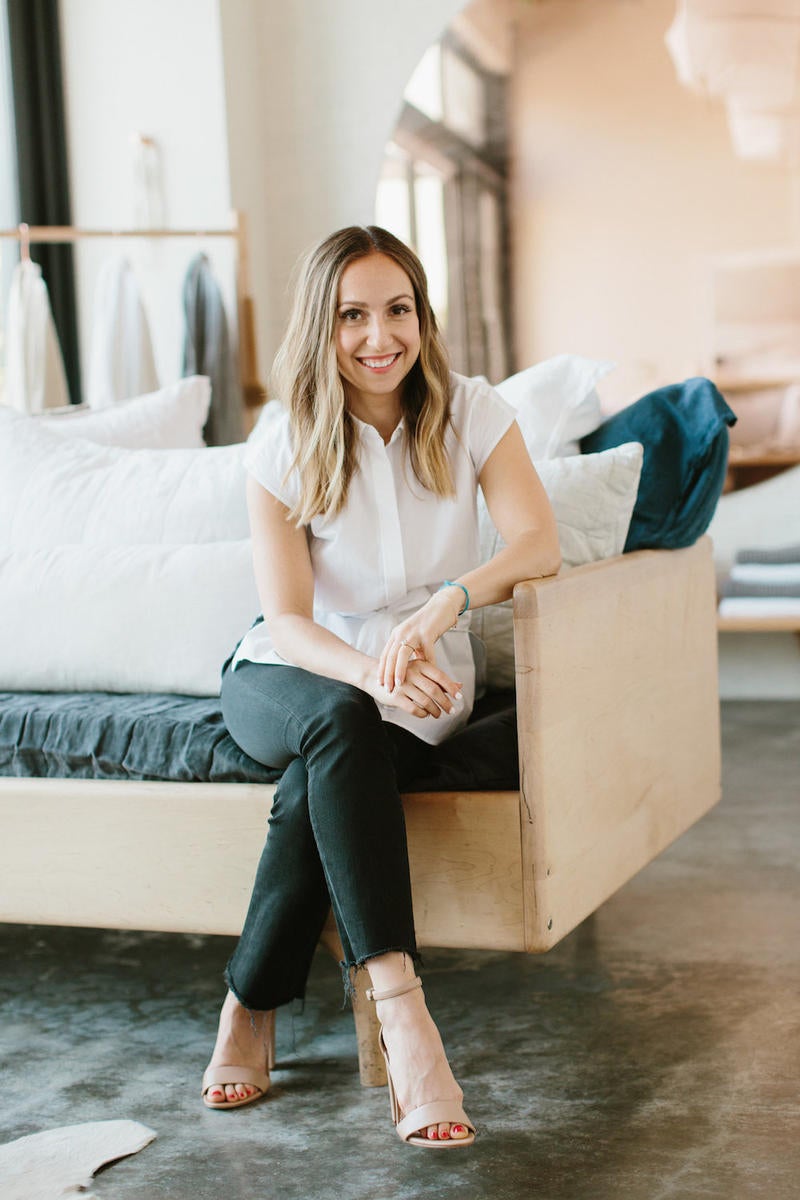 Before 2020, for many, a virtual design program was a long back-burnered idea or a tentative pilot. Parachute, the California–based direct-to-consumer bedding and home goods brand, debuted a low-key online consultation feature late last year to test the waters. The idea for the program had grown out of conversations that Parachute's retail employees were having in stores.
"People come in, bringing elements of their own home into the store, and you spend 30 to 45 minutes working with them," says Parachute founder Ariel Kaye. What if, her team reasoned, you could have those conversations online? Over the holidays, the company opened a few time slots per week, which, come the virus, quickly became 20 to 30.
She soon discovered what many home goods sellers are finding: A virtual consultation sale is a good sale. Parachute's average order value from online styling appointments is over $500, nearly double the roughly $300 it nets from a normal site purchase. The company's conversion rate for online consultations, 60 percent, outstrips any other sales channel. "It's very much worth our investment," says Kaye.
At home furnishings stalwart Mitchell Gold + Bob Williams, CEO Allison O'Connor has noticed a parallel trend. "The average transaction values are higher," she tells BOH. "People don't have as much of a desire to shop around to different brands. … There are [fewer shoppers], but those that are shopping are a lot more intentional."
MGBW had an existing virtual consultation program, but, like many, fast-tracked its development as physical stores closed. Now the company does a significant chunk of its business—with both consumers and designers—through a Zoom window. "I don't think there's a silver lining in COVID," says O'Connor. "But it has allowed customers to feel comfortable [with us] serving them remotely."
It's a phenomenon occurring across the industry. West Elm and RH have virtual consultations. So do Design Within Reach, Interior Define and Crate & Barrel. Eva Gordon, The Container Store's executive vice president of stores and services, says the brand has performed a jaw-dropping 6,000 online consultations since March.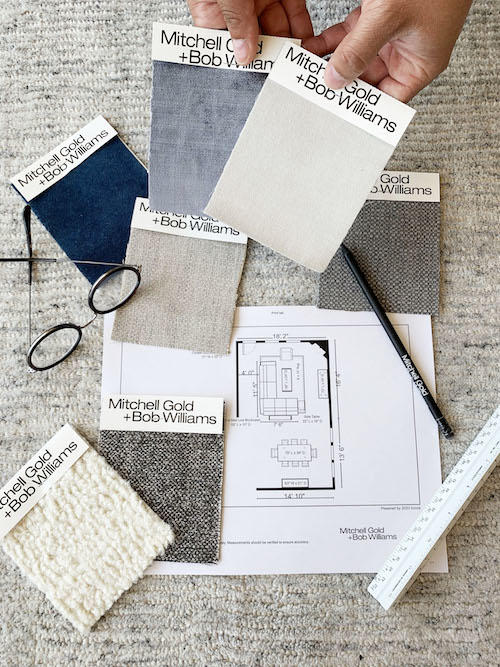 Courtesy of Mitchell Gold & Bob Williams
Part of virtual design's appeal is that, despite a somewhat highfalutin name, most programs are simple: A customer makes an appointment to chat with a salesperson via Zoom, FaceTime or Microsoft Teams, they chat, and that's it. Under normal circumstances, many retailers might have spent months if not years developing proprietary videoconferencing technology and training a dedicated staff. But the panic and scramble of March pushed companies to use existing employees and affordable, widely available tools—and they worked.
Virtual consultation initiatives are easy to spin up to meet demand. Which isn't to say that they don't require some thought.
In the early days, at the end of each styling appointment, Parachute sent customers a PDF outlining the products that had been discussed. Quickly, Kaye's team replaced static PDFs with a shoppable lookbook, which boosted sales and offered consumer behavior insight. "Some of the lookbooks have been opened 50 to 100 times," she says. "And they're being shared."
Mitchell Gold + Bob Williams has also been working to perfect its virtual sales game. Having designers broadcast from a MGBW showroom or a mini "studio" (complete with swatches and product samples) makes a difference. The company also works to match customers with designers in roughly the same region—a touch that O'Connor says can help develop a human rapport that bridges the digital gap.
Her team also quickly realized that virtual consultation hours are different than normal business hours. "Being available outside of traditional store hours is important," she says. "A lot of our customers are working remotely, and we've shifted our schedules accordingly. It's really anytime. This whole notion that we work 9 to 5 has changed."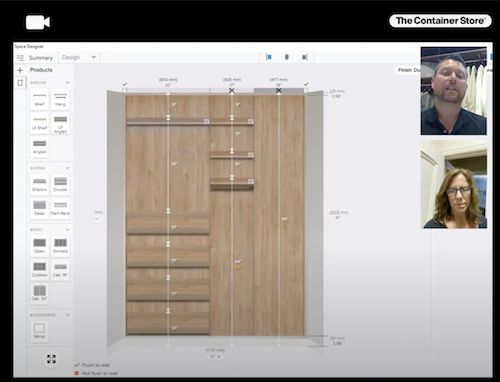 Courtesy of The Container Store
Indeed, more or less every brand with a virtual consultation program has had to broaden its operating hours. Steven Schranz, COO of Chicago-based lighting company Lightology, says that though most video appointments happen during business hours, the company has expanded its online chat functionality to cover 14 hours a day. Boston Heights, Ohio–based home retailer Arhaus's chat hours extend into the middle of the night.
"When virtual design services really started growing in popularity in March and April, we were constantly hearing stories of designers connecting with new clients in the middle of the night via chat," says Kathy Veltri, chief retail officer at Arhaus. "Late-night shopping has always been more common on e-commerce, and it was interesting seeing that overlap into our design services team."
Virtual design programs might be born from the motivation to capture sales, but such initiatives also offer a uniquely intimate opportunity for market research. You can buy endless demographic information online and track shopping habits through smartphone data, but rarely do salespeople get to look through a digital window directly into the homes of their customers.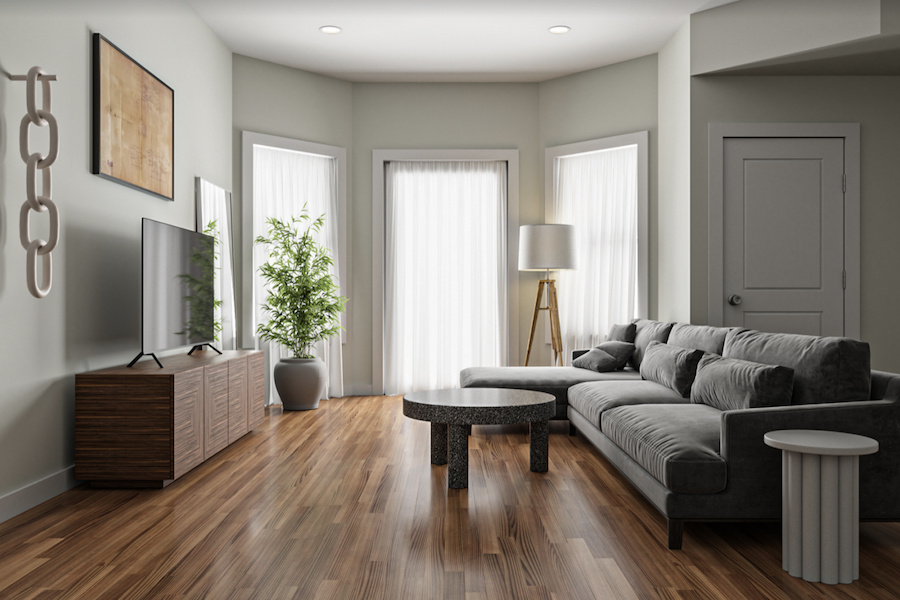 Kaye, who has done a few virtual styling appointments herself, says speaking directly to customers in their homes has renewed her faith in Parachute's ability to explore new product categories. "I spoke with a super fan who wanted a lamp, [as well as] advice on how to position art and [whether] they should get new end tables—things that are not squarely our expertise from a product perspective, but they value our experience from an aesthetic perspective," she says. "That's really validating in terms of thinking about our own growth and the future of the business."
At MGBW, O'Connor expects virtual consultations to help suss out potential targets for retail expansion. Hiring local designers to tackle regional appointments is an efficient way to gather local intel without having to open up shop and pay rent. "It's an exciting way to get customer data, which you couldn't do at this level seven months ago," she says. The program's success has motivated her to grow it aggressively in the months ahead—from the initial 150 employees in March to someday building up to 800 to 1,000 designers.
While other executives are less definitive about their plans, all agree that virtual consultations will be growing, not shrinking, in a post-COVID world. "I believe it's here to stay," says Schranz. "There will be a tipping point, and once we reach that point of mass adoption—by both industry partners and homeowners—it will just become the norm."
Homepage photo: Shutterstock